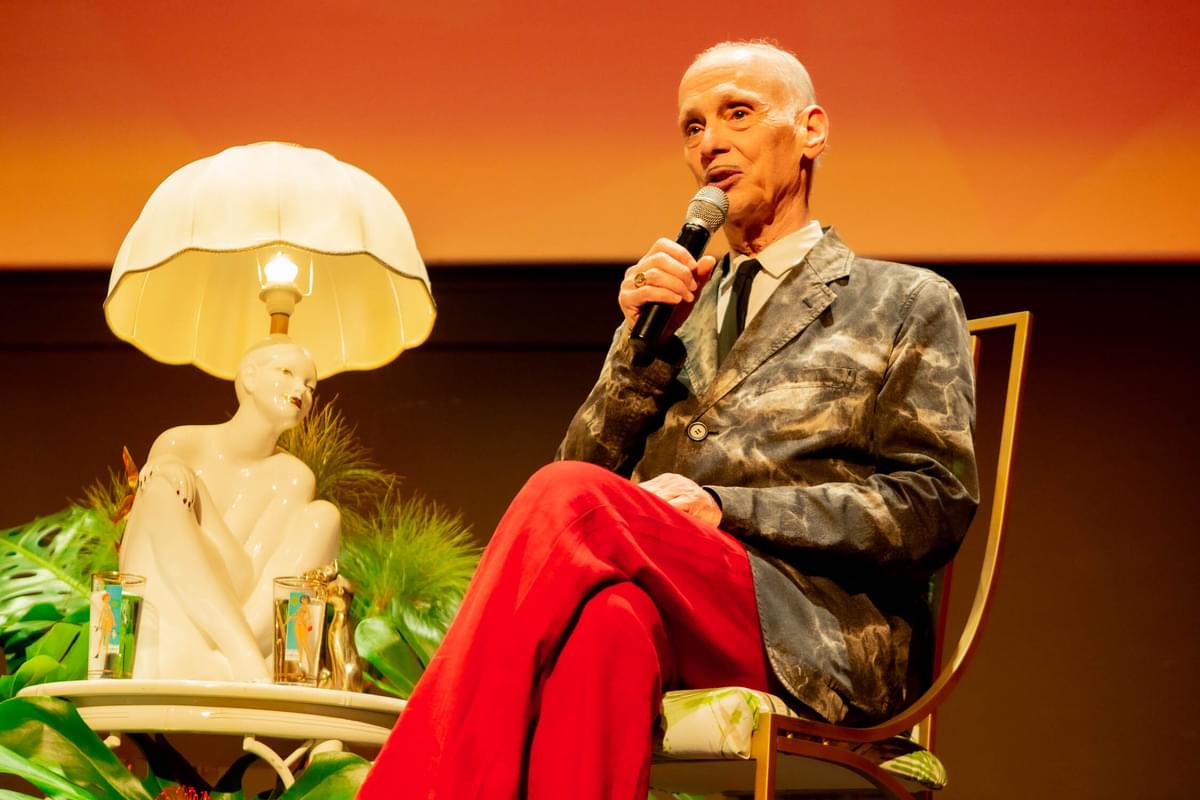 Primavera Pro's 2022 programme breaks the mould for music discussion
13 June 2022, 09:00
Now in its thirteenth edition, Primavera Pro - which runs parallel to its parent festival - has decided to come out of its comfort zone for 2022.
The event presents meetings and talks aimed at professionals in the music industry but as with Primavera Sound, curation is all important. This year, the focus was on the avant-garde as well as new models and professions that are becoming part of music's future. Also recognising that some of the most varied and diverse spaces in music exist in places outside of the West, the aim for this and future editions of the event is to also look at what is happening in Latin America, Asia and Africa.
Pose actress Dominique Jackson opened this year's event in conversation with Brasilian comedian and speaker Lux Venérea. Jackson recounted her upbringing in Trinidad and Tobago and her move to the US - where she was treated as an immigrant from a third world country despite her homeland's prosperity. "What I was facing was that people were being evil and refused to let someone like me exist," Jackson explained. "Leaving my island and getting to the US, I thought I was going to find salvation...but it was only a safer place if you consider purgatory safer than hell."
The pair talked over Jackson's career, and her roles both as a trans actress as well as "an actress who just happens to be trans." She praised Pose-creator Ryan Murphy's role in centralising trans talent in Hollywood. "He wanted to make a difference... He has opened up Hollywood for us in a way that we can tell our stories and others are taking this as the mould for how they work."
For Jackson, the very fact of being on stage at Primavera was important."To have this conversation is - for us - iconic, it's historic," Jackson told the audience. "You are vessels for taking away the messages from our conversation here today."
The second day of Primavera Pro kicked off with a discussion on how music communities are being built through online radio stations. Representing NTS, Femi Adeyemi talked through the history of the global radio platform and the reasoning behind its beginnings: a search for representation and the will to stream underground music. "NTS started in 2011 out of the frustration of having to listen to the same music over and over on traditional radio," said Adeyemi. "I knew that London's underground scene and the community around me had the taste and the knowledge to create something special". Adeyemi began his search for people to help by putting out poster; expecting 20 people to reply, 62,000 got in touch with him: "My part time project became full time and 11 years later NTS broadcasts music in over 50 cities around the globe," Adeyemi explained.
Kikelomo Oludemi spoke about the not-for-profit independent internet radio station Oroko Radio, based in Accra, Ghana. The platform goes beyond online radio, and offers studios and artistic residencies, aiming to create a wide community for African and African Diasporic creatives: "We aim to connect, inspire and empower through conversation, collaboration and community," explained Oludemi. "African music is much richer than what is known for. We want to showcase what is going on in the African continent in a genuine and decolonial way".
The final speakers were Elias & Yousef Anastasia, who spoke about the origins of Alhara Radio, in Palestine. The project was born during the global confinement and embraces the idea of a public space that hosts anything from DJ sets to talks and recordings with the main goal of bringing down the boundaries between producers and listeners.
When asked about the key to building a community, all guests agreed that the most important thing is physicality. "We need to avoid the internet temptation of just going and making things alone. Don't underestimate the power of bringing people together. For NTS it was crucial to have a space where all the different people from all the different places to meet and connect. That's how we fostered a community" explained Adeyemi.
For Oludemi, that feeling of community came through promotion of workshops and physical events where people could meet wherever they were: "We don't have a physical space but we create opportunities for people to meet and collaborate all over the world," he said.

A discussion around the role of the music supervisor - possibly the motherlode of music jobs right now - saw some of the world's most notable professionals in their field come together. Two time Emmy nominee Jena Malone (Euphoria, Atlanta), Emmy winner Ciara Elwis (I May Destroy You, Sex Education) and Leitizia Pacchioni (Benediction, The Mauritanian) pinpo through how they found their way into their careers, along with the challenges of working in this very specific area of music.
Malone's background saw her burned out after ten-years as a publicist in Boston before becoming fascinated with music supervision after watching Iron Man. Moving to LA, she cold-called and eventually locked down an internships with Marvel's Dave Jordan. For classically-trained musician Elwis, it was a Nikon advert with Robbie Williams that was her catalyst, after which she convinced Spotify to hire her as a brand manager, and then moved into a receptionist role at a music supervision company. Studying French at University, Pacchioni cut her teeth in TV, working alongside Music Supervisors Abi Leland & Ed Bailie in the music research and coordination of the BBC 3 musical drama Mood.
Malone (pictured above, second from left) gave a fascinating insight into the steps involved in clearing a song for use, with Beyonce's "Hold Up" – used in the season premiere of Euphoria - as an example – and the three woman shared anecdotes about the pitfalls of their day to day work and what happens when an artist refuses to say yes to a sync (strong-worded letters are written!).
Malone recalled a particular incident on the infamous Atlanta episodes "Terry Perkins", where a Stevie Wonder song essential to the storyline would be used as the titular charater of the episode takes his own life. When Wonder said no, Malone had to get Donald Glover to intervene. "Donald is a last resort though," she stressed. "But with Stevie Wonder you gotta call in the big guns."
The centrepiece of Primavera Pro was undoubtedly an appearance from legendary director John Waters, who spoke to provocateur artist Samantha Hudson. Sharing stories from across his career, Waters was there to talk about the concept of music taste. "I like all kinds of music. It's only old farts who say they like music from one era," he explained, before speaking about his love of CD: "I like having something to collect. What are you gonna do when the final hack happens and all music is wiped out?!" he asked the audience. "I have 300 albums in my sound system and I love the shuttle button...I have opera next to Eminem singing 'Puke'."
Water famously was not a fan of The Beatles, but embraced punk, recalling when he took infamous collaborate Divine to see the Sex Pistols in London. In the presence of Johnny Rotten, Jordan and the rest of the Bromley contingent, "Divine turned to me and said 'i feel like plain jane!" Waters recounted. The 76-year-old director still hosts his own punk festival every year – the Mosswood Meltdown – although these days, "a lot of the punks are getting old, and you cant tell it they're bald or skinhead!" he joked.
The pair clashed over the concept of queerbating in music ("maybe feminine guys should do faux butch? Dress like rappers?" joked Waters) but came to a consensus on the war for attention being the true struggle of modern music. Where should music go next, asked Hudson? "Whoever is gonna be the next rockstar," Walters said, "...parents have to hate them!"
The new model for how artists handle their careers - and how labels release music – was also central to this year's programme at Primavera Pro. In the last five years we have seen more and more artists taking ownership of their career development and their music. In this landscape, YouTube has been at the forefront of supporting independent talent with programmes such as Foundry. Enny's success - aided by YouTube's Foundry programme - was central to the sessions aimed at helping artists (and their teams) working outside the traditional major label model understand how they can thrive.
With her manager Pascal Balletti, the pair talked through their own individual career stories and the level of freedom (and challenge) the independent approach has given them. "There's only certain places you can go as an independent," Enny explained. "If i ever went to a major label I would have to have some control."
"The label has to march the ambition of its artists," added Balletti. "It has to make sense,"
On the other side of things, three very distinct record labels – and their founders – led a conversation about their own innovations. Shanghai-based record label SVBKVLT started initially as a club night and DIY cassette label before branching out into proper releases at the end of 2013, and gaining momentum in the last few years with a focus on building connections between collectives such as NAAFI from Mexico and Nyege Nyege from Uganda.
Nyege Nyege itself originated as a nightclub in Kampala where local East African DJs, musicians and artists could playing a wide range of sounds in a safe and supportive environment, alongside film screenings. The label also wanted to push music that wasn't being heard in clubs around the Ugandan capital, and has created multiple projects, including a festival, a recording studio, a residency space, and two record labels.
YEAR0001 is well known as the home of Yung Lean and Drain Gang but the multidisciplinary record label, creative and management studio has been around for over seven years and sees itself as independent incubator in the fields of music, culture, fashion and technology.
Each label found its space focusing on a sound that wasnt being supported elsewhere, and in ways that were very different to the traditional label release model. What united them was the way they were able to connect some very niche artists with audiences across the globe without sacrificing the DIY principles and local models that they began with. "Yung Lean was our biggest artist when we started," YEAR0001 creative director Emilio Fagone (pictured below) recalled, "but a lot of his audience was on Soundcloud, and it was hard to make money out of that." Fagone explained how the label worked hard to keep audiences engaged with his music, and find ways to move them across to more lucrative streaming platforms. The label also found challenges operating from Stockholm, travelling a lot to London, New York and LA to establish the label behind the artists.
The lack of vinyl pressing plants in East Africa was a big problem for Nyege Nyege's Derek Debru: "Digital is still the way most people access our music, especially at home," he noted. SVBKVLT-founder Gareth Williams outlined the problems with pressing records in China: "Everything officially released through there has to be checked by the government and some releases – if they've got a slightly risque cover or track titles or lyrics – don't pass the checks and can't be released."
All of the labels found challenges with the way their rosters were perceived from across the world - particularly with media spaces wanting to focus on more obvious angles. "A lot of journalists wanted to write about censorship and VPNS or how futuristic Asia is," explained Williams.
Looking at the overall function of a label, Fagone talked through how Year0001's universe was built on respecting that each of their artists would have a different level of comfort in the way they presented themselves to the world: "Most people aren't always comfortable being out there running social media and talking to all the fans on a daily basis. It can be a good thing for for a label to handle the communication between them."
Debru's made the point that the relationship between labels and their artists needs to be a springboard rather than a prison. "We've never wanted to lock artists in," he explained. "If you're happy with with the label and if you're happy how it works out then you stay. Otherwise maybe you go on to another label – and we've had artists go to Matador or Warp – so we just want that label to be a tool for you to further your career."
All the labels agreed that transparency was fundamental to their operation: "People that join the label need to feel respected and feel well-represented and be proud to see the rest of the music on the roster," added Debru.
The evolution and pace of the music industry in the last years has mainly been driven by technology and new demands that came along with it. Streaming services completely changed the way people consume music and algorithms now play a crucial role on how we discover new music and consume content. A panel on what comes next brought into discussion how that is constantly changing the job of people who worked with both data and music. Fer Isella, the co-founder of Limbo Music, sees music as a technology itself: "We have learned how to communicate through dancing, making sounds and singing before we developed languages," he explained. For him, the interaction between music and technology is not only natural, but the most efficient way to spread music all around the world. The outcome is beneficial: "Music promotes such a powerful and positive transformation on people".
When streaming took over, the industry started to invest in data engineering teams to process all the data, building tools and dashboards to understand how the music was consumed. "The growth of these premises services basically like youtube means that we're helping publishers to process youtube data and help to identify it" added Andres Martin, the CTO at Blokur. "You can see how the explosion of streaming created new needs and the needs created opportunities that were actually solved thanks to technology".
When it comes to independent artists and how music industry technology is affecting them, speakers perceived a big gap between them and metadata tools as a complex user experience problem. For Loredana Cacciotti, from Downtown Music Holdings, technology and innovation did free the artists from labels, but the equation doesn't quite work without a distributor to assist artists once the music is ready to go. "Imagine if every artist had to sign up for every streaming service to make their music available?" she said. "That's when the distributors come in. We are creating to just put the music in one place so that the songs can be available everywhere. That's a way where technology can facilitate and help to spread music"
One of the event's closing sessions on new forms of non-Westernized rave saw Primavera pro give space to voices not normally platformed at a European festival. The panel united moderator Chenta Tsai - aka Putochinomaricón – with Lumi, a co-founder of the collective Eastern Margins; Shanghai based Chinese artist RUI HO; and the Indonesian DJ duo Gabber Modus Operandi. Together they discussed the influence of tourism and western music in their work, communal feeling as the core of raves and the necessity and joy of celebrating their own culture. Eastern Margins is a collective dedicated to showcasing music from the Margins of East & South-East Asia and its diaspora. "It was born in 2018 out of a really basic desire to see more representation, more people that looked like us in the experimental and underground club scene in the UK" says Lumi.
Representation however is a search that comes with its own set of challenges when you're part of the South and South East diaspora and therefore constantly exposed to an external narrative of what is your own culture. "It's really easy to consume the western media and the stereotypes that you're trying to subvert and buy into that," added Lumi. "We're really keenly aware of the need of not falling into what we're trying to escape from. Still there's a limit to what you can do in the diaspora that it's different from when you're based in eastern and southeast Asia".
Gabber Modus Operandi also strongly experienced the effects of 'westernisation' in Asia. "Sometimes you go to a club in Bali and it's like you're in an embassy" they laughed. Amongst the phenomenon of touristic electronic music and a whole cultural scene being designed to cater people from abroad, they have found freedom celebrating their own culture and the Indonesian root in the rave culture. "The definition of rave in the West is very capital-oriented," they explained. "It's a demand of the economy, drugs and music industry. We did it without drugs! The raves were like when someone was playing the gamelan in a loop, someone else brought flowers, a shaman whispered words in our ears and all of sudden you're in another dimension and a new galaxy".

Shanghai based chinese artist DJ RUI HO merges traditional chinese elements in her sets in both China and western clubs to see how people react. "I'm happy that it's being received as a contemporary version of Chinese electronic music," they say. RUI HO doesn't feel comfortable being pigeonholed under the label of world music: "I find it's a term that it's used to categorise when the western audience doesn't want to understand where the music they're listening actually comes from and it generalises all these different genres and people as if they were the same thing".

All the speakers agreed that the main work to be done is one of celebrating their own culture for what they are and have. Gabber Modus Operandi explains: "We're not actually thinking about the idea of decolonisation; we don't even want to think about the term 'decolonise'. It's in English, it's a western idea. We want to be at peace with ourselves. We are celebrating what we have and we want to celebrate ourselves"
Get the Best Fit take on the week in music direct to your inbox every Friday