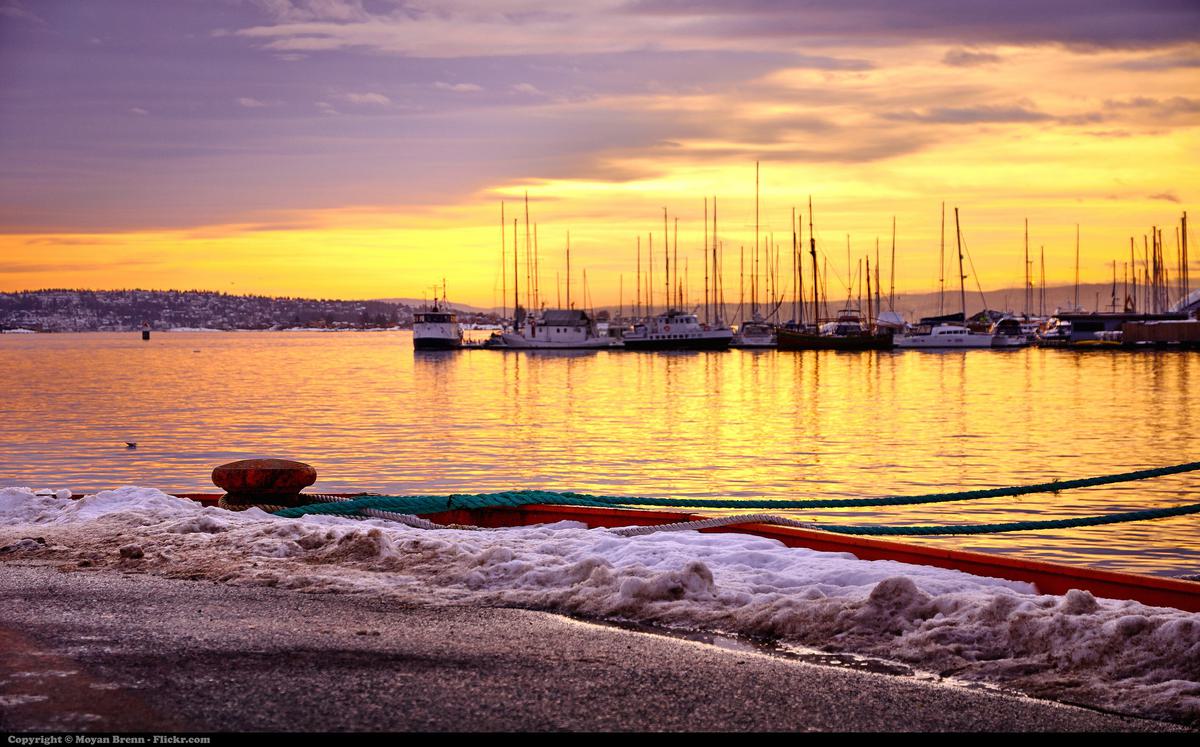 A Touch Of Norway: The Line Of Best Fit visits Oslo
08 September 2015, 10:36
In Britain, the conservative government will always deny that culture seems like a legitimate export, but in Norway, that isn't so much the case. While Britain finds it under a torrent of arts cuts, from at an education level right up to state funding, Norway is quickly creeping in as the cultural capital of Europe
Whilst its history isn't one that's revelled as being massively creative – it seems our associations with Scandinavia don't stretch much further than the Vikings – it's a country that for a long time has been keeping its cards close. But in recent years, a wealth of investment has been poured in to start pooling Norway's creative talent outwards. With a wealth of music, art and culture to be consumed, at the invitation of the Norwegian Embassy, we joined a troupe of international journalists in finding out what Norway is all about.
With Oslo as our backdrop, we're about to be blessed with six days of the very best the city has to offer. On our arrival, little do we realise, there's over four major festivals programmed to take place across the city this week. Firstly – there's Øya, comparable to Field Day in London, it's a camp-at-home style festival, which gives audiences a chance to enjoy the city by day, and enjoy a huge programme of music come evening. Inviting over 60,000 people to it's home in Tøyenpark, for 16 years its been at the forefront of pushing native Norwegian bands. On the other side of the city, there's Oslo Jazz Festival - next year celebrating it's 30th anniversary – the 6-day festival hosts the likes of Herbie Hancock, Gregory Porter and Tony Allen, alongside a huge programme of free gigs, and educational projects across the city.
Then there's Mela – a world-music event that feels much like a local council festival. But that doesn't detract away from its programme. With a torrent of cheap food on offer, and musical programming that draws on Pakistani, Punjabi, African, Latin and Arabic music, for the latter half of our trip it's a must hit.
Lastly, The Chamber Music Festival, shares some of the bigger venues across the city, bringing classical music to the masses in Norway.
Already you can probably see it's a place that doesn't lack in cultural exploration. Of all four of these festivals, three are government backed. Each works to promote a different sort of formula, from educating young musicians, to exposing Norwegian bands, to linking migrant communities, meaning the city becomes an amalgamation of positivity.
Alongside the festivals there's a huge programme of extra-curricular activities offered to international delegates staying for the weekend. Oslo is a small, but very busy city. Not only is there the ability to go island hopping, there's also ski jumps, the opera house, and plentiful galleries and arts spaces to explore across the city.
Our plane journey seems like the perfect preamble to what the next week was going to be like. A child sitting behind me calls it, "a paradise in the sky," and from up here – swamped in the blue glow of the sky and the ocean, the white cotton balls of scattered clouds between them, you can see why many would consider Norway to be utopia. From the air, Norway is a vision of pine forests and open water, with bristling communities nestled between them. And when we reach Oslo – even the transport from the airport to the hotel is like riding something out of a luxury hotel room. Giant comfy leather seats, plentiful places to store luggage and a screen delivering daily bulletins, mean that even traveling around here even feels a pleasure.
Our first night in Oslo seems almost a ritualistic pursuit – firstly, there's the boggling issue of Oslo's alcohol prices – one bottled-beer in the hotel lobby is equivalent to £6.50. Getting your head around this takes a little while, and some digesting when you consider that higher wages here make this completely affordable to native Norwegians. This leads to the next few days being a tactical playoff between carefully nurturing purchases from duty free, and rushing towards beer tokens whenever they're handed out. Realising we're missing music – we speed out of the hotel, and down Oslo's main boulevard in search of something to eat, and a venue to watch something in.
KlubØya, is the first night of Øya Festival – where over 80 of Norway's top local bands play shows in venues across the city. Our first find of the evening is at Subscene, where we see tipped local-favourites Drape play in a art gallery space, that operates a strict no alcohol policy. Their set is somewhat disappointing – tipped by many of the delegates as one of the acts to see here, it makes for a disappointing start, but it doesn't stop their recordings sounding like a blissful mix of Mew, Flaming Lips and Tame Impala. We're blessed by better luck with Apothek, who charm us with dark-dipped cinematic pop at Revolver, a venue that feels like an old punk club. Pushing our way through the city, we find The Scotsman, not strictly a KlubØya venue and most definitely an English tourist trap – but despite this, it plays host to music from a beautiful blues musician, who I find busking on the cities main boulevard a few days later.
Awakening to a pure blue sky, our first full day in Oslo is remarkable. Our hotel, The Comfort Grand will be our base for the next week - becoming a slightly less archaic version of the Chelsea Hotel in New York, packed full of delegates, journalists and musicians, intermixing and connecting together with each other.
Pushing out of the hotel early, a bus takes us up to Holmenkollbakken – a 361m-ski jump right at the top of Oslo. Every year, the jump plays host to the ski season, but during the summer months, its purpose is a little different. Not only does it attract huge crowds, many of which come to enjoy the forests and lakes around the jump, but for others, it's the possibility to zip line the 361m to the bottom that's exciting. Collecting together at the top, we're welcomed to Oslo with music from Thea Hjelmeland, who zips up the 361m to play us a song before descending back down, a torrent of journalists in her wake.
Later, a coach takes us back to the city – towards Tōyenhagen, where Øya has taken place for the last two years. Tōyenhagen is an area that's just gone through a huge regeneration programme. Øya moved to the park here last year, and is said to have helped build a spiral of investment over the last few years. New cafes and bars have changed the pace of the neighbourhood, but like any regeneration programme there are underlying problems. During the festival, there are reports of noise complaints in the local papers, and though less than last years, it does seem to cause disruption on the local area, as any festival of it's size would. The difficulty is, like London, Oslo is a mesh together of unplanned urban streets – the city itself a vast mix of highly dense urbanised apartment blocks, and great swathes of undeveloped open space.
Øya aims does however offer reconciliation to the local community. It's green initiatives make it one of the leading environmentally-friendly festivals in Europe, and it's volunteer and working team is made up of young people who've been given an opportunity to gain experience in festival work, planning, and production experience.
Tøyenpark itself is beautiful. The site is a mix of sloped amphitheatres, and semi-urban spaces that play home to big dance tents and food courts. Scattered between them are shades of woodland and site-commissioned art installations. Up in the guest and artist areas, there are beautiful swimming pools that look out over the whole site, and at the very centre are two stages that start one after the other so there never need be a gap in the music.
The first band on are Razika, a girl-fronted Norwegian pop group, who make something that sounds a little like Haim – whilst it's not our cup of tea, a growing audience seem pleased by them, as they roll into the festival and find a seat within the natural amphitheatre.
Breezing through the afternoon with music from Belle and Sebastian and Courtney Barnett, we quickly make a realisation about the nature of Norwegian audiences. As crowds go, much like their personalities they act incredibly reserved, standing back and watching things in appreciation rather than making any vocal signs of enjoyment. It's no bad thing, but it does take some of the artists off kilter – namely, Stuart Murdoch from Belle and Sebastian who during his set says, "I'm a bit scared, watching 5000 of you staring back at me in your ray bans," dashing into the audience to foster some intimacy in the crowds who gather round the main-stage barrier. I'm later told, that much like in Britain, it takes a few drinks for Norwegian's to really warm up and show their appreciations. And my god is this proved later at Chic, as the whole of the amphitheatre in the main stage descends into a fracas of moving bodies.
As a country, Norway is relatively intolerant of any substance or alcohol abuse – for one, there are no off licenses here. Spirits have to be bought from special government licensed retailers, and can only be bought by those over 20-years-old, while beer is only served in supermarkets until 8pm on weekdays, and 6pm on weekends. This leads to a funny sort of lifestyle – it means for many then, that they buy more alcohol to last them longer into the evening, especially when considered that the average price of a beer in a pub here is £7+. Like Britain, Norwegian young adults maintain a culture for pre-drinking, as is seen everyday in the surrounding green spaces as we enter into Øya. But unlike Britain, there's no culture for excess here – people tend not to push boundaries, nor do they ever really attempt to upset the status quo. In 16 years of Øya, they have never had one arrest. And that's quite a statistic when matched with that of London-day festivals.
On Thursday morning we're given a good vision into why you there would be no reason to upset the status quo. On a trip out in the Fjord, Oslo's surrounding waterways, we're taken to the island of Bleikøya, where before us stand a rough of little cottages scattered over a little private island. These cottages, we're told, were built for the working classes of Oslo in the 1930's. Many have more recently gone on the private property market, with one being snapped up by Øya, who now use the home as a base for planning the festival, training volunteers, hosting music and running a local shop. It's these little islands that make you really marvel at Oslo. Oslo is a place of utter tranquillity – of calm renditions, excursions, itself a paradise of beautiful people, doing beautiful things.
During our trip, I'm told there are a few community spaces similar to this on the islands. Stories are told of houses becoming small venues, where people host one-off small shows to bring together the local community. Whether this is true, I speculate – but it's a lovely thought to imagine – especially when you consider the island of Bleikøya looks like something out of Wes Anderson's Moonrise Kingdom.
The trip to the island also gives us a chance to assess the redevelopment project of Sørenga, the neighbourhood surrounding our hotel. Home to the old docks, the Oslo Opera House, and soon the cities new national library, it's a neighbourhood going through much the same redevelopment process as Tøyenhagen. There's a mass of unused space here – but it's these regeneration projects that are helping to tie together the disconnected communities of Oslo.
Back on-site at Øya, and today's line-up culminates some of the best music of the whole weekend - as Seattle-based avant-garden metal group Sun O))) introduce the tame early afternoon Norwegian crowd to drone music. Elsewhere – Run The Jewels rile up the Norwegian crowds to take action in their local communities, to fight racism, to fight for equality, and to raise a fist in the air for those killed during America's Ferguson riots. It's also the day I'm introduced to the world of Shamir; the Vegas based XL-signee who brings a taste of androgyny to Oslo, as the audience lap it up with huge positivity.
Florence & The Machine does much to settle the debate about why she's worth every headline slot she's given. Florence mentions at one point during her set the huge wealth of positivity we can find in strangers – which leads me to reflect on the beautiful nature of the Scandinavian people, and their openness and willing acceptance of the international delegation into their world. Over the week they are incredibly lovely to us, sharing with us stories of their hometown, as we swim, sit and eat together.
Friday kicks off with lunch in the grounds of an old military facility, which has been turned around into a park. Inside it, there's a beautiful stage which sits in the middle of the lake, which one of the delegates tells me is used for sporadic concerts through the summer. Later scoot down to Mela Festival where we watch some qawalli by Bakshi Javed Salamat Gawwal.
On site at Øya there's Holly Herndon, Laura Marling, André Bratten, Jaga Jazzist and Beck to enjoy. But by Friday, we're living the Scandi-way slowing down our pace, and enjoying the nature of life here. Walking the city – you find that any path you walk you'll find music. Either from buskers, from street performers, of from the festivals that shroud each corner of the city. From jazz to world, indie to hip hop, there's a taste of everything here. Most of the performers seem to be native Norwegian, but I'm also told many will travel here to play for the good tips on offer.
Right under the nose of the delegates staying at the Comfort Grand is Oslo Jazz Festival –iconic week of music, that brings together jazz and soul icons for 80 shows across the city over six days. Their format is much the same to Great Escape, taking over venues for one-off shows, in avant-garde spaces across the city. The celebration this week includes shows from Herbie Hancock and Gregory Porter; alongside one-off commissions and variations on John Coltrane's A Love Supreme. On Friday afternoon, I find myself in Nasjonal Jazzscene Victoria – a lovely old red velvet jazz bar, where an all Scandinavian 12-piece, Paal Nilssen's Love Large Unit, shift between jazz standards with impeccable tone. Later on, I'm blown away by the surroundings of Oslo's Domkirke church, just a flash away from central station, where The Campbell Brothers, an American gospel group, take on their own impression of A Love Supreme.
For the evening activity – we're taken out to what looks like an abandoned wasteland on the east side of the city. Different from the highly urbanised West side of Oslo, it's much greener and disparate here. As we ascend the hill of Ekebergparken, a group in traditional Viking dress meets us, where we're taken to an old Bronze Age settlement for a late-night recital of traditional Viking music. Part history lesson, part mythic nod to the old Nordic tradition – the Øya team leave us with an utterly unforgettable experience.
By Saturday – things slow down a little. It's the last day Øya and Oslo Jazz Festival – which marks a chance for us to go and explore the city a little. We've found a ritual of swimming in the docks of Sørenga. By the time we get to site – we're welcomed by the sheer madcap impressionism of Beglogmeg, a Norwegian act who's New-York drag style show, conjures up much in the imagination. Onwards – it's the turn of Kanye-endorsed Vince Staples to shine – which brings a little rowdiness out in the tame Norwegian audience.
Having started mid-week, Øya is a festival that builds itself up over time – pulling together a four-day programme that culminates with a Norwegian name headlining the last day ready for people to go back to work on Monday. Fat White Family play to a small and slowly dissipating audience – who've all shifted over to watch Susanne Sundfør on the main stage. Susanne is a shining beacon of Nordic-pop, and brightens up the energy of the site, playing music from her 6-albums; she has become a firm favourite in Norway.
By Sunday, Nordic's sleepiness has worked its way deep into my bones. There's an old ritual here to visit the leafier side of the city once a week, so in turn I revisit to Ekebergparken to retrace my steps in James Turrell's 'Skyspace' installation. The park itself is a beautiful nature reserve; the patron is the owner of Norway's biggest beer company, with the site housing over 80 different individual works of art. It's as tranquil as any place I've been in Oslo, easy to rest in before boarding the flight out of here. But not without a trip to Mela first, who's programme today is all about the best in African music. Sanjung Jobarteh and Sofa Nyama are playing by the time I get there. His music is a string of Gambian rhythms, tied together by the same beautiful guitar rhythms that made African highlife music famous in the 1970's.
Parting ways with Oslo is going to be hard. It's a place that sticks with you – both in its boldness to go against the grain of Europe, to invest in its cultural programmes and beget the tech industry. But it's traditions too, unspoken and beautiful – underlying the tenderness of the people in this city. Not to mention it's festivals – with their ambition and their eagerness to programme new music alongside huge international acts, is something they should be proud of.
One thing that struck me over the week was just how big the crowds were for local bands. This is a city that supports its local talent. Despite it's size (only 600,000 people) it produces much that we can learn from. Its music is a celebration of its culture – of light-fairing Nordic attitudes, and a compassion for its heritage. The government here is committed to protecting and fostering creativity – with it's many bureaus and programmes to bring Norwegians and the wider world together. Life here works via a self-creating-cycle of camaraderie – high taxes protect a strong state of welfare, while interest in the arts, means that the money used by Government here creates an initiative that benefits people in all walks of life.
It's a city we can marvel at really – it's people, it's culture and it's traditions. And yet, it's more stable economically than any other country in Europe. With the Eurozone crisis making debt such a relevant issue – maybe it's time we all moved to Norway.