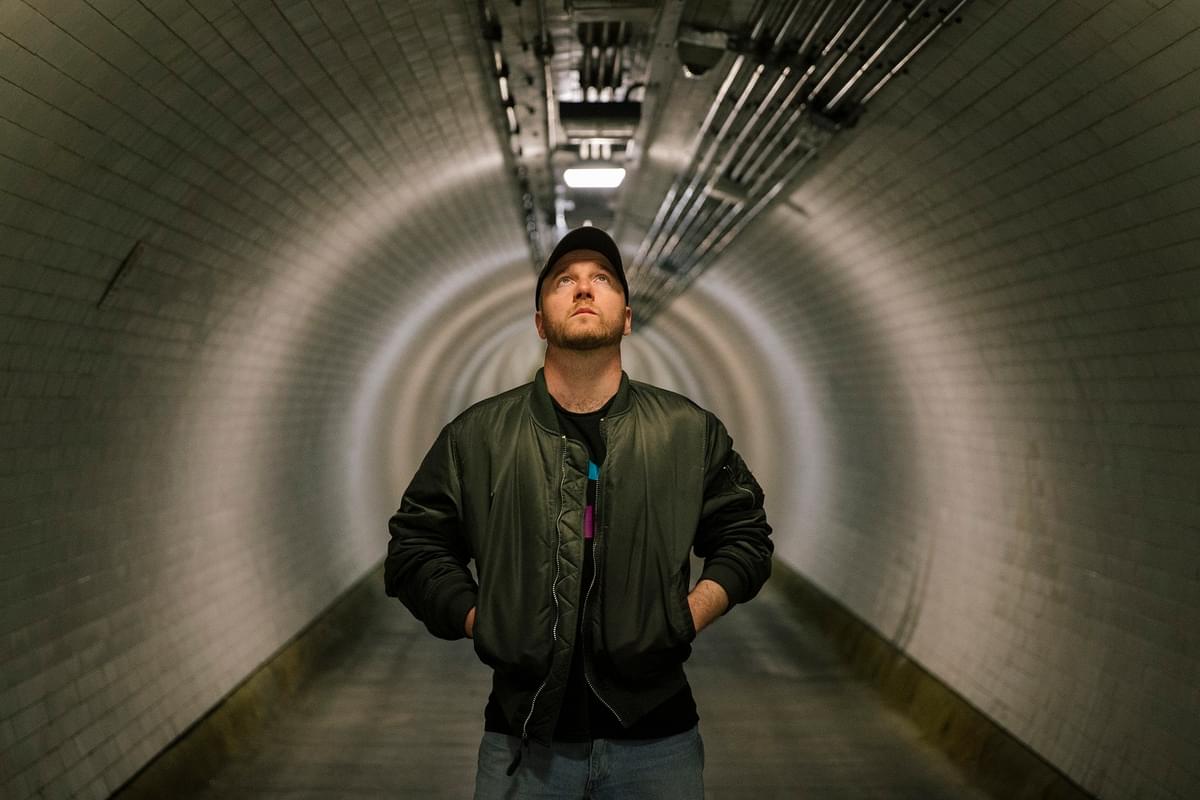 As One True Pairing, Tom Fleming finds romance in being unapologetically Northern
21 October 2019, 00:00
From the ashes of Wild Beasts, Tom Fleming emerged earlier this month with One True Pairing - a solo album stockpiled with sharp, politically-charged commentary that examines masculinity and class.
Ask most people what their favourite spot in London is and they might point you in the direction of a luscious green area nestled somewhere in the metropolis, or a quaint cafe on a cobbled road - not Tom Fleming who's currently talking animatedly about the Woolwich foot tunnel that runs under the thames. "It's like a cold storage down there - it's really moody," he says over a coffee in a Woolwich cafe. "It feels really industrial around here, the bits that London needs to work is quite interesting - more than the bits you see in the brochure."
Fleming has always been interested in the blood and guts of his subjects which he exercised as one half of a widely celebrated songwriting partnership in his band Wild Beasts. Alongside co-frontman Hayden Thorpe, the pair dissected masculinity's deep-seated vulnerabilities and put them front and centre of their masterfully orchestrated instrumentals which dripped with a palpable delicacy one minute, before steaming with a surrender to primal urges the next. Fleming's baritone often acted as the grittier, more masculine counterpoint to Thorpe's soaring falsetto; a dichotomy key to their creative success.
The group disbanded just as the very issues they were exploring for the best part of a decade frothed up into the public conscience in the wake of the #MeToo movement. Whilst the decision to part ways had forged internally, it was kept under wraps for a year as they toured in support of Boy King. Along with the news of their parting, the group invited their impassioned fans along to a run of celebratory farewell shows which culminated at London's Eventim Apollo in February 2018.
"The shows feel like they were a long time ago - I'm very proud of them and where we ended up," he ponders. "It's funny because at the time I didn't really experience it - I was all business because I knew it was going to be emotional and did the classic 'shove it all down' approach. It felt like a long, gradual climb to that point. It was nice to see how many people cared - when you make records, you just send them out into the ether, it's very difficult to know what people actually think about them. When you get that level of feedback and emotion, it's like 'shit - wow!' It's very easy to forget that that's what you're doing.
"At the end of the show it was emotional - it was only a couple of weeks later where I felt a sense of an ending about it all. A sense of that's actually 'happened' rather than 'happening'. Once I got that I could think a little more sanely."
In their last interviews as a group, it seemed that Fleming was the only member who was absolute about his decision to continue in music. Thorpe was elusive at best when questioned about his next move but alas his debut solo offering emerged earlier this year in the shape of Diviner.
"Well, he said he was in the dark about it," Fleming quips with a smile. "Part of that was projecting confidence but also I wasn't done. There's nothing else out there for me - this is what I want to put my energy into, I can't do anything else and I wasn't ready to stop."
After a swift period of downtime, the fragments that became his first solo offering, One True Pairing, began to crystallise as the country's political and social circumstances broke into the freefall we're still reeling from. These fraught surroundings stimulated the writing process from both a lyrical and musical standpoint.
Fleming found the territory that Wild Beasts began mining on final effort Boy King fruitful ground, although not necessarily an extension of the sound explored on the last LP, there are threads of it running through his debut solo offering as One True Pairing. Industrial synths rumble below bursts of guitar solos and chugging chords that reference Springsteen, it's a sound he describes as 'neo-heartland rock' which hits the nail on the head.
"There's a lot of masculinity on this record - wounded masculinity, self-loathing and self-blaming."
"There's an energy to it - there's a scabby glamour to it and a scuzz that I really like," he explains. "For whatever reason it seems to be an unfashionable sound at the moment which I always kind of go to. I wanted it to sound like a thirteen-year old playing the electric guitar again. I very consciously wanted to make it sound wrong. It's quite easy to make a track these days using Ableton but we're doing our best to make the synths do what we want them to do. Get it off the grid, trying to make it feel a bit fucked."
The agenda for such askew sonics were apt - especially as they were built to soundtrack the heavy, conflicting topics Fleming was breaching from a lyrical standpoint. Alongside the innate topic of masculinity in his writing, politics and class also emerged as key focal points across the record.
"The worse things got in this country, the more ideas suggested themselves - not that I wanted it to get worse, I just wanted to strike while the iron is hot about certain stuff," he vents. "There's a lot of masculinity on this record - wounded masculinity, self-loathing and self-blaming. I wanted to explore how these sort of things are produced - how we're all complicit in this, how you're marinated in this violence and aggression until you become it."
On opener "Zero Summer", a phrase pinched from a T. S. Eliot poem, Fleming explores the cyclical nature of toxic masculinity - "I took out a loan and smashed the whole thing in Ibiza", he sings in his booming baritone before asserting that the character he's self-actualising as is "doomed to repeat the same thing over and over.'' Later on "Weapons" he considers the impact of male role models who keep the cycle churning; "My brother had it right / never backed down an inch in his life / quick to the blade when he saw a face he didn't like"
"There are a lot of bad role models in any working class environment, especially male role models with the expectation that you'll be a certain way and behave in a certain way," he says. "It's funny how the further I run from it, the more I fit those cliches. When I was younger I moved away to university and I'd be like 'ah, art and literature!' - now I'm much more interested in writing about guys at fruit machines and stuff. Banality interests me - normal shit like that is fertile ground, it's about more than it seems to be. It's from a position of being fortunate enough to travel a lot, see the world and do amazing things - it made me more determined to write about that stuff."
Class looms especially heavy over the album's 11 tracks - having resided in London for the best part of a decade and being raised in a working class backdrop up in the Lake District, Fleming has seen both sides of the coin. "This record is unapologetically Northern, not because that's what I was going for - I wasn't going for a 'Northern clown', it's just what I grew up around. Even though I've been in London for nearly 10 years I still feel like that's where I'm umbilically tied to. I find people's wilful blindness in London quite shocking sometimes. It's very short-sighted that people are collecting their fortunes and sitting on their mountains. Things are really bad. How can you pass this and it doesn't bother you? It's not exclusive to here by any means but the disparity is very apparent."
As well as looking back at the physical location of his upbringing, he also rekindled a love for the '70s and '80s rock music he enjoyed growing up which placed the likes of Tom Petty, Don Henley and Bruce Springsteen at the centre of the mood board.
"Certainly growing up Springsteen was a fucking hero," he says. "New Jersey was all refineries and looking at what it is to be a man - there's a real sensitivity to it. I've always loved Tunnel Of Love. If there's a Springsteen record that influenced this record, it was that. It's very personal - there's a lot of melancholy man songs about getting older and asking big questions about life - fucking great record. It's not got the big bangers on it but it's still great.
"There's a real space for all that stuff, nobody really makes rock music anymore, people are a bit like…" he trails of shrugging his shoulders. "If you're not into hip-hop then you may as well be dead - it's not all I listen to but a lot of this record is a love song to that kind of stuff. Thematically, sonically and how it's put together is a love song to that sort of music."
This appreciation can be pinpointed in the raw guitar that chimes against the processed beats and swampy synth of "Dawn At The Factory" which reads as if it's pulled straight from Springsteen's iPhone notes under 'work-in-progress titles'. "That's very small town North," he points out. "It's semi-autobiographical - there are amalgams of people and experiences with some exaggerations but not a lot; it's kind of what I grew up around."
While happy to get wistful for a certain breed of rock, Fleming is in no way nostalgic about the halcyon days of indie that Wild Beasts emerged from in the mid '00s. "When we started it was shit when it came to white boys in bands - for the most part it was dreadful, there was some good music made but in general it wasn't a cornucopia of great music, it was mostly landfill indie.
"I think we've been bombarded with headline pop for the last few years and now everybody wants to make that - I think there's less of a disdain for the mainstream which saddens me a bit. We're starting to see the return of scuzzy rock bands - Idles is a result of that, look at bands like Life for example - then you've got Sleaford Mods and Drill which is scuzzy Hip-Hop - I think people are tired of polished things."
He ponders for a moment taking a sip of coffee. "Honestly being the age I am, I'm probably not the best person to comment on all this - I'm still stuck in my ways to some extent. There are things I can do and things I can't do. It's important to remember that you can have your arse handed to you by an 18-year-old - that's healthy, that's what it's like.
"I feel like despite everything I've done and that I've been very fortunate, I never really escaped what I started with - as a kid in a semi in Kendal. I'm mid-30s now - you get accustomed to the fact that your best self isn't around the corner, this is you now. You start to have real world problems that aren't cute - you have to have a reckoning with who you are and face all you mistakes."
This reckoning is played out in real time on album standout "Blank Walls" which explores life's ongoing grapple with the angels and devils on our shoulders. "I'm trying to be gentle / I'm trying to be good / but no one showed me the right way to push it all down", he sings before getting caught up in "another tripwire trying to get back to zero".
The moniker Fleming christened his solo offering with, One True Pairing, references a subculture of internet fan-fiction which finds individuals imagining a relationship blossoming between two characters from fictional universes; Sherlock Holmes and John Watson is a popular example. "It's usually pretty X-rated," Fleming explains. "Like Dumbledore should be banging Dobby or something. It's probably a little out of date now. I would be a liar if I said I was particularly active in the fan-fiction community. I just find something in that thwarted romance and online persona thing."
From the outside looking in, this move could be perceived as pining for the band dynamic of yesteryear but it seems that Fleming wanted to distance himself from the 'solo artist' tag. "I didn't want this to be a straight-up singer-songwriter record from just one perspective - I was desperate for it to be something that I'm a part of rather than something 'I was'."
Fleming found a true pairing of his own in Ben Hillier who produced the self-titled LP at a studio near Brighton. "One thing I didn't appreciate is how many ideas you need to make a solo record," he says. "Ben was really good at finding an idea and pruning it like a bonsai tree until it was good enough to stand on its own. He got where I was coming from - that I was tired of making slick-sounding music and that I wanted to make something that was personal but not winsome; something that had a bit of playfulness to it. Everything I said to him he just ran with. It was definitely a different process to making it with a band - many different decisions, many different ideas. I wouldn't say I did everything, it's a solo record but I feel bad to say I was the only ideas man."
Fleming finds a romance in bravado which he shows glimmers of throughout our conversation - he's a passionate force and speaks rapidly, but it seems to come from a place of intense belief rather than nerves. As he looks ahead to bringing the One True Pairing experience to the live setting, that braggadocious energy really begins to amalgamate. "You have to put your balls into both hands - a lot of attention is on you. I find that projection a lot more natural than being 'natural'," he says. "People seem to be getting why it exists - maybe what can sound a little more obtuse on record can be received a little bit more direct live. It's fun, even though there's a lot of electronic stuff, I want it to feel like an aggro rock show than a slick Jools Holland performance. I want it to feel like Suicide or Pet Shop Boys."
Several times throughout our conversation, Fleming refers to freeing himself of a slickness - a comment you can only really attest to his band that went beforehand. It seems that the act of blazing his own trails have allowed him to truly wig-out and in doing so he's held up a mirror to our fractured times. Urgency pulsates at the heart of One True Pairing and that looks set to continue. "I'm already working on new stuff," he reveals. "In this day and age people shit out EPs because they're bored - which is good, it leads to some really interesting stuff but it means there's not this sense of completion when a record's out - it's more of a constant drip. It's different but it suits being a solo artist and that's why people go solo because bands are inefficient in that regard - it takes more time to put stuff together."
One True Pairing is out now via Domino
Get the Best Fit take on the week in music direct to your inbox every Friday