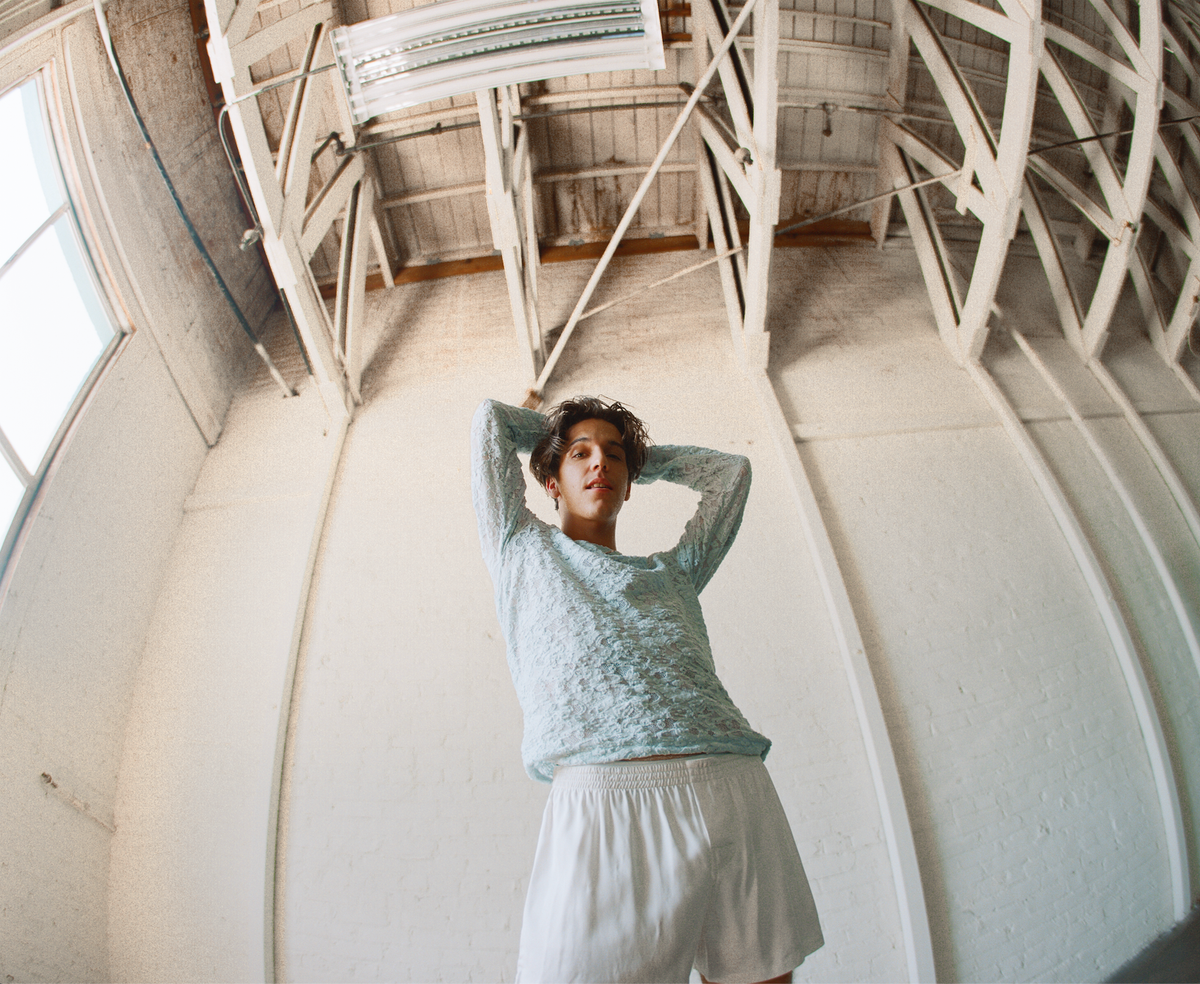 On The Rise: Role Model
09 October 2020, 08:00
Behind the ambitious alias is 24-year-old Tucker Pillsbury, from Maine. And behind that is several years of mental and physical struggle, darkness in career defining moments, and songs filled with tenderness and Gen Z apathy. Hard work and setbacks aside, his journey to stardom is more like a string of coincidences rather than meticulous strategy.
Tucker, whose stage name was inspired by the 2008 movie Role Models, tunes into our interview with a one-hour delay; though not without a reason. The video for his stripped down ballad "blind" had just come out, and the rising artist was too excited to miss the release, greeting his 240K Instagram followers on a live.
With little time left to us, we jump straight into the rising star's story of success. He tells me it began when his 'rapper-friends' (although he doesn't elaborate on who these friends were, and doesn't return to it,) left some recording equipment at his dorm at Point Park University in Pittsburgh, where he was studying film. He tried his hand at production, and instantly fell in love with it. "I started looking up tutorials, downloading programs," he recalls. Replacing his love of film with music and songwriting, it wasn't long before his academic performance started suffering, eventually resulting in his decision to drop out altogether.
It's now winter 2017, and Pillsbury is a college drop out, struggling with purpose, and now with a serious injury that threatens his music career. He grew up skiing, and on a trip to Maine's Sugarloaf Mountain, Pillsbury was in a dangerous accident . "I broke my wrist really bad," he says, "I had surgery and was in a cast for a while. Then I broke my wrist again, which put me back in the cast, and there was an issue with the surgery. It was seven months of torture and not being able to do anything."
This sudden physical ailment, which affected his ability to play and produce, put a strain on his mental health too, and he admits to going through a dark time during this period of life — both literally and figuratively. "I was stuck in a room with no windows, a broken wrist, a bunch of painkillers and no one to talk to," he says.
But, despite setbacks, he kept at the music, healing alongside it. "I had this little closet in my apartment, and I'd record everything in there," he says. And that is how Role Model's first industry-breaking EP, Arizona In The Summer was created: in a closet, alone, with a broken wrist. Though the setup sounds grim, the result does not. Released almost a year after the accident, the four bittersweet tracks not only served as the foundation for Role Model's rapidly growing fanbase, but also as a therapeutic outlet for the artist himself.
Despite his success, we return to the state of his mental health during this exciting moment in his career. I wonder what it felt like to finally achieve recognition, after struggling so deeply. I don't imagine the pressures of loneliness and imposter syndrome could just disappear with a hit. He agrees, and if anything the pressures on his mental health took a significant toll in the making of this career-defining work, with the 22-year-old finding himself friendless, degreeless and working on a career from a closet.
But, perhaps, that's where the gravity of his musicianship lies. "I've never been a great communicator," he says. "I don't talk to my parents about many things, I don't bring up a lot of stuff with my friends. So music was the only thing that got me through that period. A lot of people say that about music, but, honestly, it's the only way I can put it."
So, despite Arizona In The Summer generating streams on Spotify, and buzz on Twitter and in the indie media, Pillsbury still found himself falling out of love with music. "I was about to stop making music, go home and cry to my parents," he says. Perhaps, that could have been the end of his career, if it wasn't for one life-changing message.
Pillsbury's very own role model, Mac Miller, heard the EP and reached out with compliments. Just like that, the singer's passion for music was not only revived, it was locked in. "I remember getting that text, throwing my phone and running up and down the stairs. It was crazy, it felt like a sign. It came at exactly the right time because I was about to give up," Pillsbury says.
Having gone to college in Miller's hometown, Pittsburgh, Pillsbury notes the late artist's impact on the local culture, which is clearly part of the reason he admires him. "You hear his music all the time, that whole city is him. He was a genius."
Though it has been a few years since Miller's team flew Pillsbury out to LA so that the two could meet and work together, he still sounds enchanted when talking about it. "I've never met someone and felt like they understood everything. I saw myself in him, and I know that everyone wants to say this about someone they look up to, but he was really one of a kind." Mac Miller's influence can easily be spotted in Role Model's music, and not by accident. "When I work on songs or videos now, I always ask myself if it's something Mac would throw in the trash. His opinion meant everything to me in the short window that we knew each other. I've never cared about anyone's opinion that much."
The making of Role Model's second EP oh, how perfect was a big step-up from that of its DIY predecessor. Freshly signed by Interscope Records in 2018, alongside pop superstars Selena Gomez, 5SOS and Maroon 5; Pillsbury swapped the closet for a professional studio, emailed beats for strings and violins. "It made me fall in love with music even more," he admits.
Role Model's music falls into the increasingly popular category of being fit for people who don't mind being sad on the dancefloor. Championed by Conan Gray, Lauv, and at times Mac Miller himself, this style hides melancholic meaning behind explosive melodies and energetic drums.
There isn't one song in Role Model's discography that doesn't comment on mental turmoil, questionable friendships, or relationships that could have gone better - which through this interview I now understand the reason behind the rhymes. "We should be dancing in the sun / It's hard when everything is numb," he declares in "hello!". Meanwhile, "minimal", which boasts over twelve million streams on Spotify alone, states that "Boys don't cry, they're happy all the time / Girls get by, act like they got it fine / We're so sad, all my friends and I."
Pillsbury is perhaps now searching for a change in tone. He explains that music is still an outlet for him to express feelings but he doesn't want to release sad songs. "I like the contrast. I genuinely don't want to put the listeners through what I'm going through, I want them to have fun with my music. Even if the lyrics are a bit dark," he says.
Apart from writing, Pillsbury's favourite thing in music is touring. When I ask him to name a career highlight, he recalls his first headline tour. "I got to bring my friends from home. It was an amazing experience." Role Model's concert in Toronto was one of the artist's favourites, not least because it was also the furthest from home. Along with the rest of us, Pillsbury is looking forward to the return of live music so he can play "bigger and better shows." He is yet to perform in Europe, with London being on top of his list not only as a place to play but also to go for work. "Everyone is telling me that I'm gonna fall in love with London," he says, a note of adventure in the usually placid tone.
Until then, Role Model is busy working on more music, with new singles "blind" and "for the people in the back" released earlier this summer, and the third one on the way. "September will be a good month, I'm excited. I've got a lot of stuff coming," says Pillsbury.
Wrapping up our conversation, we revisit the series of fortunate — or not so fortunate— events that took Pillsbury from his dorm in Pittsburgh to a recording studio in LA. Has it all been a coincidence? Or was he destined to make himself at home in the music industry?
"I think about it all the time, but I don't know," he admits. "I watched some videos of me performing in front of my family on Christmas when I was seven, and I think that maybe this passion was always in me. At the same time, people just bring different things into your life. For example, my brother picked up a camera, and I thought it was the coolest thing. So I started doing film. Maybe you just get influenced around and eventually find something you enjoy."