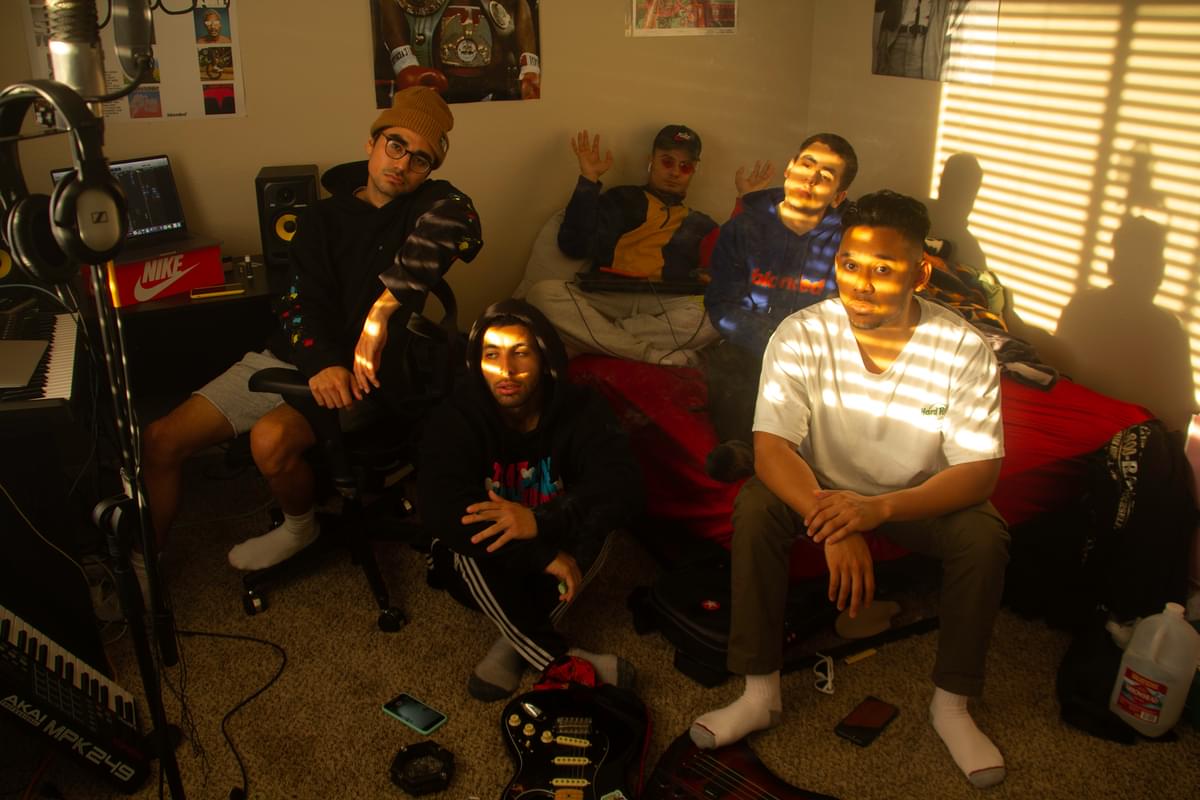 On The Rise: Peach Tree Rascals
04 July 2020, 08:00
LA-based collective Peach Tree Rascals are ripping up the rule book with genre bending bops and boundless ambition.
Starting out with little more than a keen ear and passionate determination, Peach Tree Rascals have been setting their own agenda with a soundscape anchored as much in the melodies of Arabic pop and alternative R&B as it is in the beats of Motown and West-Coast hip-hop. Grafting away in the 10x10 garden shed that has been their creative home since 2016, Dom Pizano (producer/mixer), Isaac Pech (singer-rapper), Tarrek Abdel-Khaliq (singer-rapper), Joseph Barros (singer-rapper) and Jorge Olazaba (creative director) have weaved a unique musical tapestry rooted in the sonic influences of each member. "It's pretty amazing how it just happened", Abdel-Khaliq laughs. "That you create a whole new sound just like that, just by bringing people with different musical backgrounds together".
Bonding in high school over a shared love of music, it was their diverse backgrounds that drew the San Jose natives together and inspired their unconscious originality. "The goal wasn't to be unique", explains Abdel-Khaliq, "the goal was to make something great and something timeless, so it just always happened to be like that". Confronting everyday realities and the pursuit of happiness with colourful aesthetics and a relatable, sunny optimism, the Californian quintet offer something authentic with each new track, warmed by an effortless charm and intuitive lyrics.
From Pech's fascination with the lyrical prowess of some of the world's biggest rappers, to Baross' early memories of hearing his mum playing Fleetwood Mac around the house, the group were inspired by an assortment of sounds growing up. Abdel-Khaliq candidly reflects on how much television shows such as Hannah Montana and Camp Rock inspired his love of music: "Those Disney Channel shows made me want to become a singer. It's a funny story but that's really the truth". In contrast, the spark moment for Pizano was the first time he heard Kendrick Lamar's "Hold Up" in 7th grade. "That was the first song I heard where I was just like, wow, this is fucking beautiful. That's what made me look more into music, trying to find sounds that sounded like that song".
Starting out with no formal training and limited resources, necessity forced them to do everything themselves. Pech and Abdel-Khaliq honed their craft spitting bars over YouTube beats and posting them on Soundcloud, whilst Pizano spent nearly 70 hours a week teaching himself audio production. "When Dom started producing, we started to realise the impact of having control over production". Providing the glue that holds them together, Pizano adds "I love to show them ideas that they would never think of".
As their dedication and enthusiasm grew, so too did their aspirations as they began recording and producing their own material. "The more we started to record, the more we started to want to take it seriously". What resulted was an organic, DIY approach that gave them the confidence and scope to just do whatever felt right. "We enjoyed doing everything. It was really fun and very rewarding once the numbers were there…. With a really good team we could just do anything", Pizano explains. "It was all just self-learning and bouncing ideas off each other and trying different things," Abdel-Khaliq adds.
Unapologetically themselves, the collective's authentic sound is as much a sum of their different backgrounds as it is this fearless, collaborative creative process. "We lit each other's flames", Abdel-Khaliq laughs, "seeing [Dom] work really hard made me want to work really hard. So he improved really fast [which] made me improve really fast, making everyone else improve really fast... In a way we're all a bit stubborn with our ideas. When we have something we really like we're going to push for it to get on there, so even if it's a bit different to what everyone else's parts of the song sound like, we still try to make it work".
Over the last year, the group have reached out and started working with other producers and songwriters. "The whole time we've been together it's just been us in this shed with no help, so sometimes we feel a little bit limited because of our experience or our lack of knowledge". By accepting their flaws, working alongside others has enabled the quintet to develop their sound without bowing to external pressure or losing sight of who they are. "If it starts to feel like it's not from us, it [won't] come out natural no matter what. So that's our whole thing; just be ourselves completely and try to bring that no matter who we're working with, no matter where we are".
Even as the collective's support network has expanded beyond the confines of their revered garden shed, this attitude remains at the core of what they do. From designing merchandise to directing their own videos, the quintet injects their vibrant enthusiasm and lust for life into every aspect of their music. "We'll never forget what it was like making music in the process we would go through". Tracks such as "Mango" and "Mariposa" are evidence of this as they continue to rack up millions of streams worldwide with their bright, lo-fi soundscapes and youthful enthusiasm.
The boys haven't lost sight of where they came from because even now, after a cancelled US tour and several months spent in lockdown with their parents, they are back in the same shed Pizano's dad helped them build four years ago, refreshed and ready to get to work. "We've just been taking this time to just step back before we go 100% again".
So, what does 100% look like? There's a new single in the way of the groovy, dream-pop cut "Deer", which is the product of a late night spent smoking and jamming out in Abdel-Khaliq's family cabin in Yosemite. Sparked by a melody written at 4am, the track deals with concepts of loneliness and yearning, it's psychedelic synths and softly throbbing percussion evoking a wistfulness that is pretty resonant at the moment. "It was a song that came when we weren't thinking about anything, it was free flowing".
Beyond this, the collective has plans to release a new single every month for the rest of the year, with an EP expected in early 2021. This approach to releasing music is inspired by one of the group's major influences, American rapper Russ. "I just remember following him because I really liked one of his songs and…every week he would release a new song…and it just kept going. As a fan experiencing that, it was different than when I was following any other artist. I want our fans to feel the way I felt when my favourite artist was releasing a new song every week," Abdel-Khaliq smiles. "We always wanted to release singles because we believe in every single song that we make and we want each song to shine".
"It worked for Russ". It certainly did. And with their unique, organic sound and boundless creative ambition, there is no reason why it should not work for them.
Deer is out now via 10K/Homemade Projects
Get the Best Fit take on the week in music direct to your inbox every Friday