Even through the knackered loud speaker of a prehistoric landline Helena Deland manages to sound acutely charming. The disarmingly concise Canadian singer/songwriter is keenly anticipating the release of her third and fourth volumes of reflective ballads aptly titles Vol III & IV. "I'm very excited about these releases as it marks the end of songs I've been working on for years" she declares breathlessly. "It feels like its freeing me from that and allowing me to put out material that will come out more simultaneously with the time they are written at."
The debut signing to Luminelle Recordings, Deland released the folky Laura Marling inspired EP Drawing Room to quiet acclaim and which was quickly followed with From the Series of Songs "Altogether Unaccompanied" Volume II, marking a decidedly abrupt change in gear towards a more ethereal electronic space.
By releasing in volumes, Deland challenges the norm of well plotted release plans aimed at maximising playlist support, which ironically has only solidified even though the actual process of releasing music has been democratised. All the songs that are coming out on these EPs were recorded at the same time which was both a conceptual decision and a marketing one Deland explains. "It was a very well received idea when I told my manager and label I wanted to breakdown the album I was making into smaller parts. I'm very happy I took that decision because it allowed to think in broader terms conceptually when working on my LP."
Deland has been writing music since high school which, by her own admittance, started poorly. "In school I had incredibly intense feelings listening to music and I would try to write songs, but they were all basically rip offs. I don't think my thought process about anything relational was mature enough to write something meaningful. They were a bit sloppy." She recalls candidly. Those strong emotions towards music stemmed from a household of performers – a consummate piano playing father and a mother whose love of legendary Canadian indie rock radio station CBC was borderline obsessive. "She is a huge radio fan of CBC. She'd come home with three of the latest albums she liked, and she's always been convinced that she is responsible for all the music I listen to."
"I think being open with my writing as something to do with the fact that my relationship to writing music is intrinsically tied up in the fact that it is in my second language."
Whilst mum's guiding hand may well have been a major inspiration it was the very act of just sitting within oneself that spurned Deland to explore new avenues within her work. This spurned on her transition from the doe eyed teenager to deep thinking adult and subsequently from basic structures in her song writing to more complex arrangements and ideas. On these most recent releases Deland solicited the help of producer and sound engineer Jessie McCormack along with her core band. "My music used to be made in a very different way because I knew very little about producing and arranging" she confesses. "This time round was really interesting because the band were there as well, and we had already figured out versions we were going to play live and had worked through the arrangements. My band and Jessie are the people implied in the music I'm making."
Whilst the sonic elements may be collaborative the lyrical themes are extremely personal. Through her probing introspection Deland manages to not only let the listener into her own interactions and relationships but also explores wider issues with a focus being a heterosexual woman in a heterosexual relationship. In their rawest form the songs are about love (a pretty relatable concept by anyone's admission) but also a decidedly female perspective on modern-day relationships. Something she shares with the likes of Phoebe Bridgers, Soccer Mommy and Snail Mail.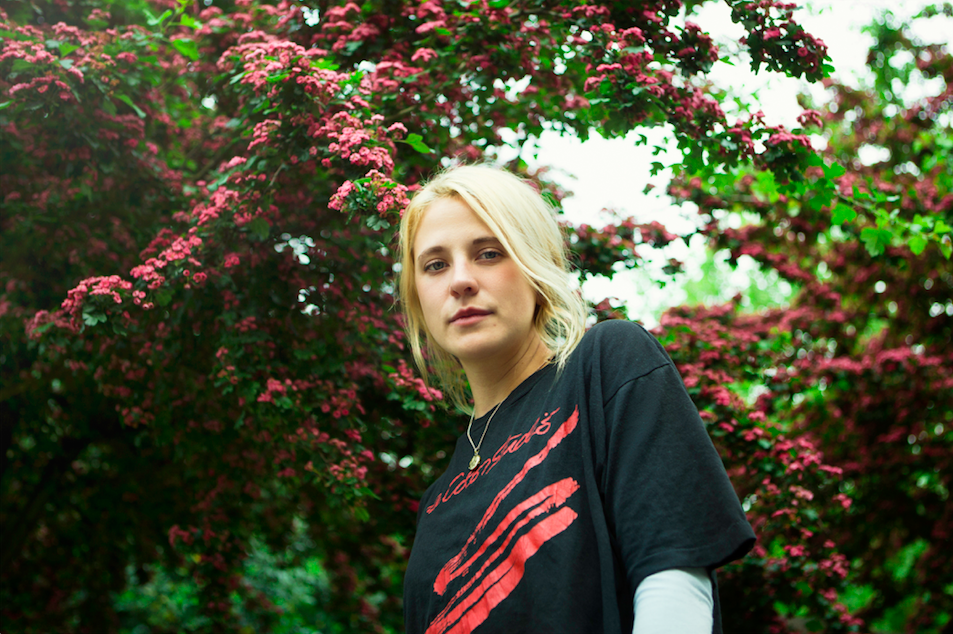 The predominate amount of the output thus far has explored the trials and tribulations of relations between human beings, something Deland finds only to be artistically nourishing. "It's easier for me to feel inspired when things feel disrupted or disordered or painful even. Its more inspiring because it feels more particular than happiness or comfort can be… the insatisfaction of anything will lead to creation than satisfaction will. That's really how I feel about my song writing, it helps me get through my sadness" she chuckles fairly morbidly. When posed the question if she had room to celebrate relationships and people in love her response was quite apt. "I think that the mere fact that I am putting all this energy into synthesising love and relationships is very much celebrating in itself.
Deland seems fairly non-chalant about letting perfect strangers into her psychologically private and intimate moments, primarily down to the fact the people will either judge or not care and that she writes music in a language that is, first and foremost, not her own. "I think being open with my writing as something to do with the fact that my relationship to writing music is intrinsically tied up in the fact that it is in my second language" she ponders. "I think that makes it a little easier to be bold as most of interactions I have are in French." On the reverse when posed the uestion if she would ever release music in French she becomes more hesitant. "I think it would be a very interesting exercise to carry out a release in French formerly but also terrifying though because it makes me very vulnerable".
Deland is a real creative force who in her art manages to distil the morality and disappointment of the everyday whilst offering the listener an occasional triumph of love. Her upcoming releases From the Series of Songs 'Altogether Unaccompanied' Vol III + IV deftly encapsulate that idea and are the perfect clarion call for an exciting debut album.
From the Series of Songs "Altogether Unaccompanied" Vol III + IV is out 19 October via Luminelle Recordings