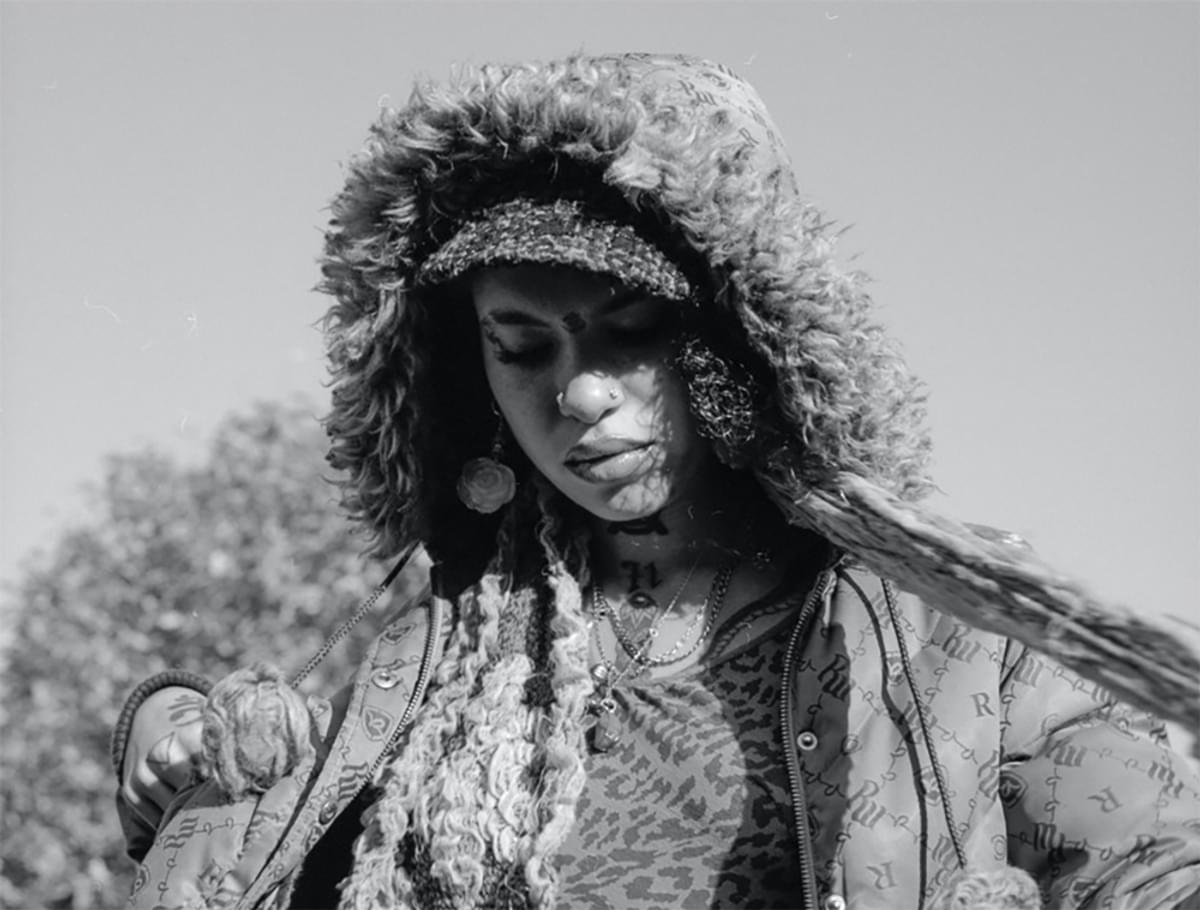 On the Rise

Greentea Peng
12 November 2019, 08:00
With her blissed-out aura, buttery vocals and innovative blend of psychedelia and soul, Greentea Peng is bringing her big chill to the Big Smoke.
Having topped the bill of Boiler Room's first festival, performed a headline show for the Roundhouse Rising series, and sold out Hootananny Brixton for the launch of her second EP, Rising, Greentea Peng's name is everywhere right now.
A psychedelic trip through lo-fi soul, her eclectic sound mirrors the diversity of the city she calls home. As Rising continues to push her name from the capital into playlists across the globe, it's amazing to think that 24 year-old Aria Wells has only been working as a musician for a year.
London is at the heart of Peng's writing, in what she explains as "the tongue-in-cheek of it, the kind of vibe... it's an attitude, innit." At present, she's chatting over the phone while taking a break from a studio session in the city, before performing a DJ set. "It's the most diverse city I've ever been to. Growing up I very much loved London, my Dad brought me up very 'yeah London town, the best town in the world." Listening to songs like "Inna City" from the EP, you can hear the capital laced throughout. From the twang of her vocals, to the eclecticism of the production, and lyrics like, "Your double vision, inna city / You can get it if you're witty / Work your way up in a jiffy / What you got, I want it, gimme," she perfectly illustrates the lovable-toughness of life in the Big Smoke.
This is where Peng grew up until she went to secondary school, at which point she began living and studying in Hastings, a place that could not have been more different. "It affected me in many different ways, in hindsight it's one of the best things that could've happened really," she explains. "It helped shape me a lot, it gave me two different perspectives, two different lives. It was cool being able to grow up in nature and by the sea, and still come down to London."
Despite always having been naturally creative, Peng admits that she had suppressed her talents for a long time, the result of teenage angst and trying to figure out who she was. "I was quite inside myself and angry at the world," she confides. However, she took the leap of moving to Mexico once she had left school, pursuing her desire to travel. It was here that her love for music was re-ignited. "I was watching a lot of live music and it reminded me of how much I was in love with it, how much I needed it. I needed a creative outlet," she explains. While out there, she met her manager who would encourage her to carry on singing. Once she had returned home, her talent became a serious professional opportunity and she released her first EP Sensi in 2018.
Not only has her time travelling triggered Peng's musical ambitions, but it's helped to shape the sounds she creates. At one point during our conversation, Peng remembers lying in the desert of California, smoking joints while listening to Erykah Badu and J.Dilla's "Didn't Cha Know" way before she started singing again. This coming together of jazz, hip-hop and lo-fi textures is something Peng emulates in her work with London producer Earbuds, who has become renowned for his collaborations with Slowthai. "I had already been playing around with another mate in the studio," she remembers. "I listened to the beat for "Moonchild", and I was like, 'this is mad, I love it' but I was like 'how the fuck am I gonna write to this?' And it just came to me one day. I finished it on the overground while on my way to my first session."
The duo have continued to work together on Peng's second EP, Rising. While it's only been a year since she debuted with Sensi, she acknowledges a sense of development between the two projects. "I guess the tone of the tunes have been uplifted a little bit," she says. "I've gotten a little bit more confident, I'm more comfortable but still in an explorative state. I'm kind of testing things out. I don't think I've reached my full potential, it's an ever-evolving thing and I want to make music for the rest of my life, so I want to keep getting better. I want to be the best I can be –I know I'm not right now but I think this EP is a nice step up from Sensi."
This progression is evident from the first listen of Rising. Leading with the title track, the EP makes an immediate impact:the combination of swirling production and Peng's soulful vocals as she repeats the titular word to dazzling effect. "It's such a mad beat innit," she says. "It's the same guy who made "Downers" [from the first EP] Fred Cox, and those two songs, I was in similar thoughts. It was December time, and I get proper mad in that transition of the seasons. I think those songs are both quite restless. And I think it's quite a brave song to start with, it's quite violent."
Seasonal change is also interwoven throughout the first single from the collection, "Mr Sun (Miss Da Sun)", which blends a sense of longing for ones partner with the end of summer. With lyrics like, "Mr. Sun I need you / I'm only happy with you / No one lifts me like you do" – and considering the inspiration behind Rising – it seems necessary to ask how much influence Peng draws from her environment. "The majority of it," she says. "I'm greatly affected by my environment. "Mr Sun" is about missing the sun, I was missing my man at the time too."
This is illustrated in the music video for the single, which shows Peng gliding towards the camera, soaked in light before transitioning into various scenes of her hanging out in different spaces, calling out for her loved one to return. As confident as she may appear in front of the camera, making images of herself is still something she's fairly uncomfortable with. "I have to get used to the cameras and videos of me, and I just struggle with them," she explains. "I think I was probably quite difficult to work with. I'm very grateful but I just get annoyed with myself. I guess you could say my head doesn't come up with visuals for my songs, but Felix [the director] is a bit of a genius. I let him know the theme of the song, and transitions was always going to be a big part of the video, but I let him run with it. "
This confession of vulnerability makes Peng even more endearing, especially as she appears to be so self-assured when performing. This is where she is most comfortable, even more so now that she has a live band backing her with Earbuds in the line-up. Over the past year she's been able to travel across the country, to India for the first time, and support Neneh Cherry on tour, who she now sees as a mother figure. "She told me to just be cool," she says. "I get mad stressed sometimes, thinking about hundreds of thousands of things but Neneh she just taught me that, be cool. She's a Pisces and them lot are lucid."
With the EP now out, more live shows are on the horizon. The anticipation she has for performing these new songs is tangible, as she sees each one as special in its own way. "I love all of them, they're all my babies," she says. "I'm actually happy with it, I never really say that but it's a nice body of work. I have to remind myself not to take it too seriously, not everyone's gonna like it but it's a bunch of expressions and I'm happy to be putting it out there."
Considering she's had such a whirlwind of a year, full of new experiences, EP releases and an ever-growing fanbase, the time comes to ask what's next for Greentea Peng? "I'm probably gonna chill for a bit," she contemplates. "I'm just excited about this project, really excited." One thing is for sure, no one else is more of a quintessential Londoner than Peng, whose artistry illustrates the eclectic soundscapes of a hectic city, and brings them down to earth with her own sense of zen.
Greentea Peng's EP Rising is out now.
Get the Best Fit take on the week in music direct to your inbox every Friday