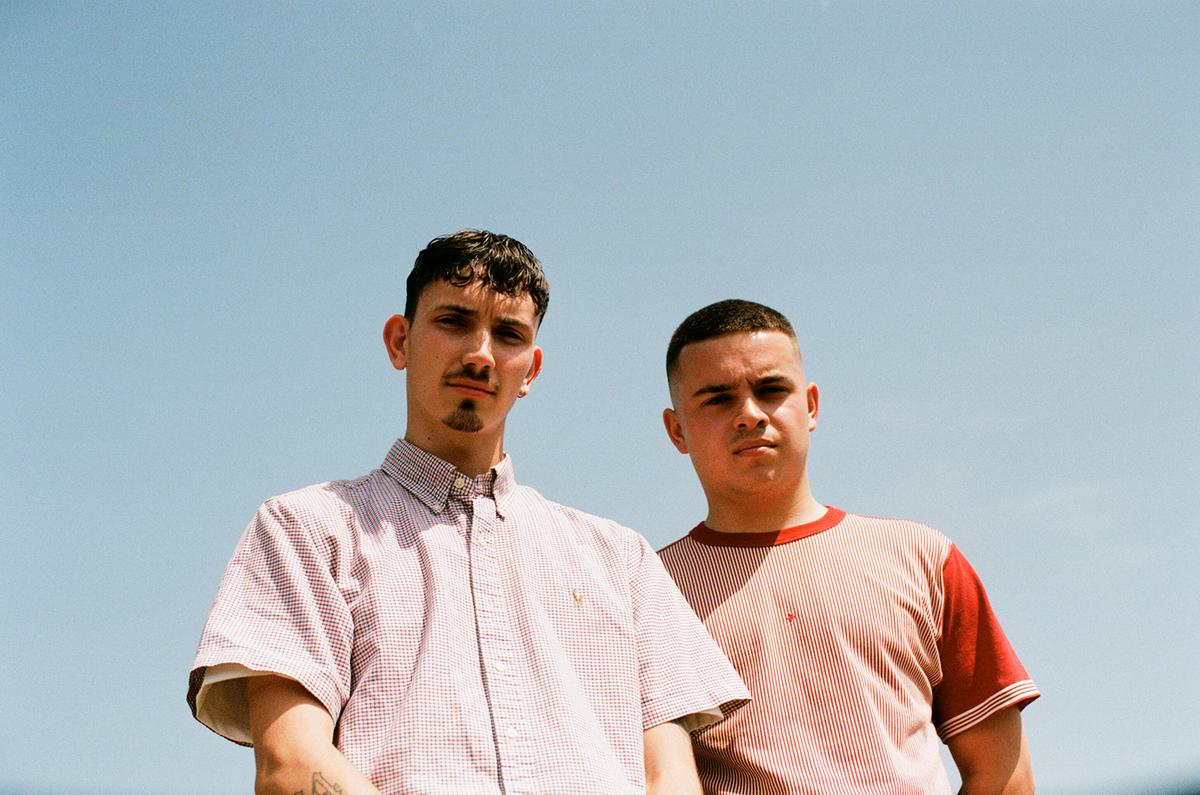 On the Rise

Everyone You Know
17 August 2019, 11:00
Growing up in a household full of jungle and East Coast rap albums, half-brothers Rhys Kirkby-Cox and Harvey Kirkby have molded their own frenetic, eclectic sound that refuses to settle down
Rhys Kirkby-Cox, 24, wears Doc Martens and Levi's aboard the train into central London. He is on his way to meet up with his half-brother Harvey Kirkby, 20, the other member of the genre-bending music duo Everyone You Know.
Later on, Harvey, wearing a cozy tracksuit, meets Rhys and their manager at Lyle's coffee shop (they are cheap dates and stick with the complimentary water). The duo have spent much time in the studio recently wrapping up their latest EP, Look After Your Pennies, a many-sided collection of breathless, bassy alt rap, husky indie and unabashed dancefloor fillers.
Rhys and Harvey share a father and have different mothers, but have always felt connected by a sibling bond. "We weren't like raised as half-brothers, you know what I mean?" says Rhys. "We've always been very close together. I was always around because obviously Harvey lived with our dad and his mum and then I lived with my mum during the week. I spent the weekend up at my dad's so we saw each other literally every week."
Harvey, who is four years younger than Rhys, has never known life without his brother. "Whenever anyone asked, we always said that we're brothers. Everybody seemed to think that, anyway," explains Harvey. "We've always been close since I was born. I don't really know any different."
Rhys and Harvey grew up in the same music-filled environment. The albums their dad kept around the house would later influence different aspects of their own sound, from 90's East Coast hip-hop – Nas, Biggie and co – to jungle and rave. "Definitely the 90's East Coast hip-hop scene was a massive influence for us," says Rhys. "That was definitely our first true love with music."
"Music was always in the house. It wasn't one of the things we decided 'we're going to do music now.' It was almost like sat in our laps, you know what I mean? Our parents all went through that sort of jungle, hard-core rave era in the late 80s, early 90s." This rave sound permeates through much of Everyone You Know's music, including their latest, "She Don't Dance." The brothers got into the modern rave scene themselves growing up, listening to artists like The Chemical Brothers. Later, they would be influenced by lad culture indie rock groups, including Oasis and the Arctic Monkeys, adding another ingredient that would forge their own musical identity.
For the most part, Harvey does the production work and Rhys writes the lyrics. Rhys does dabble in composition too, though: his uncle used to produce early Jehst andTaskforce-style rap music and Rhys inhereited his laptop with Logic 9 and a little synthesizer, as well as some of his production knowledge.
"I've always written lyrics since I was young just because it's something I've been madly in love with," says Rhys. "I went to college and I met my best friend now, his name's Callum. His older brother was rapping and had a studio. He sort of brought me into that. That was my introduction to actually making it a real thing, recording tunes and whatnot. The first time we ever made a beat we decided we never want to do anything else with our lives. This is the thing we love, we have to do this."
Harvey was also drawn to music and formed a natural connection to Rhys as a creative partner. "When we made that first tune that's when you know. It clicks. We joined forces in 2015 or 2016 and just started to make tunes together really," explained Harvey.
It took nearly seven years of hard work before Everyone You Know released their first project under the name Faces. Their work paid off when they were offered a recording contract with RCA records only three weeks after its release. Their debut EP as Everyone You Know was 2018's Cheer Up Charlie, a candid reflection of young life in and around London. It contains the tender anti-anthem "My Generation" and the high octane, drum and bass hype track "Burning Down", and is peppered with vivid callbacks to their childhood and name-drops of their favorite sportswear brands.
Before forming Everyone You Know with Harvey, Rhys was working in landscaping and Harvey was in college. The RCA contract was signed about 6 months before Harvey's time in college ended. "Because we were meeting up with the records I was taking time out of college. Thankfully they were proper supportive of it and let me do my work around the music," recalls Harvey with gratitude.
Everyone You Know are now preparing for the release of their sophomore EP, Look After Your Pennies. "She Don't Dance" and an accompanying music video is our first glimpse, and the music video tells a cautionary tale of what can go wrong if young parents are not supported properly. Rhys, a young parent himself, explains. "Obviously you get bogged down with finances and the stress of raising a child and having to put a roof over their head and whatnot." The video is meant to show "what it can potentially lead to if you're not supported the right way." While balancing parenting and music may not always be easy, Rhys says fatherhood has been his most rewarding life experience. His daughter Remie will be two this August.
Much of Everyone You Know's music is inspired by their childhoods, growing up just outside of London. According to Harvey, "Money" is the track with the most stand-out story. The track itself oscillates from light and airy to a jarring, aggressive and heavy verse. "It's important that we wear our heart on our sleeve and we're always honest. I feel like that was a moment in time where we weren't happy where we were and we didn't have enough money to support our family or do what we've got to do. You can hear that in the music so for me that's one of my favorite tracks on [Look After Your Pennies] just because it is so raw and you can feel the place and time," explains Harvey.
"Wasted Love" shows a softer side of the duo with an alt-rock inspired sound and a clip of Rhys's daughter Remie during the bridge. "I recorded that tune while my girlfriend and my daughter were home… As I did that she walked into the bedroom and it just represented that tune perfectly… it wasn't planned, she just walked into the room accidentally," explains Rhys.
Later this month, Everyone You Know will be performing at Reading and Leeds festival. Alongside the EP release, it feels like the next rung on the ladder, for two lads crafting a sound that – in a sea of cookie-cutter trap and polished pop – feels bold and defiant. "I've been to Reading myself. I've been three or two times now," smiles Harvey. "To actually go back, like, three years later and perform there is mad. I think that'll be our biggest big so far."
Everyone You Know's EP Look After Your Pennies is out now.