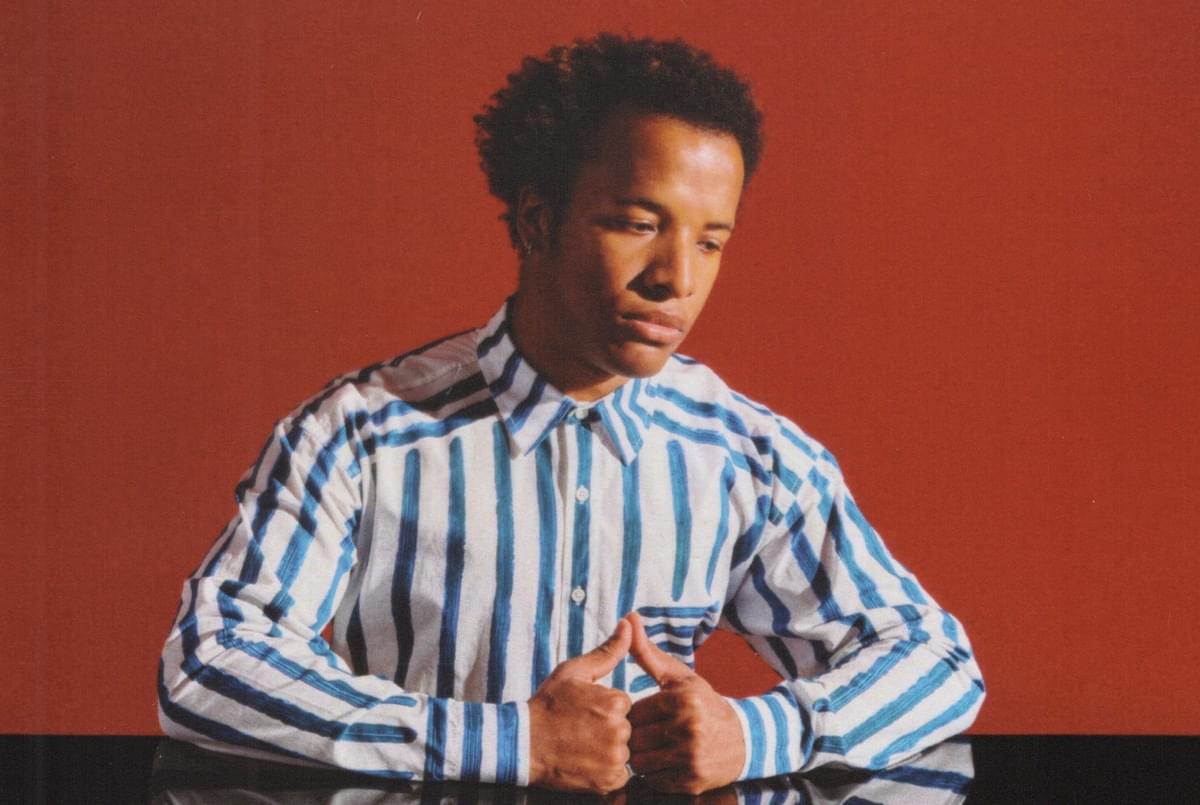 On The Rise: Cautious Clay
19 November 2020, 08:00
Pop music's secret weapon Cautious Clay has had to overcome the struggle of finding identity, and now he is ready to stamp it on the world.
Operating under the moniker of Cautious Clay, the Ohio-born, New York-based Joshua Karpeh is fluent on a multitude of instruments - flute, saxophone, guitar, bass, vocals, keys, drums, even production. With that ability comes an endearing nerdiness for the production and composition of music, which is ever present in new single "Dying In The Subtlety."
Karpeh is a man who can octopus almost every role needed to create a pop song. During our conversation, his description of John Coltrane's "Countdown" could put music writers out of business. A condensed version of his iconic 'Giant Steps' piece, Karpeh likens it to "a little comet flying through the sky at midnight", gushing over how to melody comps the chords, how it shuffles in at the last 30 seconds like an ending mantric vamp. Find another pop artist willing to go this deep into the trenches of artistry.
His adventurous streak stretches back to his childhood, where one could spot him sailing or pole-vaulting, and this carries on today with his interest in biking and archery. "Being from the Midwest, I had a lot of different opportunities to find out what I was interested in," he ponders. "I felt very uninhibited by my surroundings, I think mostly due to my mom being a very supportive and nurturing person."
His first exposure to playing an instrument came at an early age, and from an unmistakable source - Greg Pattillo, a beatboxing flautist who went YouTube viral in 2007 for his transformative piccolo covers of the themes to Super Mario Bros and Inspector Gadget theme tunes.
"He brought this sentiment of doing whatever you know and being super creative. At a very young age, he taught [me] about beatboxing, the blues, and all this stuff. I started music when I was seven, and at that age, I was mystified by this guy; I'd never seen somebody do so many interesting things with a flute. So when it came to musical instruments, I felt the sky was the limit."
From there, he began to amass his multi-disciplinary knowledge, adding his second chief instrument in saxophone after being told to learn it in order to join his high-school jazz band. He maintains that "I'm not nearly as good at guitar or bass as I am flute or sax", explaining that it's a "battle" to transmit the ideas in his head onto what he physically knows to play. Nonetheless, those breadth of ideas are ultimately why he's so versatile.
When he made a scholarly move to Washington DC, he became inundated with the pressure to finally find his calling. This fostered a discomfort in himself that was worsened by his meetings with his college guidance counselor. "I remember seeing a [chart] that showed the jobs you [could] get when you graduate, and [how much] money you get when you graduate, and music was the lowest of the barrel. I was thinking, 'how am I going to survive on $20,000 or $30,000 a year?' It just feels like it's not a reality.
I've faced self-doubt, not feeling like I belong in any type of real system," he concludes. This was on top of an underlying stigma of being "too white for the black kids, and too black enough for the white kids". Identity has been Karpeh's great hurdle, and he constantly relates this into his musical output, from the title of his first EP Blood Type hinting at the physical make-up of every human, to the very name 'Cautious Clay' paying homage to Muhammad Ali's birth name.
After college, Karpeh made the move to New York, and such a sprawling city was bound to release him of his musical inhibitions. "I definitely felt that I could be myself, like I was finally coming into my own. I was like 'this is the music that I like, and I'm not trying to serve any other person or vibe or aesthetic, I'm not trying to please anybody.'"
New York's maddening density also helped him feel comfortable by giving him a billionaire's wealth of communities and social spaces to belong to. "I feel so at ease in New York because I felt like I had a place where nobody cared about you, but also everybody does care at the same time." Upon deciding to pursue music full-time, he ditched his year-deep career in sales and went part-time at a now-closed Carribean bar Glady's in Crown Heights to keep himself going. "Eventually, it just snowballed into what it is now."
Cautious Clay initially captured eyes when the music video for "Cold War" premiered on Pitchfork's YouTube channel. Becoming his signature cut and eventually being sampled by Taylor Swift, his momentum carried on via a breakout single with Petite Biscuit; accumulating 3 million monthly listeners on Spotify.
Currently spread across three EPs, his pristinely-finished pop music is wet-through in reverb, sirening influence from hip-hop, and ballasted with his clean-cut vocals. As for specific artists, his inspirations are more modular. We spoke on Fiona Apple's Fetch the Bolt Cutters as an album truly worth the hype this year, as well as Michaela Cole's BBC drama I May Destroy You. He pulls from everywhere, his mind compacts everything in his view.
Within these tracks lay candid details on himself as a human, with all the bad habits and broken contradictions that come with it. He's a self-diagnosed optimistic nihilist, retracting from the search for life's deeper meaning and simply using the opportunity on Earth to find happiness, live large and express oneself. "Drama in my life on purpose / 'cause I don't need to have a purpose", a line from Table of Context offering 'REASONS', best explains this with agile wordplay.
That he has managed to build his name up to this level with the complete absence of a record label is laudable. In doing so, he is afforded the luxury of total control of his work, something that he recognises: "In the context of my music, I want to build up something that feels foolproof, where I have an identity, where I can do whatever I want. And I think that with record labels, there's a lot of pressure to make music that is super commercial, especially if you want to get a big deal. "I have just me and my manager, a lawyer and a publicist, that's it. I don't feel like I need a lot of different cooks in the kitchen."
Despite his push to be independent though, he's not adverse to the traditional industry structure, and in looking to use his platform for good, he has even started his own record label. "We're trying to work with artists and give them more fair deals than some of the other opportunities, more of a distribution deal than a full record deal. I think a record label can do a lot for us artists, I just think there needs to be structure that is fair and makes sense."
His new single, "Dying in the Subtlety", sees him detouring to somewhere surprising and tantalizing. Strung together from a beat sent to him by drummer Ian Ewing after meeting after a show in Milwaukee, Karpeh "barely touched" the loop, nonetheless transforming it into Peter Gabriel- and Bobby Brown-quoting funk-pop. A real interest point is in the more pronounced, airborne vocal style he uses, which Karpeh notes is made from 28 individual stacked vocal takes, "then roughened up with a little bit of overdrive, reverb and compression."
Lyrically, the song tackles today's polarised and provocative society through the frame of a loving relationship. "I think it was inspired by how absurd the world is, enough to make me want to scream, and I think I'm not alone in that," he observes. "'Dying in the Subtlety' was a phrase that just felt so dramatic, it's tough to get anything across when there's such a multiplicity of voices that are occuring at once."
Cautious is still defined by his collaborative efforts. He can easily drop names like John Mayer, John Legend and Khalid if he isn't beaten to it by every journalist covering him, and these regular meetings with the stars haven't affected his perspective on famous people and his own input. "They're not really any different, it's just a mindset of having all these followers and things."
The collaborations work both ways, as his dexterity lends itself to the variety of guests he can have on his own material. "REASONS" manages to twin rowdy beatmaker Hudson Mohawk with modern-day Harry Nillson, Tobias Jesso Jr. Speaking on the song and how he approaches collabs, he proposes, "I think it depends on the strengths of the person. Hudson Mohawke is a beastly producer, so I feel to utilise him in a room is to just let him behind the boards. If you're going to work with him, you're going to get those really grippy, crazy sounds. Whereas somebody like Tobias, he's an incredible piano player and songwriter, so a lot of the times we've worked together, I've been behind the production elements of things.
"From my perspective as a producer, I'm a finisher, so I will literally finish a song, taking a hundred-plus stems and actually go in there and give it a really good mix and clean it up. That's what I've been doing since this project I'm working on now. I have a mixer for it, but I'm accustomed to taking something that's at 20%, 30%, 40%, and then taking it to 100%. But it's fun working with really talented people, I feel very fortunate to be considered interesting to them. But I feel like I deserve to be there, because I know what to do, how to be utilised as well."
Karpeh is shy to reveal if any collaborations appear on his upcoming debut album, but did shed light on what to expect. "I think it's a good mix of my best songs. The theme is doubling down on what is Cautious Clay. It's going to be more pop stuff and has some dynamic to it, but also there's a bit of self-reflection and exploration. Me trying to make sense of the absurdity in our lives, but also trying to be invested in it at the same time." Affirming his identity is the name of the game.
Dying In The Subtlety is out now.
Get the Best Fit take on the week in music direct to your inbox every Friday