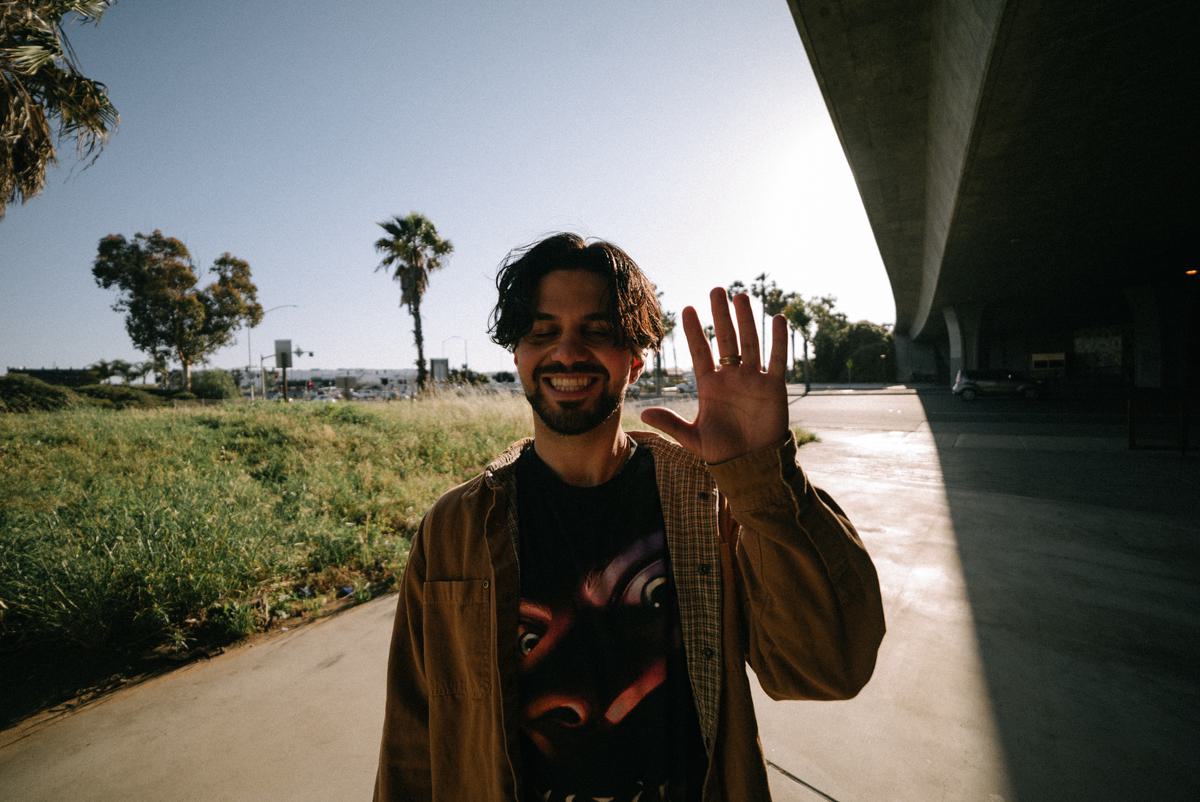 On the Rise: Aries
03 March 2021, 10:45
After starting his career on YouTube deconstructing the likes of Drake and Lil Uzi Vert, Aries is becoming antipop's enigmatic new hero.
"...Actually I don't wanna say that. I don't wanna reveal a … certain thing."
Aries – the 22 year old producer-rapper-singer-songwriter – offers me a wry smile from under the lip of his hoodie. We're discussing a fairly innocuous topic – whether he'd consider himself an introvert – and this is the third time this evening he's edited himself for the record. "I just like to overshare sometimes," he shrugs. "And I know you want that, but like, for the sake of my… I'm overall a private person, at least publicly. I just like to keep some of the things sweet and innocent."
It's not an attitude you'd expect from a burgeoning artist who's barely of legal drinking age. But Aries came up on YouTube, and his fans – as myriad and loyal as they are – "like to dig", he says, so much so that he's wary of giving too much about himself away. It's only now, with the masterfully-crafted antipop of "FOOLS GOLD", that the Californian is collecting listeners who hadn't already 'clicked the bell'. "It makes me happy you just came on board," he says with sincerity.
Despite his bashfulness, I do learn that Aries – born in Wichita, Kansas, into what he calls a "loving little house" – is an awful cook, who makes himself a peanut butter and jelly sandwich every day. I learn that he beatboxes when he's thinking, but is emphatic about not being labeled "a beatboxer". And that he was raised an only child – a fact he feels "100%" shaped his attitude towards his music.
"There's a lot, there's a lot in that… and it's hard to say without making myself sound like an asshole," he jokes. "Not saying that I was a spoiled rotten kid. Because, even though my mom was a very kind woman, my dad definitely laid down the law. But if this was a video game, I'd be the main character."
"I don't know if it was a narcissistic thing… I just took it upon myself to 'play the role', play it out all the way and become successful. Maybe it was a subconscious thing to become more dedicated and passionate towards whatever I was doing in life. It wasn't always music, either – even with other things, I always wanted to just … win." Aries' lightness makes the words sound less like fighting talk, but he's clearly proud of where that single-mindedness has got him. "Growing up artistic, I knew what I always wanted, since I was like, very young, And when I tried what I wanted, and people enjoyed it, I knew I must be doing something right."
The two bands that standout when we discuss his musical heritage – Supertramp and Linkin Park – reflect the breadth of his restless, guitar-heavy sound. The former band was a gift from his dad, who Aries remembers playing a lot of stadium prog on car journeys when he was a kid. "We would drive from my home town to Kansas City to go visit his brother," he explains. "And he would just play all the music. And I remember these drives because there was just a whole lot of nothing. The view that you get is just flatland." Aries, who over the years moved from Witchita, to the OC, and eventually LA, says that this was before he had any semblance of his own taste, but that he still recognises the deep cuts from those records. "To the point where I don't know even the song names, it's just ingrained. But in recent years, I have gone back afterwards and just like sat with the music myself."
In contrast, beloved numetallers Linkin Park found Aries aged seven via the Cartoon Network. "I was a pretty big fan of this show, Naruto. And one day I Google "Naruto music" on my dad's computer. And there were all these music videos made with [cuts from it], And, like, all the coolest ones were like "In the End" and to songs from Hybrid Theory and Meteora – it was right before the third album." A streak of nerdiness shines through as he explains how those videos came to spawn a whole genre. "Now called AMVs – that stands for anime music video. So yeah, and I just grew to love the band."
There's perhaps another reason that Linkin Park's wrought brand of pop-metal resonated so much with young Aries. In his early teens, he was spending a lot of time smoking weed and freestyling with friends "in the gutters", and began to experience panic attacks. "Which is something people get now like, often smoking weed and green, you know? But back then when I was a kid I had no idea what the fuck was going on. I thought I was dying."
Aries recalls an evening, weeks before he started high school, where the panic stopped him from going to a friend's house to watch a UFC fight. It felt like a turning point. "And it wasn't even the fear of going to hang out with my friend," he says. "It was the fear of like, 'Holy shit, what if I have another panic attack while I'm there? For no reason?' What made it worse was me thinking about it so much. I was always listening to my heartbeat, and it was just so much faster than I'd ever remembered."
Despite this being admittedly traumatic, Aries laughs at the awkwardness he felt when he finally opened up to his mum about it. "She took me to the doctor, and he was like, 'Yo, dude, what's going on? Are you going through a break-up?' And I was like, 'no, I'm just having panic attacks'. And I didn't want to say I'd been smoking weed because my mum was there," he laughs. "He was just like, 'You know this is anxiety, and if you're not taking care of yourself it will turn into depression'. Yeah, he was right about that."
The experience overshadowed a lot of Aries' high school years, and he describes undergoing "a complete 180" – from a comfortable extrovert, to a homebody who buckled down and stayed inside. Music, he says, became the only reliable source of joy. "Like, I started becoming very depressed. And literally the only thing I could do was play music." Now no longer a smoker, Aries reflects on the silver lining of what must have been a really rough time emotionally. "I guess it did get me to focus. I'd always been creative, but like, I was like, 'I've been freestyling in the gutters to random beats…. Let me try making music myself'."
Aries' transformation into producer/songwriter came not through any formal education, but through firing up a DAW aged 15 and figuring it out himself. When he joined YouTube in 2016, he came armed with a polished slice of Californian surf-hop in the form of "Mr Fantastic". And alongside embracing esoteric production challenges – including "I made a beat from my friend's screams" and "making a song using SPOONS ONLY" – you can chart the evolution of his sound, as he stopped rapping and started singing, and his lofi beachy hip-hop made way for heavier, more ornate, alt-pop.
Far from seeing it as a deficit, Aries strongly believes that formal training has led to a wealth of musicians with excessive chops and zero sensibility. "I almost feel like when people know too much, it's at the expense of the music sounding good. Like... oh, man, I don't want to name-drop someone here" – he laughs, and makes me swear not to print a name – "I think their music is horrible because they know too much. It's because of that reason and nothing else. Not that everything has to be pop to sound good, 'cause that's a horrible statement in and of itself…"
"But like, I work with a guitarist that I've known since high school, Slippery Salazar. And in a lot of the music we were making early on, he was really trying to learn jazz. And I have nothing bad to say about jazz, but the music … it's just harder to digest for a normal human. And I guess I was more normal than he was. Like, I always had to dumb it down. He hated doing that shit at the time, but he thanked me for it later because sometimes when you're just trying to be 'cool musician guy' it doesn't necessarily translate."
Part of what gives Aries his strength has nothing to do with his skills as a producer. In contrast to his increasingly peppy and pop-literate production, his debut album, WELCOME HOME, is full of elegiac lyrics that explore romantic obsession, chemical dissociation and missed connections. Even recent single "CONVERSATIONS", which leans hard into Aries' pop-punk sensibilities, closes its second verse with the lines: "Too shy, forever numb / Ring my second phone / I can't answer love, I need every single chance you want out of me". There's clearly a cavern of emotion underneath these bars, but Aries politely turns down my ask to talk about them. "That's a no, yeah" he smiles.
"I find it pretty corny [to discuss the meaning behind lyrics]. I can't stand those Genius videos with the lyrical breakdowns. It always leaves a bad taste in my mouth. And I feel like... [the lyrics] are not gonna resonate harder with anybody but myself. So I'd rather let people interpret what my songs are about." Are there any conditions under which he'd consider going on Genius? "Maybe if I had like a huge, mega mega hit, I'll do it... But no, I wouldn't. I'd just use my own channel, and meme the whole song."
Largely, Aries' has stayed DIY as his listens have skyrocketed. The only thing he's loosened the reins on is mixing and mastering – "because I mean, I drive myself insane..." – but everything else, from his label WUNDERWORLD, to his videos and cover art, remains his domain, often utilising his skills in directing and illustration.
When I ask about new music, Aries says nothing is confirmed yet, but "DITTO" "is a good taste of just what I have coming in the future." The single fell out of him despite his tendency to overthink things. "It was one of the songs I'd say like, ever? ...that I've not thought about too much," he says with surprise. "I didn't really care about anyone's opinions. It was more like a feeling based thing, and I feel really good about it."
"DITTO" is out now.