"Do people mosh here?" Omar Apollo asks, ahead of his show at London's Village Underground.
For anybody who's wrapped their ears around Apollo's latest Friends EP, which is a solid split between sparkling funk, disco tunes and tender lo-fi acoustic ballads, you can understand why this is a strange question. But – despite this, and the gloomy Tuesday afternoon we find ourselves in – the electrifying live videos that populate Apollo's feeds suggest he'll have no problem commanding a circle pit if he so wishes.
Even from the restrictions of a YouTube video in theatre mode, you can feel that Apollo is a force to be reckoned with – his tall frame morphs into a sequence of moves and shapes which feel simultaneously rehearsed and improvised; he sings effortlessly, even when he reaches for the odd falsetto or Prince-inspired screech on lead single "Ashamed" – a slick slice of funk-pop which has garnered him significant attention.
On the track, a simple beat entwines with a swampy bass line, whilst intricate guitar lines lap at the sides. Just as the verse reaches boiling point, everything falls away to reveal a sun-kissed chorus that will stick in your head for days.
Apollo's got the triple threat quality that Prince and Michael Jackson sported before him – he writes, he sings, he dances – but it took a while to get there, especially when it came to finding his voice.
"I was bad, my dad told me. I was singing once and he was like 'that sounds terrible!'" he recalls. "I tried to work out why he didn't like it. Mexican singers have a really strong vibrato, I didn't have that naturally – some singers are born with it but I had to learn, or allow it to happen. I watched a bunch of Youtube videos and learnt that you have to stretch and get really loose because you need perfect breathing from your diaphragm. Once I'd figured it out I did it in front of my Dad and he was like 'Ooh that sounds good'."
Aside from the technical nuances of its singers' voices, Mexican culture has played a significant part in Apollo's life outside of music. Apollo – real name Omar Velasco – was born to Mexican parents who set up base just outside of Chicago. Being one of the only family members born and raised in the US, he often had to step up when it came to tackling the language barriers his parents faced, but was exposed to prejudice in the process.
"I'd have to translate for them when I was very young," he recalls. "I'd be in a store and this guy would be really racist because my mum was trying to figure out how to use the machine. One time I was like 'shut up!'. I was only a little kid and all the mums there were trying to protect me saying 'oh, don't touch him' because I was only little. I was always outside so I was the darkest kid in the room all the time with a bunch of white people growing up so I'd get all the slurs. I didn't know what some of them were because my parents didn't teach me slurs."
Aside from a trip to the motherland when he was very young, Apollo hasn't been back to Mexico, but he eventually wants to tour there. "I need to make more Spanish music. That's what my Mum and Dad keep telling me."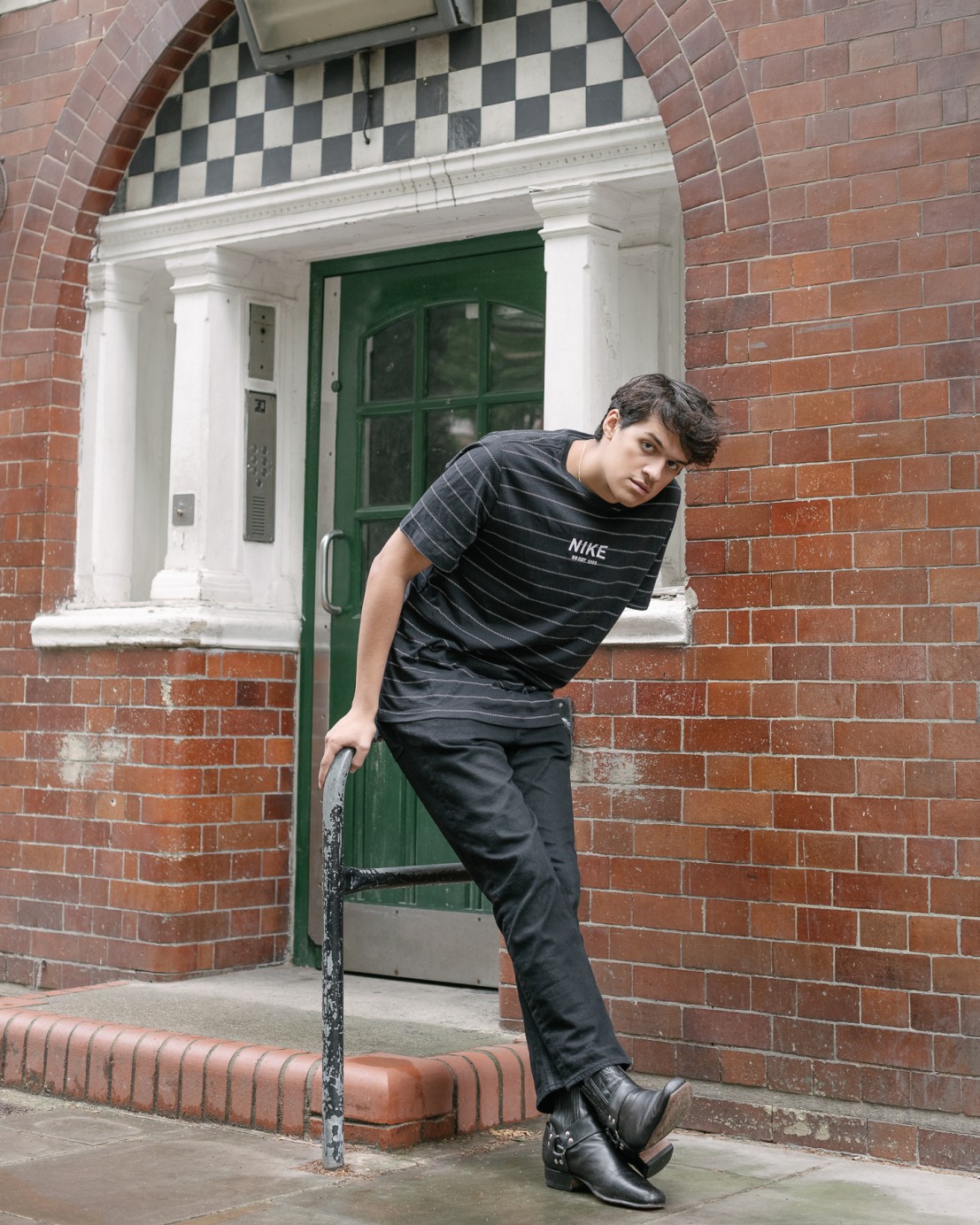 The cornucopia of live events and sub-cultures in Chicago gifted Apollo with the broad musical palette, employed on his two EPs released so far. "I haven't been back for a bit but I used to go to all the gigs when I was 18 or 19," he says. "I'd go to open mics, meet people and other kids. I'd go to slam poetry, all that stuff. It was always music and dancing – I got really into dancing when I was in Chicago for a while." It's an element of performance he still seems to hold particular affection for, especially on stage. At one point, whilst being directed on the photo shoot, he pirouettes flawlessly from a sitting to standing position on his Cuban heels. "You can catch more of that at the show tonight," he smiles.
Apollo confesses that his appetite for attention was a big factor in his path to becoming a performer. "Any opportunity, I would dance, I loved the attention. I used to have to leave school to go and do ballet performances, it was cool. I was always performing when I was a kid. I love the art now but that's how I got there." He pauses. "Maybe there's some deep psychological meaning there... I don't know."
Being the youngest of four siblings, it's pretty clear where the attention-seeker within might have risen from, but Apollo seems to enjoy being at the bottom in the lineage of siblinghood. "It was easy," he explains. "You're the baby, you can do what you want. I get a lot of shit from my older siblings but I learnt a lot from their mistakes."
Creating music became a mainstay in his everyday life around the time he started to venture out to gigs in Chicago. "I was working at Mcdonalds and I remember being in the back breaking down boxes with headphones in and I was listening to that Ego Death album by The Internet. It was my first time hearing that - it sounded crazy," he recalls. As Apollo became more embedded within the rich Chicago culture and started penning his own material, he found himself in the company of fellow artists – which initially cast a doubt over his future in music. When measuring up his dedication to the craft alongside his peers, he spotted a disconnect.
"I'd see other people put in hours and hours, days and months. They loved and breathed it and I'd throw something down [thumbs an imaginary keyboard], leave, go skate and smoke or whatever. The more I'd talk to other artists, the less I'd relate to them," he explains.
"Then I watched a movie about Frida Kahlo – she had so much going on in her life and art was just a part of it. She didn't spend time practicing, she just spent time making pieces, that's what the movie made it look like anyway. But I related to it, especially because she's Mexican. She had this whole story with her partner, and he was cheating, she was hooking up with boys and girls – she would just put all the complications in her paintings, it's really inspiring. That's what I feel I do – her paintings are like my music – I just sort of throw it out there."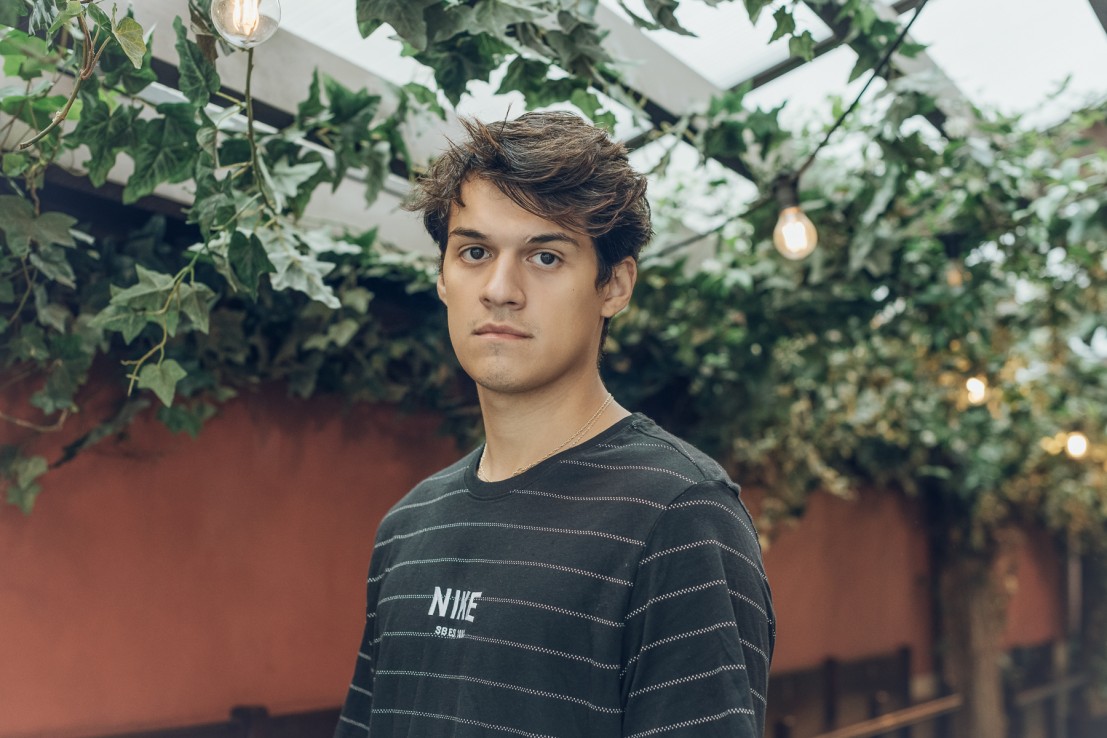 As he breaks down his process, it becomes pretty clear that Apollo applies his carefree nature when creating. "I just fuck around. I might write a verse or a hook, sometimes I'll write the whole thing and other times I'll bring it in and throw it to people I trust for them to present their ideas. See what kind of input they have and go from there."
It seems this process might be remodelled in the near future as he adjusts his sights to writing his first full-length album. "I haven't started it yet, but I know it's gonna be great," he says. "I feel like I've been working 50% ever since my first song came out, it's been like 'oh, we've got to put this out'. I'm from Indiana, dude, shit like that does not happen so any chance I had to put out a project or go on tour, go do this or press – I have to sustain, I have to help out my family. Now I'm in a position where everything's good, everyone's fine – the music's great but I need to become a better musician and artist."
At the end of the video for "So Good", Apollo sweeps up confetti from the party chronicled in the visuals – it's a great gag, but also reflects his position as an independent artist who still has to deal with the admin of his own success. Eventually he wants to sign but has shunned it thus far after seeing other artists caught up in the spell of it all, only to be shelved later down the line. "I can do a lot on my own, you know? I don't need money to make music – labels would provide studios and all that shit, but I can make shit at home or sometimes at friend's studios."
The fact is, with two well-received EPs under his belt along with a headline show at London's Heaven in place for November, why would he bother to look anywhere else? 2019 has certainly gifted Apollo with some life- and career-changing moments, but he identifies his hometown show at the Chicago Metro in front of 1,200 people as the juncture where he witnessed everything falling into place – mainly because his parents were there to see it.
"I proved it to them, I proved it to myself," he enthuses. "I really don't think too much about it after [that gig], it's just something I do now. On my days off I make music, I might not make songs but I might make beats or whatever, it's just what I do because it's so fun. I would do it even if I wasn't making any money. "
Fortunately he doesn't have to think about that too much anymore – with momentum building around Omar Apollo at this rate, it's pretty safe to say that his box-crushing days are behind him.
Omar Apollo's EP Friends EP is out now