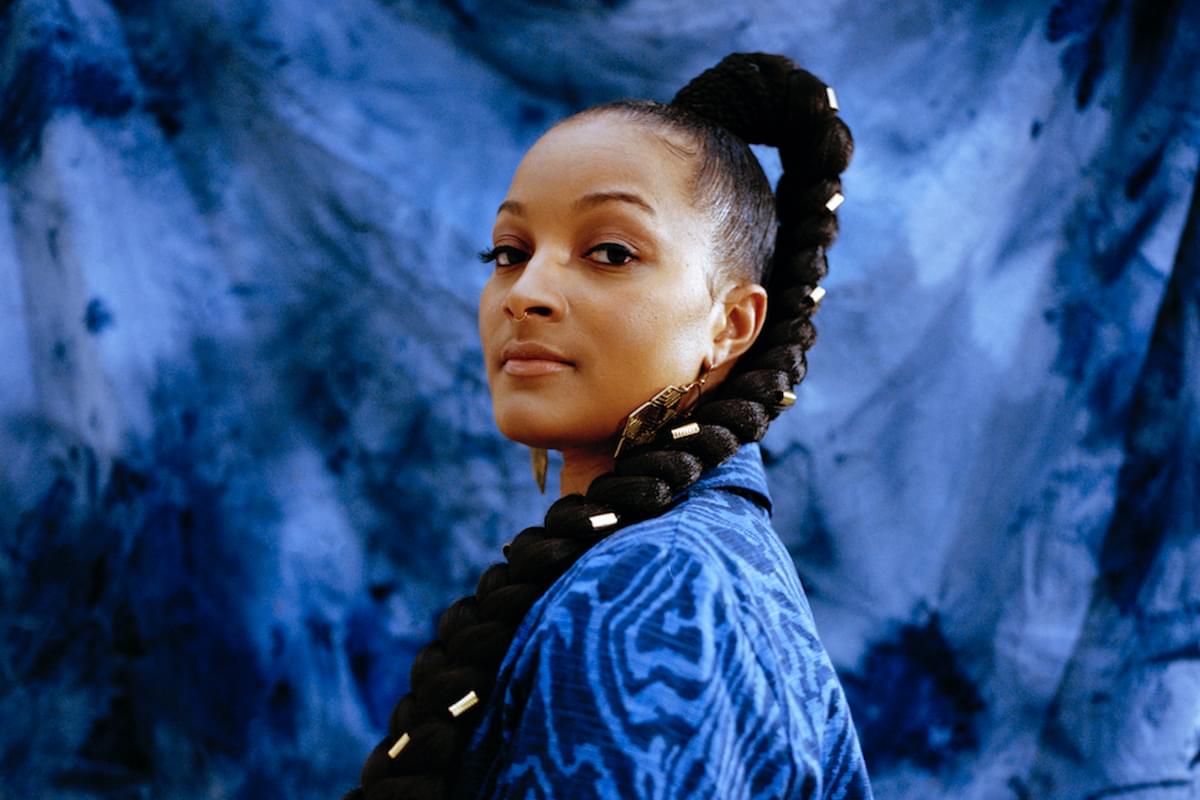 Nubya Garcia embodies the ease and authenticity of her debut album
28 September 2020, 12:36
After dropping one of the most exciting and accessible jazz albums of the year, Nubya Garcia explores the plural cultures that underpin her new record.
For an award-winning saxophonist who's spent the last few years working with the most decorated names in jazz, modesty is Nubya Garcia's resounding quality. On her first time visiting Columbia for a project funded by the British Council, she describes meeting vocalist and percussionist Diana Sanmiguel with the wide-eyed adoration of a student on a cultural exchange.
"We really got on," she grins. "I had an amazing time with everyone. Her band La Perla was coming to London. Obviously I went — It was such an amazing gig. I really, really loved it. If you haven't checked out their stuff I'd really recommend it. It's electric. You can't really sit still — in a really good way. It's so energetic and full of life."
"After the gig I fan-girled hard and was like 'I'd love to do something with you... if you'd like.' It was such a beautiful process, writing together. We just got in the room and played. I went back to Columbia to record it — we just got into the studio for an afternoon and just played — didn't stop. And that is a tiny bit of what you hear on the record."
The record Garcia refers to is Source, her debut LP, released on Concord Jazz. Still firmly rooted in jazz tradition, it is Coltrane's spiritual period by way of sound systems and garage, joyfully infused with the sounds of the UK underground. When I ask about the influences that underpin the album, Garcia speaks of a myriad – from a childhood surrounded by musical family, to an adolescence spent in and out of London's sweaty clubs.
"Some of my earliest memories were watching my older brothers and sisters in their music concerts at school. Those would have been my first experiences of live music. And I was practicing and playing myself, and that's like young young young. Like 4 or 5."
"I started on violin and piano and recorder, as you do in school. Then I started playing the saxophone at age 10. I wasn't enjoying the violin as much. I think saxophone was my main thing from the second I got it."
Despite growing up in London, Nubya Garcia feels deeply connected to her Caribbean heritage. "Some of my earliest memories are of Notting Hill Carnival and also Trinidad Carnival: such a huge celebration of Black culture within my family and also the wider community. At home it was more reggae, jazz and classical. You know, I didn't grow up in the Caribbean – I went a lot but I didn't grow up there – so Carnival has always been my way to tap into my culture."
This is a culture that Garcia recognises has become part of the vibrant pluralist landscape of her native London and in the UK in general. "There's such a Caribbean community, and Black community, that's sharing through music, through food, through dance, through sound system culture, that has been permeated into other UK music, like dance music especially. It's always been around me in many ways that maybe I didn't notice at the time, but looking back, I notice that it was always surrounding me, having this culture in music."
Garcia also grew up exploring the bass music of London's underground clubs – a sound that has worked its way into the new wave of British jazz. "Rave culture is such a huge part of London and the UK in general," she says. "When I was a teenager, there was so much music appreciation and so many good nights going on — good dancing nights where they'd be playing like garage and footwork. And obviously like dubstep, but I wasn't not huge on the dubstep scene because it started to get a bit like… wobbly."
"So I was discovering all this warehouse, underground culture in my late teens and early 20s, and it had a huge influence on me, because I've got that alongside all the other music, alongside jazz, alongside dub and stuff from sound system culture. All of that comes together and it's just what I hear. I don't really separate them out in my mind when I'm writing. I'm just thinking 'this bit would be great with this' or 'can it work with this rhythm?' Because what you have in your head is just what you create."
And then, of course, there is Garcia's passion for jazz, incited from an early age by her parents. "My parents took me to a lot of gigs when I was a teenager, and that was really amazing. I think because my parents were just so into music and they also saw that I was getting into it, they really placed a huge importance on actually being in the room with the legends that you're hearing on the records." Garcia saw legends like Sonny Rollins and Ornette Coleman in her early teens. "I can't even begin to say how those experiences changed the way that I feel about music. That's the most important thing to me, now: to see music being played and getting to hear it and be present with it."
Source marks the first time Garcia has integrated vocals in her own work. Indeed, they feature prominently throughout the record – treated mainly as sonic texture rather than the usual centre-stage focal point. "I wanted the voice to represent another instrument," she emphasises. "Because it is. I wanted it to be able to interact with the saxophone as close as possible, and not be like 'vocals and saxophone.' I wanted it to be just like one."
One rare instance of lyrical vocals in the foreground is on the closing track "Boundless Beings", featuring Akenya. Says Garcia: "It's just about melody. On that track we're both playing the melody, we're both leading, but doing in in our own way and following each other." Elsewhere, vocalists integrate into wordlessly into the ensemble, including on the title track, a sprawling twelve-minute piece blending dub and modal jazz. "Those influences came quite directly from the backing vocals you hear in reggae and lover's rock type things," says Garcia. "The blend is so strong: you can tell there's a number of people but they all sound like one voice."
Ever the gestalt, Garcia draws from her experiences as a accompanist to other artists. Several tracks on Source (namely "Stand With Each Other" and "La cumbia me esta llamando") exploit a texture often used by frequent collaborator Theon Cross: melody and rhythm without the support of harmony instruments. This is a rare sonority in jazz, a genre dominated by the lush chordal structures of piano and guitar. Garcia explains: "I love that [sound] so much. That was my experience with Theon. I really enjoy the space that you get when that happens. Most of the record Joe [Armon-Jones, keyboard] is on and I love playing with Joe, but it does give space. I really enjoy it. The clarity of it is increased when you've got the rest of the tunes that are harmonically explicit."
Does Garcia prefer working as a bandleader to her already prolific output as a band member? She is unable to say. "I love both. I love to be in the space of being the creator. In my band, I write all the tunes, but I'm quite an open bandleader." Garcia's gratitude for her position – so evident throughout our interview – has clearly shaped how she approaches leading her ensemble. "It's not my way or the highway. So that allows for a really beautiful creative environment. But I also love not having to think of any of the other stuff bandleaders have to think about," she laughs. "So yeah, I kind of love them equally. I wouldn't stop doing either one. I value both spaces and the creativity of both."
Thanks to the freedom that being a bandleader with her notoriety lends her, Garcia is unapologetic in her composition, aiming for self-expression rather than accessibility. "I know how the music industry can be because I'm a consumer as well," she says. "But as a creator, and a creative, I feel that you've got to concentrate on the music before anything else, otherwise you're tainting it. It'd rather stay in the creative realm as long as possible, and just play music with musicians that I absolutely love to bits."
Ultimately the oeuvre that Nubya Garcia and her musicians have created is one that has many points of entry – for hardened purists, or for those who have never ventured into jazz. Indeed, Garcia is conscious of conquering its sometimes-alienating reputation. "The beauty of what I do and create is that it is for everyone," she relates. "That's what the purpose of the record is. I wanted people to have an open mind. I think we all know that the word jazz creates so many different thoughts and feelings in so many different kinds of people."
"I'm just super happy to share this body of work that feels like a whole story — beginning, middle, end — and lots of different winding turns. And I feel really happy with it because I feel like it's a really honest representation of where I am compositionally, playing-wise, and as a band. I think records are such a beautiful thing because they document where you are. So then you can move on to the next or revisit whenever you want."
Even if it seemed a sure thing to her fans, Garcia still seems overwhelmed by Source's reception. "I'm just super grateful for the support from listeners so far," she smiles. "… I didn't realise that it would be like this."
Nubya Garcia's debut album Source is out now.
Get the Best Fit take on the week in music direct to your inbox every Friday