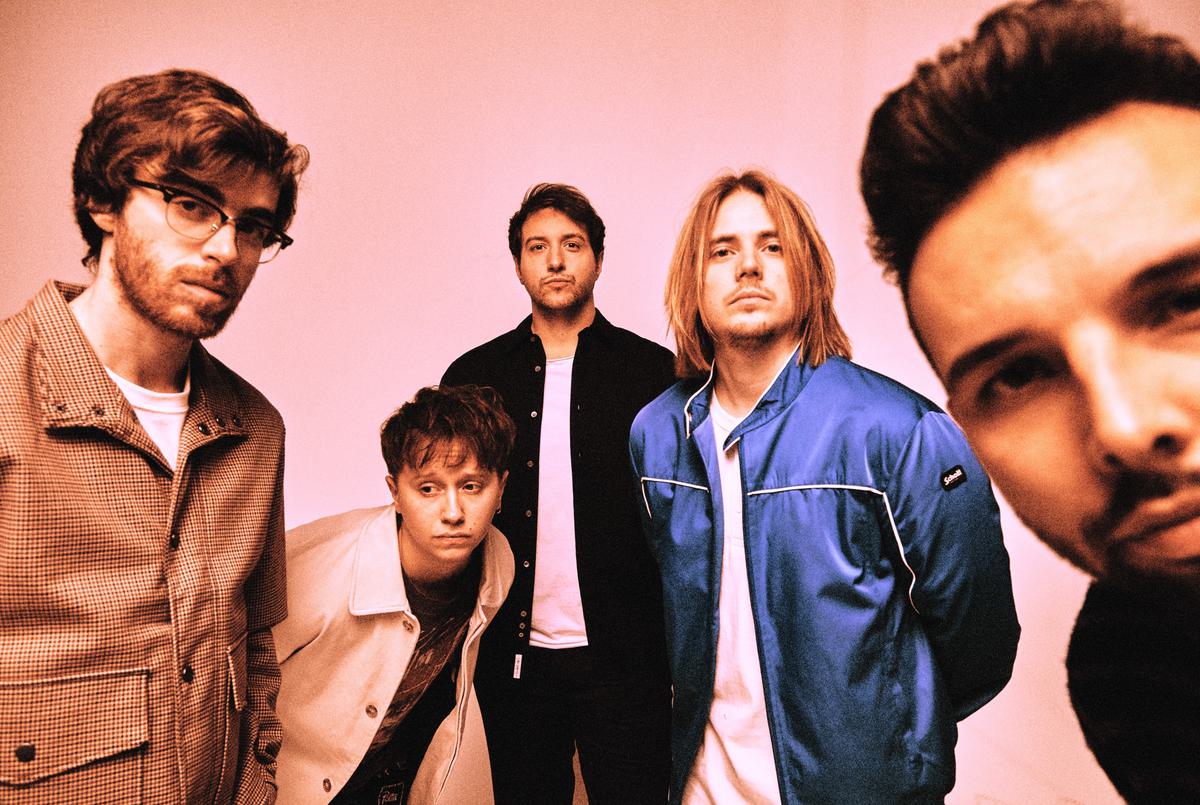 Nothing But Thieves are waging war against greed and ego
14 October 2020, 09:00
Political turmoil, climate change, and the toxicity of the internet all pour into Nothing But Thieves' upcoming record Moral Panic. In the midst of global chaos, frontman Conor Mason calls for spiritual awakening and wages war against greed and ego.
When Nothing But Thieves released "Is Everybody Going Crazy?," the first single off of their upcoming third record Moral Panic, they had no way of knowing that it would become a quarantine anthem, with a regular spot on BBC Radio 1's airwaves. The track tells of hopelessness, dysfunction, and turmoil, and feels like it was written the same week of March that it was released; just as COVID-19 was digging its heels into the world. In reality, the song was written a year ago in the midst of conversations about Brexit, and the tumultuous feeling of tumbling down a path you dread. If anything, "Is Everybody Going Crazy?" is a testament to the sheer number of societal disasters that have piled up over the last year, from the COVID-19 pandemic to ongoing global protests as a result of racial injustice.
"Things seem to be getting crazier and crazier and just faster and faster and that's why I feel like we need to slow down and reassess everything. Why is everyone needing so much information? So much attention constantly? Why does everyone have so many opinions all the time?" sighs frontman Conor Mason exasperatingly over the phone. "Honestly, the phrase 'what is the world coming to' is so relevant. It's just ugly."
According to Mason, greed is the most powerful problem in the world and a driving force for much of its dysfunction. His hope is that morality will eventually break through our ego and come out on top. "I think you can actually be in control of those things if you do start listening to your mind and what it's doing and noticing that it has a course of its own," he explains.
"That's what really scares me about Trump. He's such a taker, he's such a user. I find that with UK government too, that they're brought up on having what they want, and having it all, and looking after each other in their ivory towers," says Mason. "They live in their own echo chamber and it just means they'll never truly understand other people as long as their own concerns are more concerning. That is the root of all corruption."
United States politics have been distressing to the five-piece even from across the pond. "America is pretty much the biggest powerhouse on the planet. It's so influential for so many things," says Mason. In response to how they're affected by this, the song "Can You Afford to Be An Individual?" combines a heavy, Queens of the Stone Age-inspired riff with Mason calling out the extreme nationalism in America that has been exacerbated by Trump's administration.
Meanwhile, quarantining in Essex, Mason has shifted his focus to living a more spiritual life. "I've really enjoyed just getting back to a point of what is actually important, with yourself and with other people and that's really all that matters," says Mason. "Nothing else matters, none of it. Nothing you buy, no drugs, sex, money, anything. The only thing that matters is your own inner peace and your connections with other people and yourself."
Being stuck at home has, in a way, led Mason to live more simply and slow down. Instead of diluting his quarantine experience with distraction, he has filled that space with reflection and peace. "This pandemic, in a way, you'd hope it was going to bring people closer. I kind of feel like it has to an extent; it has made people realise what's important. Then, other people, it has just made them frustrated and wanting to get back to their distracted lives," Mason observes.
The band jumped headfirst into the ugliness of the world outside and the frustration of being unable to control it, in guitarist Dom Craik's home studio. The bright side of Moral Panic is its introspective element and its encouragement that if we do look introspectively, we can heal the ugliness inside ourselves and slowly make the world a better place. A handful of the songs on Moral Panic were written in the countryside town of Ashendon. It seems the band likes a change of scenery even when they aren't on the road — countryside and seaside towns throughout England with populations under 10,000 people and with little more than a village pub and Indian restaurant are ideal sources of inspiration, according to Mason.
"When we were younger we didn't really have anything like [Craik's studio]. We obviously were pretty broke, so we had no equipment, nothing," recalls Mason. "We would hire a place and hire an engineer in Battersea and we called it 'The Swamp' because it was quite grimy and underneath the ground with no windows and stuff, but there was something really cool about it and it was really cozy."
With the upcoming release of a third full-length record and a lust for performing live, Mason finds himself nostalgic for the early years of Nothing But Thieves and "that headspace [where] you just don't think anything's going to happen. You just have an excitement for it and a buzz and a love for music and a passion to get somewhere."
"It's a heavy thing for us, this record. It's politically charged, it's climate change charged, it's people charged. It's the dregs of the world charged. Obviously everything is quite hyperbolic because everything you write tends to be truthful but hyperbolic. It's about being angry. It's an angry record. It's about frustration and feeling sick at everything, you know?" says Mason. The record immediately sets this tone with the opening track "Unperson", a simultaneously eerie and angry lament of the loss of humanity in the age of the internet and the power struggle between one staying informed and holding onto sanity.
The name Moral Panic came from the most avant-garde song on the record. Mason and Craik were listening to a lot of hip hop and R&B at the time, which bled into the track's rhythms and production. An atmospheric intro leads the way into a reggaeton-inspired drum beat, until a phase shift switches the song's gears into a rhythm that is both gloomy and danceable. "It's kind of this pessimistic, dark, Simon and Garfunkel song about the end of the world and about climate change which has this infectious kind of dance groove to it, but it's quite sad and emotionally sung I think," says Mason. "The lyric just stood out to me, as I think it was holistic for the themes of the album and the theme of basically what we're all going through; this moral panic."
One of the most personal songs on the record for Mason is "Free If We Want It" — a meditative outpour of Mason's own emotional turmoil as he was recording the song in the studio last October. "I had a bundle of issues that I had not dealt with. I had suppressed a lot of personal issues, and I knew it, but I was putting it off," he recalls. "I went in the vocal booth to do that song and it really just hit me." In that moment, he promised himself two things: he would deal with these unresolved issues when he got home, and he would treat this time in the studio as a therapeutic session. The resulting song is less angry than much of Moral Panic, as it explores the act of finding a place within yourself for inner release.
Mason's wailing, soulful vocals are instantly more recognisable as a release of pain and sadness, as opposed to an expression of euphoria. "It's weird to listen to because when I listen to singers who really sing from their soul like [Jeff] Buckley and Nina [Simone], I can really tell. But when I hear myself sing, as I'm so used to my voice—even when I'm singing from that place—I'm like 'yeah it's just me singing.' I feel like I'm listening to someone else because I think I was in a particular place while I was recording that one song."
Aretha Franklin and Ray Charles were just as important to Mason's musical upbringing as Led Zeppelin and AC/DC, and each artist respectively informs different aspects of Nothing But Thieves' sound, from their 2015 self-titled debut to now. "In terms of where I come from, I have way more of a pop brain than I do of a rock brain," Mason explains. "When it comes to writing melody or chord structure, I always come from a pop or an R&B place, and I'll always try and add as much interest rhythmically as I can to everything because I just think it makes songs more interesting, it just makes them better."
Mason cites Craik—who also co-produced Moral Panic—as a driving force in pushing not only their sound, but the genre of rock, forward. "I think we've given ourselves enough leniency now to kind of do what we want. It's almost expected," says Mason. "Someone asked me once 'how do you describe Nothing But Thieves in three words?' and I always hated that question, but now I say the same thing which is 'expect the unexpected' and I think that's what we do. You don't know what's coming and neither do we and that's the beauty of it… It's boring to write the same song twice."
Moral Panic is out on 23 October via RCA Records/Sony