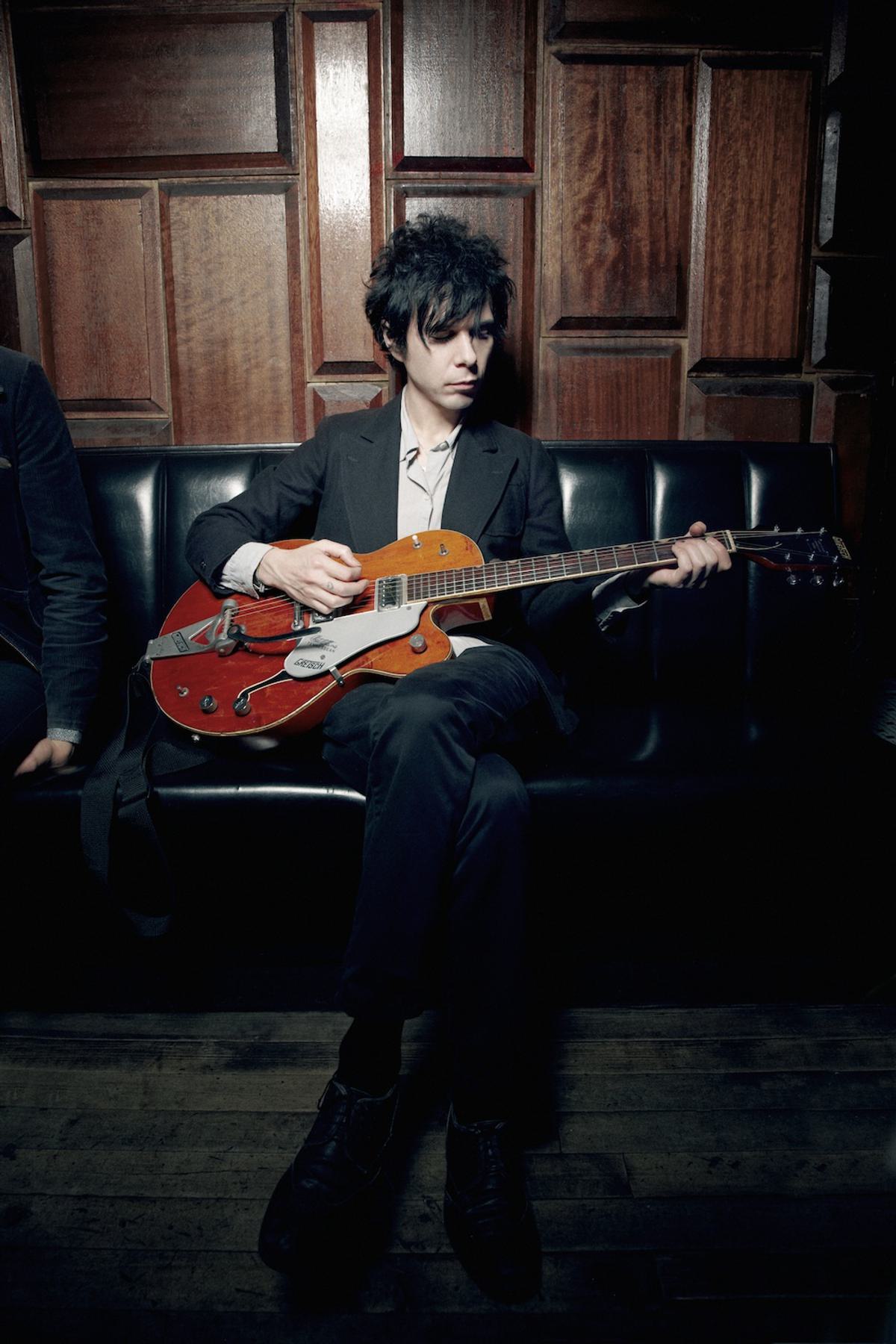 Nick Zinner: "I wanted to make people cry"
17 June 2014, 11:00
"I played violin as a kid. That's about as much of a classical grounding as I have, I guess."
Perhaps he's being modest, but if that's truly the extent of Nick Zinner's orchestral background, he hasn't done at all badly for himself since. Later this month, he'll bring his 41 Strings composition to the Royal Festival Hall, having aired it to rapturous receptions in New York and Sydney; it's a piece that blends genuine musical innovation with real thematic depth.
On a purely superficial level, 41 Strings is unusual; it's not especially new for rock musicians to dabble in classical territory during time off from their day jobs, but Zinner hasn't made any attempt to keep his work with Yeah Yeah Yeahs at arm's length; instead, he sought to marry his signature brand of guitar playing - furious riffs, high up the fretboard - with a sumptuous string section. In addition to the kind of orchestral instrumentation you'd come to expect as standard for a piece like this, the London incarnation will feature an all-star lineup of electric guitar players, as well as a host of conventional drummers.
41 Strings was originally commissioned to mark the forty-first anniversary of Earth Day, but rather than fall into the trap of making some kind of heart-on-sleeve environmentalist statement with the piece, Zinner instead chose to pay homage to the simple nature of the four seasons, veering between palpable darkness and irrepressible joy throughout. Having been involved extensively with Damon Albarn's Africa Express project, too, Zinner's sheer versatility certainly isn't in doubt; what's refreshing, though, is the absence of pretension in his approach to classical music.
"I'd had it in mind, right from the start, that we might get to perform this in London one day," he tells me - down a decidedly unsteady phone line - from Los Angeles. "We got the offer to come over as part of Meltdown festival at Southbank, and it was just one of those rare occurrences where everything seemed to line up. It's so difficult to organise, because it usually takes about sixty people to make it run; there's forty-five musicians, and then a decent-sized crew, as well. The main problem is that there's this group of eight musicians, based in New York, who are kind of an essential part of the piece; I need them on board to make it work, and getting their schedules to allow for them to come over was super tricky. I'm really thrilled we've managed to make everything fit together."
As much as the ideas of conservationism, and environmentalism in general, are surely not alien to Zinner - a long-time vegan, he's been outspoken in his support of PETA in the past - the relationship between himself and the Earth Day celebrations that marked the birth of the 41 Strings concept was primarily musical in nature. "The original 41 Strings piece was really written less for Earth Day and more for an event celebrating it, in New York," he recalls. "The year before, they had done something called 40 Drummers with my friend Hisham Bharoocha, from Soft Circle, and they approached me to do something for this free concert they were going to be holding. They basically gave me totally free reign to do what I wanted, within this vague concept of "41 Strings", so I wrote something that would incorporate eight guitarists, two bass players and a thirty-one piece string section. As I went back over it, I gradually started to work in parts for three drummers, and some synths, too; Hisham was pretty well-versed in that from his experience the previous year, and he suggested arranging everything according to the theme of the four seasons, like he'd done with 40 Drummers; using that as an emotional inspiration, and a starting point for the thematic side of things."
As much as incorporating straightforward rock instrumentation was a key part of the piece's experimental side, it was also partly born out of necessity for Zinner, with his classical background being far from comprehensive. "There's a few minimalist composers, like Steve Reich and Arvo Pärt, that I listened to a lot, and I'd worked on other little things here and there; I'd done some arranging for strings with Karen [O] in the past. For the most part, it was always as if I was writing with fake sounds - synth stuff, or midi sounds, and then bringing in friends to help me arrange them for a proper orchestra. That's basically what I did for this, too; we have a Yeah Yeah Yeahs studio near my apartment in New York, and I pretty much wrote the thing there; just chipping away at it, night after night. My friend Gillian Rivers, who for all intents and purposes is the orchestra leader in 41 Strings, helped me put everything together; notating it, and just rounding it off. It really wasn't that involved a process, truth be told."
The decision to blend rock and classical textures, too, was mainly a case of Zinner trying to find a way to be directly involved with the show itself; the experimental bent that it lent to the process was just a bonus. "It really was just that I was trying to find any way I could to actually be out there playing," he laughs. "I'd always wanted to do something with guitar and strings, and I'd been interested for a while in trying to write something for multiple instruments that wasn't just pure avant-noise, which you end up hearing a lot of when you spend years living as a musician in New York. This seemed like a good opportunity to experiment, and because I'd wanted to make something that seemed super epic anyway, it made sense to try to throw on as many different sonic layers as possible - just so that there was some very basic, very obvious diversity in there. The aim was always for it to sound really sweeping, and inspiring; I wanted to make people cry, basically. Hopefully, they will!"
After the original New York show went down a storm, Zinner received an offer to take 41 Strings to Australia; not only would his second-ever orchestral performance be on the other side of the planet, it'd also take place at one of the classical world's most iconic venues - the Sydney Opera House. "Needless to say, that was fucking amazing. I mean, a real, proper, once-in-a-lifetime experience. I guess that I've played on quite a few famous rock stages down the years - places that have kind of a status within that spehere - but nothing's really come close to Sydney. I don't know what else I can say about it, other than it was completely fucking mind-blowing."
Since that particular staging, in January of 2012, 41 Strings has effectively been sitting on the shelf; last year saw Zinner turn his attentions back to Yeah Yeah Yeahs, fulfilling touring commitments for the criminally-underrated Mosquito. There was presumably room, then, for the project to evolve in the interim, and temptation, too, to meddle with aspects of the composition. "There was a little bit of that," he admits. "It's notated and arranged in a very specific way, and I did think about kind of tinkering with some of the sections. In the end, though, I thought it'd be best to be as true to the original form as possible, just because we're playing in front of a new audience, and I wanted to see how they'd receive it. There's new musicians involved, too, and sometimes just the way that different people interpret the compositions can kind of lend a new spin to it, anyway. We've got this amazing lineup of the sickest eight guitar players this time around, and I know they're bound to bring something new to the table."
He's certainly not lying about those guitarists; amongst those joining him at Southbank are Romy Madley Croft of The xx, Gemma Thompson of Savages, and Deap Vally's Lindsey Troy. His Yeah Yeah Yeahs bandmate Brian Chase, meanwhile, will be one of three sticksmen on hand, as well as Bharoocha and Ben Vida, also of Soft Circle. "It took weeks and weeks of thinking, and pestering the right people; trying to talk everybody round to the idea," says Zinner. "There's people in there that I know personally, and then then there's friends of friends, and people I didn't really know, but totally admire, and knew I had to at least try to reach out to. I guess the most important part was finding musicians who'd be disciplined enough, and excited about the work; people who didn't have crazy egos, and weren't afraid of trying something different. I needed people who'd be able to tap into that group mentality, because it's completely essential for a massive undertaking like this. So many guitar players like to do their own thing and can't really be told, and that's totally fine, but I can't really use them for something on this scale.
"I have literally got a bunch of my favourite guitarists involved, this time, and I'm already psyched about what we're going to do in the rehearsal room, aside from 41 Strings. You know, just getting together with those guys and saying, "alright, what song are we gonna jam on?" I think there's potential for something exciting to happen there; at the very least, it should be a lot of fun."
The future of the project, past the Meltdown show, remains unclear - "it's such a huge task to organise everything that I can't realistically expect to be ever be able to do it on anything like a regular basis." Zinner's own schedule, though, is typically colourful, with Yeah Yeah Yeahs not set to reconvene until 2015 at the earliest.
"We're pretty much off for all of this year; Karen's working on other things, and Brian, too. After 41 Strings, I'm going to hang around London for a couple of weeks; I'm mixing this record that I produced out in Mali, with a band that I worked with there. I've got a few other irons in the fire; nothing I can say too much about, though. I've been focused on this performance for most of this year; it's a lot of work for just the one night. It's definitely a high-stakes situation."
Nick Zinner performs 41 Strings at London's Southbank Centre on June 20th.