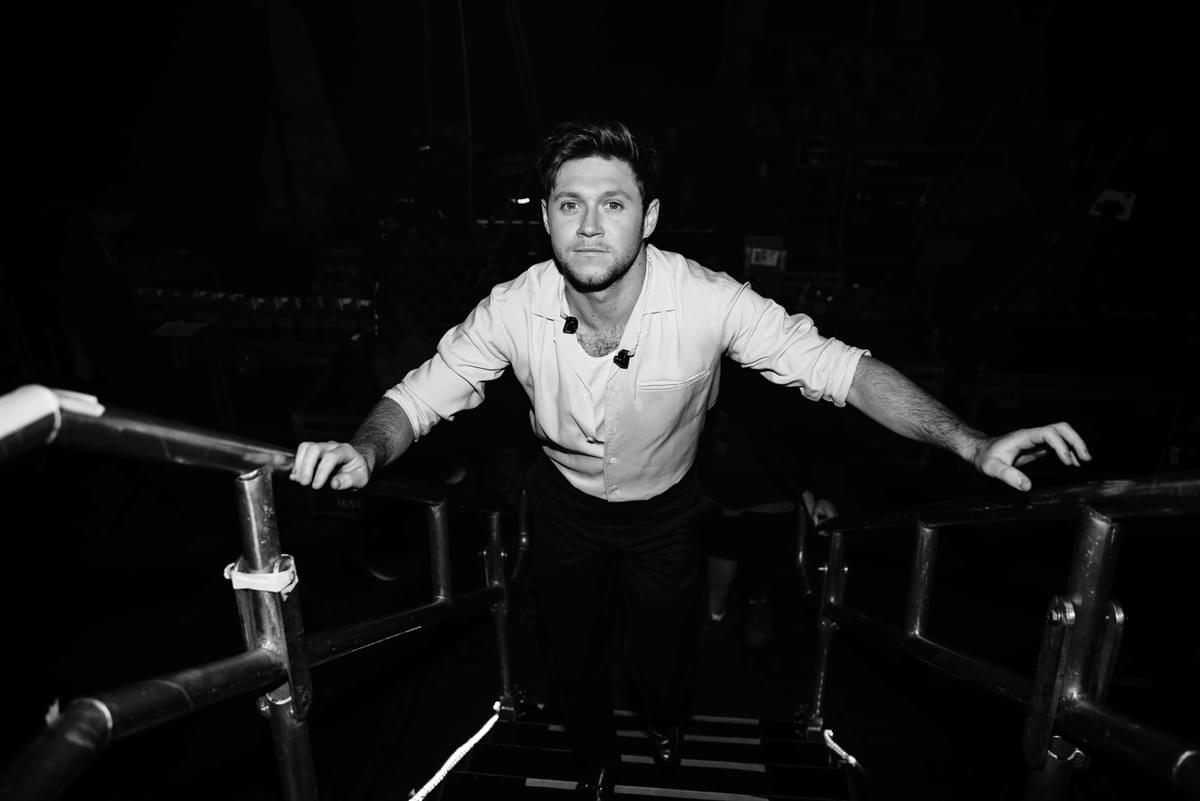 Niall Horan talks perception, identity and reunions ahead of Heartbreak Weather
03 March 2020, 07:45
When the era-defining boyband went on hiatus in January 2016, the lion's share of attention focused on Harry Styles and Zayn Malik: what would their solo albums sound like? But when Horan dropped his debut LP Flicker the following year, he matched his more talked-about bandmates by topping the US albums chart. Lead single "This Town" showed a new, folky side to the Irishman, while follow-up hit "Slow Hands" proved he could write a guitar bop as catchy as One Direction's best singles.
Now Niall Horan is back with second album Heartbreak Weather, crafted with a loose concept based around a breakup. "I didn't want just to be like, 'I'm so sad, feel sorry for me,'" Horan tells me. "I wanted some of the songs to be written from the other person's angle, and to explore all the different feelings you have when you go through a breakup. Because it's not always sad is it? Some days you're like, 'Fuck it, I'm going to go out tonight and paint the town red'." The swaggering, almost Kasabian-ish lead single "Nice to Meet Ya" definitely captures the latter mentality.
When I meet Horan in a fancy London hotel room, he's friendly, relaxed and seems remarkably well-adjusted for someone who's been watched, shipped and written about since he was sixteen years old. He also says "fuck" a lot, infectiously, as he talks about his new album, the pros and cons of social media and the never-ending rumours of a 1D reunion.
BEST FIT: Because the first album did so well, do you almost feel as though there's more pressure the second time around?
NIALL HORAN: Yeah, I suppose so. The success of the first one means people are now watching to see where I'm at. You know what I mean? Which is a great thing, but while I'm in the studio, I try not to think about it like that. You do have the 'second album syndrome' thing in your head all the time, but I wanted to go in the studio and have fun. If I was dwelling on it, I'd just have been chasing down a hit the whole time. I'd be like, "Oh shit, I need another "Slow Hands" now". And I probably did that for a second actually.
But really, I tried just to grab the album by the scruff of its neck, especially with what I wanted to do musically. I knew I wanted this album to be upbeat. I felt like I'd pigeonholed myself a touch with the genre I went down last time. Which was great, and it was exactly how I wanted to do it, and it was successful. But looking forward now, I'll have a good blend of uptempo and sad songs for my next tour. I won't be as pigeonholed as I was before.
So were you thinking about how the songs would sound live as you made the album?
Yeah, I love playing live. It's my number one thing. I'd mad into going to gigs. If I see on Spotify that a band I love is playing near where I live, I'm gonna go to it. Some of my favourite artists of all time are still touring – look at Bruce Springsteen and The Eagles. If the music's good enough, I'd love to be one of those artists in years to come. So yeah, I want a good mix of songs in my live show. I want people to cry when they need to cry, but I also want people to sway and put the lights on their phones or whatever they do. But I also want people to rip the roof off the venue when they need to.
"I just wanted to make a bit of a change musically... people get bored if it's always the same shit all the time."
When I saw Adele live, she kind of apologised, jokingly, for having so many slow, sad songs in her setlist.
Ha! Exactly. I kind of became known for a while as the guy with the sad songs – "oh, here he is!" And people were kind of expecting me to come out with another sad one. So I just wanted to change things up. But if people know me and know what my personality's like, when I bring out a song like "Nice to Meet Ya", they're not gonna be like: "Fucking hell, what's he doing that for?" Because it's not out of this world that I'm doing a song like this.
Is it difficult for you not to second-guess what people might think – because you've been famous for so long now in such an intense way?
I suppose so. What I don't wanna do is scare people off. There's been artists and bands over the years who kind of get in their own heads about what the album should be, and end up ruining things for themselves. Do you know what I mean? I'm talking about when fans go, "Oh fuck, what's she done that for? She didn't need to do that."
I just wanted to make a bit of a change musically but without really alienating the fans and people who liked my stuff first time around. But it's got to change a bit – people get bored if it's always the same shit all the time.
Why is "No Judgement" the right single to lead into the album with?
It feels like where I wanna go next. "Nice to Meet Ya" was the obvious song to come back and make a bit of noise with. But this song kind of sums up the whole album in terms of the electric guitar sound and the groove and feel of it. And then the lyric is a great message: it's something I want people to hear. I think the first line of the chorus is: "When you're with me, no judgement, you can get that from everyone else." We all just seem to love judging each other – giving shit to each other online, just being shit to each other. So it's kind of like an arm-round-the-shoulder type song, but with a bit of attitude to it. It's got a "come on over to my house" sexy element to it because it's a true story. It's about this situation where we don't have to explain to each other why we keep on going in and out of each others' lives, because it just happens.
In a way, you've been judged by people you don't know since you were 16 years old. Is that something you ever get used to, or can your skin only grow so thick?
Um... I've always been quite, like, alright with it? Because I understand that people out there don't know me, you know? When my career started, it was the beginning of Twitter, and even then I understood that people wouldn't be saying that they liked everything I did. So I am kind of thick-skinned in that way.
What I don't like is that people don't understand the impact of what they say online. Why are people allowed to be like that to each other? I'm fine with it, because I get it, but I do think: "Don't be nasty to people who are maybe a little softer than me." I just don't like the way that people feel like they can say whatever they want just because they've got their thumbs on their phones. You would never walk up to someone on the street and say the shit that people say to each other on Twitter. You never would – or it would kick off.
"Social media is the best and worst place in the world; we laugh and we joke and it produces some of the most fire, funny moments, but there's a horrible side to it and that doesn't seem to be getting any better."
Have there been times where you've been hurt by something you've read online?
I've been okay with it, mostly, but there have been times where it's like: "Fucking hell, I can't believe you just said that". It doesn't hurt me because I know it's just some keyboard warrior or whatever they call them, but I still can't believe that some people think it's fine to say these things. Social media is the best and worst place in the world. We laugh and we joke and it produces some of the most fire, funny moments, but there's a horrible side to it and that doesn't seem to be getting any better.
All you need to do is look at the President of the United States, who's just a keyboard warrior himself. It really dumbfounds me that people are allowed to be that nasty to each other and we can't do anything about it.
If you could release an album without the promo opportunities that social media provides, would you delete your accounts?
Ooh, that's a fucking great question. I think I've got an alright balance with it, so I think I'd keep it. Just to be nosy, because I like looking around.
You could just have a secret account that no one knows about...
True. Yeah, maybe I'd do that. I like the fact I've kept my life relatively private considering the madness. I think I've done a good job of that over the years. I don't generally get "papped" everywhere I go, and you don't read mad stories about me in the paper because to be honest, they don't exist. But you know, you need social media these days to keep up with things. I wanna see what James Blunt's tweeting, you know what I mean? I wanna see shit like that on a daily basis. That's why I go on social media and why you go on social media – you're not going on it to send an abusive tweet, are you?
You said earlier that you love going to gigs – but can you do that without being recognised and asked for selfies?
Obviously it helps if I know a tour manager or an agent and I might be able to get in the stage door or something like that. But if not, it's fine, I go to loads of gigs. I just wear a hat, you know? I understand that it's part of my life – if I wanna go to a gig, people might see me, and I just have to deal with it. For the most part I'm alright though. Ever since I cut the blond out of my hair, life's been so much easier. That's going to be the headline isn't it? Please don't use it as the headline! But honestly, I used to be the "blond Irish fella" and now I'm the dark-haired Irish fella.
I promise that won't be the headline-
Honestly, no joke. If anyone ever makes an emoji of me for a campaign or something, they always make me with blond hair. I haven't had blond hair in about six years! But it's definitely a lot easier for me to get around now I don't have blond hair, which doesn't say a lot about my music over the last three years, does it? Oh God!
One Direction wasn't just a pop group; it was a global phenomenon. Is that something you've got your head around now – or is it something you can't ever get your head round?
I mean, you would have to be processing every day to really wrap your head around it. But it definitely makes more sense to me now. To be fair, when I was in the band, I always used to think to myself, "Think what this looks like from the outside." Because it felt fish bowl-y. We were in this little bubble that we were just kind of bouncing around in and that was our life. But from the outside, it was a massive phenomenon and I would always try to break it down and take in as much as I could. We did so much in five years, which is such a short period of time, really. And I think that will take time to fully process. The fact that we're talking about it now says it all, because it obviously meant such a lot to people. It's only now that I can really look back and think: "Fucking hell that was a great time. I really enjoyed it."
Because there are only five people in the world who fully understand what being the band was like, does that mean they feel almost like brothers to you now?
100%. There's no doubt about it. When I saw that Instagram that Jennifer Aniston posted with the cast of Friends, it kind of reminded of One Direction, because they're the only ones that get it. Maybe that's a strange analogy, but hopefully you know what I mean? There are only five people who understand how it felt to be under that spotlight for so long, and we actually had a very small core team around us. So we're basically brothers for life.
If you posted a selfie with all four of your bandmates, Jennifer Aniston-style, you'd probably break Instagram too.
Yeah, it's nuts! With this phone I could blow Instagram. It's crazy to think there is that power just in your hands. It's mad, I still probably haven't fully processed how big the phenomenon was. I understood we were part of something that was this crazy movement in music – one we kept being told was a "once in a generation" thing. And that's why I'm comfortable talking about it, because I'm proud of it. But I don't think I'll ever be able to fully get that.
I guess you're always going to be "Niall from One Direction"!
Yeah but I'm completely fine with that. I wouldn't be doing what I'm doing now if I didn't have One Direction. Literally I was in school and then I wasn't. Do you know what I mean? I literally packed a suitcase and never came back and became a member of this historical band. And I'll always be. And that's fine. Maybe I'll always be the blond Irish fella? And I'm completely fine with that. And I love One Direction and I love the music, and I can tell you I had a fucking great time in that band. And if and when it happens, I'm ready to go. And until then, I'll be in the studio making my own stuff and travelling the world and loving doing that.
"If and when One Direction come back, it would be to bring the joy back to people who had missed us... and the fact that we could break the internet with that selfie!"
So you can see One Direction having a second act, a bit like Take That?
I tell you what, if I look as good as they did when we bring out our "have a little patience"... Fucking hell, when they came back they looked better than they ever did. If we all look that good, I'll take it.
But to come back as great as they did – you know, it didn't look forced. I would hate for people to be like, "Here they are coming for the money – because they've spent it all". I'd hate for people to think of us like that because if we're doing it [again], we'll be doing it for the fans and obviously for ourselves too. We came from a reality TV show – people got to see how normal we were on a weekly basis and I think that was half the reason people liked us. Because they were like, "Fucking hell, if they can do it, then I can do it."
So if and when we come back, it would be to bring the joy back to people who had missed us... and the fact that we could break the internet with that selfie! It wouldn't be so much of an ego thing, it would be, "Fucking hell, let's do it again." That's how I wanna do it. I wanna do it when everyone is fucking ready.
It's because you were such a big deal that the reunion rumours never really go away.
It makes sense. It's just trying to explain that to people on a regular basis. I'm not saying this specifically to you. But I'm reading a lot of 1D reunion rumours at the moment and no one's said anything. Or maybe one of the boys has said something like "if and when" and it's taken as "right, they're coming back". So I find myself answering it in a really long-winded way to cover all the ground. But the answer is: we're all doing our own thing at the minute, but when we're ready, we'll let you know.
Have you set yourself any specific goals for this record?
Jesus Christ, well, I'd love another number one – that would be amazing if I could fucking match what I did with the first album. I feel like the music on this one is better. And I'd love to really open up the fanbase again. Last time it was crazy, because the longer the album was out, it felt like the crowds were getting older. I would go to play somewhere like Charlotte, North Carolina and I'd find there were a lot of older couples in the audience and groups of guys and people I never thought I'd see. I'd like to do the same with this album.
I also hope that people see my songwriting has got better because it has. So, just small little goals really, though I'll take a Grammy nomination as well!
Heartbreak Weather is relased on 13 March via Capitol Records
Get the Best Fit take on the week in music direct to your inbox every Friday