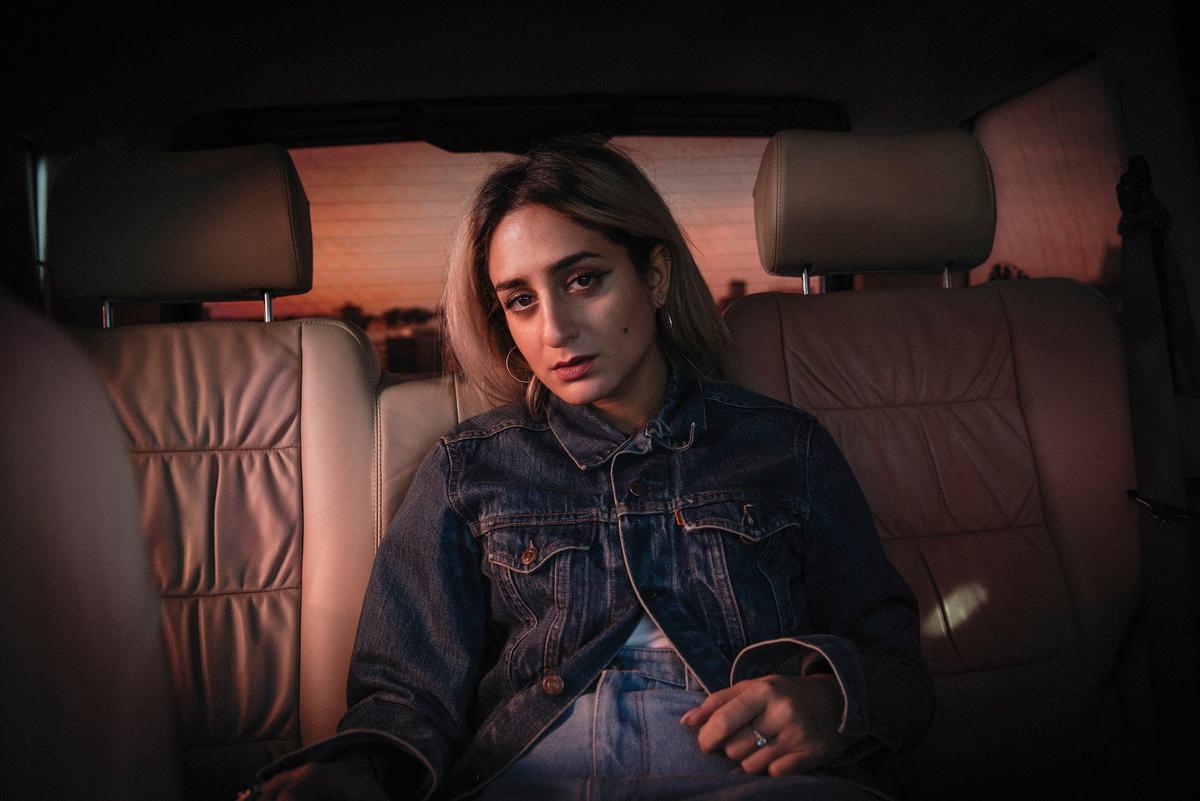 On the Rise

Nadia Tehran
23 May 2019, 08:00
Part unapologetic punk, part confessional songwriter, Nadia Tehran proves that power and vulnerability don't have to exist separately
"Dozakh is a Persian word that's usually used in Persian poetry. It means 'hell', but metaphorically it also means 'a place of torment that one believes they are in when separated from their lover'".
Nadia Tehran, the Iranian-Swedish producer, singer and rapper, is speaking to me from her native Stockholm, explaining the meaning behind the name of her debut record, Dozakh: All Lovers Hell. It's a bold, potent title: a statement of intent, with a multitude of meanings wrapped up in its dark ambiguity. Like Nadia, who speaks with an eloquent, considered poise about her own music, the record is somber, reflective, angry and frequently profound. It's also been a decade in the making, and as such delves into parts of Nadia's past – her Iranian heritage, and the state of the world as it's evolved over that period – in frequently unexpected ways.
Nadia was born to immigrant Iranian parents in Jönköping, Sweden. A musician and performer for as long as she can remember, she came up in the punk scene there, a part of her musical identity that she's never really lost. For the past three years, she's been putting out songs that teeter precariously on the edge of pop, rap and punk, through the excellent Stockholm label YEAR0001.
But despite that mix of styles, Nadia's music retains that punk attitude. "I think being punk doesn't mean that you have to do everything in a certain way. That's the thing with punk, you can do whatever the fuck you want. And if you want to do things that look really refined, it's more about how you do it than what you're doing. That's what it means to me at least – it's a state of mind."
Have a listen to Nadia's music, and it's easy to picture the brazen rebel of her youth. She screams her lyrics over riotous tunes, and acknowledges that her stage persona has always been "really aggressive and outspoken and tough – very powerful. I've been making music for that persona, that's the music that I have been releasing and that's the image that I have been showing to the outside world. I feel like the record is super punk too".
And she's not wrong. On " JET " we hear what should be her rallying cry – "Apology? Not from me!" – over apocalyptic production, while "Something New" has her wailing like an 80s, garage-punk incarnation of Karen O. But Nadia's 2016 song " Refugee", and the accompanying video, which was filmed illegally on the streets of Tehran, best captures this raw, unrelenting, defiant side to her.
The fallout from the video for "Refugee" – Nadia hasn't been back to Iran since, for fear that the illegality of the video means she could be arrested – also explains why a lot of the new record is also so reflective, a juxtaposition to the punk aggression. "I haven't been back [to Iran]... but to be honest I feel like I have to go back, and I am trying to figure out how I can do it in the best way." She tells me, wistfully. "It's been this huge sorrow in my heart. Just the thought of never being able to go back, and missing my cousins' weddings and funerals and birthdays... And just missing the feeling of walking in the streets of Tehran. I've been trying to come to a closure, but I can't find it. I'm never going to accept the fact that I can't go back, so I'm just going to have to [find a way]."
The pain and torment at the core of Dozakh, even as the songs move from soft, exquisite pop to writhing, bass-thumping punk, is clearly a result of this complex feeling of estrangement. It's an emotion for which "Dozakh", that hell of separation, is the perfect, if only, word.
"There's a spectrum on all of these things that can cause you to have that feeling of being in Dozakh." Nadia explains. "Sometimes, it is just a pop song or a love song – they're about a specific person that doesn't love you. But sometimes it's like being in a place where nobody understands you and you feel separated in that sense. And sometimes it's that you're missing your grandmother who's on the other side of a border that you can't cross. It can be a lot of different types of separation that will put you in Dozakh".
The new record's subject matter explores this idea of separation and the yearning to escape it in a number of different ways, one being direct references to the migrant crisis that has gripped Europe since 2015. The oceanic imagery and eerie sounds of tides that permeate through tracks like "Sail On" and "Come and Go" acknowledge this unfathomable tragedy for what it is: a human disaster that has seen countless numbers of refugees perish in their attempts to cross the mediterranean.
Nadia's personal connection to it – her parents left Iran for Sweden in the 1980s – means you might expect her commentary to be rooted in her punk persona, with howls of rage at governmental apathy. However, as with the album more generally, Nadia eschews anger for sorrow and empathy: "I think previously I've had this really aggressive way of speaking about it [politics]... being very political in an activism type of way. And I think that's really important. But I feel like today we're speaking about this idea of escape and about refugees … we forget the emotional connection to it."
"It doesn't come from an angry place, it comes from a sad place", she says of the album's narrative. "And I think that's important in a time where we dehumanise the people that are making the journey, by speaking about the profit or the loss of money that we're going to make if they come here, instead of speaking about how we are viewing human lives."
This reflective side to Nadia is one of the more striking things about the new record, and it's the side I meet during our conversation: more studied, more deliberate. I am surprised to hear her tell me that "...behind closed doors, I've had my own little secret space where I wrote cute love songs about unrequited love, and my broken heart."
"It is so much more vulnerable, but it was something that I never intended anyone to hear: it was my secret place." She admits. "But through the years, this other side of me has been... It's been a process for me to embrace it and to make it into this record and be ready to show this other side of who I am".
Lyrical, melodic pop songs actually outnumber the more aggressive ones on Dozakh. Flailing punk is subdued by introspective ballads, in a whispered welcome to Nadia's delicate world. The opening track "Dozakh" includes a recording of her father over a rolling, mournful accompaniment, Nadia's voice floating atop the lo-fi beats. While this contained feeling is soon banished by wails, thrashes and growls, each time we are let back in to Nadia's 'secret place', the effect is amplified. On "Tell Nobody", she gently reassures, albeit hauntingly, "If you're ever warm, I will find you the wind / If you're ever cold, I will give you my skin".
Confessional pop like this is a far cry from the defiance of "Something New" or "Refugee", but there is no power lost in the change of tone. "For me, coming from a punk background, the most punk thing I can do is to write a pop song, because it's so out of my comfort zone and it's really me pushing my own boundaries," she tells me. "I'm showing myself as a vulnerable person, because I was brought up in a way where I had to be so tough, and I had to be so cool, and I had to be so aggressive. And now I feel like it's a privilege to be able to show myself as vulnerable."
The fact that Dozakh was written over such a long period, Nadia says, helped to "strip all the contemporary trends away from it. It crystallised the songs into the core of what they are". Nadia originally wrote the track "High" when she was just 13, and the way in which the album's version was built and conceived lets us into a curious part of Nadia's artistic process.
"It was originally written just me and my guitar. It was just saved on my computer, and then a couple of years later I put some samples on it, and then a couple of years later we put some drums on it", she tells me, showing a willingness to view her art as an ongoing process. While many musicians prefer to leave old songs firmly in the past, or the artistic period in which they were written, Nadia seems to treat each song she writes as an open-ended melody. "I've had different producers in different times of my life who have all just put their touch on it. They've been shaped as I've been shaped, and I think that's also something that has helped the songs become kind of timeless."
This also speaks to Nadia's measured approach to making music, something entirely separate from the conception you might have of her as a performer. On stage she's fierce and unapologetic, with a 'fuck you' attitude that confirms her place as a radical artist. But that seemingly calcified punk veneer is more brittle than it looks: underneath lies an introspective musician who cares deeply and writes with a gentle, intimate touch.
Dozakh: All Lovers Hell is out now.