Norse mythology is a fascinating tradition which lies at the heart of Scandinavian culture. What once was a deep-rooted religion of the Vikings in times of Paganism, is something which is now often put down as 'overtro' to the newly Christianised countries of Denmark, Sweden and Norway. For Amalie Bruun, who grew up on the island of North Zealand, Denmark, this folklore is very much still ingrained in the world that she lives in today.
Folklore which is passed around by word of mouth often takes on a magical life of its own. From the inflection of the storyteller's voice, to how broad-minded the listener may be, there's a kind of magic in sharing a story and inheriting a small piece of the past.
Bruun has a way of breathing new life into the past, by taking these old folk songs and reenvisaging them as expansive explorations into the netherworld of black metal – her moniker Myrkur is quite simply, and evocatively, the Icelandic word for dark.
For devout supporters of the metal scene, it is somewhat riling to have an amorphous artist like Brunn signed to Relapse Records, who have bands such as Baroness, The Dillinger Escape Plan, Monolord and Rotting Christ as part of their roster. In 2015 when she released her debut album, M, Bruun did more than just divide opinion between the purists and those curious for something new to listen to; she became subjected to death threats and online trolling.
Music is often created with the notion of trying to invoke a reaction within someone; to make them feel, but rarely is there the intention to provoke negativity. So, what is it that makes people go to such extreme lengths to make sure that their opinion – no matter how offensive or upsetting – is forced upon someone simply trying to express themselves?
Bruun has ruminated on this question for many years and is yet to stumble onto a concrete answer.
"Maybe they have a reason. Maybe there's a legitimate reason that we all don't see. Or maybe, you know, I sometimes think if I'm in a bad mood and I feel like complaining, I just complain and complain. But you don't feel better, you don't feel relief – you feel worse and I think maybe this is one of those things that people just do that online and they hope to see a change, but change doesn't happen and I'm still here."
Luckily these kinds of comments have less of an effect on Bruun than people may think. Which is a good thing, because they don't seem to be slowing down…
Bruun's most recent release Mareridt was steeped in the intensity of night terrors. A shiver-inducing assault on the senses that saw her dig her nails deeper into the murky waters of metal. The disorientating and heady combination of Bruun's ethereal vocals that shift between serpentine lashes of the tongue, and holy offerings in falsetto, converge with a blisteringly cinematic smog of guitars.
On paper it should have been exactly what the purists were looking for, but Myrkur isn't one for predictability.
"De Tre Piker", "Kætteren", and the bonus track "Himlen Blev Sort" saw Bruun tapping into her roots with traditional folk songs dispersed between the rippling assault of the darkness; acting like light seeping through the cracks of an unhinged door just dying to be pulled open.
And so, the onslaught begins again, as where Mareridt was overwhelmed by a sense of darkness that left you with a chill of uncertainty running through your bones, Folkesange is elevated by its lucidity and vibrancies. Folkesange is the overwhelming warmth that spreads over you when you realise you are safe; you are home.
To say that the album is a complete surprise for Myrkur, would be untrue. Bruun has been slipping these traditional folk songs into her live set for a number of years, and in 2018 she embarked on an acoustic tour which we now know served as a precursor to this release.
Bruun explains, "I knew I had to go out and play these songs live beforehand – I feel that to even earn the right to record folk music, you have to perform it live first. Because that's how these songs even exist. They've been passed down generation to generation like that, so I knew once I had found songs that meant that much to me, I had to go out and explore them live before I even could record them."
Almost speaking with air quotes as she utters the words 'metal', Bruun contemplates the different ways that performing folk songs can be quite interactive in comparison to the darkness of her regular shows.
She says, "When I play a metal set, it is quite dark and I don't really want a lot of light on me, and I'm in my own universe, but with the folk set I found this new joy in including the audience – at least in my mind more." She laughs as she continues, "It's not like I'm telling jokes on stage but it's a side to me I've never had before. It's really free. It's simply fun, you know?"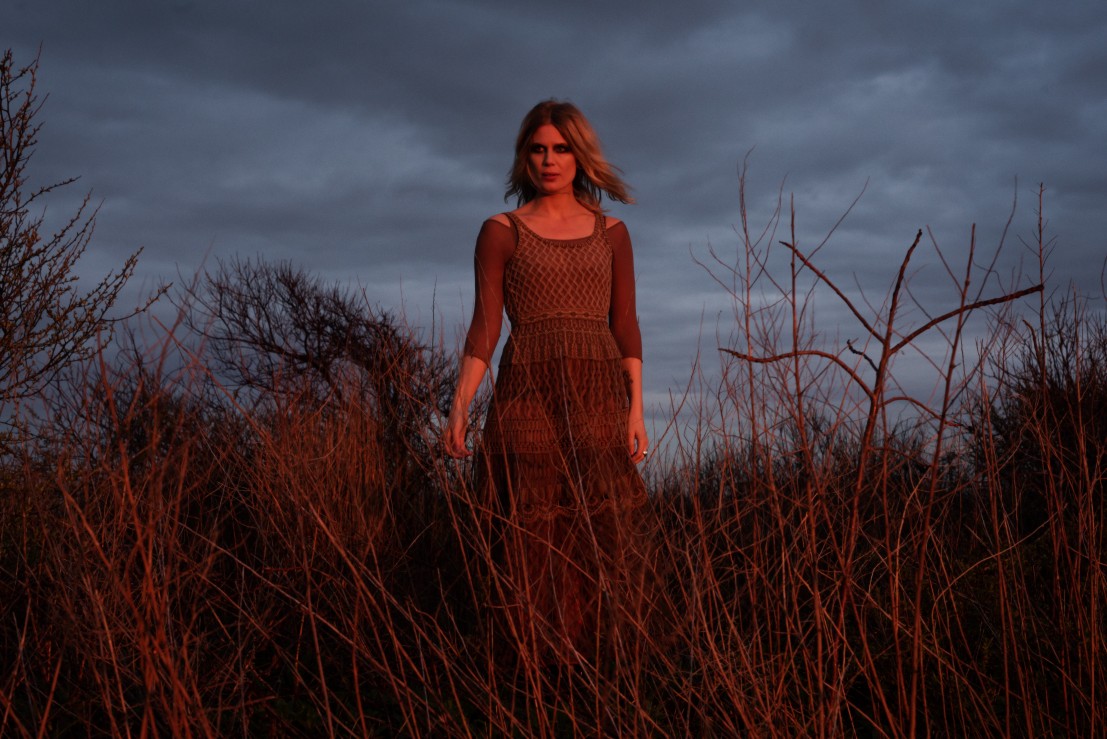 The entire process of creating Folkesange was new territory for Bruun. Three days into the recording process she discovered that she was pregnant, which added a whole new element of strength and invincibility to her world.
She recalls a reading a quote from a Danish author in response to a pregnant woman feeling sad, useless, and tired, which she roughly quotes as saying, 'don't forget you are growing eyelashes with your uterus'. This quote resonated with Bruun in the sense that yes, it's ok to be tired, but what can't you do!? It is an energy that is affluent throughout the songs.
There's a complete shedding of self, and surrendering to the world around you, which transpires in the opening acapella moments of Folkesange. "Ella" brings to light an emotive poignancy in Bruun's voice which has seldom been heard.
Instrumentation is key on this album, as the glacial rigidity of distorted guitars has been traded for the medieval warmth of festivity which exudes from traditional instruments such as the Nyckelharpa, Tagelharpa, and Lyre.
Whilst Bruun is well versed each instrument – as demonstrated in her recent succession of videos on Instagram which she posted in order to feed the curiosity of her fans when they saw the old medieval curiosities that she was working with – she invited members of her touring band to assist in the recording process which eventually took around two months due to her having a tough pregnancy and having to be hospitalised for five weeks.
In a kind of summation to her unwavering spirit, Bruun reflects on how the lyrics in "Gudernes Vilje" served as a mantra throughout that time: "'everything goes according to the will of the Gods' is something that I've really had to take in, and that doesn't have to be interpreted in a religious way – it can be interpreted how you want, but it's sort of a very humbling and humanising experience that this whole process has been…. Yeah, it's very powerful."
That this gives way to the beautifully soporific and bewitching lullaby of "Vinter" feels like an ode to motherhood. Finding the beauty in chaos, and having to rewire your existence from all that you have known, as none of it will ever be just yours again.
As Bruun touches on motherhood, her voice softens and you get the sense that she is truly in love with the magic of it all. The perpetual state of newness that derives from unchartered territory comes from a sense of gratitude in experience of getting "hit over the head with being hospitalised."
"You give up your entire life and yourself all of a sudden because you are just a house for a foetus, and as beautiful as that is, you have to almost kill a part of yourself to get through that, and I feel like it was a weird preparation for becoming a mother because I don't know that I would have been able to adjust so well once my baby was born, but maybe I adjusted more because I had this [sense of] like 'ok, here's preparation for what's to come – you're in this bed now.'" Taking a moment to really sum it up, Bruun adds that it's a reality check in the sense that, "you're not a superhero."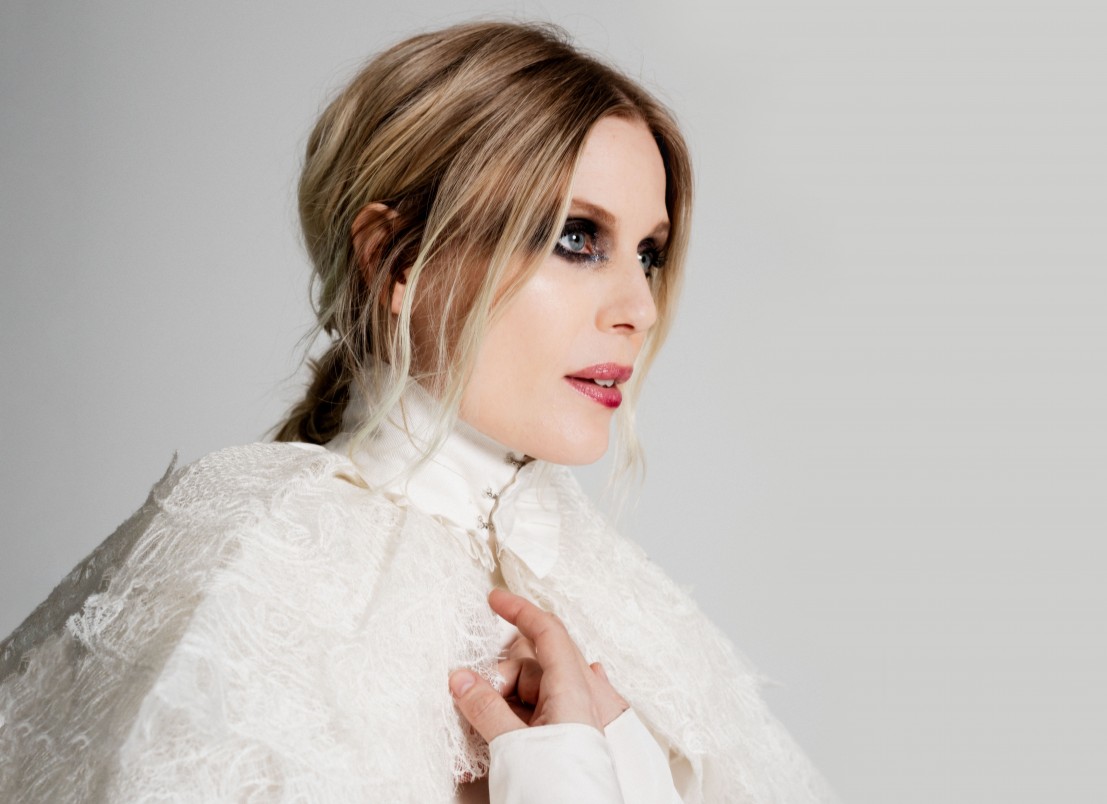 As someone who likes "to exist between this world and some otherworldly universe of, you know, archetypal reality and folk tales," it would make sense that having her existence completely upturned isn't something to be afraid of, but it is the comprehending just how different life would become, that surprised Bruun the most.
"People say, 'what has changed? Is your voice different? Do you see this differently?' and I have to say everything! Nothing is the same, and that is shocking."
When I ask her if this was grounding in any way, I'm first surprised by her response that she finds it quite the opposite. Then I remember that the woman behind Myrkur is a Frigg of sorts – Goddess of motherhood, love and arts. That existence is more than the side of yourself which you put on display for the world.
In somewhat of a philosophical way, Bruun leaves me pondering what it's like to have the ultimate power of being able to give life, and why being open to transience is the key to living a fulfilled existence.
"It's like I have to become human again; I have to do all of the growing up again; I have to be something new because there is nothing before now. I mean also you're speaking to someone who is a new mother – in two years I will have found pieces of my own self and they will be reinterpreted, but now I know that you give birth to a new human that has to learn to be a human, but you also give birth to a mother, yourself, and that's a mind-blowing experience."
Throughout Folkesange you are able to get a sense of Bruun's rich Scandinavian culture via stories that penetrate the expansiveness of time and ideology. Whilst our bodies are impermanent, even the smallest things that we do can leave a lasting mark, owing to invincibility, and whilst she's already lived quite a fruitful life, thus far, Myrkur's tale is only just getting started.
Folkesange is out 20 March via Relapse Records