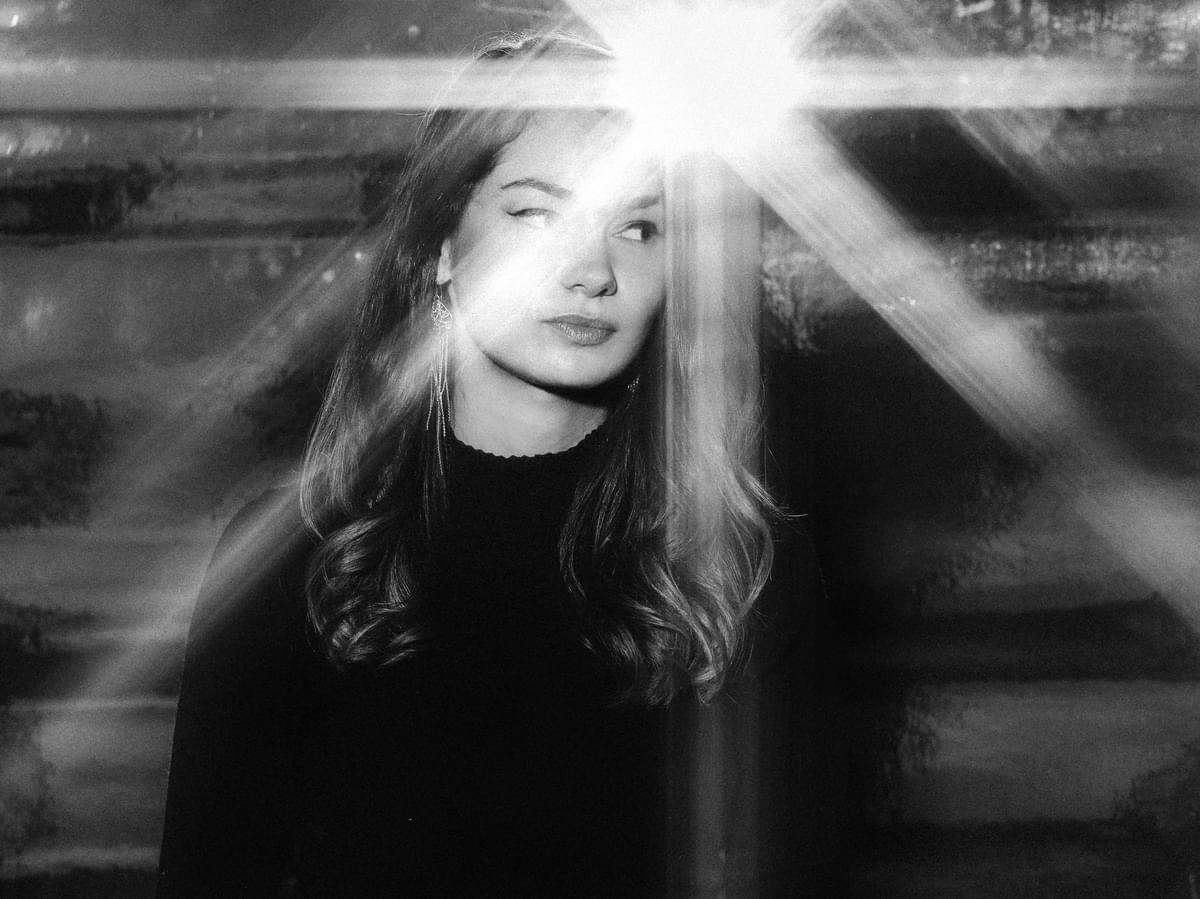 On the Rise

Minke
18 March 2019, 08:00
With songs that combine spacious minimalism and snaking melodies over polished pop production, LA transplant Minke is taking guitar music forward in new and exciting ways
It's two years since Minke wowed us with the soulful pop-rock of Lindsey Lohan-endorsed debut single "Gold Angel". Since then, the British singer/songwriter has been hard at work on debut EP The Tearoom, a seven-track record released earlier this month.
The EP features the aforementioned "Gold Angel", along with additional singles "Maybe 25", "Too Late", and "Something Better" plus three brand new tracks.
If the name Minke doesn't ring a bell, there's still a strong chance you've heard the LA transplant before, releasing under her real name Leah Mason. As Minke, Mason's order of the day is minimal yet sweeping pop laced with addictive electric guitar – fans will note a great (though not unwelcome) difference from her previous project.
Minke's origin story starts even before a then 18-year-old Leah Mason signed as a blues artist, opening (perhaps unexpectedly) with her exposure to Elton John as a young child.
"I have [always wanted to be a musician]," Mason explains. "At six years old – I'd just discovered Elton John, I think it was "Candle In The Wind" time – my Dad told me, 'you know that Elton travels round the world and plays piano for loads of people and gets paid millions?' I'd just started playing piano at that point, and I was like, 'cool, I'm gonna be a musician then!'
"I started teaching myself guitar at eleven, out of the blue. I don't know why – no one played guitar [in my family]. I bought a 30 quid classical guitar with shitty nylon strings, and I sat in a room for two years and just got obsessed with it. Then I got a guitar teacher, who really encouraged me and mentored me throughout my teens. He gave me a big book of Bob Dylan lyrics when I was 14 and was like, 'when you wanna use some cool words, just flick through this and nick a couple, and then you've made a song.' It's that easy!
"From then on I would play Hendrix solos in the school show," Mason continues. "13-year-olds' older brothers who worked in London A&Rs started coming to those shows – which was super weird. I signed my first deal at 18, for a very blues-rock project with a lot of electric guitar solos."
Needless to say, this contract was not the one that would come to define Mason's musical output, and indeed her career. Within a few years, she describes realising how restrictive this project was, and how little she related to songs about "bein' in a bar in Nashville" or "an old man at the crossroads".
"That's where Minke came from," she continues. "I started forming this project in my head while I was doing the blues stuff. It grew from there. I wanted to take those [blues] roots – because that's in my DNA – and be true to my experiences. That's why [Minke] has got some blues guitar riffs in there, with modern production and pop stuff in between.
"I really believe in true musicianship, I think it is something that will always shine through. I go to see Bruno Mars – these cats who just take the musicianship live so seriously – and it blows people's minds. I get and understand and appreciate what's happening right now, and how everybody can be a bedroom producer and make beats – make good beats! – and that's sick. It's made it a level playing ground and I really enjoy that, but I don't want the musicianship to get lost. I think it's so important. It's what strikes through to the heart."
"I really believe in true musicianship, I think it is something that will always shine through."
Arguably, its this attitude that sets Minke aside from so many projects Many people have tried to prize [the guitar] out of falling into adjacent categories of genre. Mason's lyrics sparkle over polished pop production, but it's her snaking guitar lines that regularly steal the show, taking on a life of their own as they soar above her tracks' spacious minimalism. Her guitar-work in live session shows her talent in action.
"Many people have tried to prize [my guitar] out of my hands over the years," Mason admits, laughing. "I'm like, 'absolutely not! This is happening!' Why can't I be Taylor Swift with electric guitar solos? What's wrong with that?"
Debut single "Gold Angel" is still the stand-alone track that provides a perfect introduction to Minke. In the two years since its release, it's accrued over 12 million Spotify streams, with official remixes racking up a million apiece on top of that.
"The reason we put that song out first was because I felt it summed up what I was trying to do in every single way," Mason explains. "Alternative R&B pop, modern production, loads of weird guitar, but also could be a Fleetwood Mac song. It just had everything that I feel like represents me. For that to be accepted so widely is very fucking humbling and cool."
Despite its stunning presence – readily obvious to any listener – Mason and her team were still taken aback by the explosive response to "Gold Angel".
"We weren't prepared for it at all!" she laughs. "We had to scramble and figure out what to do next. I sat in this carousel of meetings and it was just horrendous. I never want to do that again. It fucked with my head for a second. We had to regroup and figure out moving forward. In the end, it was taking some investment from a couple of people so I could keep creative control for now and keep building [Minke] authentically. I didn't want to sign a deal too early – I've done that before. I know that if you sign too early and you're not ready for it, neither of you are going to win."
"I try and fight against it, but you live and die in the Spotify machine."
Following the pressure of those decisions, Mason's approach took on a laid-back pragmatism: the antithesis of the initial "Gold Angel"-induced scramble.
"'Gold Angel' really was a magical moment," she explains. "The only way to recreate magical moments is to forget they happened, and do exactly what you did when you wrote that – which was not think about anything! If you plan a magical moment, good luck! It doesn't work like that."
Of course, "Gold Angel" is not the only single Mason has slipped into The Tearoom's tracklisting. Already having navigated industry machinations serves her well: her understanding of the hoops through which she's obliged to jump is comprehensive, even if her opinion of them is somewhat scathing.
"I get very frustrated when artists release an EP and there's one new thing I haven't heard off it! You've been waiting eight months, and you're like, "really!?" It's pure business, and it's really cynical. I try and fight against it, but you live and die in the Spotify machine. The problem is that if you release loads of songs at once, you're not giving them their own time. I understand that, but I think the real way to build a fanbase is to please the fans, and not please fucking Spotify!"
In 2019, Mason is far from the only artist commiserating over tick-box release schedules built to optimise profits. While the frustration of algorithms dictating your career progression is for the most part unavoidable, Mason's approach seems to strike a fair balance. Studding The Tearoom with a handful of previous singles allowed her to retain her integrity as an artist, whilst still catering to the inescapable whims of search engine optimisation.
"I wanted this EP to be representative of my last two years moving across the world writing songs and of all the experiences within that," she explains, "as well as wanting to have the best collection of songs possible, so I felt like [certain singles] needed to be there."
As "Maybe 25" comes from "a similar place" to "Gold Angel", it's unsurprising how perfectly the pair slot into The Tearoom's narrative.
"I was in a place where I was feeling really down about the whole fucking online dating world!" Mason says of the track's inspiration. "It felt gross to me, but I also felt like that's what I should be doing, in a way. I was going through a breakup too, so I was a bit all over the place. 'Maybe 25' started off with the spark of online dating, but as I was writing it, it became more about me and what I was feeling at the time."
"I can't watch a gospel choir without crying; it's so purely beautiful to me. I'm not religious, but it's the closest I ever come to thinking maybe there is a god."
She continues, elaborating on how little effort the songwriting process was for that particular track: "I always know when I need to talk about something because… it's kind of freaky, my mouth will start moving and saying words that I'm thinking that I don't realise I'm thinking! I'll write a song that way, then look back at the lyrics a week later and go, 'oh, shit! That's everything that needed to come out at that time.'"
Most recent single "Something Better" follows "Maybe 25" on The Tearoom's tracklisting, sitting right at the heart of the record. It has a very distinct sound that stands apart from the Minke to which we've previously been introduced; laden with gospel-esque choirs and finger-clicks, and heavy religious imagery. Mason's guitar lines take a backseat here, provided texture through a more muted and staccato approach.
"I've been obsessed with gospel music since I was very young," Mason admits. "I can't watch a gospel choir without crying; it's so purely beautiful to me. I'm not religious, but it's the closest I ever come to thinking maybe there is a god.
"The idea for 'Something Better' was originally born out of dating someone very religious for the first time and what that entails, but it became a much bigger thought on the world and the state it's in, and how we can all stay hopeful and supportive no matter what's happening. Despite our differences – 'You're a saint and I'm a sinner' – I'm keeping an open mind for you to prove me wrong and I'll listen."
Lit up with glorious singles that have already found success standing alone, The Tearoom proves to be a gorgeous EP full of contrast and delicate beauty. Mason's personal favourite song, however, is one of the tracks previously unheard by fans.
"'Bite The Bullet' is my favourite song I've ever written," she enthuses. "It was the first thing Rory Andrew (my main collaborator on this record) and I did together, and writing that song gave me closure on something that had haunted me for a while. It reminds me of my first writing trip to New York, not knowing what the Minke project was going to be, then finding that special connection with Rory and feeling excited for the first time in a while, knowing everything was going to be alright."
And alright it is, though a kernel of less positive emotion may sit at the core of each individual part of The Tearoom.
"I was going to call it The Tearroom!" Mason admits. "Once I'd put the final tracklisting together and listened through, I realised that sadness is a way bigger theme than I'd realised! But then I decided on Tearoom, 'cause I'm actually not that sad in real life. If you want to know the tea, listen to the EP, 'cause it's me being very very honest about my life." Less seriously, she adds, "I'm also a Brit and tea is life."
"Many amazing men have been involved in helping get his record out, but it was the women in my life who helped rebuild me after the low moments; to have the strength to reflect and be able to write some of these songs."
Now the EP is out in the world, and all that's left for Mason to do with it is to get it out to her audience. Its 8 March release co-ordinated with the worldwide celebration of International Women's Day, something she's particularly proud of.
"Many amazing men have been involved in helping get his record out, but it was the women in my life who helped rebuild me after the low moments; to have the strength to reflect and be able to write some of these songs. I've had the honour of working with so many incredible, creative women during this time who've all helped keep me inspired – and all of the music videos from this EP have been directed by women. Long may that continue!"
So, what's next for Minke? Mason can't help but laugh when questioned – after all, The Tearoom has been on the horizon for so long, and now it's finally out she's already being quizzed on her next move.
"The idea of hitting the road playing these songs with a full band – as originally intended when we were working on the production – is so exciting to me. I'll be travelling all over in the next few months. It's a moment I've dreamed of for so long, So I'm hyped!"
Get the Best Fit take on the week in music direct to your inbox every Friday