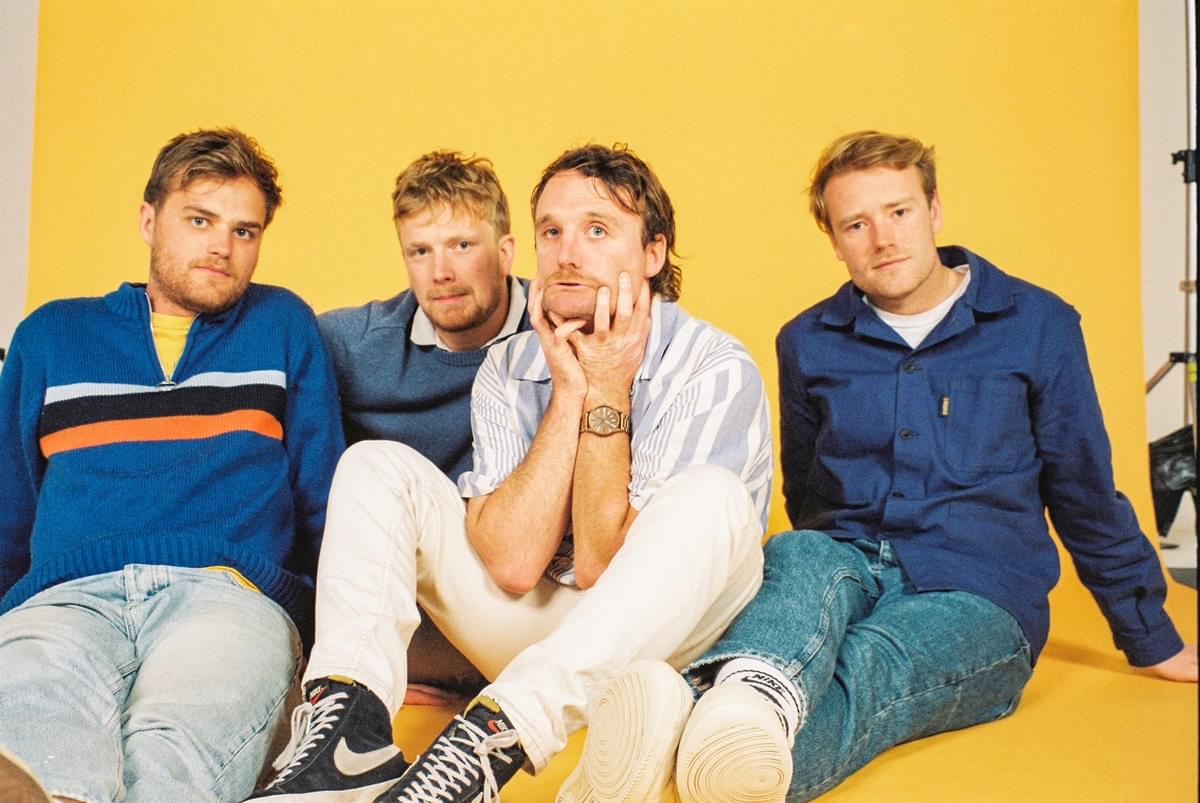 On the Rise

Mild Orange
10 February 2022, 14:30
With a new album and a one way ticket out of New Zealand, Mild Orange are ready to see where the road takes them.
"Once we step on the plane, there's no coming back," says Mild Orange frontman Josh Mehrtens with a nervous laugh from the other side of the world. "We're really stepping into a big unknown, but if we don't go now, when will we ever go?"
Speaking a week before the band release their third album, the intoxicatingly dreamy Looking For Space, and play a London headline show, Mehrtens is still at home, not yet packed, and with more than a hint of trepidation in his voice. "The borders in New Zealand are shut, so if we want to do anything outside our country, we can't return," he explains.
Formed in Dunedin, a city in the South island of New Zealand, the group met while studying at university. Mehrtens shared a flat with ten other boys, one of whom was now bandmate, lead guitarist Josh Reid. The two bonded over music and began writing songs together. It was only several months into their friendship that Reid's mum made an unlikely connection. "He'd said to his mum, 'I'm playing music with this guy Josh Mehrtens', and she was like, 'I know that name', and pulled out these photos of us when we were kids together playing building blocks and stuff," he laughs.
The reacquainted pair enlisted bassist Tom Kelk and drummer Jack Ferguson, both of whom had been playing together in another local band, and Mild Orange was formed in 2017 during their fourth year of university. Mehrtens took the songs he'd been writing with Reid and learnt to self-produce, working between the home studio he'd created in their sprawling flat and the library, taking breaks from his law degree to work on the band's debut record. "I had my own little paradise where I'd work on music and all the boys in the flat would come and join me while I was mixing and just zone out," he smiles. "It was quite cool."
They self-released their debut album Foreplay in 2018 and began hustling for ways to reach an audience outside of home. "From the get go, we've been like, from New Zealand for the world, trying to make things that resonate with people across the globe," Mehrtens explains.
Their lucky break came via Ukranian YouTube curator Alona Chemerys, who Mehrtens sent the band's music to. "I've always been a YouTuber. I'm the guy who'll be commenting on everybody I watch. I love the community on YouTube and I'd been following Alona for a while," he explains. "She didn't actually reply, but just as the music was released she shared "Some Feeling" and "Mysight", which have now gone on to have like, fifty-million views between the two of them. That opened us up to the world."
Prior to the pandemic, the band toured Europe and the UK, but as the world began to shut down in early 2020, New Zealand closed its borders, operating a zero tolerance approach to the virus. While it wasn't ideal, it did allow the band to stay match fit. "We love playing live. We belong on the stage. So luckily throughout this period in New Zealand we've been able to play a lot of gigs still," says Mehrtens. "We're sharing photos of these gigs and some of our followers overseas are like, 'You guys are being so irresponsible', not knowing that we didn't have covid, because it seems so unreal that we were able to be doing that."
Having released their second record- the self-titled Mild Orange - in May 2020, it wasn't long before the band began work on a follow up. With live shows still ongoing, it meant they could road test the new material. "We're not afraid to share songs with our fans before they're released. We love doing that because it actually influences the way we play it," Mehrtens says. "We want to honour those live moments and the energy and try to capture it in the recording. That's what took us to take these home recordings to a proper studio."
The album came to life across five different locations around New Zealand, from an idyllic cabin on Carters Beach, flanked by the ocean and a paddock of wild horses, to the arid dust-kissed rocks of Bannockburn. "It's kind of like Mars around there," says Mehrtens. "We'd have these days where the inversion layer would fall on us and you couldn't see further than two metres in the distance. We'd be jamming out and it felt like we were in another world."
The band would rent a space for a month, set-up their home studio and begin the process of writing and recording. But wanting to honour an increasingly epic live sound, their tech was finally overwhelmed. "It did get to a point in the production where it became too big for my laptop," says Mehrtens. "On the past two albums, I'd managed to get by. But the songs needed a bigger production."
They finished the record at the prestigious Roundhead Studios in Auckland, working with producer Paddy Hill. Sonically, it's a step up from their previous work as the capacious production complements their laid-back driven indie, turning the key on a soundtrack of road-trip ready, sun-kissed bliss. Previous single "Oh Yeah" is a trippy hit of glistening guitar lines and sprawling chorus, a journey with no destination. "Hollywood Dreams" encapsulates the dark romance of hope, while "What's Your Fire?" rages a bitter tongue against soaring dynamics.
Looking For Space isn't just influenced by the physical and natural environments the band worked in and across, it's also about the feelings of claustrophobia and confinement experienced by Mehrtens throughout the writing process. During the creation of the record he fell ill with double pneumonia and pleurisy. "It sucked, big time," he says. "Every time you breathe, it's excruciating pain. I was in and out of hospital and on heaps of morphine and codeine, so I was pretty out of it for a good while. It took me a few months to feel good again, but I think that influenced a few of the songs."
While it wasn't a welcome break, it did help Mehrten to focus on the constant cycles that control life and nature alike. "One of the parts of making this record that really stood out to me was when I was looking out over the beach and there was this gnarly storm coming in, thrashing the coastline," he says. "It was then that I was like, this is all a necessary part for this beach to be so beautiful. It needs to get utterly smashed sometimes, and then eventually it passes and it's the beautiful sunny days that everyone enjoys."
It certainly feels like the past two years have been a grinding, treacherous, bastard of a storm for most of us. But now, just possibly, it's time for some better weather. It's that hopeful sentiment which shines through in Looking For Space. "Everyone can apply their own situations because everyone goes through shit stuff, so I want people to put their own life experiences into it. I think it has been a challenging time for the world," Mehrtens accepts. "We're gonna be grinning all night when we're on stage with everyone, celebrating."
Looking for Space is out now; Mild Orange play the Jazz Cafe in London tonight
Get the Best Fit take on the week in music direct to your inbox every Friday