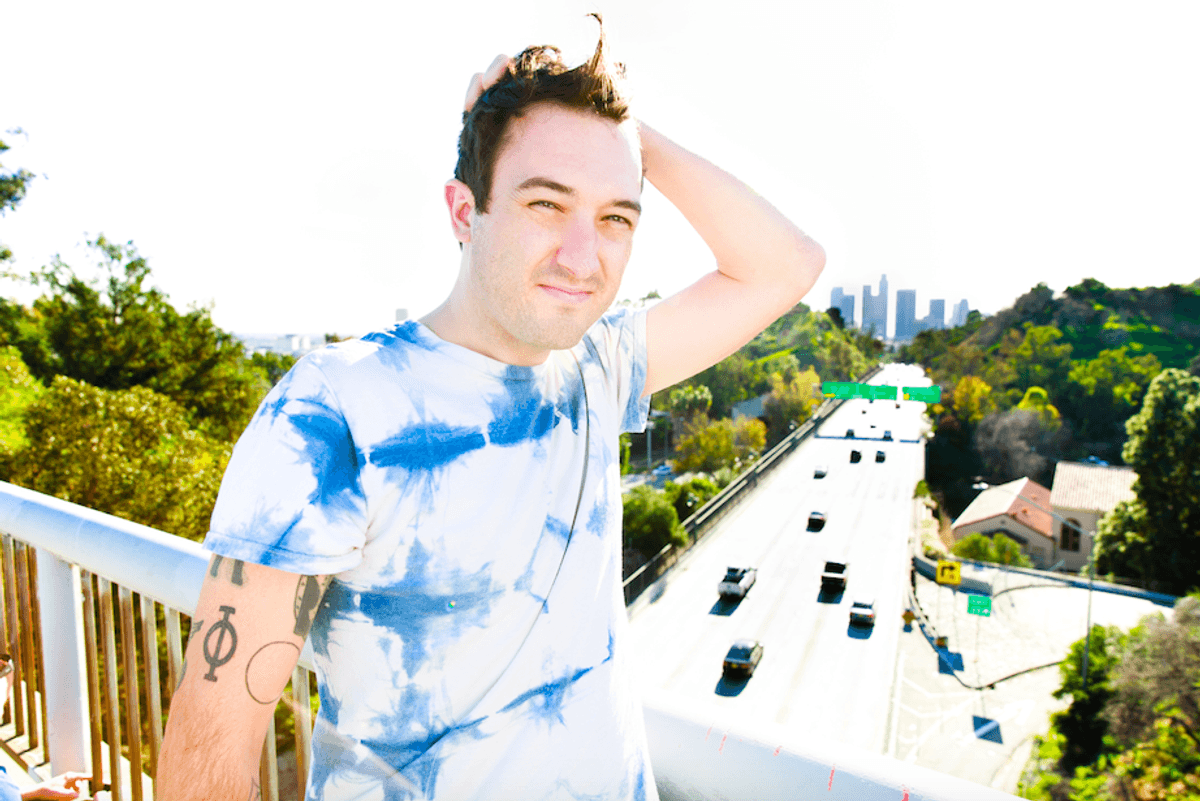 Mikal Cronin: "I'm still asking questions all the time! I'm still figuring out shit that way!"
28 April 2015, 10:00
Ten years ago, while studying at school in the Pacific Northwest, Mikal Cronin slipped a disc in his back and spiralled into a pit of despair, self-doubt and a whole lot of pain. I'm sure at the time he had no idea that such an experience hitting this teenager displaced from Laguna Beach would inform a symphonic pop album ten years down the line.
Yet that's where we, and Cronin, find ourselves on MCIII the helpfully titled third solo album from the San Francisco based singer. Following up on the garage pop nugget that was the delightful MCII, Cronin revisited that formative experience – one that led him to head home and write songs, meet Ty Segall and form a band – and created an album of two distinct halves. Side one of MCIII is five power-pop gems, his most immediate collection of songs to date and the most hook-heavy start to a record in 2015. Side two, though, is a concept record called 'Circle' based on that gloomy period in his life; drenched in horns and strings are six songs which carry us through Cronin's dark times out to the other, sunnier, side where he becomes the Mikal Cronin that we know today: the writer of sumptuous, ornate, melodic and completely instant pop songs. This is no prog-fantasy concept album, this is real life, something we can all nod in agreement with and understand, and it's all the better for it.
Best Fit is proud to present the exclusive UK premiere of MCIII, and we spoke to the man himself about what it took to make this pop masterpiece.
I'm chatting to a Cronin who is once again on tour, the morning after the first night: "Yeah we just played our first show last night," he confirms. "We're playing a good amount [of new songs], about six or seven I think. I have a new band line up and that was our first show… we were all kinda freakin' out but it went well." Given the wealth of instrumentation on MCIII, how easy has it been to replicate that sumptuous sound? "We do what we can," admits Mikal. "There's definitely an adaptation; I added a keyboard player to fill in some of the parts, and we translate some of the string parts to the guitar. It sounds pretty full! I'm happy where we're at, for sure."
The last time I spoke to Cronin he was also on the road; it was two years ago and MCII had just dropped, and we discussed singing about personal matters and how there's an art to making sure it doesn't end up an uncomfortable mess. I remind the San Franciscan of his quote about how there's a fine line between being personal and oversharing in light of him about to release an album that contains a conceptual song cycle about a personal, defining moment. Cronin laughs, and replies: "Oh I still believe that the fine line exists; but I've been interested for a while in doing something more long-form or conceptual but I didn't want to follow the trope of completely making up a story or base it in fantasy." Cronin explains that he wanted to have something which was personal, but completely identifiable to the vast majority of listeners. There are no wizards on ice to be found on MCIII: "A lot of concept records, they're awesome but they can sometimes be really out there," says the singer, "or have an unbelievable story. So I tried to find a time in my life, a little short story about myself, that would translate to the longer form… something very personal and formative but also relatable and interesting, I guess."
Cronin hasn't hidden the fact that Kate Bush's Hounds of Love was something of a template for MCIII. It shares that record's approach of one side of instant pop songs, and then a side of intertwined songs weaving a darker, more involving story. It feels like Cronin is taking chances with pop or rock music's template, but was it always his intention to approach the album in this manner, or was there any kind of wavering? "I dunno if I went back and forth," he says. "I wrestled with the idea of doing it at all, for sure. To me, it was kind of a bold idea to go back to that difficult and weird point in my life and try to contextualise it and put it into a short story form or a song form." There was no doubt, however, in settling on the moment in his past which would be at the centre of the song cycle: "I didn't go back and forth on a moment in my life that would translate," is the assured reply. "I was just scared about doing it at all and pulling it off in a way that was made sense and wasn't too egotistical or self-centred!" Cronin goes on to explain what came out of that time; a realisation that music was the thing which was going to take up the rest of his life: "It was just growing up, playing in bands, trying to write songs and stuff," says, "that's kind of like the thing at the end of the story for me. It really drove me to a place where I started focusing on those things. I do think I've been doing that for years and years and now I'm doing it, spending all of my time doing it. That all helped a lot." I ask if he found the Mikal Cronin of ten years previous someone the present day man could relate to, or have the years and that particular time changed him completely? "Oh I was a very different person!" confirms Mikal. "It was interesting, putting myself back in that mindset." Teenage angst was very much still a factor in his life as Cronin tried to adapt to school in the Pacific Northwest: "I was a very confused young man, like young men often are when they're eighteen, nineteen." So he couldn't relate? "Oh no, still relatable," clarifies Cronin. "It was the beginning of getting into the real world and dealing with real relationships and problems… it's still a relatable headspace to me, but thankfully I'm ten years wiser and can understand what's going on a whole lot better."
Besides the grander musical arrangements, the big difference between MCII and MCIII for me is that lyrically Cronin seems to have figured a lot of stuff out. MCII was punctuated by a series of question marks and searching for answers while this time around as the recordings become clearer and the songs get bigger, Cronin sounds like he's working through a hell of a lot and finds a few answers: "Oh that's interesting!" he exclaims. "Definitely musically I'm at a more confident place; the first two records under my own name I was still figuring out generally how I wanted to approach the project or how I wanted my song writing to translate to record, so I feel a little more confident in what's going on." But it's not all figured out, as the singer goes on to explain: "I'm still asking a lot of questions all the time! I'm still figuring out shit that way! Although I do think I got in a bit more of a groove after doing this project for a couple of years." And will he continue to use the initials plus number approach, given there seems to be an obvious thread through the records? "I really don't know," is the confession. "When it came to addressing what this project was all about or how to approach it, I didn't expect to do another number again, but it became really clear that thematically these records are pretty linear and they do feel like they go together in what I'm talking about, musically and everything else. I didn't expect that [title], it was pretty much the last minute where I decided 'yeah, calling this number three is appropriate'. I think once I start writing and recording a record I'll just see where it's going... I'm not tied down to continuing the trilogy."
MCIII is a pretty special pop record; it's that rare thing where instrumentation is layered and layered, strings come and go and it doesn't for one moment seem bolted on or out of place. In fact, as much as these songs might sound fine without all the arrangements it feels like a bunch of songs that absolutely needed this rich treatment, this gilding of the lily. Cronin agrees, and explains that "I just got more and more interested over the years in playing around with more ornate and orchestrated sounds, more instruments… stuff that's not normal on a typical rock and roll record." The brass and strings weren't something added on as an afterthought ("I'd just hear a string part in my head or a horn part when I was writing the demo") but part of a songwriting whole: "It was really early on in the process where I thought like 'fuck it, go for it and figure it out'" says Cronin. "I knew it was going to be hard and weird but I thought why not do it and try and make it interesting. I did it partly for myself but I like the idea of having way more of a musical palette to work with, rather than just a typical guitar based set-up. It's really fun to me; I'm having more and more opportunities to work with all that stuff and it's fun, it opens things up to me." I return, finally, to that bolted-on idea saying to Cronin that it stands apart from that trend in the mid-to-late '90s where Britpop bands got money from labels, and added strings at the very end of writing a song so that you got an incredibly average indie song with a bunch of strings lathered on top: "It's an interesting thing to try and combine those sounds," he admits. "I definitely remember hearing, like you say, Britpop bands, where it just felt like a bullshit, last-minute idea stuffed on top… and it was like 'wow, that doesn't work and you've wasted a load of money, it sounds like shit and you've made yourselves look like idiots!' To me it's finding a teachable way, an appropriate way, to get those things in there – that's interesting to me. I'm glad you've said that it seems like it gels together… it's a fun juggling act to try and get a French horn into a rock song!"
You can stream MCIII in full below; the record is released on CD, cassette, digital download and vinyl worldwide on 5 May via Merge.
Get the Best Fit take on the week in music direct to your inbox every Friday