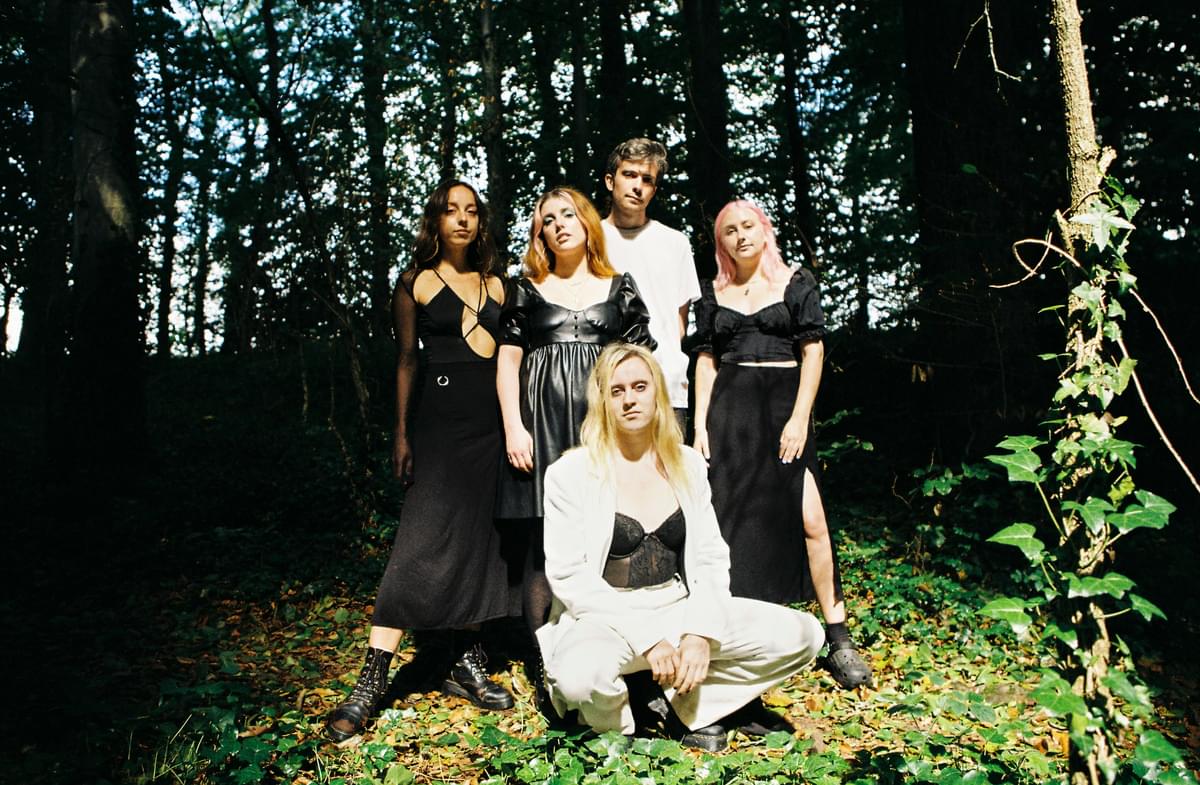 M(h)aol are on a mission to disrupt the status quo
01 February 2023, 12:00
With their debut album Attachment Styles, M(h)aol have crafted a cohesive musical manifesto. They talk to Kate Crudgington about using their music to interrogate toxic patriarchal standards and instigate change.
Taking their name from Gráinne Mhaol (pronounced 'male'), a potent female figure in 16th century Ireland, M(h)aol are five intersectional feminists with a clear and present purpose.
Formed in Dublin by Róisín Nic Ghearailt, Constance Keane, Jamie Hyland, Zoë Greenway and Sean Nolan, the band put the male-dominated post-punk space on notice with their grinding, confrontational debut EP Gender Studies.
Now, 16 months later, comes their first full-length, a record exploring themes of social connection, queerness and healing through the frame of the decades-old psychological theory of attachment styles, currently having a major pop cultural moment.
Exploring the limits of what it means to be branded as post-punk, Attachment Styles finds M(h)aol deftly dismantling narratives of inequality and gender-based violence while also having fun with songs about queer joy, pets and having sex while on your period. It's an impressive feat, underscored by an urgent, shadowy soundscape that producer / bassist Hyland and drummer Keane tell me they are deeply proud of.
"The biggest challenge we faced is also my favourite thing: we walked into that rehearsal room with no idea what we were about to do," says Hyland with a smile. Written and recorded in a single room across seven days, the ten songs were very much born from a "hive mind", according to Keane. "It was a real-time collaboration, which I found very thrilling," she comments.

For her solo project Fears, the drummer takes a more tentative and considered approach to music, listening back to things "a million times" and recording songs well in advance of announcing an album release. "That's my approach to art and the rest of my life, so it's thrilling to be able to just walk into a room with people you love and make music together," she says. "I'm very happy with the way the album turned out."
M(h)aol's powerful shared mentality is one of many contributing factors that makes Attachment Styles so disarming. That it functions as a vessel for both rage and relief is clear from the first play.
For a palpable sense of fury, look no further than last year's blistering single "Asking For It", which finds the band wading through the murky and unsettling truth of violent misogyny. For fantastically withering swipes at the patriarchy, there's "Nice Guys" and the jaded "Bored of Men". For centering the queer experience, "Bisexual Anxiety" offers a spoken-word anthem-in-waiting. And for levity, there's a brief, buoyant ode to Keane's family pet ("Kim is a Punk-type of Dog") and moments like the end of "FEMME" when singer Nic Ghearailt declares "I thought that sounded grand!"
"From my perspective, as a recording and mixing engineer, if you record all of the songs at the same time, there is inherently going to be a very solid thread through them," comments Hyland about the cohesiveness of the record. "Another element that I think gives the album a very strong through-line is that we're all quite technically limited on our instruments. There's no song where there's going to be a huge guitar solo, you know?"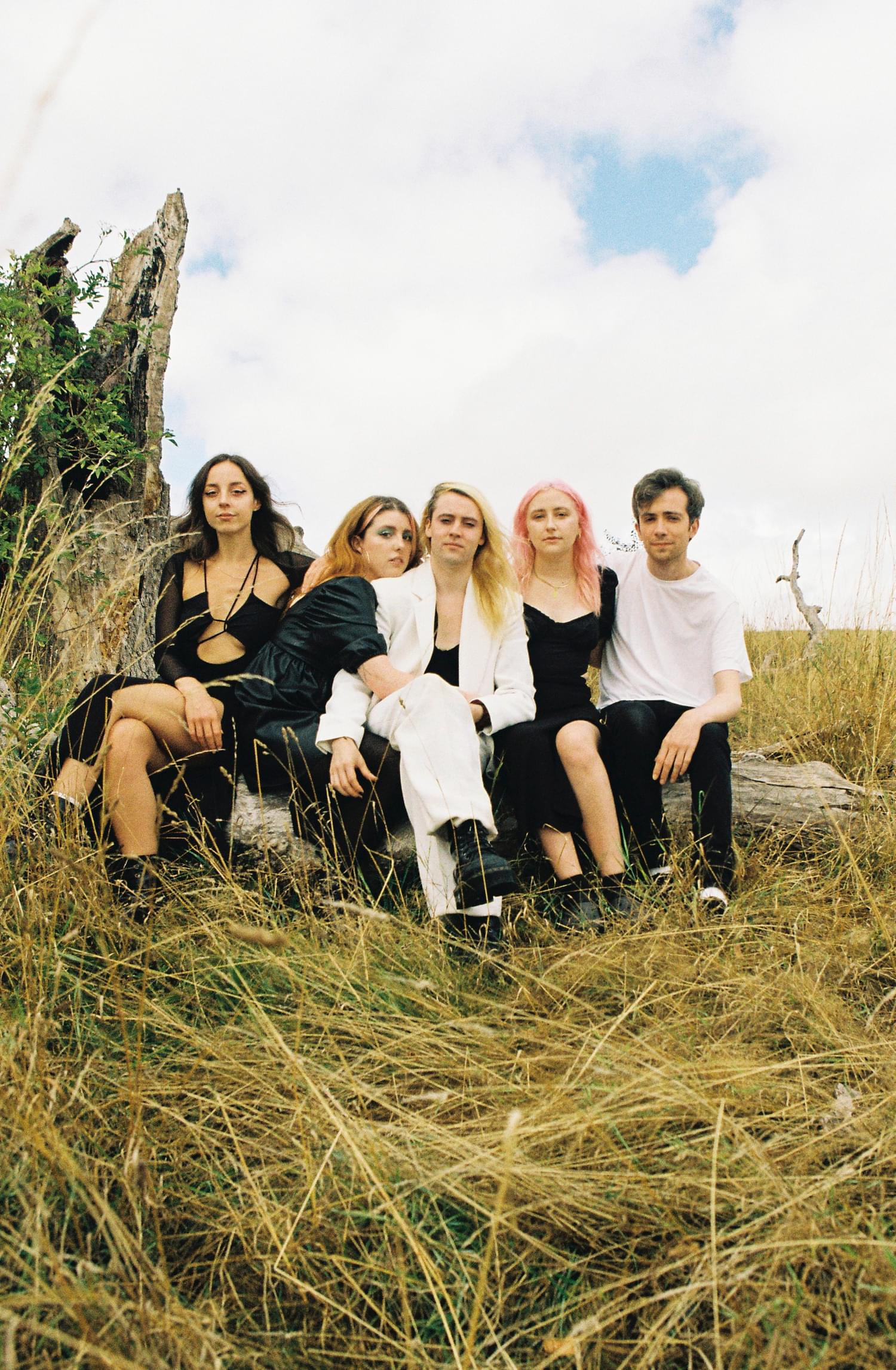 Hyland's pragmatic and minimal approach is something that Keane also shares. "For me, it's about trying to use as little equipment as possible," she explains. "I'm not a fan of complicated drumming. When I was about 16, I got rid of half of my drum kit, and I would challenge myself to use basically five pieces of a kit and see what could come out of that. Also, Jamie, your skills are not limited. You're talking shite." Hyland laughs. "Oh, shucks!"
"I always find it really interesting when people see limitations as a bad thing, as opposed to just something to accept and see what's possible. If we all were always trying to work beyond our limitations, I don't think it'd be very good. I think knowing where the limits of ability lie is really important to be able to lean into your ability as best as you can."
Speaking of limitations, M(h)aol have a tendency to put themselves in what some might call a precarious and stressful position when it comes to putting out records. For Attachment Styles, as with Gender Studies before it, Keane employed the unconventional method of booking a string of tour dates, vinyl pressing and PR before any of the songs had even been written.
"If you take away the lying and the scheming, M(h)aol is just five friends in a room making music together," she jokes. "That approach does mean you dig yourself into a hole though. You put yourself in a situation where you've already paid two grand for the vinyl and the masters need to be at the pressing plant by the end of the week. So if you don't have an album ready by then, you're screwed."
Hyland nods, laughing. "It was just like, 'If we don't make ten songs in the next seven days, will we just have to put out an album of silence?'"

Fortunately, when the band entered their rehearsal space to record, silence was never an issue. With the band so at ease in each other's company, the ten songs came together naturally and ahead of the deadline. It helped, of course, that the band have their own skilled sound engineer and producer in Hyland – a fact not lost on Keane. "Jamie is just a godsend of a bandmate," she enthuses.
"I'm not particularly into recording studios. The dynamic in them can make me feel quite uncomfortable sometimes. Having somebody that we feel so comfortable around in charge of the production gave us so much creative freedom. It was really exciting for me to watch Jamie make suggestions in terms of song structure, but also in terms of sonic choices that I think really did bring us to the next step with our songwriting."
This faith in each other's abilities is the lifeblood of M(h)aol. It allows creativity to flow unhindered in both the rehearsal space and elsewhere. Bassist Greenway is behind the band's striking artwork and visuals, while Nic Ghearailt is responsible for the majority of their vital and considered lyrics.
Keane and Hyland recognise and admire Nic Ghearailt's skill as a writer, but they are reluctant to speak on her behalf about the content of the lyrics – an act of solidarity that's yet another reason why the dynamic in the band is so strong. "Róisín writes a lot of lyrics and poetry on the notes app of her phone," Keane offers. "Then when we all get into the room, if the lyrics aren't coming from that, they're just happening on the spot. It's really exciting to watch the way she works in real time."
"I think we demand quite a lot from an audience... but that's kind of the point."
(C.K.)
Getting back into the sonics, Hyland reflects on how the band have dealt with the 'post-punk' problem. "I don't love being put in this tiny box where you just have fuzz on your guitar and someone is spoken-word-shouting about something that they're passionate about," she says. "The fact that there are a couple of tracks on the album that are really soft and delicate, I guess that's a bit of a push back against that labelling."
"It feels like we took the EP and then pushed it further in both directions for the album," elaborates Keane. "In terms of those more fragile moments that Jamie is talking about and in pushing it further with confusing song structures, or strange moments of field recording. Jamie, Zoë and Sean found this broken piano, which gives that kind of scary lullaby sound that comes in a few times throughout the album. It freaks me out, but I think it's excellent."
This eerie atmosphere is something that M(h)aol are adept at conjuring up when performing live too. Watching them on stage is an intimidating exhilarating blend of righteous anger and oddly relatable humour. Nic Ghearailt's magnificent stage presence is enhanced by the solemnity of her bandmates' playing, but between the thudding beats and urgent riffs they too can be seen to crack a smile, laughing along as she chats to the crowd between songs.
Giving their audiences advance warning about the more emotionally taxing content in their songs is standard practice during a M(h)aol gig. The band are considerate of how some tracks are not always suited to some setlists. "We don't play 'Asking For It' at festivals," explains Keane. "It's an incredibly important song, but people wandering randomly into a tent and being faced with an incredibly heavy but worthwhile topic is probably not something that you want."
"I think we demand quite a lot from an audience," she adds. "I can completely see how our set would be disarming, but that's kind of the point. I think it reflects us as people. It's important when you're tackling serious issues to be able to laugh about them and have fun despite them as well."
One thing Keane herself has learned to find the humour in is the logistical and administrative headaches that come with managing your own band. On the day we speak, Keane tells me the accommodation she had booked for SXSW this year has fallen through, despite being organised months in advance. Finding affordable housing in the area around the time of the festival is incredibly difficult, so going back to the drawing board is both time consuming and likely more expensive.
Despite this annoyance both she and Hyland are in good spirits, happy to laugh their way through the many pitfalls of being in a band in 2023. As the focal point for most of the admin, Keane is especially grateful for the chance to tell the truth about what it's like.
"This is a real passion point for me, so thank you for recognising it," she says. "I think we shoot ourselves in the foot somewhat by living in five different cities, so I hesitate to get the violin out and feel too bad for us, because we've also made decisions that put us in a logistical nightmare. But there is a reason that most bands live in the same city, and that is for sanity."
Perhaps the biggest pitfall of all is money, though that's thankfully less of an elephant in the room than it used to be. "I think there has been more talk around the financial strain for bands since the pandemic," says Keane. "It's not the sexiest of topics. Finances aren't hot. It doesn't really scream chic vibes to be standing on stage saying, 'We don't have enough money to get to the next city, please waltz your way over to our merch table and start buying our wares', but it's the reality of the situation."
Don't expect M(h)aol to sell out any time soon, though. "We've already come this far," says Keane, jokingly. "Now is not the time to start just playing shows for shell!"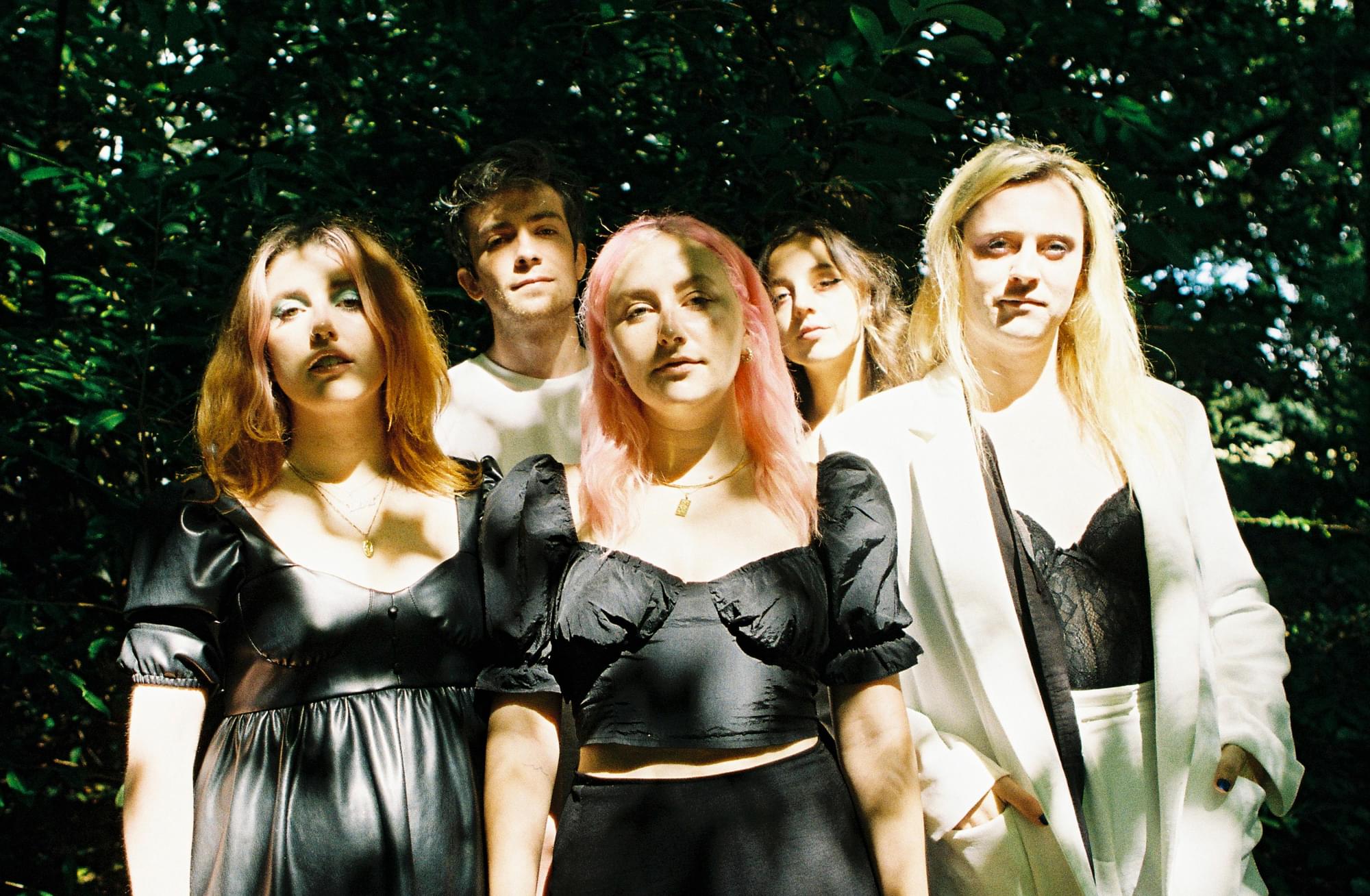 Something that has perhaps helped improve the band's finances in a small way is their eye-catching merch. Their tote bags adorned with the slogan "Ghost a post punk boy today" have made their way into the hands of some unlikely people, including Phoebe Bridgers.
"That woman has no idea who we are," says Keane, laughing as she relates the story of her encounter with Bridgers at last year's SXSW. "On one of the evenings that I wasn't playing a show, Róisín and I went to a Saddest Factory Records showcase, which is the label that Phoebe runs. After it finished, she was just standing at the side of the stage so we went over to her and gave her a bunch of holographic stickers with the same slogan on, and she thought they were really funny. Róisín asked for a picture of her holding the bag, and she did it. She didn't have a clue what she was doing, but that woman is a real ally."
For every exciting moment like this, there's an equally grounding one. Keane recalls a particularly humbling encounter in Barcelona last year involving the same piece of merch. "It was the first day of Primavera and we saw this girl who was dressed so well, walking around with our tote bag. We ran over to her screaming, 'Oh my gosh, I can't believe you have our tote bag!' and she looked at us like we had ten heads. She had no idea M(h)aol was a band."
"Look, she was great. She came to our show after that. It was just a really good moment to bring us back down to earth. And a moment where I thought, 'This is marketing genius, Connie. That weird idea you had really has paid off.'"
Something else that's paid off on an emotional level for Keane is the reach the band's music has achieved so far. "We've been able to connect with people that we don't know, on a really deep level, about topics that we have cared about for a really long time," she says. "It's been amazing to be able to build a community and to be able to bring so many people into our world as a band. A band that was created in our tiny rehearsal space with electric radiators. It's just amazing."
"I can't stress enough how there was literally nothing walking into that room," Hyland reiterates. "It was just five friends and a dream. And then afterwards, we were like 'Maybe we are musicians? Maybe we are actually a band?'"
Get the Best Fit take on the week in music direct to your inbox every Friday