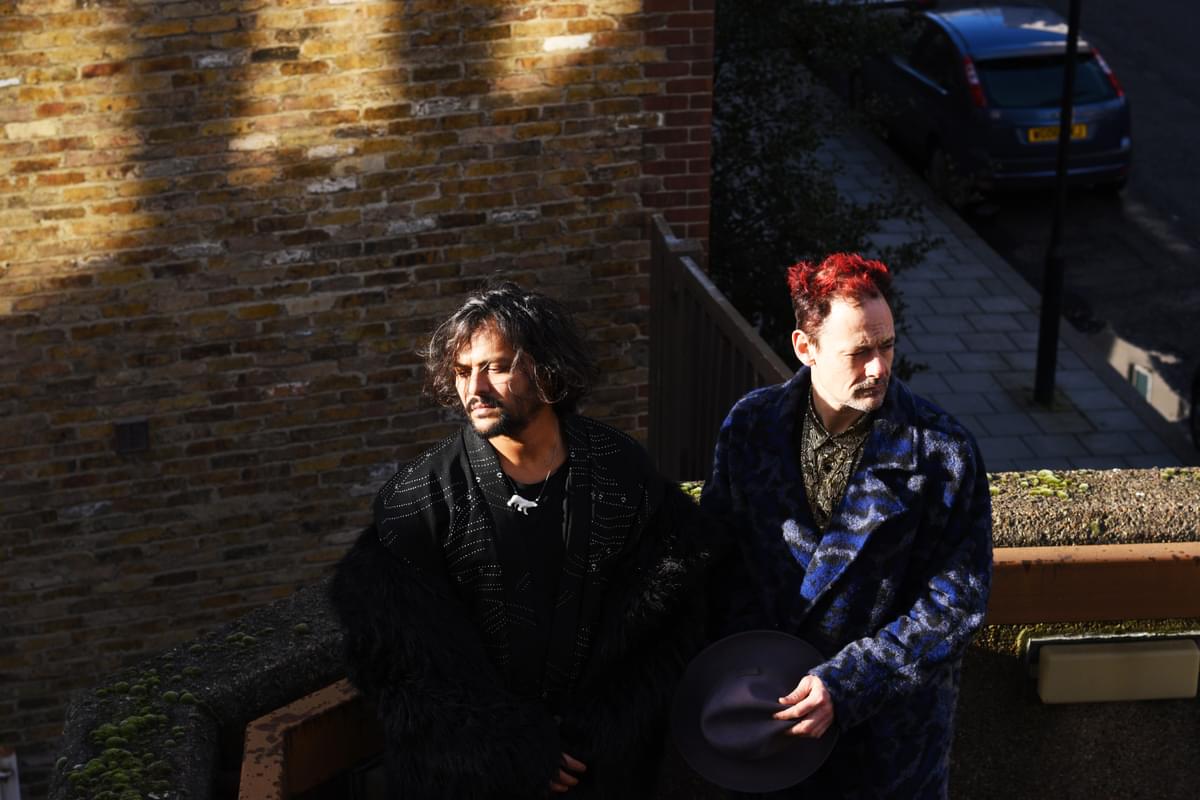 Melt Yourself Down are keeping moving
24 March 2020, 20:14
Dissolving, exploding, splattering, absorbing – freedom to express themselves in multiple ways underpins the band's founding principal: "[to be] physically fluid as well as fluid in our identities," as founder Pete Wareham puts it.
This fascination with fluidity is epitomised on Melt Yourself Down's third album 100% Yes – be it through the conceptual and universal nature of the music, or through Alex Garant's eye-catching artwork on the cover. I met with members Kushal Gaya and Pete Wareham in the London home of Decca Records, the band's new label, to discuss these ineffable components.
Wareham's preferred descriptive category for the band is pop, despite the fact that the first two records channel funk grooves, North African instrumentation, and punk-jazz vibrancy. "I'm happy with pop music as a genre, because it's so enormously wide. The fact that there are saxophones doesn't mean it has to be jazz. Equally, if there are distorted guitars in a Michael Jackson song, it's not rock, it's still pop music." As Wareham tells me, the title of the album comes from a speech by the influential Indian yogi and author Sadhguru, where he advocates: "not letting other people's negativity affect you and instead feeling that 'I'm going to remain 100% yes to life'. "100% Yes" was the last song I wrote for the album and that felt really appropriate."
The album's cocktail of sounds, combining Nubian rhythms with jazz-tinged synths, will be familiar to long-time fans, but its lyrical concerns are tied to the present. The Melt Yourself Down line-up is itself a cocktail: Gaya co-founded Zun Zun Egui whilst Wareham played in Mercury-nominated Polar Bear and founded Acoustic Ladyland. Feeding into the band's aesthetic melting pot, Wareham's jazz experiments became formative in acts such as The Comet is Coming, Black Flower and Sons of Kemet, to name a handful.
In the three years since their previous album, Last Evenings on Earth, the band have not only been working on new songs – they've also been growing as individuals, and "finding a new direction internally". "The answers soon came as we started looking within ourselves rather than looking out," says Gaya. "By starting a process of finding out who we were as people, and how we related to the world around us, we found the music!" Space and time has helped them figure this out. "We've got three new band members who were from the original Melt Yourself Down," explains Wareham. "Because the album took so long to write as well, it feels very much like Melt Yourself Down version II."
Gaya highlights that version II actually feels more Melt Yourself Down than ever before. "It also feels like everything's aligned now," says Gaya to Wareham. "Everyone who's worked on the new record and everyone in the band has been like 'Yeah man, let's do it!' It's been so great." There's a sense of the band undergoing a journey, and of meandering visions which have now come together as one. "What's important in a band is that there's a certain social harmony between people," says Gaya.
"This music has been about alignment too – internally aligning and aligning with each other but then also aligning with all the elements that we're trying to work with. Now it feels like it's working in such a way that if something isn't right, it falls away effortlessly and then the correct thing comes into play." Part of this uplift has come from letting go of inner pressure. "You don't have to assert yourself to make something happen," says Wareham. "You just have to align yourself and that's the way this has worked." Gaya agrees enthusiastically: never force anything. "Our writing relationship feels really natural."
While both musicians have spent years honing their craft in various projects, separately and together, they've never once anchored themselves and settled completely. Where other songwriters might seek some semblance of satisfaction, Gaya and Wareham continue to ask questions, to dig, nurture and evolve, finding new sounds for today's pressing sentiments The notion of being "100% Yes" – of always embracing life in its entirety – not only fed into the creation of their album, but it exists as an everyday maxim for the group. "We had a lot of challenges to make this album happen," Wareham and Gaya point out. "We've had to really change our state of mind. Whenever something bad was coming our way, well, we just had to embrace it. You have to be open to it – 100% yes to all experiences," explains Gaya. Every step they took on their walks in the wild was purified by song.
Lyrically, the album travels into the places that have been on Melt Yourself Down's mind over the last three years: the referendum in 2016, when writing for 100% Yes began, British colonialism and other ideas around nationhood. They became increasingly aware of a greater pattern – the "rise of the far right everywhere". "Born in the Manor" confronts the Grenfell tragedy amidst looming synths and staccato brass, as Gaya's vocals morph from menacing speak-raps to a desperate wail: "Born in the manor / Born in the gutter / For dem it don't matter / Blacker, whiter, browner / You burn in a tower".
These sentiments act as an immediate snapshot of the depth of humanity that veins its way through each and every moment on the record. "I saw it a day or two after the fire, and again later," Gaya recalls. "The sight of that black monolith really made me incredibly emotional." The song "Boot and Spleen" sprang from reading the book Inglorious Empire by Indian MP and Ex-minister Sashi Tharoor – an exposé of the darkest behavior justified by colonisation.
I ask them about how their pop music fuses with politics. "We don't do things on the nose," Gaya makes clear, "but there's a lot of sentiment inside the music that resonates with the politics of the moment." Wareham adds that, besides reflecting the world stage, they also might be looking for the human element in what's seen as just a news item. "We're not trying to promote a particular approach politically. If some of the tracks deal with sombre realities, some are energetic and "meant to feel like Saturday night," Wareham tells me. 100% Yes feels wildly exhilarating, important even, both as a document of contemporary injustices and as an act of breathing fresh new life into the group's reformation.
Being a second-generation immigrant born to refugee parents, I was personally keen to explore the band's thoughts on movement and nationhood. Gaya identifies with my sense of straddling multiple cultures, never quite feeling at home. "My family are twice immigrants; from India to Mauritius, Mauritius to here…God knows where we'll go tomorrow." This geographic mobility impacts his songwriting too. "Every time you enter a new society, or you get in touch with a new group of people... if you are a porous human being, interested in what's happening around you, it will definitely influence you."
In a Brexit era, and in a city as diverse as London, such influences become particularly acute. "It feels like the more you get in touch with influences from other cultures, and the more you live in different places, you start to not really know where home is anymore," explains Gaya. Wareham, who has grown up in Britain, also accepts that life and humanity is so much more than simply remaining bound to your birthplace. "I don't particularly feel British. I don't really have a sense of national identity…I don't have any sense of identity particularly. I think of it as quite a fluid thing – constantly changing. It's not fixed. I don't have a particularly concrete thing that I identify myself with."
Wareham extends this concept to music, too, in how the idea of belonging to a nation or a genre is not a matter of birth right or labels but about feeling something genuine. "This whole project has completely sparked my weird obsession with Nubian music and I've got nothing in common – culturally or physically – with Egypt. But for some reason, it really resonated with me. When you find things that seem quite remote, but seem to resonate with you more than what's going on in your own street, these notions get a bit jumbled."
This brings us back to that fluidity which is omnipresent in the band's identity, sound, ideology and artwork. I'm struck by how the cover art of 100% Yes epitomises this concept. Painted by Alex Garant, the sleeve portrays an amorphous face with features that transform and blur like an optical illusion. "We thought that Garant's art was really appropriate to represent our music because of these changing identities, with the four, maybe eight, eyes that you can see," says frontman Gaya. "I like the idea that your personality, your thoughts and everything that goes on internally is not fixed," he says, encapsulating how his band embrace the beauty of multiplicity, and all the many experiences that shape who we are and where we will go.
100% Yes is out 27 March.
Get the Best Fit take on the week in music direct to your inbox every Friday