Music is littered with examples of musicians going down remarkably different creative paths after departing bands. When Spring King, the Manchester garage rock band who had racked up a decent level of success in the middle of the last decade, broke up in 2018, guitarist Peter Darlington and bassist James Green remained close friends. Realising that their musical visions aligned, the pair decided to continue making music together,
Spring King were at the height of their fame when they suddenly split, with two well-received albums - 2016's Tell Me If You Like To and 2018's A Better Life. They played SXSW and were championed by the likes of Zane Lowe but just a few months after the release of A Better Life, they were no more. What prompted the breakup? "I just decided it wasn't the thing I wanted to do anymore creatively," Darlington tells me over Zoom. "I was being drawn back to music that I first enjoyed, bands like The Microphones, labels like K Records. Creatively Spring King was in a place that wasn't necessarily inspiring for me anymore. That whole project was about being a massive rock band!' According to James, this wasn't the initial idea for the band. "To begin with we used to hang out and just wanted to be Thee Oh Sees or Ty Segall, proper garage rock bands. But over time it gradually got more rock-oriented for sure."
The Spring King story was one of hype, hyperbole, and hindsight. "We signed to Island and all of a sudden they were telling us we could be the next Catfish and the Bottlemen or something," Darlington recalls, barely hiding the contempt in his voice. "We knew it was an opportunity to be a big rock band so we thought we should give it all we had and see what came out. But there were so many different creative visions within the band."
Before our interview, I reacquaint myselg with Spring King on YouTube: their videos, particularly "Detroit", were the sort of goofy high-concept nonsense that you'd expect from The Garden or Mac DeMarco; it's perfectly imaginable for someone to feel out-of-touch in such a setting. Is it fair to say Darlington felt lost in the new Spring King vision? "No, I wasn't lost. I enjoyed the creative process but I just got to the point where I'd done two albums and toured relentlessly for five or six years and I felt my creativity was drawn to other things and I didn't think Spring King was the right setting for that." James is quick to agree. "It's very tough doing that for four or five years. Being with each other 24/7 for six months of the year, it gets hard. Eventually it was time for a fresh start, something new."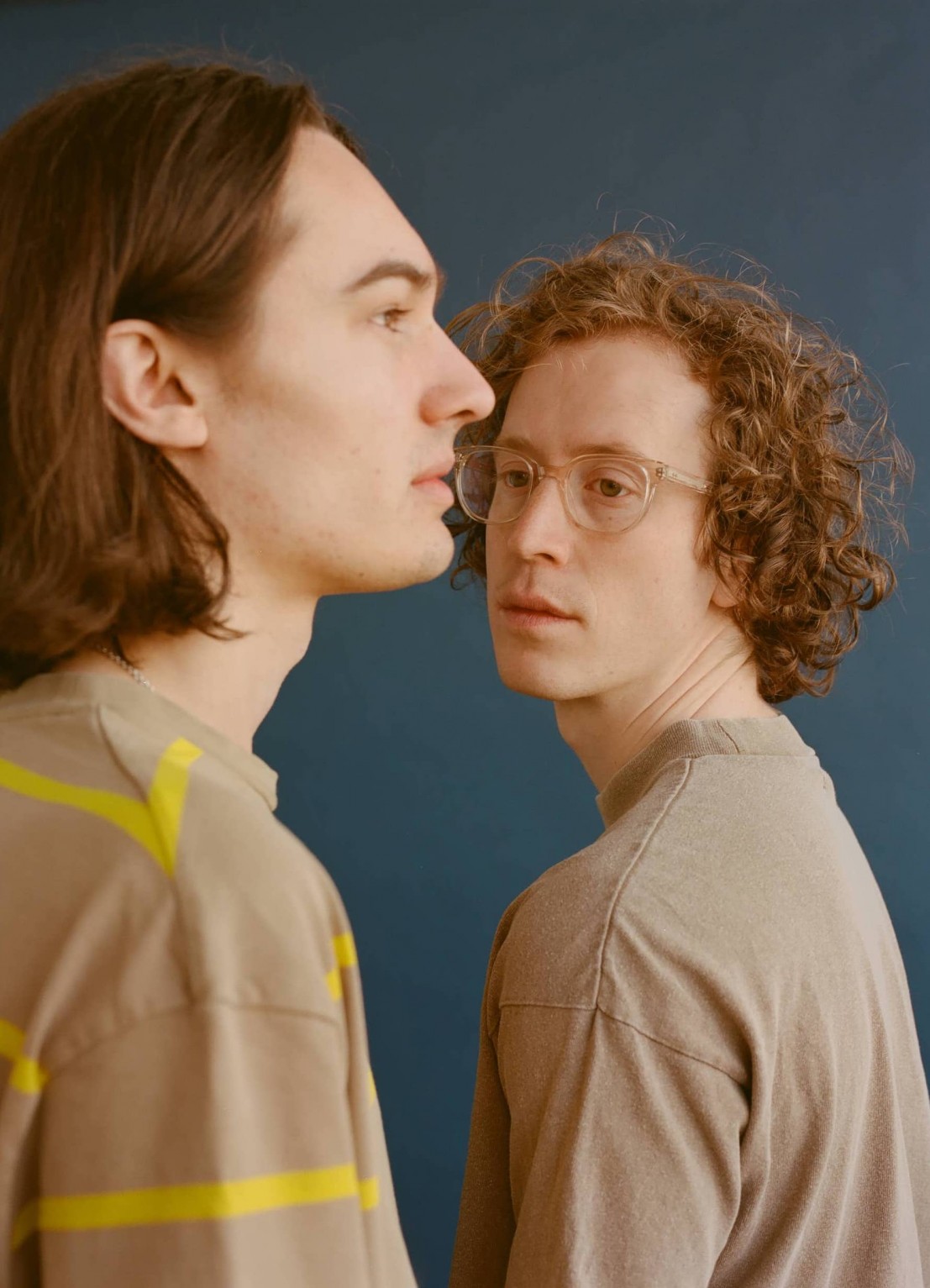 And what a fresh start Meadow Meadow is. It's difficult to convey the extreme contrast between the Spring KIng and Meadow Meadow sound without listening: Darlington and Green's new project is the soothing comedown after the manic energy of the night before. Intelligent and contemplative indietronica that recalls Animal Collective or Passion Pit, their music pays close attention to melody and composition. When we speak, their second EP, Silhouettes, is a few weeks from release. Darlington has just arrived up North as the pair have a gig in Manchester, where Green lives, that weekend; Green talks to me while enjoying a walk around the city centre while Darlington recovers from the long bus journey (he lives in Bristol) in his bandmates house.
The gig will be their first show since March 2020. "It's slightly terrifying," Green says. "We've got plenty of material now but whether we've got ability that's another thing (laughs)." Darlington agrees: "It's just a bit of nerves now. I've actually only been to a couple of shows since the pandemic as well. So just to be in the environment again will be interesting."
It's tempting to place mythos onto musical duos to fit our ideal of who they are - "Paul Simon and Art Garfunkel never argued, they always loved one another" - but Darlington and Green are honest about the beginnings of their friendship not being instantaneous. "Back then I wasn't so much of a people person!" Darlington admits. "It takes time for me to develop friendships, especially back then. I feel it may have taken us a bit of time to connect." Green immediately provides a tale that magnifies this: "The first rehearsal was funny because I walked into the room and met you all, and you were literally on the phone from the moment you walked through the door. You came off the phone and were like, 'let's play the tunes', and then you were back on the phone again (laughs)."
"At that time I was running a little record label and it was super busy and I was trying to juggle all this stuff so in retrospect I probably came across as not very present! I was engaged though," Darlington says in defence. The two first bonded over their similar upbringings: Darlington spent much of his early life in Macclesfield, Cheshire, while James grew up in Todmorden, West Yorkshire. "Just green landscapes, canals, reservoirs," as Peter puts it. "They're both quite out of the city and detached," Green says. "Lots of our childhood was spent walking around or biking on the Tops. England's green and pleasant land!"
The pair grew up in two contrasting but fascinating musical households. Darlington's parents were both musicians with a love of jazz, something that he didn't take to at first. "My dad was very into complicated bebop jazz and my mum liked smoother stuff," he tells me. "I hated jazz growing up because I heard it all the time and didn't understand it at all! I was discovering bands like Nirvana who blew my mind. I don't think I really picked up an instrument until I was around 13 and that was the guitar."
As he got older, though, his music tastes changed. "I'm actually very into jazz so it seeped its way into me," he reveals. "I remember I was working in Tesco at the bakery and I started listening to The Low End Theory. There's quite a lot of jazz samples in their music and that was the first time I was like, 'oh right ok, this could be kind of cool'. And before you know it, I'm listening to Chet Baker, then Miles Davis, then all of a sudden I'm listening to what my dad listened to and it's like, 'what happened to me?!'." "I can just see you crawling back to your dad with your tail between your legs asking him to show you his jazz stuff again," James says, laughing. For James, it was the differing sounds of late 70's punk that filled his household. His dad's band even managed to get played by the doyen of British radio. "My dad was in a couple of bands into his early 30's. John Peel actually played the band and played them twice in a row. My dad was always listening to bands like The Clash, The Buzzcocks, and The Jam. My mum was into lots of different music and when I was a bit older she got me into Neil Young."
Meadow Meadow is, they both tell me unequivocally, their most personal music to date. "During the writing of the second Spring King album, James and I started to write together a lot," Darlington remembers. "I suppose we were trying to write songs that could go on a Spring King record but we just ended up writing other stuff. It would feel completely like something else. So that was the beginning of us realising that we had a shared vision about a new project. Once the band ended I think we just naturally carried on writing together and it formed into Meadow Meadow. It's a very cathartic, personal project."
Their pairing was wholly organic, drawing on their mutual experience of growing up in the countryside. "We put a lot of importance on those early years, now looking back as an adult," Green explains. "We both reflect a lot on friendships and relationships from when we were teenagers. And we also bonded over a lot of similar bands. Pete started showing me bands like The Microphones. I was never that into Belle and Sebastian and he got me massively into them. A lot of the time in Spring King writing sessions, me and Pete would just be in there ourselves but the stuff we wrote just sounded like Belle and Sebastian! This is the stuff that sounds the most like us."
Meadow Meadow, then, mirrors both of their personalities far more than Spring King ever did. "Once you've been writing music for a long time, you start to get a style that's unique to you," Green says. "And we both have that now. The way it sounds, the way the melodies are, the way we interact together, it's definitely the thing that reflects us the most that we've been involved in." The scope of this project is also smaller but in a good way for their wellbeing.
"We do have a vision for the album but the commercial side doesn't enter into the creative process now at all," Darlington says. "It's just this is who we are, take it or leave it. It's a long-term project, we're not trying to ride hype or any of that stuff. We're going to be doing this regardless if anyone listens to it or not!" His passion for this way of operating is obvious, as he goes on to cite examples of several musicians: "It's how a lot of our favourite artists have always done it, like Kurt Vile. I love his first record, it's just a little experiment, it's noisy, and just over time he's gone on to build a beautiful discography. Same with Cass McCombs, his first record is amazing, but the scope of what he was doing at that time was just writing wonky little folk songs and then over time he's built this interesting career."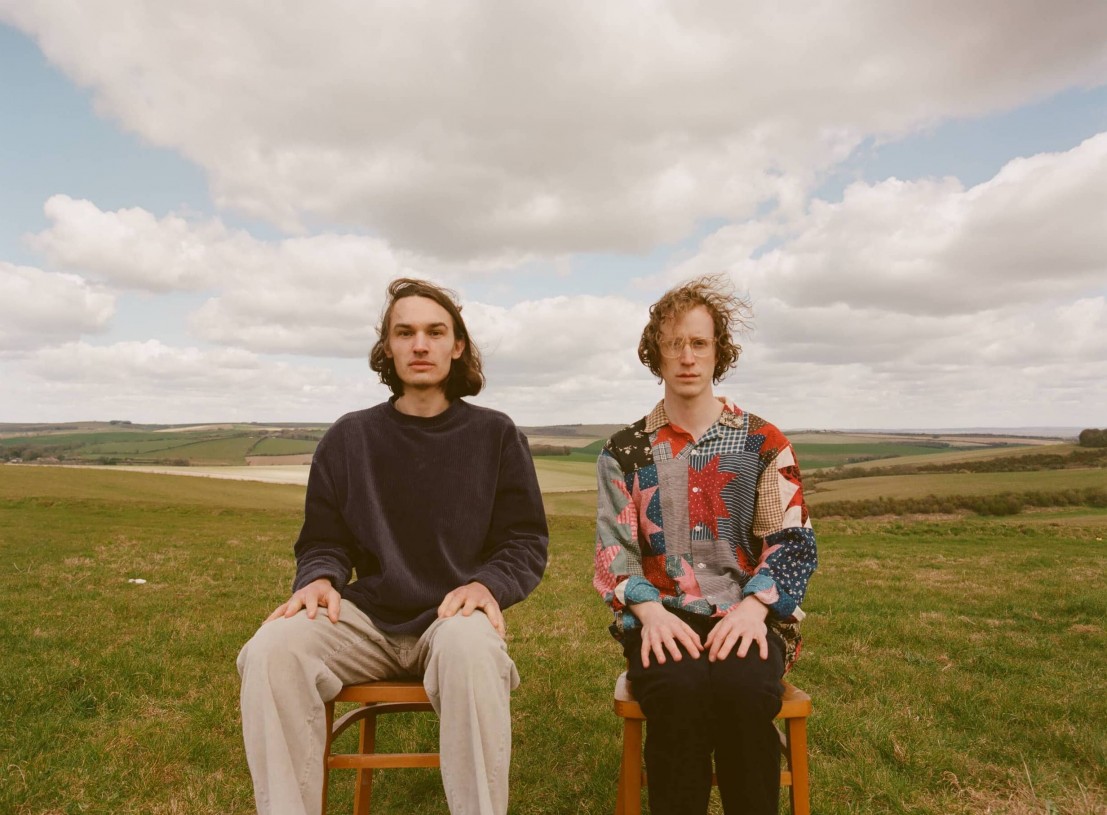 Both make it clear that they don't regret their time in Spring King though. "We're both at different points in our lives now but with Spring King the band was our lives," Green explains. "We were completely free so we put every inch of ourselves into it. Obviously we're still giving our all into this band but we've both got so much other stuff going on. We're both working, I've got a child, we don't have the time that we had previously. It's about doing something more sustainable for us. Spring King was a bright burning fire that just flickered out because it was just too much. It's about doing something that fits within the frame of what we want our lives to be like." I suggest Spring King is the type of band you want to be in as a teenager before realising that you can't continue like that forever. "Yeah that was it," Peter replies. "We played hundreds of shows and they required intense energy. It was amazing, we did some wild things, but you get a bit older and it doesn't hit in the same way anymore. You start to look for different things in music. Green has hit the nail on the head there. We want to be releasing a record every year and hopefully building up something nice over time."
They named this EP Silhouettes after the first song on the record, which was also the first song written for it. "We felt it was the cornerstone of what we wanted to do for the EP," Darlington says. "It was quite heavily produced but in a bedroom sort of style."
"The first EP was more folksy," Green concurs, "and then Silhouettes was heavy with a big drum loop. Pete wrote that not long after the first EP and it felt like the way forward. So that's why it's the first song on the EP. It felt like laying the groundwork for both the EP and what we wanted to do moving forward."
"Silhouettes" the song was inspired by a discovery upon Darlington's dad repainting his childhood bedroom. "He pulled down the wallpaper and behind it were a bunch of drawings I had done when I was in the room. He sent me a picture and I was like, 'oh my god': it was a silhouette I'd drawn around myself on the wall."
"A lot of the EP is about grief in a way," Green adds. ""Acceptance" is about coming to terms with the end of a relationship. "DNO" is about grandparents we both lost. "Boundless before that is about my wife and I having our baby."
The pair got around the restrictions of the pandemic by sharing snippets of music back and forth online. "Sometimes I'd write a song on guitar, send it to James, and he'd take the chords and the melodies and create a whole new world for it," Darlington tells me. "Other times he'd send me a piano and drum loop and a verse, and then I'd add a chorus and another verse. There was no set rule for how we did it." The EP was recorded last year with the finishing touches applied during the second lockdown. It was an experience that Peter feels seeped into the sound of Silhouettes. "In retrospect, the experience of being in lockdown and being in this world right now influenced it (the EP). The production is a lot more intricate on this record. I was just sitting tinkering away and it must have been a bit of an escape. Everything felt quite complex living in this world and I think that spilled out into the music a bit. Even the stuff we're writing now is a lot freer and looser. We've managed to come to terms with what's going on in the world."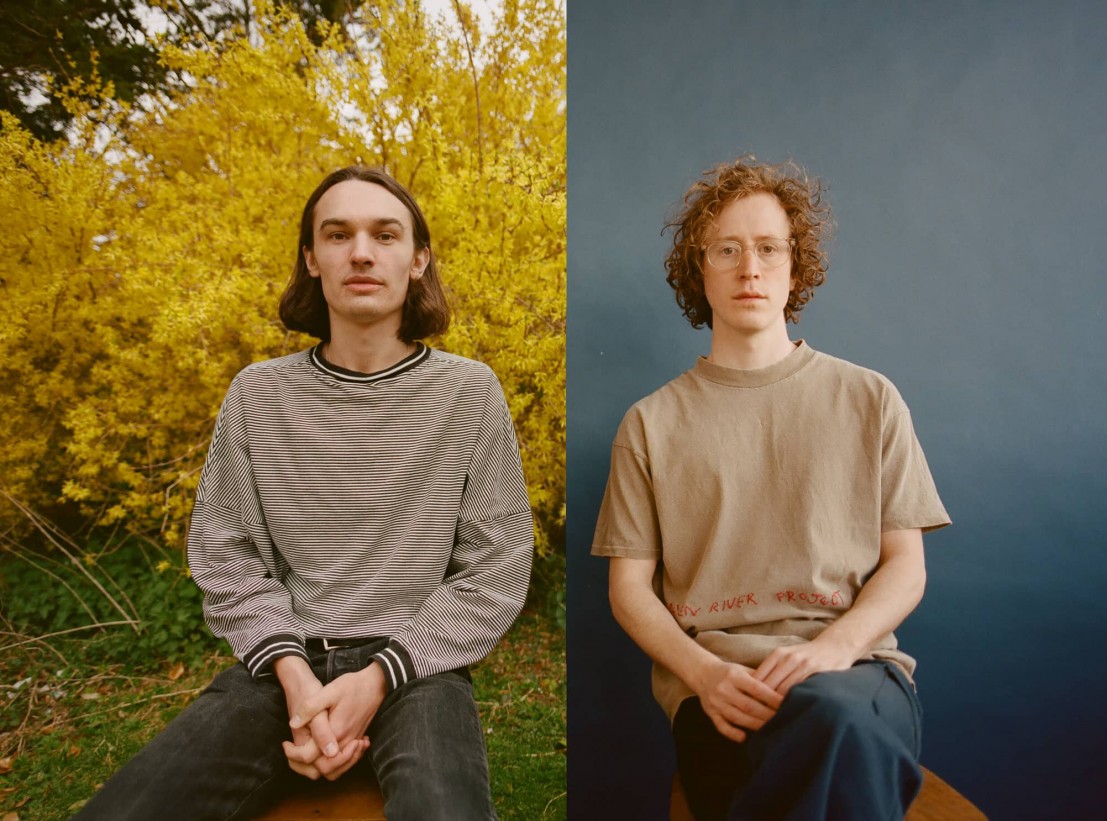 It might be the most intimate they've ever been but Darlington and Green have opened up their project in beautiful ways. The title track has a fan-made video, featuring stunning clips of nature. "Will Burgess from Practice Music came up with that idea," Green says. "When most of our songs are about the English countryside, pastoral things, it felt like a lovely thing to do. We had a lot of people come back to us with 5-10 snippets and Pete edited it all together. It was actually quite moving seeing it for the first time. It was a nice surprise and it's a nice visual reference for the song."
The artwork for the EP was designed by their friend, the Bristol illustrator Molly Mae. "Before I got to know her personally I saw her work and loved it," Darlington gushes. "I became an admirer so when it came time to look for artwork for the first EP she posted something on Instagram and straight away I felt like that was the thing we needed. Then for the second EP we asked if she'd work with us again, this time doing something bespoke, and we basically told her she could do whatever she wanted! We sent her a voice note with some of the themes of the EP and how we felt about it, and told her to just do her thing. She came back with the Silhouettes cover and we were both really moved by it." Green is similarly enthused: "We're very lucky to have Molly! She's ridiculously talented. We gave her free rein and she basically sent back a Monet piece."
I ask Green how he's found balancing being a new father and a musician: "You kind of forget how much time being in a band takes up. It requires a lot of thought and energy. I don't know how people tour with kids! I've missed my wife a lot and missing your child is so hard. So my whole thing at the moment is trying to find a balance between work, family, and music. Music is very important to me in terms of being happy and fulfilled." How important is music in their lives? plans for their full-length debut are already afoot.
"We are heavily in the process of doing that at the moment," Darlington tells me. "I think we've got quite a clear idea of what that is and how we want to achieve it. I think we're trying to finish it this year and hopefully release it next year. It feels a little bit more joyful in terms of the themes we're working with. It's a bit more widescreen as well. There's a lot of folk guitar songs but James has housed them in a cool electronic thing. We're getting better at figuring out how to work together."
Silhouettes is released on 17 September via Practise Music. Follow Meadow Meadow on bandcamp