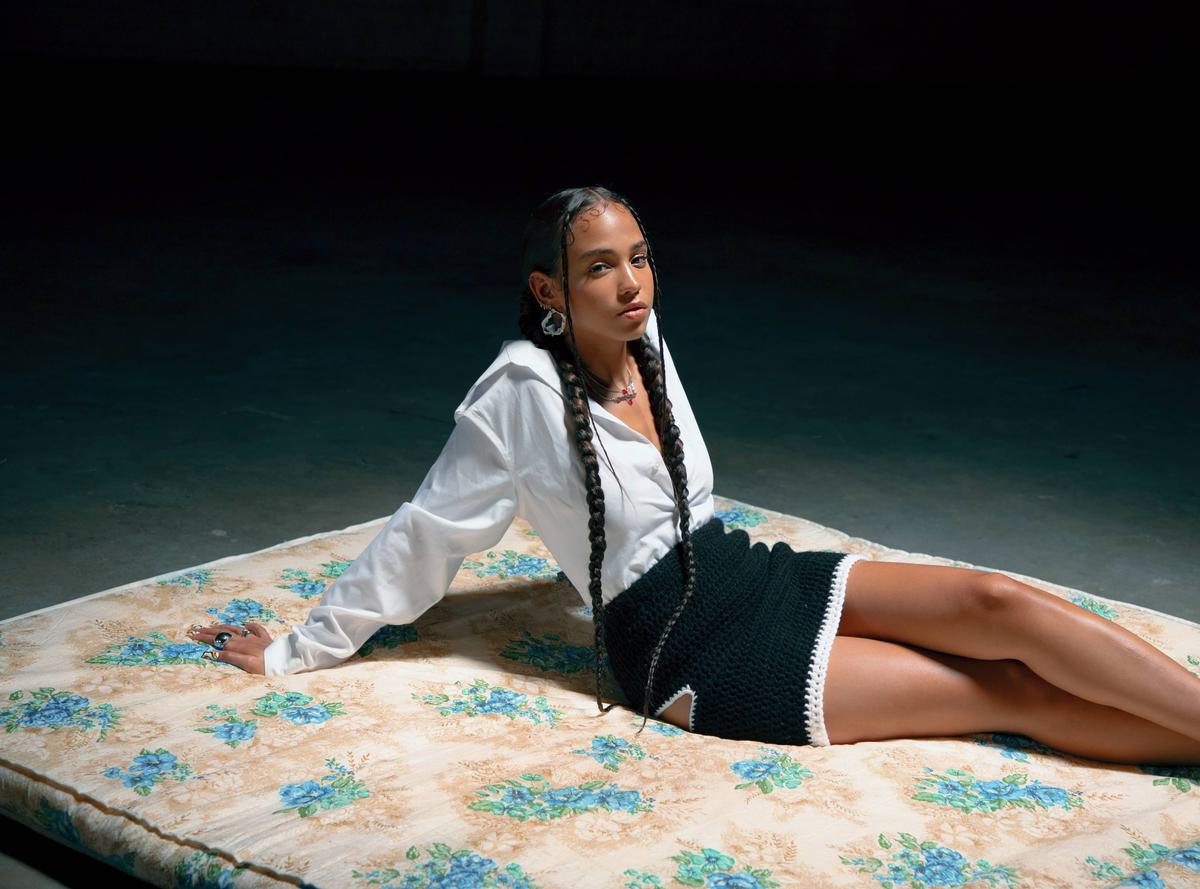 On the Rise

María Isabel
10 September 2021, 08:00
Dominican-American singer María Isabel is creating a splash with her vulnerable, accomplished and addictive take on R&B.
"There's no blueprint for success as a musician," says María Isabel. The 24 year old has hit the ground running in the industry since her debut single, "The 1", was released at the start of last year. Rather than fighting through the noise, sending thousands of PR emails and begging for listens, her already established social media following were desperate to hear something concrete, replayable and entirely hers.
"I remember when I put out the first music video, I had to delete so many covers of high school María," she laughs. Having told herself consistency is key, Isabel knew before she could start putting out music, she needed to stir up some excitement. It's unconventional and a stark opposite to how music was passed around only 20 years ago, but it's a big brain move from Isabel, who's now signed to Warner with a debut EP - Stuck In The Sky - under her belt and a follow up just around the corner.
Sitting in her parents home in New York, Isabel contemplates the goals she set out for herself when she was younger. "It feels insane to be at home with my parents knowing I've signed to a major label," she tells me. "I remember sitting here while at college thinking about how I'd get to where I'm at now. Knowing that my second project is almost here and this is my job feels surreal."
Stuck In The Sky was a quiet but confident statement from such a young artist. She'd written music her whole life, performed at venues around the city and studied songwriting at university all before officially launching her music career. "I was writing things but not turning them into songs. And even if I was, I wasn't sharing them. It was when I was finishing university when I started taking songwriting classes and sharing them with a group of people." Taking ownership, biding your time and creating an image are part and parcel of how so many acts blow up these days—Isabel just figured out the recipe early.
"I remember posting things when I was younger a lot and people in school would just be like, "why are you posting every single day? No one cares." I just felt like consistency was key. The more Instagram became important the more everything changed. I think people latch onto anything they can find within themselves and then see somewhere else. That's why we listen to music, read books, watch movies. I feel like I've always got the best response when I'm fully myself on social media. And now that it's growing it's snowballing on its own. It really is all about staying true to yourself. People say it a lot but it's true."
Isabel knows followers aren't the mark for success, but luckily she has the music to back it up. "The first song was truly a test of whether anyone wanted that," she explains. "Obviously, having the following is nice but asking people to leave one platform, go to another and listen to a whole song is a big ask. That first release was definitely me testing the water." Her debut did more than please her fans, it brought in new devoted listeners drawn in by the soothing, hypnotic vocals in her first singles. With an honest, broad tone reminiscent of Mahalia or Erykah Badu, songs like "Where Does The Love Go?" show off a musical mind able to construct not just earworm melodies but actual replayable songs.
Released in October last year, Stuck In The Sky quickly cemented her reputation with tastemakers publications. Now, less than a year later she's followed up with her second EP I Hope You're Very Unhappy Without Me. "I wasn't expecting to get onto the next one so fast but here we are," she explains. "I guess Covid and quarantine have given me a lot of time to sit at home and write."
After so many years of build up, studying and growing a following, Isabel feels like everything is suddenly happening at once. After waiting for so long, everything suddenly started moving very fast. "It feels kind of crazy to think Stuck In The Sky is my first record and it's out," she says. "It's something you think so much about and worry about but now it just feels like it's been out for so long. It's kind of nice, because I feel like I got to release so much with the project. Not just the songs, but all those feelings that come with them."
Now they get to be out in the world, however she doesn't ever really go back and listen to those songs" "It's really nice to still have people reaching out who are finding it for the first time and knowing that it's finding new life all the time," she tells me.
Her first EP was centred around a long distance relationship coming to an end with the name having two meanings; the amount of time she spent in the air between New York and Los Angeles, and her inability to make a decision and end things. "I think that's a very common feeling. Even when the relationship is done, you stay in it because you don't want to figure out what life is like without them. It's comfortable. I was in a major comfort zone regardless of it being long distance." Having to refigure out her place in the world is a lot of what she's writing about now.
Chronologically speaking, I Hope You're Very Unhappy Without Me details what came after that. "Not to say that Stuck In The Sky wasn't reality," she points out, "because it was. But even the title itself was quite dreamy and looking through everything with rose-coloured lenses. The next record is more brutal reality sinking in and telling those stories. It's still my life and the things I see and do. I think looking back I realised it was an important story for me to tell but it was definitely about my role in that relationship. I think so much time alone in the past year and a half has become the narrative. There's plenty of things I've had to figure out on my own, including my place in other relationships around me. I think I just found a new power in solitude and being alone."
That power manifested itself in songs like "Baby…", the moody and brooding second single from the record. It's a song about self worth, looking back on times you were treated unfairly and now realise you deserved better. Coming from a Dominican family, moving back and forth between English and Spanish has always been an integral part of Isabel's music. This means songs like "Baby…" exist alongside "No Soy Para Ti", a reggaeton rhythm inspired by Dominican Bachata. It's a more confident María Isabel than we've ever seen before and a new gear for the young artist to explore.
"The new record is definitely cohesive but there's things I've never tried before. "No Soy Para Ti" is a great example of that. I was not expecting that from myself a year ago. I would have laughed in your face if you told me I would put out a reggaeton song. The R&B sound that I originally came out with was where I was comfortable. But you don't move forward by staying in the same place. Don't get me wrong, I love reggaeton, it's what I grew up with. I was just so in the 'I love my sad, low songs' world. Any time the BPM went into triple figures I'd start sweating."
A stark difference from the melancholic naivety that flowed through her first record, Isabel's musical range is now broader, deeper and more exciting. But when you've just finished a record revolving around one topic, how hard is it to focus on something else entirely?
"Nobody has ever asked me that before and it's really hard. It wasn't... No, it was difficult. You're completely changing mindsets. Obviously there are no rules in songwriting but a part of me wants to move on from that whole project so it was weird having spent months in that world and then sitting down and asking myself, "what now?""
After a while you realise you can't overthink it and just have to write about what's in front of you. "It's a strange process that I feel like people don't talk about that often. Once I'm on tour I can start living out these songs. To bring an idea to life really makes you feel like you're moving through life so quickly."
Most of us are fortunate enough we don't have to be so perpetually self aware. Looking back over the previous days and weeks, hunting for feelings to explore in songs is something Isabel has had to get used to. "Obviously this is just the start of my career but I'm already so interested in how other artists live their life and document it at the same time."
Understanding just how far your songwriting can reach, but also recognising your emotional limits is a struggle every artist has to come to blows with. "That's the weird part of making music that I always forget. I think, "finally I'm free. It's out." Then the people in my life are asking if what I'm saying is true." Sometimes it's easier to tell a stranger something's wrong than to tell the people closest to you. "As I'm getting more comfortable talking about mental health, my family is getting more comfortable with coming to me and talking about it."
Isabel has been an advocate for mental health awareness for as long as she can remember. Suffering through her own battles, she's taken to her music and platform to help share the knowledge she's built up, researched and been given. "I read something once that was along the lines of, "you can save yourself and be comfortable or you can try and help others and be uncomfortable." That really is the other side of being open. It means open with everyone, not just the chosen people I want to hear it."
But what about that other side? What about the fans who see reflections of their own lives in Isabel's songs? Those conversations happen often and constantly give the songs new life in Isabel's mind, but there is a weight that all artists share with their fans. Whenever they put something out into the world, they're ready to have something shared back.
"The whole point is wanting other people to feel seen and understood by the music," she begins to explain. "So in a way that feels like a win. It's definitely a new thing to deal with. I'm used to sorting through my emotions and negative feelings, not other people's. Normally I'm the one going to someone else so it feels like a lot of responsibility that people feel comfortable enough to divulge to you. I don't want to say it feels like a weight because I'm honoured anyone would feel comfortable enough to say these things to me. I can listen but that is just a first step."
Boundaries are definitely a conversation for another day. "It is just surreal to be in this position when music did this for me for so long." Isabel has had a mostly digital rise from an artist to watch to an artist to keep your eyes glued to. Ready to take these songs on tour and come face to face with the hundreds of thousands of fans she's picked up since her debut single, there's something her manager keeps telling her during rehearsals, "people are going to know the words to these songs." Based on the arresting songs on I Hope You're Very Unhappy Without Me, it's likely she'll have more than one E.P.'s worth of songs screamed back at her.
I Hope You're Very Unhappy Without Me is out now via Warner Music