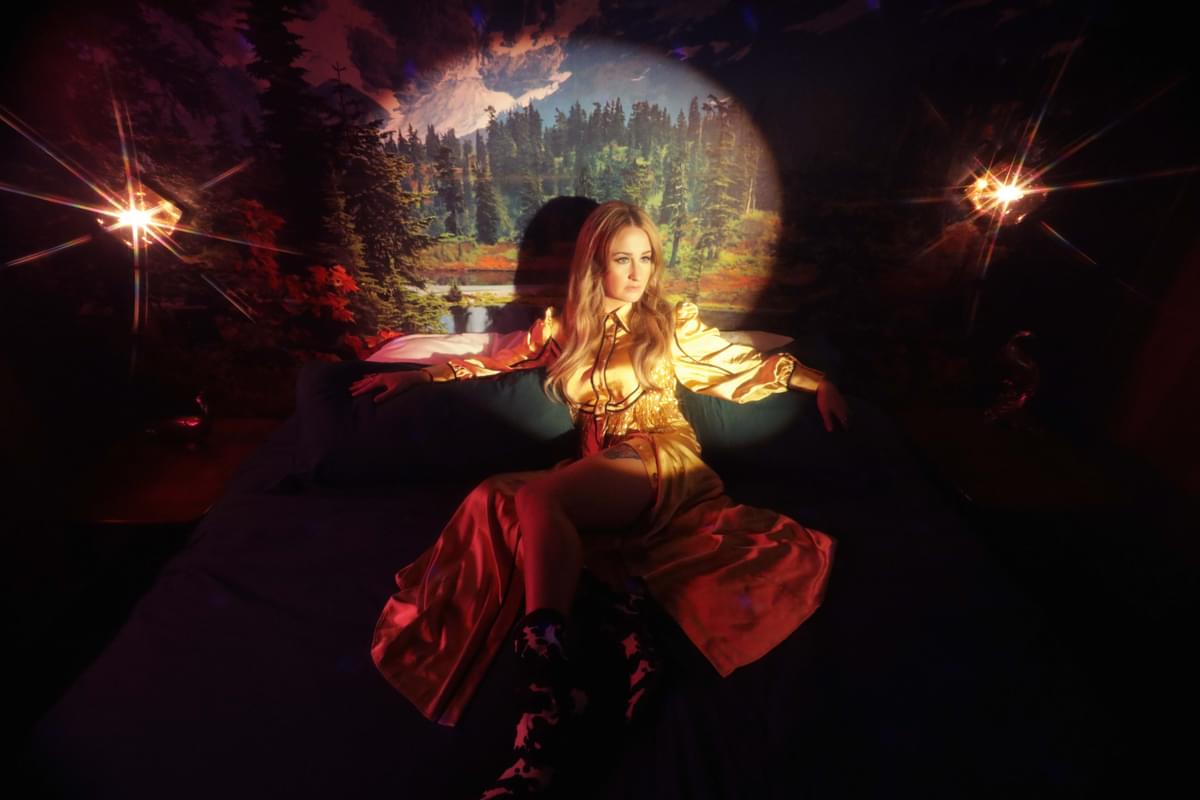 Margo Price is still striving for complete authenticity
10 July 2020, 00:30
The foundational element of country music - the one true life source for the genre - is authenticity. In recent times, the invention of bro-country has soiled country and western's beating heart, but Margo Price is an artist who is looking to work down at the core of the style.
The 37-year-old Illinois native even drove to the geographic centre of country music (Nashville) at 20, and hasn't left since. Every write-up in existence about her mentions the famous story of how she went as far to pawn her wedding ring and sell the family car to record her first album, which was published under Jack White's Third Man Records. There's no sign of a cloak-and-dagger operation here; she lives her truth in art, refraining from getting swept into the performance of the industry around her. Even after her nod for the 'Best New Artist' Grammy award, she side-stepped from one independent label to another. Switching to Loma Vista Records, which she describes as "the flow of the river", it certainly signalled a sea change for Margo.
While debut album Midwest Father's Daughter was her personal breakthrough, and the follow-up All American Made was a scathingly political record, new album That's How Rumors Get Started comes at a turning point in her life. At a stage of settling down, she welcomed another child into the world (sharing a middle name after the legendary Loretta Lynn), and moved to the Nashville outskirts after 14 years spent in the city.
That's How Rumours Get Started branches away from the generic outlaw country decor for Price, stirring in piano ballads draped with a gospel choir ("Hey Child", "Prisoner of the Highway") alongside scuzzy blues-rock à la Sturgill Simpson ("Twinkle Twinkle"), the album's co-producer and a close friend of Price. While bringing in new aesthetics, she frequently calls back to the past, be it to reminisce on periods in her life or relive some of its most heart-rending events. Yet, such as her character, she still comes with no holds barred from side A to B.
BEST FIT: How's lockdown going for you Margo?
MARGO PRICE: Just rolling with the punches here [laughs].
I bet. Now, On your new album, one of the big tracks from it, "Twinkle Twinkle", is a song about your come up, working many years to build your name in the live circuit in Nashville. In that time, was there a goal in mind for you to reach that would have indicated that you 'made it' in music?
I don't know if there's ever a finish line. You're always creating and hopefully growing as an artist. You know, prior to putting out these two country records, I made rock 'n' roll music and soul music and I played folk music. I really tried to be well-versed in all genres. I grew up singing Mezzo-Soprano, [a form of] Italian classical [music]. So I never really thought like, "oh, if I get a Grammy then I've made it" or "if I get on this TV show…." Because I think if you get too focused on accolades and rewards, then you're kind-of missing the whole point, because the reward is just writing a good song.
Something that pleases me is when I do good work, and so I try not to get wrapped up in the pageantry and the glamour of it all, because it's fleeting.
I respect that, definitely. Is there a particular song that was most rewarding to you? Or do you view all your creations with the same pride and admiration?
I think every album has a favourite of mine, and for me, when I wrote "Hands of Time" [the opening track from her 2016 debut, Midwest Farmer's Daughter], that was something I was really proud of, and I didn't write it for anybody but myself. Then, on the same token, when me and my husband wrote "All American Made", it's a song that I'll keep in my repertoire for my entire life. Some songs you write and it's like, "this is a catchy song", or "this is fun to sing in the moment", but there's ones that you write that just feel a little more lasting.
For this album, I think "I'd Die For You" is the one that I'm most lyrically proud of.
It seemed like there was a bit of an allegory that snuck in there when I was listening to it. What headspace were you in when you were making that track?
There's been so much that's changed in Nashville since I've moved here. I've been living in Nashville for almost 17 years and I've just seen a lot of the neighbourhoods that I love fall victim to gentrification and that happens everywhere. Things change, and the world goes on around you, and all of it is chaos. My husband and kind-of wrote it for each other and for our children. It's one of those songs that is personal but also about the struggle of humanity, which is incredibly complex at this time.
Agreed. You write with your husband regularly, and I wondered if you feel more liberated to be more emotionally vulnerable with writing with someone you know so closely?
Yeah, I'd say that's a fair assumption. Him and I are brutally honest with each other, so if an idea is a good idea, then we encourage it. And if something's not so good, then we can obviously just be blunt with each other.
But I do find that writing songs is a very intimate thing and I couldn't imagine going in for one of these Music Row-type co-writes that people do, [where] you don't even know the person and then you try to come up with something that's heartfelt. I'm not saying that good songs haven't been written that way, but that's just not how I operate.
Do you feel that the industry is too much in that vein of writing camps and stuff like that?
Yeah, I think a bunch of it's just bullshit that are all trying to get a hit or something. [If you] write with the intention of "I want this song on the country radio", it's immediately going to be disqualified in my mind as a poetic piece of art because when you are making art for financial gain, there's something really sleazy about that and that's not why I've ever picked up a guitar or started singing. I just did because I have something to say, and usually those songs that have something to say are not very welcome, especially on country radio.
Is country music in a good place right now? Because obviously there is this divide at the moment between purists and pop-leaning country...
I go back and forth on it. There's some peers that I think are doing some really great work, but at the same time, I think there is a lot of replication from the pop side. [It seems] that they try to get on what is hip and the outsider thing to do, and then people get marketed to be some kind of "authentic, real-deal outlaw bullshit".
I still don't think the establishment has welcomed people who are really outside of the box and are free-thinkers. They only ever accept people like that after they're dead so they can do some tribute to Merle Haggard that would have made him roll over in his grave.
Who do you think are the outsiders in country right now that don't get the recognition they deserve?
Well, my producer, Sturgill Simpson, I think should have been nominated for a CNA award and he changed the game in a lot of ways and influenced a lot of people. They're not going to invite him to their party and they're not going to invite me to their party; even if they did, I don't think at the point that we would even show up. But there was a moment where I kind-of thought there was going to be this sea change and [that] maybe there'd be a little bit of authenticity that would be invited into certain organisations, but they've proven themselves to be racist, sexist, until just recently, homophobic.
I think that there's just a lot of people on the inside that control things and like to keep it squeaky-clean and dance for their demographic of old, white, close-minded people.
Who should we be listening to?
Genres aside, I really love Adia Victoria, she sings the blues, great performer. My friend Quinn Deveaux is really talented. Mickey Guyton is definitely speaking her mind and that's really empowering to see. I have a friend that goes by the name Little Bandit and he's got a great record out that you should listen to, and I actually performed a wedding for him and his husband, I got ordained as a minister.
How did you and Sturgill meet?
We met close to a decade ago, my husband and him worked together in a grocery store, and then I saw him playing down at The 5 Spot [a bar in Nashville], and we just started hanging here and there and became friends over time. It's been really great to work on a record with him, it was very laid back, it was easy and exciting. We also brought in David Ferguson [the album's engineer and co-producer]. They both brought a lot to the table and were very encouraging, and really wanted to make every song the best that it could be. They put a lot of care into it.
Your song "Pay Gap" is one of the best examples of activism in country music. As an artist, do you feel that you have a responsibility to speak up on these issues?
I feel like I got my foot in the door speaking my mind, and speaking out against the establishment that was country music. And so, when it came time to put out my second album, I just did what felt natural. I've always admired artists like Joan Baez, Bob Dylan, Neil Young, Nina Simone and Buffy Sainte-Marie. People that were unafraid to speak their minds and [for them] there's nothing off the table.
A lot of people say I should stick to singing or whatever, but at the end of the day, I'm a citizen. I vote, I pay taxes, I can have opinions if I want to. I'm not trying to push a political agenda on anybody. I'm just calling it like I see it. These songs are about humanity rather than politics, the struggles of the people. I've never been a politician, and I don't trust them as far as I can throw them.
Here in Britain it's pretty much the same deal. You balance this job of a musician with the job of being a mother; what's it like to write, record and tour behind a record all through that?
Well, you know, it's just like any other career in a way. But... it comes with its own challenges for sure.
In a way, your career mirrors Loretta Lynn's. Do you feel that connection in a way?
Yeah, I definitely have had a lot of comparisons to Loretta, and she's someone that I grew up looking up to. And it was so inspiring to see someone who, especially back in the seventies, was already having children and established a career afterwards. It shouldn't be an issue, but I think now you have fathers and men really holding up more of the household, so it's easier now than it probably would have been back in the sixties and seventies.
What have you been doing to pass the time away from music?
I've been spending a lot of time in nature. We live out in the country outside Nashville, and so we are surrounded by a lot of really beautiful green space and creeks and waterfalls. Places to hike and go fishing, so I do a lot of that kind of [stuff, and] gardening. We've got thousands of tomatoes right now. I think being outside, bringing myself back to nature has been a godsend for me.
Do you prefer the quiet life as opposed to the busy life then?
I guess so, I had been living in the city for the better part of 14 of my years living in Nashville. I was also always travelling in different cities and I just felt like it was time for me to get back to where I came from. I grew up in a very isolated area with not a lot to do and I think that influenced a lot of my writing and who I am.
That's How Rumors Get Started is released today via Lomo Vista
Get the Best Fit take on the week in music direct to your inbox every Friday