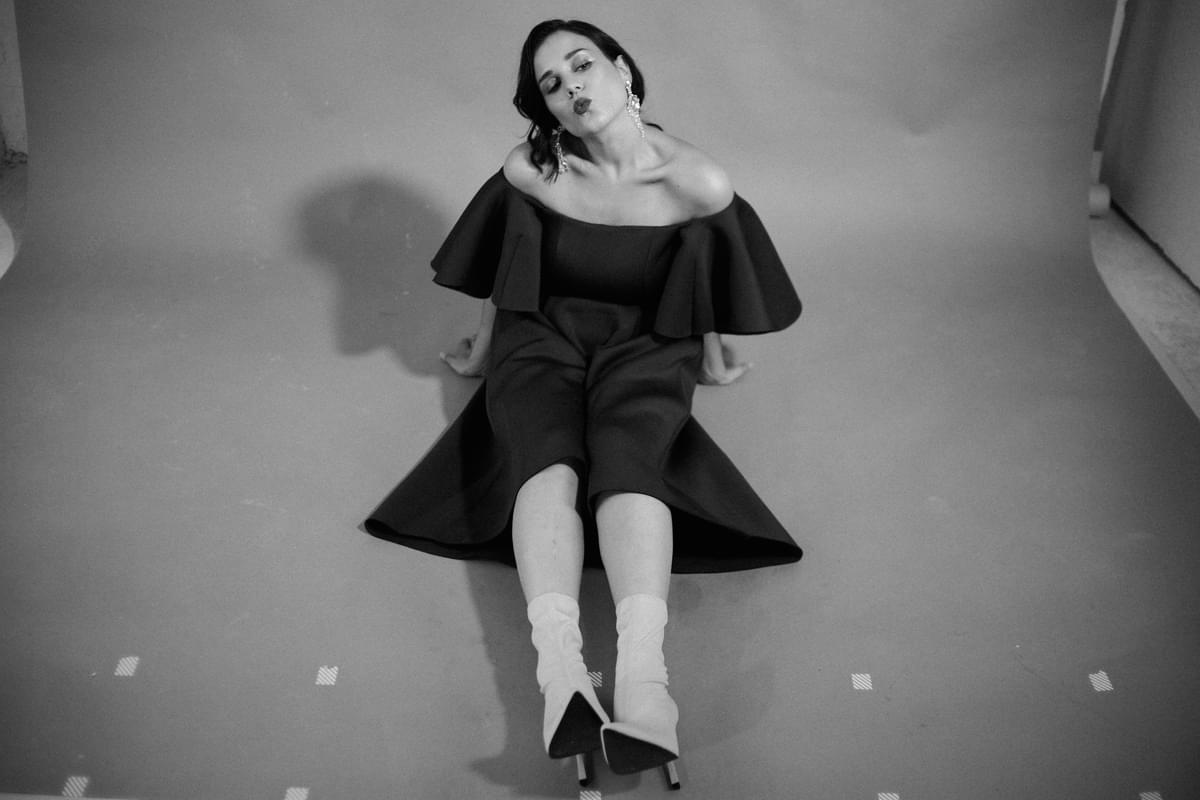 Malena Zavala makes a swift exit from bedroom pop into the world of Latin American dance music
29 April 2020, 08:41
The Argentinian born-Hemel Hempstead raised singer/songwriter shares her bold ambitions and sense of identity with sophomore album La Yarará.
Growing up, Malena Zavala felt a glaring disconnect between the openness of emotional expression that her Argentinian parents taught her, and the reality of the suppression of British culture. Through the experience of touring she found solidarity with other Latinos in Europe who felt the same way, prompting a realignment with her Latino roots.
During the creation of her debut album, Aliso, Zavala spent a summer being focused on how to make a full length record, educating herself through YouTube tutorials, and recording via a computer interface and a microphone to create a bittersweet, dreamy release designed to be listened in night time solitude. Singles such as 2017's "Should I Go" quickly gained viral popularity through YouTube playlists and Spotify, allowing her to tour for a sizable chunk of that year, garnering spots at the likes of Green Man Festival and The Great Escape.
Before this rapid rise in succes, Zavala spent a considerable amount of time in her native homeland of Argentina and in Tarfia, Spain, finally easing her lifelong anxiety of never quite being able to feel like she belonged anywhere. These experiences allowed a complete rebirth for Zavala, and as she found her feet as a young woman, her music transformed from lost, melancholic ballads to lively dance tunes. The same focus she had on Aliso- with studying recording techniques for bluesy dream pop - now shifted to creating uplifting anthems from Cumbian, Afro-Caribbean, Afro Cumbian and Argentine folk influence.
Zavala's artistry is forever evolving as she explores her identity both on and off the score. In kind, her debut single from La Yarará, "En La Noche" released in November 2019, marked her first venture into creating cathartic, rhythmically centered songs with the lyrics being entirely in Spanish, for the very first time. She ups the ante from the offset and continues to do so right through to the title track, named after a venomous snake, which is a fiery pop tune, glistening with a sassy aura as Zavala attempts to 'summon the yarará' within her.
There are tender throwbacks to the dreamy escapism of Aliso on cuts such as "Memories Gone" and "I'm Leaving Home," enhanced with shimmering mandolin textures and even cicadas on the closing track. Now in the midst of a global pandemic, Zavala reflects on having to put her plans of larger than life performances on hold whilst keeping herself healthy and productive.
BEST FIT: What sort of changes do you feel like you made in terms of songwriting and compiling the project together with La Yarará, compared to Aliso?
MALENA ZAVALA: I had a concept that was to connect back to my roots in Latin America and understand that, alongside the identity that I have in England, in order to represent it. I worked a lot more on the rhythm side and I had people working with me, as the first album was done on my own as a bedroom project. I got my live drummer Joe Taylor to record in the studio and Pilo Adami to do percussion. The main difference being that where Aliso was a lot more spontaneous, La Yarará is more tied together.
Could you explain the backstory behind I'm "Leaving Home"?
It's mainly to do with my frustration of wanting to leave my parents house but I can't due to many reasons, emotional and financial, as well as trying to understand how it will affect my music career if I move to London. Rhymically it mixes indie, a bit of 90's R&B and Bolero.
It features a recording of my grandmother who wrote a poem of what it was like to be a woman in my province of Chaco, Argentina. She took the poem to the two local tribes where she got two women from those tribes (Toba Qom & Wichi) to translate it in their languages and then to record it. So, that recording is those women speaking about their experiences directly, and it ties in with the concept of belonging. At the end of the track my mum is talking about the Diaguita tribe that I am descended from. It also includes a musician playing a bonbar which is a Latio-American drum. So, it all ties in to the idea of home and what that means to you.
For "Identity," the concept behind it encompasses what the whole record is about in terms of not feeling like you belong anywhere and not being accepted by these two cultures. When I was in England I would feel like the Argentinian girl, and whenever I'm in Argentina I'm the English girl. I would get comments about how my Spanish isn't perfect. It's about coming to terms with the fact that I don't have to belong anywhere, my personality is a culmination of the places that I have been. With this divide it feels like either culture is judging you for and I feel like a lot of people feel that.
Was there an event or outside influence in your life that helped you along this journey?
It's definitely a personal journey for me. I feel like I have been struggling with these issues my whole life. It's affected me and my brothers and the way that we have interacted with people. They were bullied at school but since then we have become quite solitary people despite having lots of friends. It comes back to the point of always feeling like an outsider. I felt like I just got to a point where I wanted to finally delve into that and figure out what's going on inside myself.
What inspired the dream pop instrumentals for Aliso?
Beach House heavily inspired it, even down to the vocal lines, as well as various other dreamy 80's music. Things like the Stranger Things soundtrack were really influential to me. With bands like Tame Impala you have throwbacks to older artists like The Beatles, Pink Floyd, Supertramp -- which my dad used to play all the time. They were all implemented in different ways into the production. There are still some of those influences there on La Yarará' but it steers away from bedroom pop to bigger production values incorporating my full live band.
You said that you were influenced by the book A Hundred Years Of Solitude (Gabriel García Márquez) , as well as your view that "Latin America is stuck in a loop of mistakes and it will never emerge from that until it becomes aware of itself." What does that statement mean to you?
I thought that what Márquez said was really interesting because I feel like it's so true in regards to Latin America. Sadly it has a lot of turmoil that is mainly to do with the power that the United States has over Latin America with how they have put them in a lot of debt. Argentina especially has a history of governments on the right and left turning rapidly into dictatorships. It's always the same that they never learn. You always see stories of these problems throughout history all over Latin America which creates a deep feeling of pain and sadness within me. It's my home and Argentina constantly feels like it's unlucky.
Are there a lot of issues with Argentina that you wish you could help with that frustrate you when you're based in the UK?
Yes. Even going to Argentina to visit, there's always people living in loosely built shacks and it is incredibly eye opening. It's something very serious that I want to truly be aware of and to be able to make sure I can be grateful for living in a first world country. A Hundred Years Of Solitude is incredibly well written and representative of the chaos in Latin America.
With the current COVID 19 situation, how are coping as a musician?
I am in two minds about it. First of all I am thinking 'holy shit this is unreal, what the fuck.' My life personally in the last year has been really crazy and weird. However it'sits also a really good chance for people to finally wake up out of these daily routines that they have been stuck in. I am a very big believer of change and being aware of the things in life that aren't making you happy. It's a wake up call to society as a whole that it needs to distribute wealth better.
Right, and not just in the case of a worldwide pandemic.
Yeah exactly! I'm a big fan of things becoming a bit more socialist. It's a good time for me to work on the things that I've needed to do which I haven't been able to achieve whilst I was on tour or making this album. Being able to learn new things with my voice as well as producing techniques has been a huge benefit of not being on the road. I've already started to write the next album, I've been keeping healthy and been able to go to the gym. If they can it's a good time for everyone to be able to focus on their wellbeing.
What are your thoughts on live streaming concerts from home?
I know a few people doing them but I'd also like there to be opportunities where audiences are able to pay the artists they're watching, even if it is cheaper than the original concert. I feel like as long as the music industry still exists there will always be ways of attending shows. In the long run it may be the case that streaming and record sales are going to do better because people will inevitably have more time to listen to stuff. People could also end up buying more physical releases which could be really cool. I feel like art and how it intertwines with the internet will find a way to carry on going.
There's a hope that people will understand the importance of art on a bigger scale as more than ever it'sits helping people cope with this tough time
Yeah, as horrible as this all is I feel like people are gaining more awareness of what brings them happiness. A really useful skill I've learnt through producing at home is being able to create more commercial sounding stuff. I just figured that since I love to dance, I want to be able to create stuff that I can dance to! Because I've recently been in Argentina for quite a long time I feel like I've come back very Latina so it ties in with that. I've also been doing a lot of yoga too.
Hypothetically, if the quarantine lasts until July or so, what would be your ideal plans if things go back to a state of normality?
Writing new songs is important but what I want to work on the most is get a really great live show going. I now have this Latino pop album where I want to experiment how the precession will translate.
La Yarará is out now
Get the Best Fit take on the week in music direct to your inbox every Friday