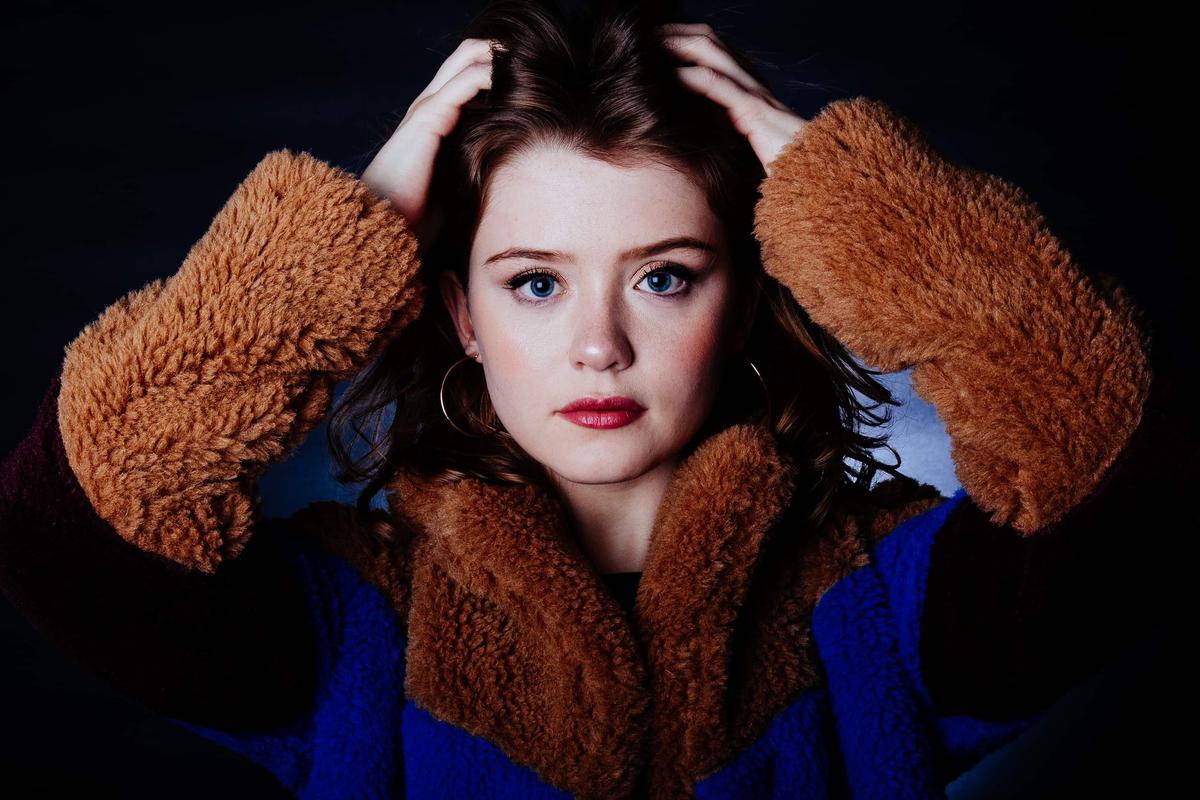 On the Rise

Maisie Peters
12 February 2019, 08:00
Three minutes ago Maisie Peters was lip syncing down Kensington High Street, a practice video shoot for her upcoming single "Stay Young". "It was a bit awkward, a little bit weird," she laughs. "I definitely got some looks from some teenage boys on skateboards, but you've just got to throw yourself in you know?"
We reckon she'd better get used to the attention - things are taking off in a big way for the 18-year-old singer and songwriter from West Sussex. A series of singles she put out in 2017 caught our ears, but it was Peters' deeply personal 2018 six-track EP, Dressed Too Nice For A Jacket, that made us truly sit up and take notice. Falling somewhere between Laura Marling's erudite observations, the reflective vulnerabilities of fellow Brightonian Lily Moore and the more minimal moments on Alessia Cara's The Pains Of Growing, the release has already racked up hundreds of thousands of streams on Spotify.
Telling stories is Peters' forte. After growing up listening to her parents' Springsteen and ABBA records, she fell in love with Lily Allen's Alright, Still and Taylor Swift's self-titled debut, obsessing over every word during family car journeys. Later, she discovered hip-hop. "I love the conversational nature of a lot of rap," she says, citing Frank Ocean's Channel Orange and Kanye's The College Dropout as other particular influences. "It was hearing these lyrically interesting and emotionally fraught, quick lines, cleverly written but in a way people connect to it."
Inspired by confessional songwriting, Peters was just 12 years old when she started penning her own music as a way to satisfy her overactive imagination. By the time she was 16, she had amassed a ton of tracks, ("I used to folder them on my laptop into good, bad, very bad, very good") had played in a band with some school friends and was performing solo in pubs and busking in Brighton. "I was obviously a very fearless young person," she says thoughtfully. "I used to say I was a serial under-thinker, but it worked out for me cos I'd do gigs or get up on stage without thinking much about it."
When Peters was 15 she began taking songs out of her "very good" file and uploading them to YouTube. Through that she found her manager and three years later Atlantic Records, the home of industry giants Ed Sheeran, Bruno Mars and Janelle Monae, came calling.
"I pretty much got signed and then told everyone to not talk to me because I was doing my A Levels," she says. "In the last year of sixth form everyone was excited about uni and I was a bit like, 'I don't think I'm going to go'. In another life I might have done that but I can't imagine doing anything else now. Music is all that I enjoy so why would I not want to do that."
Despite her young age, on Dressed Too Nice For A Jacket Peters delivers painfully relatable lyrics - like someone who's experienced a lifetime's-worth of broken hearts. The track "You To You" is a bitter post-breakup tune laced with the sort of anger that makes anguish more tolerable: "So I hope you think you've finally found the one / And then she fucks you over just for fun / 'Cause then maybe you'll realise what you do / Hope she does a you to you."
The EP's highlight however comes with "Enough For You", a stripped-back piano lament where Peters lets her imagination take her to the most vulnerable of places, pleading woozily through a vocoder: "I poured out my heart in the front of your car / kinda funny / but now you don't wanna see me / I get it, I really do / But I wish I was enough for you."
"I was writing with my friend Joe and he told me that morning he'd had a driving lesson," says Peters, remembering the day she wrote the track. "His driving instructor told him about a woman he was teaching to drive who was a mother and a house wife, and this woman had declared her love to the driving instructor. She'd said she'd fallen in love with him and the driving instructor wasn't interested. So we got deep, as you always do. I was thinking about how she must feel, that maybe it wasn't real love, it just felt like it because it was her first taste of independence. And we decided to write a song pretending to be a women who'd fallen in love with her driving instructor. We wrote it in about half an hour, I did two or three takes of it, there was this weird vocoder solo in the middle where I was just having a joke around making some random noises. It wasn't written about me at all but doing it live, I've connected with it."
Last year, Peters announced her first ever London show at Omeara which, to her shock, sold out in one day. "I thought no one would come apart from my mum," she says disbelievingly. "I barely ever cry but I think I shed one whole tear when my manager told me." Immediately, she announced a date less than two months later at London's Scala, a venue almost three times the size. Things are moving quickly to say the least but even so, Peters is firm that her full-length debut is still a while off yet. "I'll definitely put out loads more music this year," she explains. "But I'm a big believer that albums should be a body of work, something that reflects time or a movement, it should feel really cohesive and I just don't think where I am right now and the nature of how I'm working lends itself very well to that right now.
"I think of so many artists whose debut album was informative and important to me so I want to make sure when I make mine, it's just as much that to somebody else."
Maisie Peters' new single "Stay Young" is out 15 February; she also plays The Great Escape which runs from 9-11 May this year.