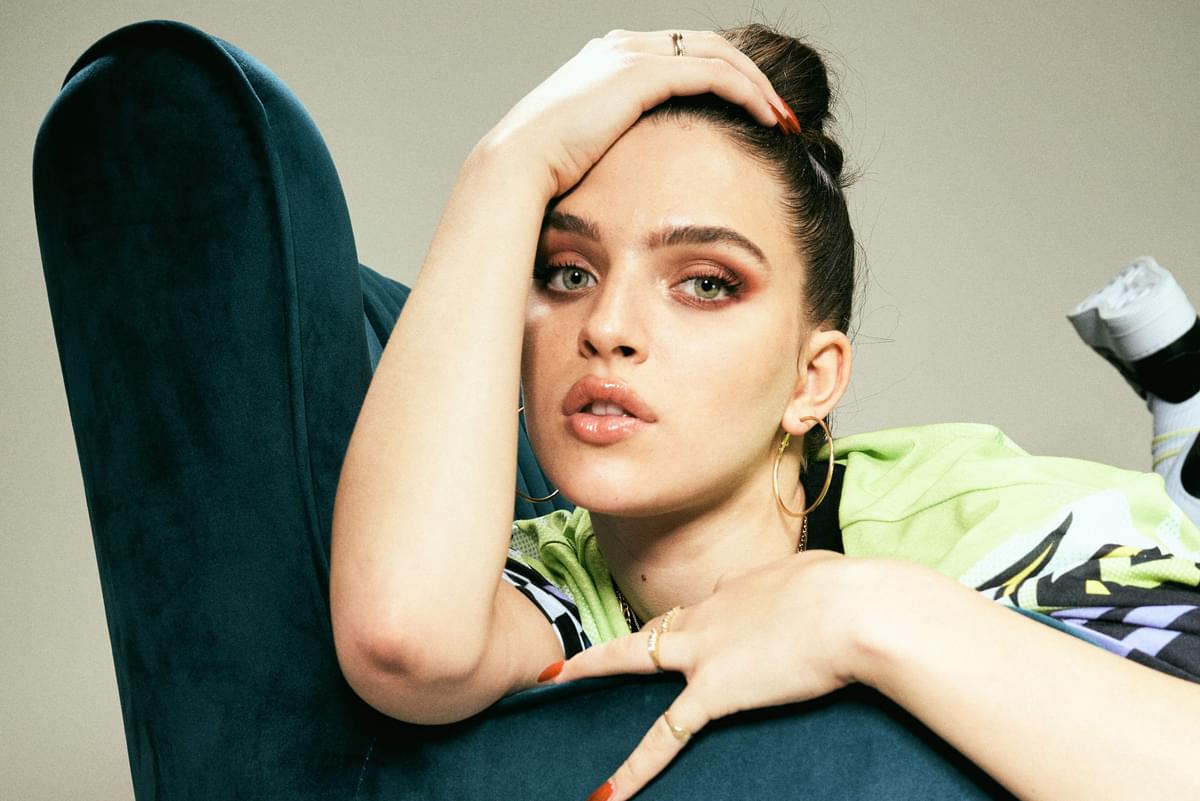 On The Rise: Mae Muller
18 December 2018, 12:30
With her star on the ascent for 2019, Mae Muller is part of a new generation of refreshingly candid pop stars making empowering music.
Mae Muller only wrote her first song about two years ago, when she was 19 years old. She was taking the train from her dad's place in Cornwall back to London, where she lives with her mum, and in typical fashion the Wi-Fi wasn't working properly. Feeling kind of bored, her mind wandered to the guy she was seeing at the time, "someone I actually really liked!"
"So I opened Notes [on my phone] and started singing melodies and anything that came into my head," she tells me over a pot of tea at a cute spot in Covent Garden. "I just said how I felt and tried to make it into a song and it worked."
Muller had a friend who could play guitar and knew how to use the recording program Logic, so they turned her song, by now titled "Close", into something ready to be shared on the internet.
"I gave him a bottle of wine for doing it, because I had no money," Muller says with half a laugh. "And that track is still on my SoundCloud now, actually. It was the first thing I ever put out into the world. A lot of people are like, 'Are you sure you don't want to delete it?' When I listen back to it now, I'm like, 'Oh my God!'" Muller cringes a bit. "But I think it's nice that it's still out there, because it was the starting point of everything for me. And it's nice that you can hear the progress in my music since then."
Writing that song was a lightning rod moment for Muller, 21, who grew up in Highgate and Kentish Town - two pretty nice parts of north London. Today, she's confident, chatty and immediately likeable, but also a little more self-deprecating than the average artist being tipped as "one to watch".
"The reaction the song got was like, 'Oh my God!'," she recalls. "I mean, you shouldn't need validation to feel like you're good enough, but at that point I was like, 'Wow, I wasn't expecting this.' And it was at that point, I guess, that I thought 'maybe I can have a go at music'. And soon after, I met my manager."
Before she wrote "Close", Muller says she was feeling a bit lost. "I didn't go to uni, thank the Lord," she recalls with a playful eye roll. "After college I worked in American Apparel on Oxford Street for a year and then I worked in a pub in Kentish Town for a year. I just left the pub [job] around seven months ago, I still go in there sometimes. I was trying to figure how what I wanted to do and who I was as a person because I had no idea. After college, I did feel like, 'Shit, what do I do now?' But I'm happy I did those jobs because it made me realise I wanted to do something creative. It just really pushed me to work hard, I guess."
Though Muller wasn't the precocious child-songwriter type, she says she always connected to music more intensely than her peers. "From a very young age, the way I listened to music was just different," she explains. "I felt, and others around me felt, that I would just switch into a different realm. I was just so locked into it and it made me feel really deeply from a very young age. Whenever I heard music, I was just enhanced by it, so that's when I knew I really loved it."
She especially loved Florence and the Machine because "every one of her songs tells a story", and Gwen Stefani, whom Muller describes as "my idol since I was seven years old".
"Everything about her was just big," she enthuses. "I thought she was so cool and so pretty and I just loved her music. She could do the really sad thing but she could also make me dance. She was just this force that I really looked up to. I even had a Gwen Stefani doll!"
Artists as varied as Sade, Dixie Chicks and JoJo also left an impression on Muller, perhaps helping to pave the way for the pretty eclectic, genre-hopping music she's put out so far. Her excellent new EP, Frankly, flits from the bustling pop-reggae of "Busy Tone" to the tropical bop "Read", and then from R&B-flecked ballad "Side Piece" to the stripped-down singer-songwriter fare of "Maybe".
"It's about the message of the song and how I get that across...and how the song makes other people feel"
"At the moment, I try not to focus too much on genre and style because I'm still experimenting," she says with an honesty that feels refreshing. After all, how many up-and-coming artists admit that they haven't got everything figured out just yet?
"For me right now, it's about the message of the song and how I get that across," Muller continues. "And how the song makes other people feel. If I can make anyone feel like they're not alone in a situation, or just laugh about something, that's what it's all about for me. And even though the sounds of my songs are quite different, I feel like my style of writing makes everything quite cohesive. When I listen to music, I want there to be a story and I want it to make me feel – I wanna cry, or dance, or laugh, and just get something from it, so that's why I try and put into all my songs."
A Mae Muller song that provokes all sorts of feelings is "Jenny", a brilliantly witty story of becoming mates with the girl your boyfriend's two-timing you with. "I met your girl the the other day, we got our nails done," Muller sings mock-innocently. "And she was telling me that you can't make her, you never make her..." The pregnant pause that follows is a clever moment that recalls the infectious, effervescent spirit of Lily Allen's early work.
So, is Jenny a real person, and are they still friends?
'Oh my God, I think I'm going to disappoint a lot of people with this," Muller replies, giving a little groan for comic effect. "Everyone's like, 'Who's Jenny? I want to meet her!' And I'm like.... she's not real. But do you know what, I wanted to write a song about being done dirty by someone from a female perspective. Because everyone's been there, you know? I wanted to personify that, and give it a name, and flip it on its head and make a situation that's usually really dark and horrible into something funny. It's like, 'Do you know what, if someone fucks you around, it's not the end of the world'. And in that situation, it's really to easy to demonise the third party. People are like, 'What a fucking bitch, she stole my boyfriend.' But actually, you can't really pin it all on her. I wanted to write about all of this because I hadn't heard it in a song before."
"There's a certain responsibility to say the right thing, but I try to be quite down-to-earth and real and I think people appreciate that"
Muller says she gets messages from a broad range of fans, but is always thrilled to hear her music is resonating with teenage girls. "The music I write is the music I wish I could have listened to when I was 15, because I needed it," she explains. "So when I have girls messaging me saying, 'I love your music and it sums up how I'm feeling right now,' I feel like it's a success and I'm doing what I'm meant to be doing."
But, the more this happens, the more Muller will become a kind of role model to them. How does she feel about that?
"Well, I don't mind being given that role because I'm always going to be myself, and I feel like that's probably quite a good thing to look up to," she replies thoughtfully. "I'm very, very honest. If I do something bad, I just come out and say it. But sometimes [the role model thing] can be a lot because if I post about having anxiety, I do get some DMs being like, 'Can you come and meet me? I'm having really bad anxiety and need to talk to you about it.' You know, I don't know if I'm even qualified to talk about it. I don't want to give someone the wrong advice and make it worse. But at the same time, I don't wanna feel too far away from people; I want people to feel like they can message me and have a chat. There's a certain responsibility to say the right thing, but I try to be quite down-to-earth and real and I think people appreciate that. Honestly, take a look at my Instagram story: I literally just chat shit. So if that's what they're looking up to, I guess I'll just carry on doing it!"
Like many of us in 2018, Muller admits to having mixed feelings about social media, which she says can perpetuate a success-is-everything narrative that puts unnecessary pressure on her generation.
"Because of social media, we see these incredible young people who are already achieving great things. We see the 3% of people who are doing that because it's put in front of us. Which is amazing," she explains. "But if you're not doing great things yet, you can feel like a failure. A lot of my friends who are 21 or 22 are like, 'I haven't done anything with my life!' And I'm like, 'What? We're still so young!' But you really do feel it. When I wasn't doing what I'm doing now, and I was working in retail, I really felt that pressure. I guess you just have to try and remember that everyone's journey is different: some people start earlier, some start later.'
Muller is especially ambivalent about Instagram, and we agree that the new feature allowing you to check how much time you're spending on the app is super-welcome.
"I'm very thankful for Instagram because without it, I don't know if I would be where I am now," she says. "It's really helped me get my voice out there. It's a platform for everybody because it's so accessible, which is great, but also a curse. Everything is just a click away and I find myself scrolling for hours at girls who I don't look anything like, but wish I did. And I look at other artists, and think, 'Why aren't I doing that? Why am I not at that stage yet?' Because obviously, everyone on Instagram is trying to show their best life. And a lot of that isn't even really real. I guess I think Instagram is really great if you know how to use it properly – which is never to get too invested. But it can be quite unhealthy and I'm working on using it better myself."
"How can you make art with someone that's really personal, when you have no idea who they are? The people I work best with are the people that really invest in knowing who I am as a person."
Muller also says she's been working through what sounds to me like imposter syndrome. Soon after she signed her publishing deal, she began going into songwriting sessions – often in L.A. – with some pretty big names. To date, her most frequent collaborators have been Jimmy Napes, the Oscar, Golden Globe, Grammy and Ivor Novello-winning songwriter best known for his work with Sam Smith and Disclosure, and Two Inch Punch, who's co-written with Years & Years, Jessie Ware and Rag'n'Bone Man.
"To be honest, it wasn't until three months ago that I really felt like I deserved to be in the rooms that I'm put in," she confides. "It took me a long time to feel like I was worthy of it. It's been a long process. But now I feel like I'm where I need to be."
So, what's changed?
"I just feel like my confidence has grown through trial and error," she replies. "The more you write, the more you sing, the more you improve. And I think when I felt myself improving, my view on everything started to change. I started to think: 'I am good at writing. I can sing. I can perform.' Of course I still feel grateful to everyone who works with me, but I used to feel like, 'Oh my God, I owe them so much because they've given up their time for me.' But now I'm like, 'I know I deserve to be here. This is a collab. They've chosen to be in a room with me as well as vice versa.' Learning to understand that has been one of the main things I've had to conquer. So it's all uphill now!"
Still, Muller says she feels most creative she's built a personal connection with her collaborators. "I like to talk shit with them for, like, 45 minutes first," she explains. "When I go into a session and straight away they're trying to write melodies, I'm like, 'No no no! I need to know the tea going on in your life, and I need to tell you the gossip that's going on in my life, and then we'll write. How can you make art with someone that's really personal, when you have no idea who they are? The people I work best with are the people that really invest in knowing who I am as a person."
Next year will bring lots more new music from Muller, including a song about a painful break-up that she says is the "rawest shit" she's ever written. "I split up with my boyfriend outside the studio, and then I walked into the session, she recalls. "Yeah. So I didn't really have a choice [on whether to write about it] because I was so broken and torn up. And it's probably the best song I've ever written."
Muller is also planning to gig more and wants to land a support slot on another, more established artist's European tour. Since she signed her record deal in July, she says it's become easier to maintain her career's upward momentum. Before then, she and her manager were really just trying to keep up.
"I do have to give myself a pat on the back sometimes," Muller says. "I mean, I managed to get a publishing deal and a record deal. If you'd told me that a year ago, I'd have been like, 'You're kidding – get out of the room!' What's so nice is that me and my manager did it all ourselves. It's reassuring to know I've got to where I am now purely based on what I can do, and nothing else."
If she could somehow pass a message to her 19-year-old self as she wrote that song on the train from Cornwall to London, what would it be?
"Bitch, don't give up. There are moments you're going to feel like you don't deserve it and it's not going to happen for you. But you just have to carry on. I guess I'd really just want to say: 'Girl, you know, you're going to be all right.'"
The Frankly EP is out now.
Get the Best Fit take on the week in music direct to your inbox every Friday