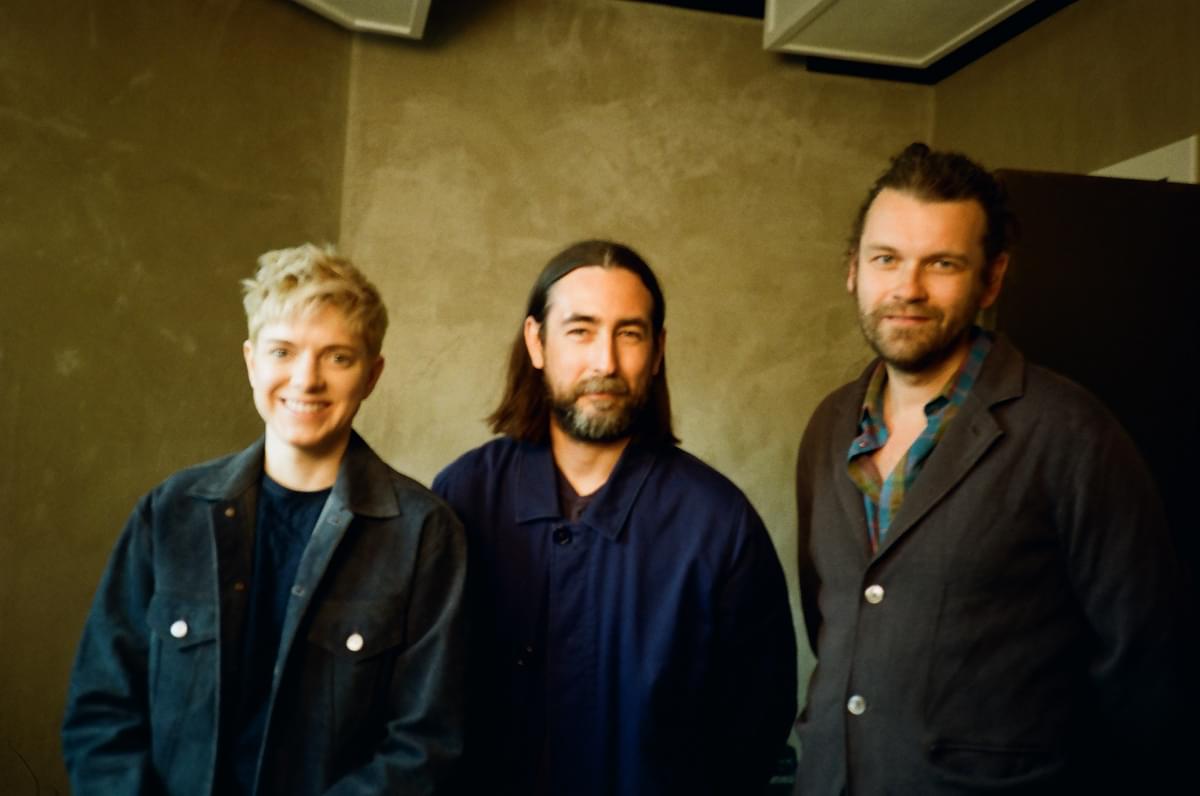 Mae Martin and Charles Watson share exclusive cover and open up about their creative partnership
07 June 2022, 10:06
After working together on Netflix's Feel Good, comedian and screenwriter Mae Martin and singer-songwriter Charles Watson became big fans of each other. In a new video and conversation exclusive to BEST FIT, Martin covers Watson's slow-burning love song "Going Places" and sheds light on their unexpected but tender collaboration.
"I think you should totally be making records," Charles Watson beams. His friend, comedian, actor and screenwriter Mae Martin, makes a vaguely sceptical face. "Really!" he insists. "I think you're a lot closer to that world than you think. You've got a kind of built in sense of melody… that's the sense I got from those little demos that you sent…"
It's fitting that Watson would spend a good chunk of the promo time for his new album promoting someone else's album. Having chosen to use Mae's face - and voice - to front a hazy cover of his song "Going Places", shared exclusively with BEST FIT, he admits his chief aim when recording is to surround himself with as many familiar folks as possible. He's even roped in indie stalwart Fyfe Dangerfield for a sprinkling of piano. This ethos seeps through new album Yes, which echoes the intimacy, even the lo-fi crackle, of a late-night phone call with a friend.
Watson has, in essence, done the same thing as his Slow Club sister, Rebecca Lucy Taylor in crafting his solo career. Both artists shook off the compromises of their shared project, and stepped out in confident - albeit starkly different - directions.
Distilled, Watson is quietly positive, with a knack for penning shy wistful folk songs. His debut, Now That I'm a River, was an experiment in finding himself, both earnest and irreverent. He was then recruited by Martin to score their Netflix smash Feel Good, where his delicate stylings magnified the vulnerability of the show's protagonists. On Yes, he finally felt able to cast off the cloak of reverbs and dense production that provided a blanket of safety on earlier efforts. "I've arrived at a place of not wanting to carry my insecurities on to a record," he says. "I want to project the purest form of what I want to say."
With the record now out on Moshi Moshi, Watson and Martin sat down with BEST FIT to interview each other, about working together, switching careers and the deep cuts of Elliott Smith.
MAE: So... I guess this all started because I was a big fan of Slow Club and then was asked to open for you guys on tour. And I was so nervous. It's pretty scary opening for a band on tour because people are not in the mood for comedy usually: they're really excited to see the band but then you come out and you've got all the instruments behind you. So you just feel like a failure.
Anyway, I remember watching you guys warm up backstage. And it just always, I mean… music in general feels like such an enigmatic, mysterious, cool process to me. And then yeah, I guess we kept in touch.
CHARLES: Yeah, I think Rebecca had mentioned having a comedian open for us, and everyone was just like, 'Oh, that seems like a really fun idea'. And I think we were lucky; the crowds were always really accepting.
We actually just love to have friends with us. I'm sure it's the same with you Mae, like when you spend time on the road, you want to have people around you that make things feel fresh and fun and exciting; the whole night is just easier. I've got a poster of that tour in my house. It was such good fun.
MAE: Honestly, I'm always in the audience of shows being like, 'Maybe the guitarist will get sick and they'll be like, does anyone here know how to play the guitar?!' And I'll get up and then everyone will be like, 'Oh my God'. Like, that's my fantasy.
But I did musical comedy, and I think I wasn't very good at it. I mean, I like doing it but the space between the songs was just getting longer and longer with chat and banter, and I realised that I had more to say than I could say in a song parody, or by changing the lyrics of a pop song.
CHARLES: But I think you should totally be making records. We've talked about this a little bit recently. I can imagine the record, I can see it already.
MAE: I'd love to. I just constantly imagine what other comedians are gonna think. And if they're gonna think I'm a loser. Maybe at a certain point, you gotta do what makes you feel good.
CHARLES: Totally.
MAE: But I think also, I'm not … like, I'm not very good. I don't have any technical ability, really. I definitely have an urge to write a few songs and secretly write them in my house and sing them.
It feels so daunting and enigmatic the whole process [of making an album]. But hanging out with you and doing the Feel Good soundtrack… you've been so encouraging and nice that it feels slightly less impossible.
CHARLES: I think you're a lot closer to that world than you think to be honest. You know where you want to go with it. You've sent me very short snippets of a few little things, and it's like you've got a built in sense of melody. You can tell you listen to loads of music.
MAE: So the big question is, when are you going to do stand up? [Laughs]. Like, there's a sense of humour about some of your songs for sure. I'm drawn to them for that reason. It's never like…morose. .
CHARLES: I like the idea of it. Most of the time that's just me writing stupid stuff on my phone that eventually gets turned into something. But when you go through your phone, things that rarely make sense after about 48 hours, because you can't really remember what you were on about?
When I saw you do stand up in November… man. I could not think of anything more terrifying than standing up and trying to make people laugh for an hour. It's such a totally different world isn't it?
MAE: It is pretty hellish, yeah.
CHARLES: And at one point, there was a person over in the corner for a couple of minutes that said something and it seemed like the whole show was stopped and you created something over there that was totally improvised, but it was just amazing. And I just remember thinking, is this person a plant?!
MAE: Well, if I'm doing an hour, it's like I'm building the whole hour just to earn a moment where maybe I can make the audience feel something as well. Like, obviously, the main goal is to make everybody laugh and have a fun, stupid time. But then, you know, you have to work so hard to earn those moments of emotion or whatever.
And then when I watched you, when you did that tiny gig in the basement, just trying out the songs for the first time recently, within two seconds, you could hear a pin drop. And it's like a fast track to people's emotions. You access that place so fast with music, whereas with comedy, it's like, yeah, you've got to dig through all these layers to get to that. When everybody's rapturous like that, that's amazing.
CHARLES: I think you do such a good job of that, though. It's the same with Feel Good. There's so many unexpected moments where it's really, really fun and high energy, and then you're dealing with so many different themes and subjects. You often feel two pretty different emotions in the same moment. It's a really powerful mix.
MAE: Do you want to do more sound soundtrack stuff? How did you find that process?
CHARLES: I loved it. I'd never really done any of that kind of stuff before, so I roped in Rob Jones, who mixes my records, and like, we've kind of worked together on a lot of different projects over the years. It was like going back to school really, experimenting with other instruments, and with Rob being a bit of a wizard with producing and mixing. And so it was a really nice opportunity for me to just earn loads of new stuff and work with like, new people, because I've kind of worked with the same team since I left college.
It was super collaborative as well, wasn't it? I remember when we figured out, 'Oh, if we just get together like once a week, we can review everything and it all makes sense really quickly.'
MAE: Yeah, I think you'd have a cool energy because, like, there's Joe and I, it was our first series. The director Alia was her first series was the first time you've done like soundtrack stuff. So we were all kind of, we got to just make up our own way of doing it. Instead of having someone be like, Oh, this is how you do that process. And we just found our own way through it.
I think it's lucky that our taste crosses over a lot.
MAE: Yeah. We both like George Harrison a lot and Elliott Smith. But you introduced me to tonnes of stuff like Damian Geraldo; we just wanted to see him.
CHARLES: And you got me listening to Elliott Smith a lot in Season 2. I listened to him a little bit as a teenager, but I ended up just doing like a deep dive and yeah…
MAE: With Elliott Smith, you've got to get past the kind of really sad songs that you listen to as a teenager in love. And you'll find that there's tonnes of really melodically complex, kind of McCartney-esque stuff he's done. Right now I'm really into his band Heatmiser from before he did solo stuff.
CHARLES: I couldn't agree more … he's got this kind of spooky, psychedelic thing going on but there were a couple of songs on Figure 8 that I was like 'Repeat, repeat, repeat' with.
MAE: I'm sure if we did a deep dive, we'd find some stuff we clash on. Because some of the stuff I grew up with and am attached to is objectively garbage.
CHARLES: Did you go through a new metal phase?
MAE: No,
CHARLES: [Laughs] I did.
Anyway - Feel Good is just a really beautiful love story. And the characters are flawed in their own way. There was a romantic-ness to the whole idea of what the show is. It was beautiful, just really well crafted,
And during the first season, we were getting the rushes, week by week, rather than seeing the whole thing. So I think over the course of like maybe three or four weeks, we saw the whole thing come together. And we didn't really know exactly where the show was going. It's just so nice to see so much thought go into it - and this beautiful arc. It was a real pleasure to to sit down and make something for this story that felt really, really important.
MAE: It's so nice that we were able to do the soundtrack together because I was so deep into your first album. I was listening to that song, "No Fanfare", like all the time. And so I associate that song with Feel Good tonnes. It's chicken and egg, because they all feed into each other.
CHARLES: That's awesome.
MAE: I think it's romantic too, but not… saccharine? Is that the word?
CHARLES: I think I think we talked about this quite a bit that - it's just a kind of new take on something. You want to make sure that it's on the right side of wherever it needs to be. And there's a darkness to the show as well. There's just all these different emotions kind of pulling you in different directions.
The Escape Room scene was tricky to score though…
MAE: Really tricky yeah. Because you've got this argument going on, but we kept cutting to the character Jack who's on mushrooms…
CHARLES: [Laughs] Rob ended up just going off on his own, like 'OK guys I've got this'. We were like, you know, 'We really need spend some time on the Escape Room scene but… it's really hard.
The one I really really enjoyed actually was "Chase like a Bear", which is at the start of episode three or four. It's really sparse - just a bass guitar and a snare. But there's a couple of moments in that I wrote when I watched it for the very first time. Sometimes you're watching it and daydreaming and you record something and it's just done.
And we were doing it in January 2021, in like a pretty gnarly lockdown. I mean, January's strange anyway, isn't it? But I felt like there was such a lovely team of people working on it.
MAE: "Save the Bees" was quite collaborative too. I can't even remember the order in which it happened, but Jo and I wrote the lyrics. And I mean, ithe lyrics are very Jo - about 'flushing your poos', I think Charlotte [Richie] even played it on piano at one point. Charlotte and I had instruments in when we were filming in our flats, where we were isolating… so every night we would be fooling around on instruments.
So yeah, it felt like a bunch of people who really liked music, making one really elaborate joke together.
CHARLES: See, that why I was so I was so pumped we could do this video together. I was just blown away that you … I mean, it's probably the most complicated chord progression I've ever written. It's got loads of weird little things in it. And then you just sent me a version back of you playing it on guitar and I laughed.
MAE: Well, I've never been in a music video. And I've always wanted to. Origianlly I thought it would be like me lip synching to you singing or something. And then when you said, 'Can we just have you do a cover?', I pretended to think about it for a while but… I was so pumped.
It is super super exposing, though. But I showed my dad and he liked it. My dad's desperate for me to be a musician.
CHARLES: I think you did a wicked job. It's so nice to hear someone else sing it as well, because that doesn't really happen very often. You've been so encouraging with my last record and working together on the show, it's definitely given me the beans to like, make another one.
Mae Martin's performance of "Going Places"
is out now.
Charles Watson's
Yes
is out on Moshi Moshi.
Subscribe for news and competitions