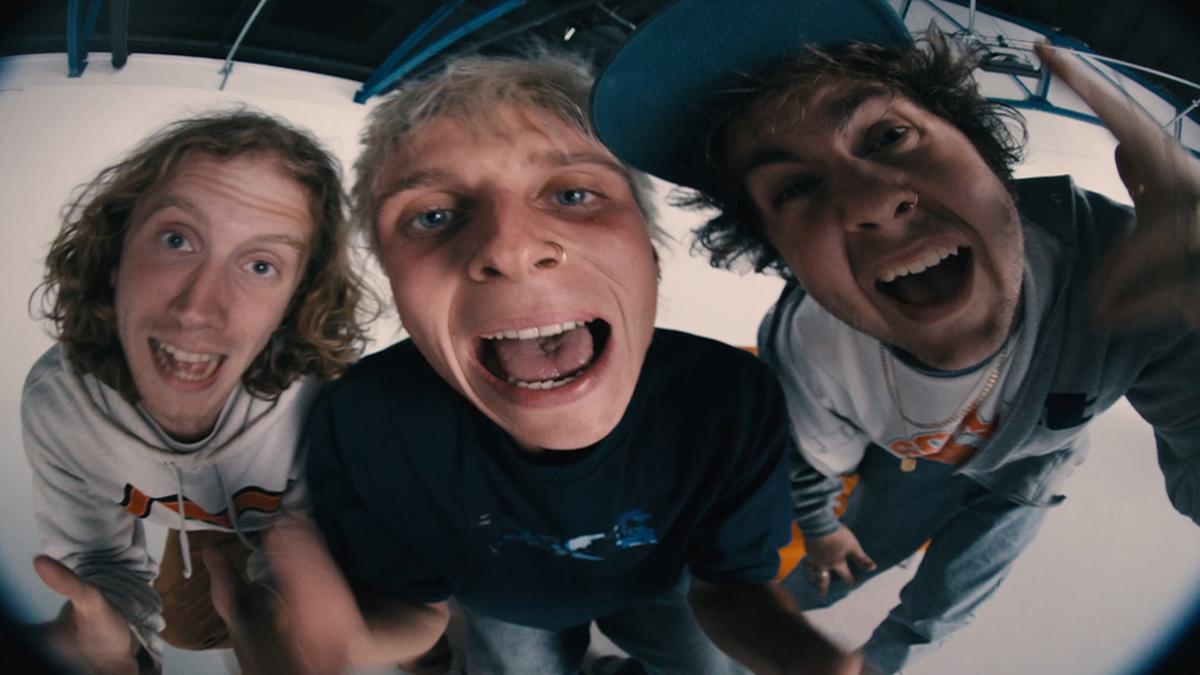 On the Rise

LOWLIFE
16 November 2022, 17:00
Taking inspiration from the sheer joy of creation, Essex collective LOWLIFE are adding rocket-fuel to their punk-pop fire.
The origins of LOWLIFE are not your normal garage band story.
Formed during the recording sessions for Rat Boy's second album, INTERNATIONALLY UNKNOWN, and united by the experience of a lightning-fast ascent to life on tour, Jordan Cardy, Liam Haygarth and Harry Todd found a new direction in the joy of creation and destruction.

Cardy met Todd while studying at Colchester Institute College. At the time Cardy was making DIY recordings and uploading them to Soundcloud as Rat Boy. Looking to put together a band, he asked a friend to approach Todd and invite him to rehearsals. After years of playing guitar together, Todd also brought his best friend Haygarth into the mix.

The group rehearsed for about a month before Rat Boy's Mixtape release blew up and things started to take off. "It was probably way too quick for us to properly know what was going on," says Cardy. "Our first gig we did was sold out. I'd never played a live show before. We were shitting ourselves and drinking so we could play a show and feel more confident, and that's not the best thing to do. I threw up just before going on stage at one point."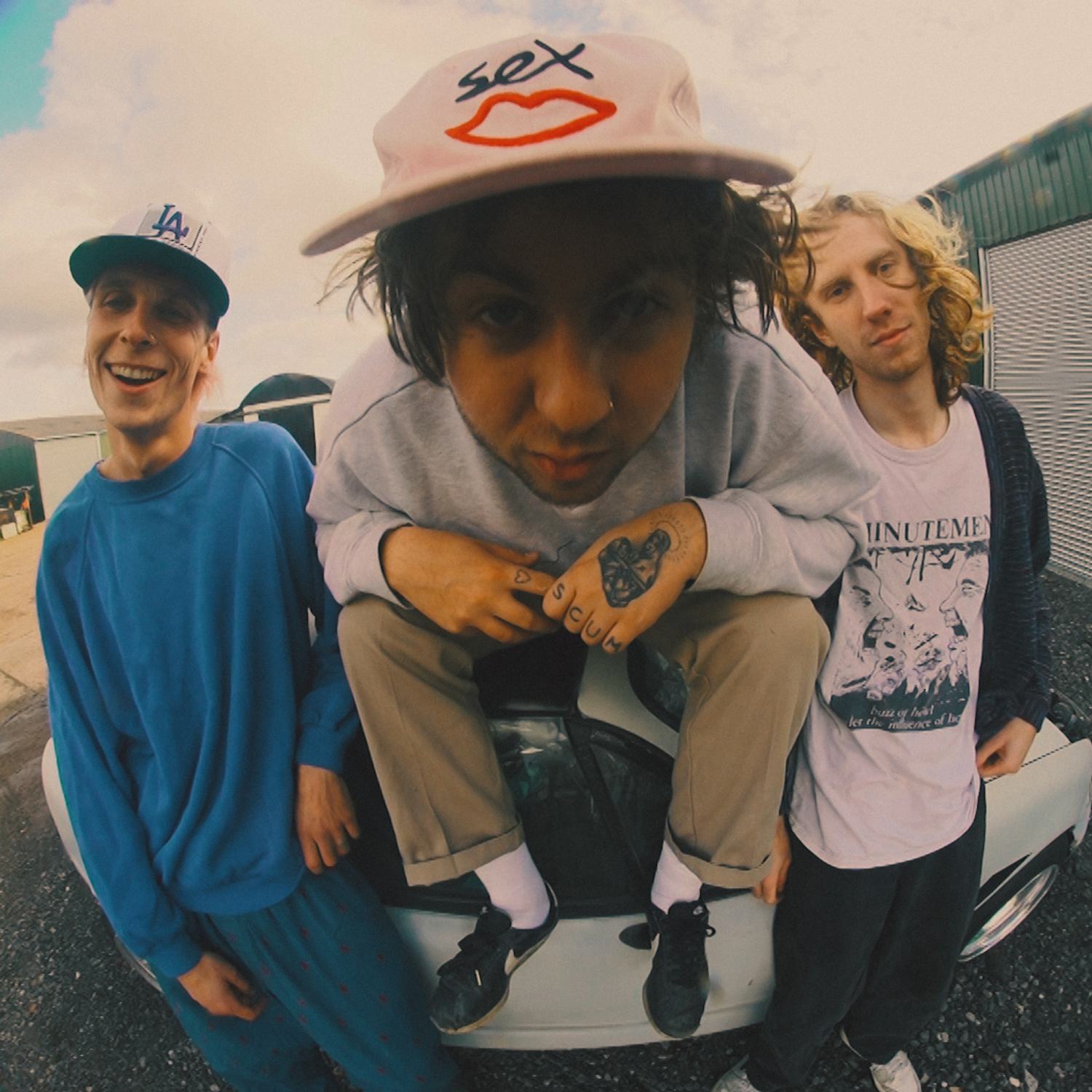 Rat Boy signed with Parlophone in 2015, releasing debut album SCUM two years later. "The first album was really sporadic, so it wasn't like going into a studio and recording," says Cardy. "The first album was bits of ideas pulled from everywhere, it was just a mess."
It wasn't until the sessions for their second full-length that Cardy, Todd and Haygarth really got to work together as a full band. Recorded in 2018 with Rancid frontman Tim Armstrong, it was during these sessions that the fuse for LOWLIFE was lit. "We did the whole album together, so it was more of a band, and we were like, we should just start a band and start fresh where we're all doing vocals," says Cardy.
Every night after recording the trio would return to their accommodation and continue to write. "We were making little songs together at the house. They were so weird. They weren't very good but I guess we had an idea while we were there to try and do something together," says Haygarth. "The worst thing is, we were all showing Tim the next day what we'd made. I think he was just, 'What is this?'"

Despite any initial bemusement, Armstrong fully supported the LOWLIFE project, encouraging the new band after they'd left his studio. "Even through lockdown we'd just send him ideas. He's one of the motivators to do it, he's very, 'Try this, do this!'" says Cardy.
"Tim is really positive. He hasn't ever said anything other than, 'That's amazing.' Bad for your ego but good for the music," agrees Todd.
After wrapping up the campaign for INTERNATIONALLY UNKNOWN, the group shifted focus onto their new project at the end of 2019. They built their own studio and named it LOWLIFE HQ. Not suited to writing sessions over Zoom, as soon as the first run of 2020 lockdowns relaxed, they were back in the room together.

Despite the enforced hiatus, they still took their time getting down to work, instead preferring to set off home-made rockets inside their new studio, a hangar rented from a local Essex farmer. "It must be weird for him if sometimes he hears music and then he hears an actual explosion," says Cardy. "I thought it was recording the album that was giving me a headache every night, but I realised it was just all the hairspray, where we're spraying it to make stuff light on fire."
Releasing their first taste of new music in the autumn of 2020 with the support of Armstrong's Hellcat Records in the US, "Wasteland" was a wobbling rip of throwback slacker rap. Officiating the project, it pushed the trio further into creating a debut body of work with a new-found focus on cohesion through collective creativity.
On their debut album PAYDAY they bounce between Sublime's reggae-rock, New Found Glory's pop-punk and Beastie Boys' rock-rap. It's a relentless mix of influence and inspiration, their DIY approach and nihilistic production acting as the glue that holds it all together. Kicking off with the explosion of recent single "SOMETIMES", the record rips through bright choruses, gritty guitars, and undeniable hooks with a refined chaos and hedonistic oblivion.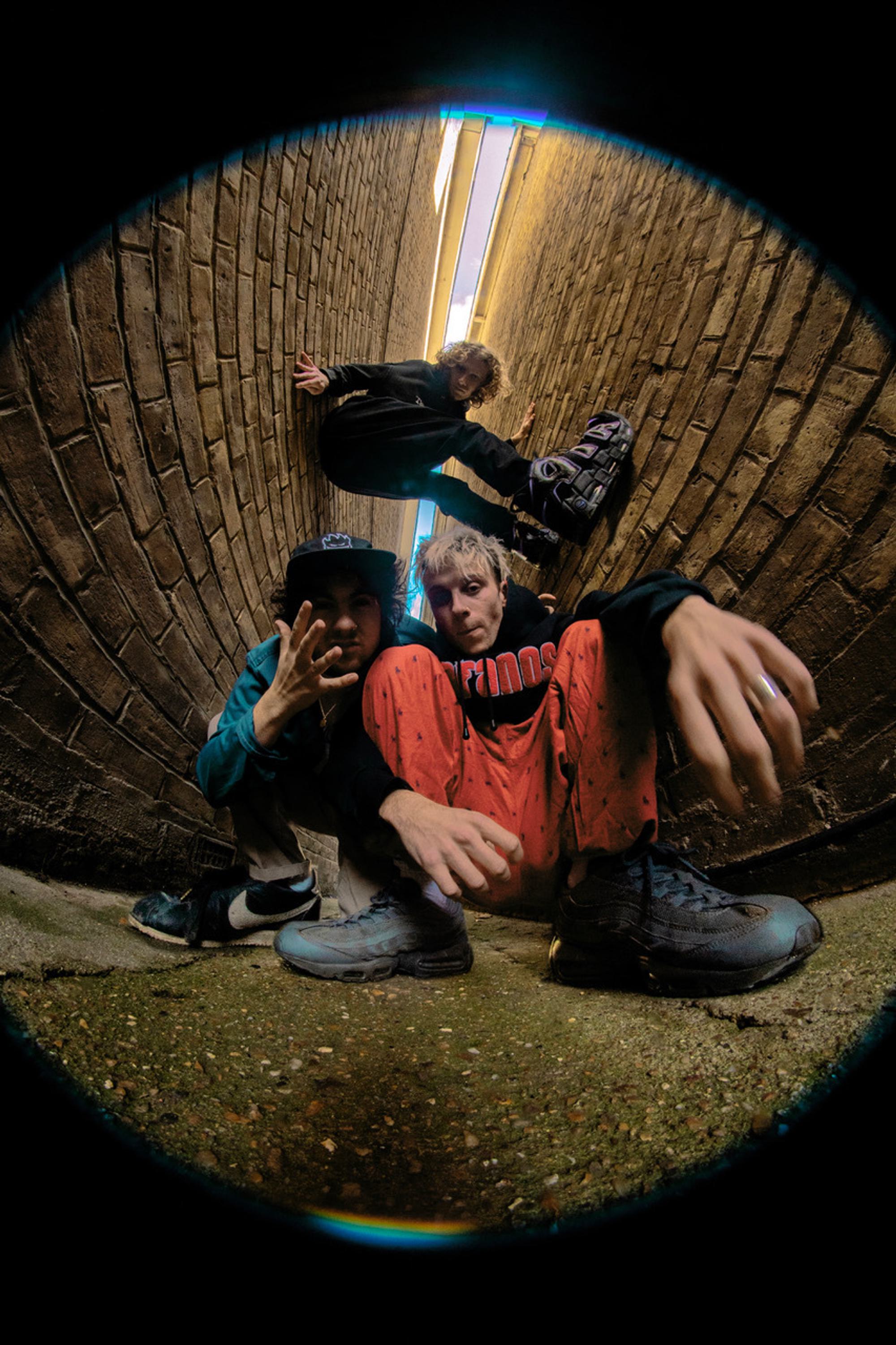 But while the album may sound carefree, LOWLIFE struggled during the creative process to structure their ideas, bringing in A frontman Jason Perry to produce vocals. "We just couldn't seem to finish it or get the right vocal sound because we were trying to record it all ourselves and then you don't know what sounds good or not," says Cardy. "He's really good, making stuff clear and hearing our voices, because everything was a bit buried before."
With each song dense with layers of track, their approach was to let Perry refine the vocals and use that as a guide on where to clear space in the production. "He was good at helping us decide who should do what vocal," says Haygarth. "He prioritised personality in the vocal takes, and that shaped the album a lot."
From the intricate home-made dolls house on the album's front cover to the self-shot music videos that accompany each single, LOWLIFE pride themselves on their shared vision and collaborative creativity. "We try and think of an idea together and then we'll run with it and try and achieve it with our budget or any way we can do it," says Haygarth.
One example is the music video for "ELON", a hazy clip of a palm tree, US highways and sun-kissed sky, all shot in Cardy's garden in Essex. "Let's get loads of stock footage of gorillas and old America footage and mix it in with us in the sun in Maldon and it'll look like America," laughs Cardy by way of explanation. "It came out OK though, considering."
For a project cooked up on hairspray, petrol and solvents, you could say the same for LOWLIFE.