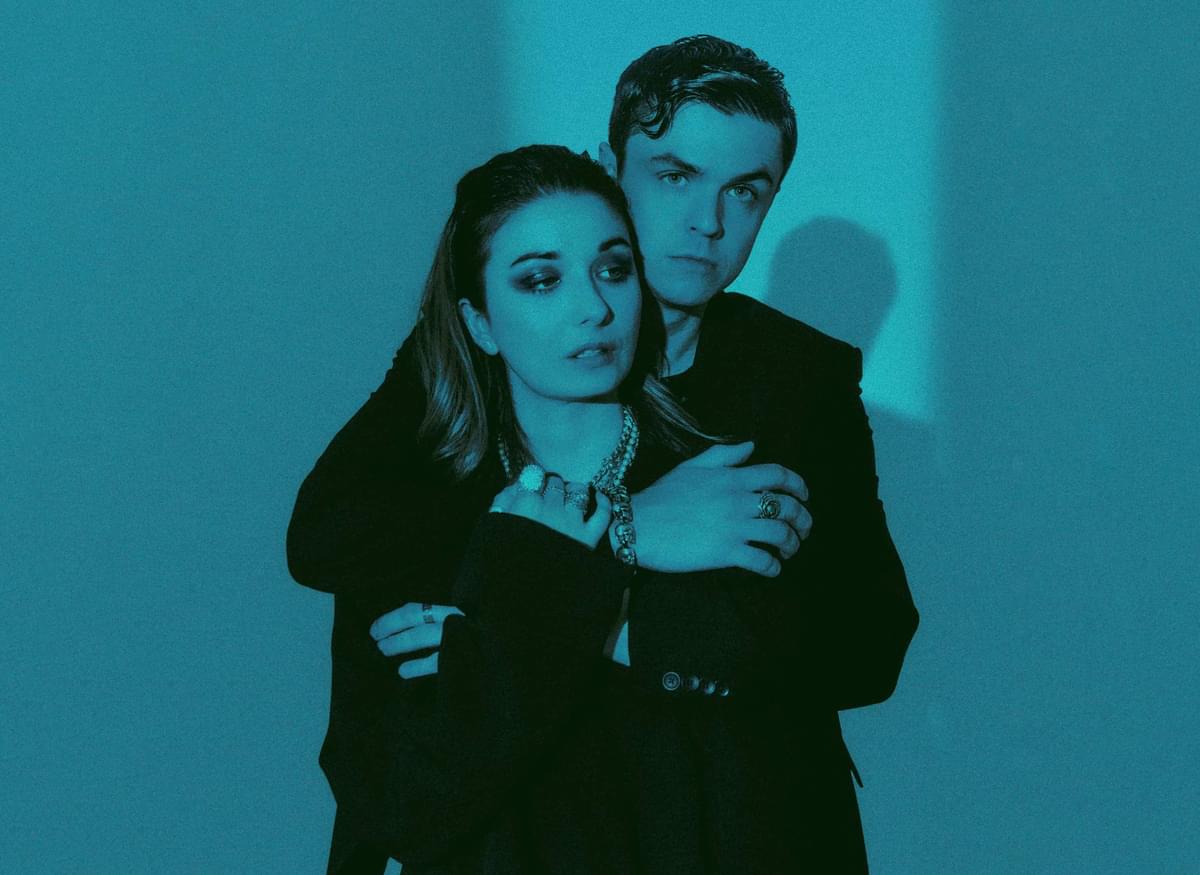 On the Rise

LOVE SICK
04 March 2022, 10:00
After several years of relentless evolution, Scottish duo LOVE SICK learnt to embrace both sides of their sound.
Like Gavin and Stacey, but without the M4 jeopardy, LOVE SICK's Julie Knox and Shaun Canning met over the phone at work. She was based in the Sterling office of a life insurance company, cold-calling potential customers, while he was over in Glasgow, signing off the sales. The pair eventually met at the work Christmas party, an event we described as 'sordid' when writing about the pair's debut single in 2017.
Talking over a jumpy connection from their hotel room in LA, in the middle of a busy schedule of meetings, Canning laughs. "One thing we read was like, 'Julie was singing karaoke at the Christmas party and Shaun discovered her.' I was like, that did not fucking happen. We just had a few bottles of wine and talked about Bob Marley or something."
The pair discussed working on some music together, but it wasn't until a chance encounter a month later at a Glasgow train station that they actually made good on the idea. Both had grown up listening to similar artists, "I'm sure when we were talking about music growing up, the first tape we bought was All Saints," says Knox. As a creative partnership blossomed, so did a romantic relationship.
Canning had been inspired to open GarageBand and try his hand at production after seeing Caribou live, while for Knox, she'd always been captivated by big voices like Amy Winehouse and Lana Del Rey. "When you first came over, the very first day, we were probably quite shy with each other, we'd done a Lana Del Rey cover just to get started," smiles Canning.
They launched a dance project, then scrapped it, eventually landing on a sound they felt comfortable with after three years writing together, with the release of "Bullet". Their No Sleep EP followed in 2018, as did festival bookings and shows with the likes of Glass Animals and Chet Faker. But they didn't stay comfortable for long. "I don't know if we had a change of heart in terms of the music," says Canning. "We sort of sat back for a minute."
The duo had signed a publishing deal and began to feel pressure to write with other artists, before questioning their own place as performers. "We put out that EP and then we moved back to London. We'd keep doing stints where we'd move to London, run out of money, go back up to Glasgow, save a little bit of money, go back to London," explains Knox. "We were always really torn on whether we wanted to get into the leftfield stuff or whether we wanted to write pop songs."
From their previous releases, only two singles are still available to stream. "I don't know if it's like looking at old school photographs? I know that sounds so weird, but it was almost like we took a wrong turn," says Canning. "It literally came offline and within two minutes our mate messages like, 'Are you fucking kidding? What's going on?' We were like, should have bought it, mate."
After some time out and a change in management, Knox and Canning began to find their footing again. They realised that with LOVE SICK they could showcase both the pop and darker sides of their writing, and spent a year working on a new EP ready for an early 2020 release. "We had an EP ready to go, just before the pandemic, and then it was like, hold off for a couple of months because we don't know what the fuck's going to happen," says Canning. "And now that EP isn't even an EP. We wrote better songs."
With another EP scrapped, the pair made the most of their extended hiatus, writing in isolation and in abundance. "We really thrived from the writing point of view, because we don't need anyone else, it's just the two of us," says Knox. "We prefer it. We could take time to revisit songs. It was really good actually, musically."
The result of their pandemic-enforced creativity is two mixtapes, each reflecting one side of their writing. The first to be released is SICK, five tracks of dark and sultry electronic pop that takes nods from Kaytranada to Miley Cyrus. Previous single "Run Of Out Love" is a rush of intimate breath, pulsating synth lines and hungry sentiment, while "High Highs, Lo Lows" is a straight cut of explosive chorus, woozy hooks and expansive production. Across the mixtape, it's seductive, destructive and coolly effortless. "When we go to write, we never in our heads say, this is going to be for this side. We just do something and then it becomes either, or," explains Knox.
New single "Get Wild", out today, flaunts dark hedonism with thudding beats and ghostly synth lines. A thrilling cut of endorphin-pop, it took inspiration from the desire to lose oneself at the most restrictive moments of the past two years. "We got so sick of hearing songs about isolation and lockdowns and we were like, I just wanna listen to dance music," says Knox.
Spinning the drudge of multiple lockdowns into a late night banger was just another exercise in artistic licence from the couple who've been writing break-up songs for years. "How have we survived all these break-up songs?" asks Canning, laughing.
With the second mixtape, LOVE, set for release later this year, the pair are hoping to be back playing live sooner than later. However, at a time when so many artists want to be on tour, finding bookings hasn't been the easiest, especially after four years away. "I feel like we're not gonna get to tour now until 2025," groans Canning. "At that point we'll have two or three albums…
"...But we'll have scrapped them," Knox finishes.
Get the Best Fit take on the week in music direct to your inbox every Friday