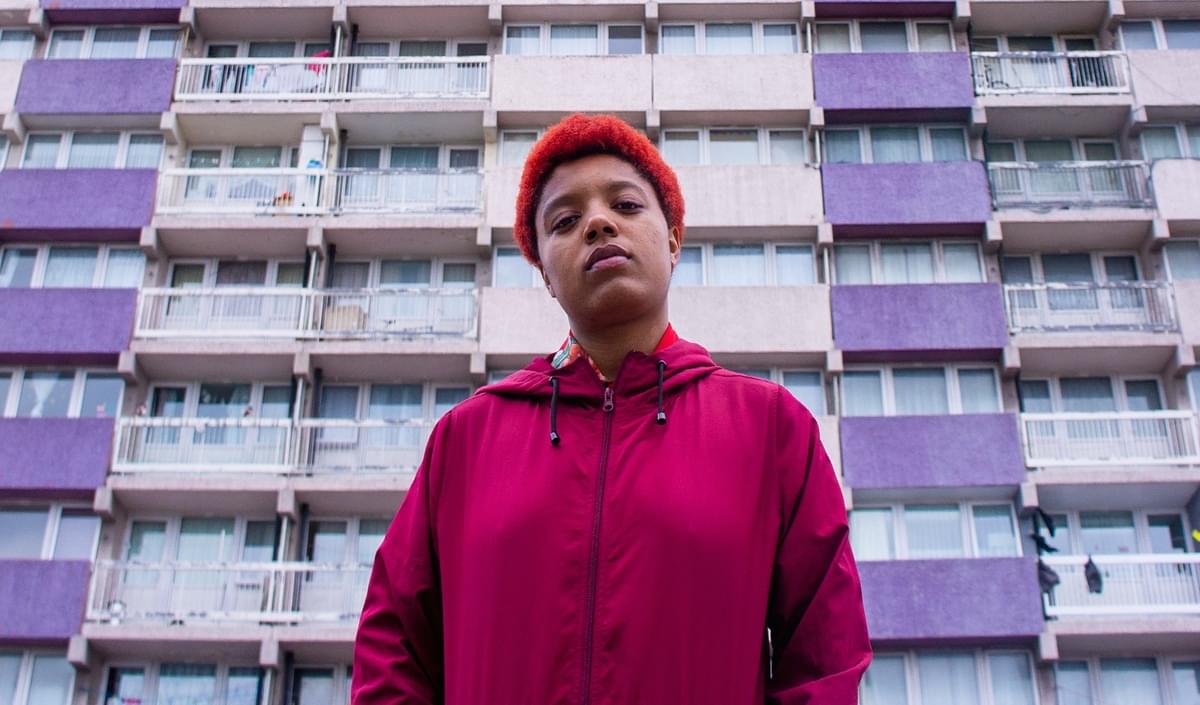 Outer city pressure
06 October 2020, 09:00
A year on from the release of her prescient album For You and I, Loraine James is pushing her indefinable sound forward to make electronic music a genre for everyone.
"I was actually a teaching assistant until a couple months ago," explains Loraine James. "Now I'm just going to see how this full-time music thing goes. Obviously it's a shit time for venues and stuff, but I'm just going to see what happens..."
It's a marvel that up until recently James was holding down another job. The 'music thing' she refers to is a touch more significant than she might let on: this year alone, she has self-released three EPs, done countless remixes for other artists, performed a dizzying live DJ session on FACT's YouTube channel and was seen by many as the underdog for a Mercury Prize nomination. To add to this growing list of accomplishments, the twenty-four year old has also just released the four-track EP Nothing on Hyperdub, the follow-up to her critically acclaimed album For You and I.
It's an absolute thunderbolt of a year for James, during an absolute bastard of one for the world, and she only seems to be gaining momentum. However, the old cliche stands: you wouldn't think it at all talking to her. Relaxed, witty and human, she lets the conversation stray wonderfully at points – from a diatribe that American Wasteland is the best Tony Hawks game, and caustically evaluating the current state of WWE ("rubbish now") to trying to justify why she supports Chelsea. "I know they're shit now, but plenty of teams are," she says, subtly hinting at the closest team to where she grew up, Tottenham Hotspur.
James' oft-reflective, oft-destructive glitch-ridden electronic songs confront and express the outer city pressure of being a young, queer, Black woman in contemporary London. And not Zone 1-3 London. Zone 5 London. Anonymous London. Unbranded London.
James weighs in on what it's like to grow up in the outer reaches, lamenting "every time I say I'm from Enfield [the northernmost London borough], not even Londoners know where that is". When describing the cultural heritage deposited in the north London borough, she's as flat.
"There is no music or clubs in Enfield, there isn't much nightlife or anything at all. It feels like its own little world. It's basically more near Essex than it actually is in London. So it takes a while to get anywhere from Enfield."
Thankfully, what James lacks in real-estate level diplomacy, she makes up with her music: soaking up that nothingness and crafting sounds from it. Her lauded second album For You and I is a record about love, loss and London, equal parts coherent and disorientating. A record that channels the paradox of the capital: ostensibly proud of its multiculturality and working-class spirit, but also systematically trying to squeeze it out.
During our call, James summons the ghosts of that London, reeling off a cemetery of clubs in the north of London that are now permanently closed, such as the queer cabaret venue Her Upstairs in Camden Town and The Good Ship, a comedy and music venue in Kilburn. Both were inclusive venues where James played her music that are no more. However, the place she most reminisces about is Alma Estate, a collection of four 23-storey council housing tower blocks where she grew up and often held jam sessions.
"I only lived on the second floor, but particularly during summertime I would have this clear view of the sky and by the window I had my MIDI-keyboard and I would just stand there for like an hour and just jam. I just looked out of that place for years and it really inspired me."
The collection of sounds James surrounded herself with within Alma Estate is striking in its diversity: from IDM, post-rock, Japanese electronic artists that she admits "I couldn't even try to pronounce", to her enjoyment of the polyrhythms of math-rock and the sound of her mother playing the Caribbean steel pan.
The estate, which adorns the For You and I album cover, now only exists as a memory. As the picture on the albums shows, it was one of the early victims of "progress" in Enfield, an area now subject to numerous concurrent investment schemes revamping the area, for better or for worse. "My musical journey started in those flats, figuring stuff out, figuring out what I wanted to do," says James. "Being in that area again and shit being torn down. I realised this is going to be gone. So I wanted to dedicate most of the album to it."
I ask James whether she knew how the regeneration of Alma Estate was progressing, baffled by how all the residents of the four tower blocks were going to be accommodated alongside the new residents that the regeneration is desperate to attract – its ten-year project estimated to cost £315m. Her response tells you everything you need to know about how this operation is being handled and what importance the previous residents have to this project.
"Man don't even ask about that. I have no idea how it is going to work. I mean, they are so behind. Hence why we [James and her mother] moved. They are five plus years behind on the whole thing. We moved partly because of how long they were taking. Most people of the area have moved out. It's quiet as hell."
It's a pertinent reminder that the sound of gentrification and upheaval is usually silence. James extracts that haunting quietude and mixes it with the edgy paranoia of being in an openly queer relationship in public to conjure striking songs such as "So Scared" and "Hand Drops". James reflects on the relationship that, alongside Alma Estate, inspired For You and I and how it exposed a London not everyone is aware exists.
"During the relationship, I got more anxious about showing any affection in public apart from in a club or queer space," she admits. "I guess London is busy, so I was just stressed about getting any kind of abuse. If we were in a quieter town or wherever, I was less anxious."
If outer and inner London weren't particularly hospitable for a black, queer woman, then electronic music feels, historically, even less of a safe space; a genre dominated by the spectre of the white middle-aged middle-class DJ.
James grew up mostly unaware that there were many other voices in electronic music, remembering "when I started listening to electronic music, I didn't really know any women or even many persons of colour making it. When you do a quick Google, the same guys come up, innit."
However, despite the lack of inclusivity in the genre, there's no reactionary anger in James' sound. She maintains that her first album Details was "influenced by a lot of 40-year old white guys making IDM."
Now, she wants to to make room for people like her and as such, has no qualms about being lumped in with IDM, asserting: "I don't mind describing my music as IDM sometimes because I am influenced by IDM and plus you can be Black and queer and make experimental music."
It's oddly perverse to have to strive for inclusivity in the genre was heavily inspired by early Black British electronic pioneers such as Goldie, A Guy Called Gerald and 4Hero – but that's the type of society and music industry we are wrestling with. Like those legendary names, James uses technology and sound to elucidate the experience of being Black in major UK cities, joined in her drive by other contemporary Black experimental artists such as Dean Blunt, SAULT, Nazar, Otik and Actress.
Within the current climate where Black Lives Matter is a common fixture of culture, I ask James whether she thinks her and the vanguard of experimental Black artists in electronic and experimental music will make it easier for emerging Black artists to gain attention and be treated seriously. James is cautious in her optimism.
"I hope so... I hope this shift isn't bullshit because of the Black Lives Matter protests. Also, I want to get rid of this idea that there's no Black people that make electronic music. There clearly is. There's Black Bandcamp [a circulated and growing spreadsheet that grew to its own website, filled with numerous Black artists and their music genres for those searching for them] where you find so many artists making it, if you are thinking no one does."
"But even the whole Mercury prize thing – a lot of publications were saying how it's the first time so many women are nominated but I was thinking ... it's just gone from white men to white women. Like, it's just gone from one side to the other. I was thinking, what's the difference really? And yeah, there was also no electronic music on there at all."
It's obvious to anyone that a 2020 Mercury Prize shortlist without a Black female artist is not reflective of the current music scene. When I asked James if she herself expected a nomination, she coyly answers "maybe a smidge", but is more outraged by other omitted artists:
"I wasn't shocked my name wasn't there, but I was definitely shocked FKA Twigs wasn't there. I think Lianne La Havas' album was released too late to be eligible [it wasn't] and the whole Rina Sawayama thing is a whole other thing."
James evades my question of whether there is anyone on the list she thinks isn't deserving, only giving a cheeky recognition that Laura Marling has already "been nominated like 462 times".
While we edge closer to chatting about the new EP, it becomes clear that the two pillars of For You and I, the estate she grew up in and her relationship, were both gone. Before moving on, I wanted to know how she felt about the record, asking whether it was a happy or sad one for her.
"It's not a sad record at all. When making it, I asked myself – if we broke up, would I hate the album? Also knowing she features on tracks like "Glitch Bitch" … and my answer has always been no. We're on good terms now, and that album is a happy memory for me."
With both of these fundamental energies in the past, I ask about the sound of the new release. Unsurprisingly for an EP titled Nothing (or "nuffink" in her north London accent), the tone is hardly uplifting. "It's not as airy fairy as some earlier stuff," she says. "It's definitely a lot darker. It's quite different to For You and I."
You wonder how you get darker than some of the moments on For You and I, but when listening to the EP, it becomes clear. James, clearly talented in telling her own story, has made a lateral step to search out and tell other peoples' stories – other lives that may be ignored in the pantheon of electronic music – and pulls no punches with the emotional weight of them.
James discusses the methodology of getting new voices on the tracks (recorded in January 2020, pre-lockdown). "Three out of four songs have other artists on them. I've always been meaning to collaborate with people for a while, but sometimes I'm just nervous to put myself out there. I think that's why I put a Twitter call-out to see who wanted to work with me. I really didn't know what shape the EP was going to become."
James worked on the beats by herself and sent them out to those who had reached out to her on Twitter. "I began making the songs in January and they weren't finished to the point where I was satisfied. But I put them on a Soundcloud private playlist thing and sent it to some people who were interested in collaborating."
It's a common theme when James talks about her own music – always downplaying it – but sometimes the unfinished-ness of a track comes through on the EP, uncertain of what it exactly is. This uncertainty can be intoxicating, notably on the most striking song on the EP "Marg".
James explains the story behind it. "Marg means 'death' in Farsi. The song is about the hopelessness of refugee experience, which is so poignant when you're seeing daily about news reporters just filming them like they're an entertainment act. It's their lives! It's disgusting... you're seeing people turn refugees away or just standing there and not doing shit."
James provides a beat that feels like a film score and a computer virus rolled into one, backgrounding the tense delivery of Tardast, an Iranian-born Liverpool-based Farsi language rapper who channels the pain of migrating – as well as the suicide of a friend that came after their asylum claim had been rejected. James is unwavering in the necessity of having the emotive verse rapped entirely in Tardast's mother tongue:
"I'm not gonna go up to someone and be like, just speak English mate. I'm not a twat. And even if you don't necessarily understand their language, you can still hear the emotion throughout a track and you can definitely hear that on "Marg"."
It's an incredibly affecting rap song and continues the consistent track record that James has in providing beats for gut-punching rap tracks, with "London Ting // Dark as Fuck" and "Messy" other stand-outs from her back catalogue.
Similar storytelling pervades the other tracks on the EP, such as the lead single "Don't You See It?", a slow, almost diaristic electronic track with Jonnine Standish (frontwoman of Australian experimental electronica group HTRK), detailing how she relinquished herself mentally from the grip of a destructive personal relationship. The lyrics are lucid, with the track fitting a more conventionally pop set-up in its structure. I mention the song as a potential sign of development for James, who agrees, sort of.
"I initially wasn't a fan of the instrumental at all to be honest. I thought it was really lacking and kind of bored me at first … Sometimes I am surer and happier with the music I make as my production is ever growing and changing. But yeah I do feel I'm growing as an artist and as a person."
The last song on the EP, "The Starting Point", is the only song without a collab, but has James performing with another friend – her piano. The first instrument she learned, at age six, it's one of the only links on the EP to her childhood and presumably Alma Estate. "I miss just playing the keyboard like I used to. I used to spend hours literally just improvising and writing down each note in a notebook because I didn't know what chords they were."
It's perhaps the strongest fusion of the two sounds of James there is – the first half chaotic, whirling with glitch and off-kilter beats and the second half deeply reflective, dreamy and universal. I ask James whether the more somber and accessible "The Starting Point" and "Don't You See It?" are reflective of what comes next after this EP. "I've made a lot of music since January when I started that EP," she let's slip. "And everything sounds different from the last. So we'll see if you guys like it or not."
There's no way James will be boxed into anything: it defeats the purpose of what she is trying to do. She is seeking to explore different sounds and open up possibilities for artists to come to relate to and breathe on. And that means being open to all moods and ideas. Not letting the hype water you down.
Despite being pleased with what she's working on right now, it's clear that an album might not necessarily be the next release. Not even James knows what comes next. "I love the idea that I put out EPs without much thought and I'm allowed to do that [via Bandcamp] and I love that freedom … I love just playing around with stuff and you know, throwing people off."
Nothing by Loraine James is out now on Hyperdub.
Get the Best Fit take on the week in music direct to your inbox every Friday