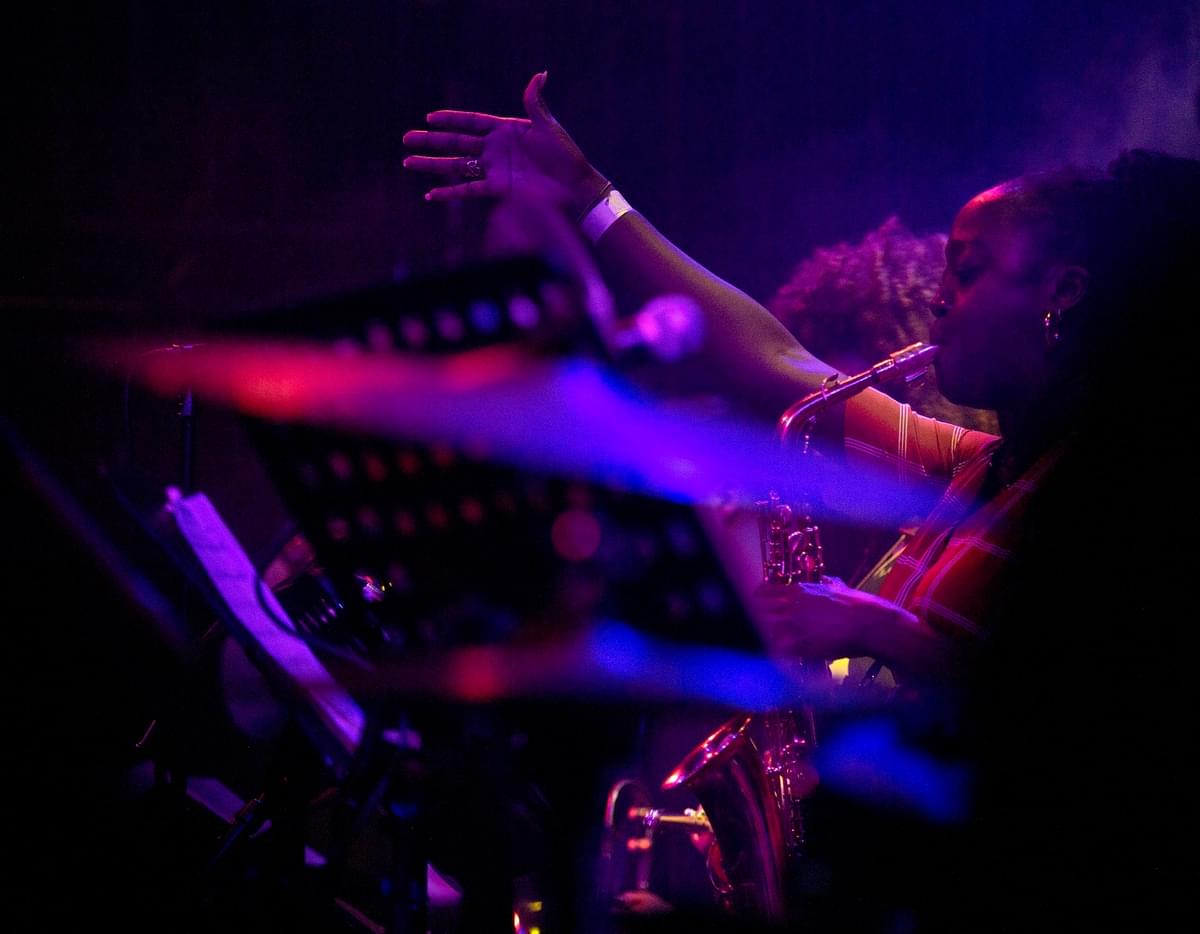 (Re)discovering London through its inaugural Jazz Festival
06 December 2019, 08:38
Despite some pile-ups in the line-up, the EFG London Jazz Festival impresses in its 27th year with a programme of internationally renowned artists, toddler workshops – and live drum and bass.
It may be way, way outside festival season, but there are still some stalwart event organisers battling the plummeting temperatures and rising damp to bring us fully-loaded plates of cultural exploits.
Enter, EFG London Jazz Festival, now 27 years old, to host a week of chin-stroking, toe-tapping and, as I found, occasional all-out raving.
Like many of its sibling city-wide festivals, LJF brings a foundation of old school legends, topped off with some bright-eyed newbies – this year, we had the likes of Herbie Hancock, Terri Lynne Carrington, Eliane Elias, Gary Bartz and Hermeto Pascoal dancing cheek-to-cheek with Oscar Jerome, Emma Jean Thackary, Wu Lu and Soweto Kinch. There were also a bunch of workshops and lectures to go get educated at (beatboxing with world champion Bellatrix, anyone?), plus the Arts Council-esque bit of 'eh?' programming – in this case, Matt Calvert of Three Trapped Tigers and electronic producer Jan Bang live-scoring Battleship Potemkin, which sounded mad and unmissable in equal measure.
It's hard to judge, at least as a punter, how many people make the trip to London to attend the full week. At Montreal Jazz Festival, for comparison, the sunshine draws scores of tourists to its balmy, sky-scraper spotted centre, and the programming reflects this – stages pop up on every corner and music starts at midday. LJF is a very different beast: 90% of gigs are hosted in standard venues in the evenings, bar weekends, perhaps in anticipation that most attendees are shackled to their day jobs, and few tourists are itching to descend on The Big Smoke when it's 5° and full of common cold. This programming did cause us some problems, though – namely that the line-up is so good and so massive, there were some abysmal clashes. With most shows starting at eight, there was no way to see two of an evening: something other similar festivals have managed to iron out.
Despite this, we did catch a bunch of fabulous stuff. The festival was a wonderful prompt – for this hardened city-dweller at least – to appreciate London's well-deserved status as a cultural beacon. It was also a reminder that I know very, very little about jazz – an ignorance that, whilst likely impeding my review, certainly didn't impede my enjoyment of the fest.
Hermeto Pascoal
Hermeto Pascoal did two nights at Ronnie Scott's for the festival, and they sold out extremely quickly. Part of the draw must have been his remarkable stature in the global scene – Miles Davis once referred to him as "the most impressive musician in the world". But I can't help think that some of us attended just to see what mayhem Pascoal might make when faced with the rather composed, velvet-couched vibe of Ronnie's Scott's. After all, this is a man who once played a live pig: anything could happen.
We were not disappointed. Taking to the stage on Monday night, wearing a leather panama and a garish Hawaiian shirt daubed with incongruous Chinese symbols, Hermeto was a yelping delight, leading his ensemble through 1.5 hours of beautiful cacophony. There were many, many highlights: the moment when he responded to his saxophonist's solo with a 'brappp' finger snap; the pin-drop silence that fell under his signature flute solo; a deeply affecting piano solo from André Marques that was shocking in its simplicity. Pascoal's son, Fábio, also put on a percussion grandstand which took notes from his father's eccentricism. Alternating between seven (seven!) cowbells and samba drums, and dusty rhythms on pans and tambourines, he ended on a pair of squeezey dog toys and a duck whistle. A man on my right spent half of the gig cry-laughing into his pint.
To close his set, Hermeto's manager emerged from the side of the stage to introduced a song the artist had, earlier that day, scribbled out on a napkin. He eulogised that the value in Hermeto's music is its refusal to be anchored to any standard formula, and then, translating Hermeto himself, spoke on the importance of reaching school children and budding musicians with this message. Despite the artists' integrity, it was hard not to feel a little sheepish faced with this monologue – sitting in this age-old, prohibitively expensive venue, listening to what amounted to a lecture on accessibility. But for those who were able to attend, it was a rare and remarkable occasion.
Oscar Jerome
At the most radio-friendly end of the festival line up sat Oscar Jerome, guitarist, singer-songwriter, and nailer of the jazz-pop crossover. His gig at Heaven was disadvantaged by an almost wilfully inanimate Tuesday crowd, and being billed at the same time as Makaya MacCraven and Ashley Henry – two buzz-worthy artists whose fans no doubt faced a frustrating dilemna that evening.
But the show was a belter: tracks that on record might be read as remarkably well-crafted bedroom jams were amped up by Heaven's big-time production values and hollering guitar solos. In a festival overflowing with prodigious drummers, Ayo Salawu made a real impression: from sweet, shuffling snares to skin-smashing West Africa rhythms, he was the beating heart of Jerome's set.
It was also thrilling to hear reasonably-mild mannered Jerome get a little political – he opened frenetic new track "Feed the Pigs" with an bustlering monologue about the UK's current global status ("We've been going around the rest of Europe a lot and basically no one has any idea what we're doing. They're all saying, 'You guys are a bunch of fucking idiots'.") Jerome's less assuming material can sometimes come across almost polite: this LJF set demonstrated that, underneath all those printed shirts and the well-etched facial hair, we have a rock star in the making.
Christian Scott aTunde Adjuah
"We have a profound opportunity to do something. Someone looks at me, sees a 6-foot Black man and thinks I'm an emcee? Like I have one story, when I have a thousand stories. Each person in this room has a thousand stories. And I was taught to that understand is to forgive all."
This is a quote from the monologue which preempted the finale of trumpeter and composer Christan Scott aTunde Adjuah's set, performed to a sardine-tin audience at Hackney's EartH. I was told shortly after the gig by a long-time fan that it wasn't improvised; on the contrary, aTunde Adjuah has taken to ending all of his sets with a version of this speech.
But the sentiment stuck with me. There was something searmon-like about his performance, with aTunde Adjuah a beguiling storyteller, meshing sounds and histories from his life and the lives around him. His set was earthed in notions of Black musical legacy, but also touched on long distance relationships, love and togetherness. That ambidextrous nature showed itself in each composition: the way the classic breaks danced with the furious jembe; the sparks of electronic post-production that coloured an otherwise traditional kit; the ending of his set, a thunderous crescendo where anything practiced fell away like an avalanche.
Once a poster boy for jazz's youth revival, aTunde Adjuah is now twelve albums deep and, technically at least, becoming part of the furniture. But his performance had the gratitude and zeal of a freshly-born star, and we should be lucky to count him within our galaxy.
Ruby Rushton
My jazz-inclined friend tipped me off about Ruby Rushton. In my ignorance, I'd expected one softly-voiced soprano doing the standards, but got a five-piece of dudes in suits doing 70s cop show-core. At Corsica Studios. It was a strange, albeit increasingly more common, scene: hipsters furiously nodding along to jazz flute in one of South London's grimiest, graffiti-daubded sweatboxes.
If this sounds completely off-putting, yeah – me too. But a few songs into Rushton's set of supple funk and I was ready to grow my own Selleck moustache and join the floor. From sexed-up classics (Rushton dropped not one but two Herbie Hancock tracks) to genuinely enjoyable 'Debenhams tie department' grooves, the band's synchronicity and evident love for the sounds they homage pushed the levels through the roof.
A subtle bit of post production in the way of delays and reverb really finessed their sound, too, phase and church-like reverb injecting some psych into an otherwise straight-laced set. I even saw a guy in the front row lassoing his beanie during the band's rendition of their tune "Elephant and Castle", played proudly for the first time in its nominal home. Oh, and they were responsible for the second most impassioned cowbell performance of the week. Not quite Hermeto, but pretty damned close.
Free Movements
I put my hand up for Free Movements based entirely on the roster of musicians playing: Dan Nicholls, keyboardist with Squarepusher and Matthew Herbert, Three Trapped Tigers' notorious sticksman Adam Betts, and stellar drummer, bassist and producer Dave De Rose. What I didn't do was check out the flyer until I was about to leave the house, which featured the title "DnB Trips" spelt out in wobbly Word Art, and had overtones of seminal Peep Show heroes Executioner's Bong. I was, justifiably, a little apprehensive.
Of course, with so much talent taking to SET's tiny stage, it was unlikely to fail – and after one dense week of jazz noodling, it turns out what you really need is two hulking drummers smashing out improvised breaks.
SET remains one of my favourite venues in London due to its battered sofas, affordable pints and very good sound system, and Dan's collective managed to manifest the spirit of the rave in its modest main room: Betts and De Rose's dexterous rhythms complimenting looming pads and the warp and weft of sequencers. The two drummers were particularly impressive in their sensitivity – both with so much technique and personality, you could see them pick up on each other's minute shifts in tone and pace, never once in competition. After a reasonably sedate few days, a walloping finale spent swallowed by sub-bass. Luckily it's a series too, so there'll be more in the future.
Everything else
Of course, paid shows make up only some of the programme, and LFG put on some wicked free events. Daylight Music, Union chapel's exceptional series of daytime gigs, hosted two events on consecutive Saturdays with a collection of contemporary soloists – including Amanda Palmer collaborator Jherek Bischoff – making the most of its resonant arches. In Soho, there were late-nate jams helmed by the prodigious occupants of jazz school Tomorrow's Warriors, and the festival ran a two-day weekender to close the celebration, with the always-brilliant Steam Down Orchestra. There were also discussions on inclusion and mental health in jazz, and even jazz for toddlers, which sounded theoretically adorable but perhaps nightmarish in practice.
And because the calibre of musicianship is so high, so are the production standards. Venues seemed chosen for their sonic clout rather than simply their capacity and location, and expert engineering at each ensured that artists were honoured. The only slight exception to this was the clattering foyer of Queen Elizabeth Hall, whose vast, un-cushioned interior really scuppered the sound for some of the young artists it showcased (a tough-to-endure performance by the usually-excellent Wu Lu was especially notable).
Good to know
Most city jazz fests have some kind of fringe, and whilst the LJF doesn't have an official off-the-menu programme, natty promoters book competing shows during the week. My friend and I were bummed to have missed Makaya MacCraven because of his clash with Oscar Jerome – then got a tip-off that he was playing in a massive church as part of Junius Paul's album launch later that week (it was as grand as it sounds). Elsewhere, Gilles Peterson took over Brixton's Phonox for a Sunday Session on the 24th: almost half a day's worth of jazz, soul, funk and house from one of the capital's finest selectors.
Basically, keep a TimeOut tab open at all times – and an eye on the Instagrams of London's resident jazz labels like Total Refreshment Centre – to ensure something special doesn't pass you by.
The verdict
The chocker programme for this year's LJF stood up proudly against those of its global competitors, and the sheer volume of gigs meant the jazz-curious and the jazz-enlightened were equally well catered for. Add to that the fact that, on a drab, Autumn evening in Dalston, you can grab Vietnamese, vegan donuts and an expertly-crafted Old Fashioned all within walking distance of five festival venues, and there are few better cities to host such a showcase. When your only real problem is that you've delivered too many great shows, you know you're doing something right. Bravo LJF, and roll on 2020.
EFG London Jazz Festival took place from Friday 15 to Sunday 24 November 2019.
Get the Best Fit take on the week in music direct to your inbox every Friday