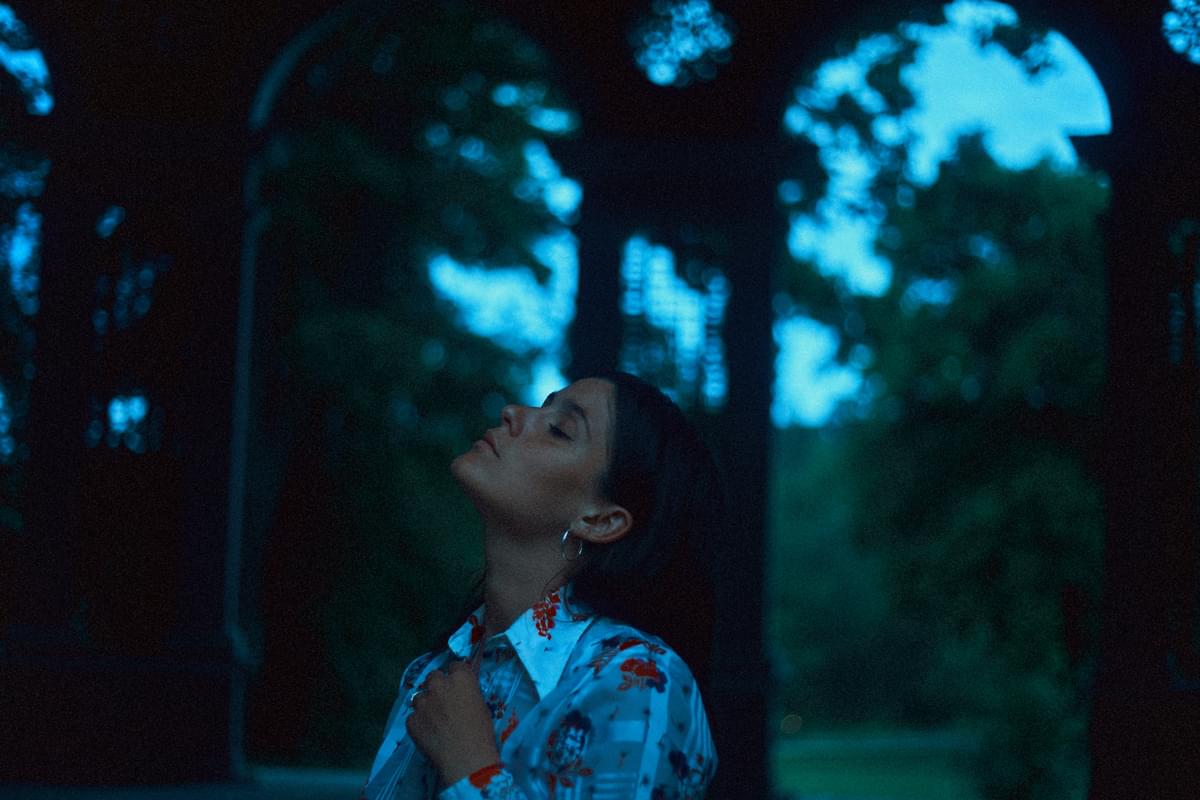 LÉON finds the freedom in being Apart
07 August 2020, 14:00
Putting the finishing touches to her second album this tumultuous summer, LÉON is ready to share the story of how long term relationship eventually crumbled.
Across the eleven tracks which make up Apart, Lotta Lindgren takes on many roles. From mourning loss through to regret and finding solace in the arms of a stranger, this new body of work ultimately finds LÉON deciding that leaving is the only solution.
Making an instant impression with the grandeur of her debut single "Tired Of Talking" in 2015, the Stockholm-based singer/songwriter taps into a world of nostalgia and sepia-tinged love stories with ease. Marking a return the sonic world of that first EP, the new record features live strings on three of its tracks, recorded by the same musicians responsible for creating the original orchestral pop on Treasure.
Following two additional acclaimed EPs in 2017, Lindgren's sights were finally set on releasing a full-length body of work. Her self-titled debut finally arrived last summer with the fever pitch highs of "You And I" and the raw, impassioned cry of "Come Home To Me". Dealing in painful honesty has always been Lindgren's sweet spot when it comes to songwriting and the new album is set to traverse this story once again but through the fresh lens of her most recent heartbreak.
"I wanted to put out the album while I'm still feeling all the songs," LÉON explains. "I want to let them go, instead of holding on for too long." Releasing the record, through her own imprint at BMG, she has the freedom to do whatever she wants. "That feeling of not having pressure and having time to write has been so helpful to me as an artist," she adds.
We caught up with Lindgren to chat more about the album's conception. She joined us from her parents' summer house outside of Stockholm where she's retreated for a little respite from the rising temperatures in the city.
BEST FIT: It's been a weird one so far, but how's your summer going?
LÉON: Yeah it's still weird, but I've been wrapping up my album here in Stockholm. This is actually the last week of finalising mixes and masters, so hopefully, I'll have a bit of a break after that. I've been so focused on writing because I don't really have anything else to do because of the whole Corona thing. In this weirdness that's been kind of nice, in away.
What's that process like?
I've been kind of lucky because I've been making this album just with one person so it's been corona-friendly. In the beginning of the pandemic, it was weird because you don't get to see people, this is the first week I've seen my parents in a very long time. I feel like Swedes have been getting a lot of sh*t across the world because people are still going out and hanging out, but I don't know it's been strange.
The first album seemed to take so long to come out, but for this one, you've written and recorded it and now you're releasing it. What's the difference?
I wrote from scratch for that album so we actually made it in a very short amount of time, so it's weird like now when you have so much time on your hands I feel like we've been working on this album for so long, but it hasn't been that long. It's been very nice to just sit in my kitchen just writing. My producer's studio is 15 minutes away walking distance, or like just a bike ride. Then at night, it's nice to go to the studio and just make it happen. It's been a different process, there's been less thinking I guess. I've been going with my gut more and it's been very easy. I feel like I had more to say with this album and these songs. I wish I could release more songs before the album, the latest song you write you always love the most.
When did you know you were going to call the record Apart?
I think maybe halfway into making the album. I might be wrong. But me and my producer, Martin Stilling, had been talking a lot about what to call it but nothing seemed right. I didn't want it to seem forced, either. And then I remember that Martin was staying at this parents house for a couple of days and his mom asked him what the album would be called, and he said that there wasn't a title yet. So she asked if she could read the title of every song and then said: "how about Apart?". Martin called me that night and I was like there it is! That's the name. So shout out to Mamma Stilling!
Apart seems super fitting, not only due to the break-up but especially now that so many people have experienced that notion of being apart from someone they love because of the global pandemic.
I guess you're right! The fact that you can't touch or see people in the same way anymore is really strange. It's really scary that we don't know how this year, or even the next year, will turn out. But in a weird way, people seem more connected than ever? As if we have been opening up our eyes more to things happening around us and in the world. At least I want to believe so. I also think I'm more close to people in my life now too, in some ways. And I realise how much I've been taking for granted, even the smallest of things.
Where does "Chasing A Feeling" fit in with the narrative of the album?
"Chasing A Feeling" was one of the first songs that I wrote for this album. To me, that's kind of where the "story" begins, alongside another song called "Falling Apart". I was questioning myself and my relationship a lot during that time, and all the other songs are kind of the result of what happened after. I remember so well how I felt when we wrote it, and how I reacted when I got the first draft sent to me when I was in LA a few weeks later. I was laying in my bed and I just started to cry. Haha, I sound so depressing! But it was just a lot of emotions all over the place.
I love "And It Breaks My Heart" too, when did you write it?
We stopped by one of the studios we work in and there was a class there, from our old school, and we ended up talking about songwriting and producing with this music class. We ended up in this mood and when we got back to the studio we just started writing. We were done in about thirty minutes of getting back to our studio, we felt inspired. It was one of those moments where instead of sitting and trying to come up with something, it just happens. I didn't want to overthink it.
The live strings sound amazing too. What is it about using live instrumentation that excites you?
Part of me just wanted to go back to writing with one person and having more grit to it. The first year of me writing for this whole project (LÉON – the artist project) and my EP, we had strings and I missed being in a studio full of musicians. It sounds cliche but there's something magic about that and hearing your songs that way when you have 20 people playing strings in the same room. It was the same people who recorded strings for my older songs. It just makes the music come to life in a different way and I just miss it. I wish I could have more strings on the album, but we got to put strings on three songs I think. It's a different mood knowing that there was a big string section recording. It's special.
Aside from the album, what else are you hoping to get out of 2020?
You usually put out a record and then you go on tour. Now I'm like what the hell am I going to do now. We had this entire tour planned for fall and winter and the spring of 2021 and now all of that's not happening. Maybe I'll start live streaming, I feel like this is the year to be more creative than ever in how you present your music. I want to create more visuals too. I'm very excited for the album to come out, I feel like why wait? I'd rather put it out and share it with people, especially when I'm still in the feelings of what I'm singing about on the album. But hopefully, I'll stay creative and I'll just start on my third album. There's going to be a lot of writing time.
"Chasing A Feeling" is out now. Apart is out 30 October via LÉON Recordings.
Get the Best Fit take on the week in music direct to your inbox every Friday