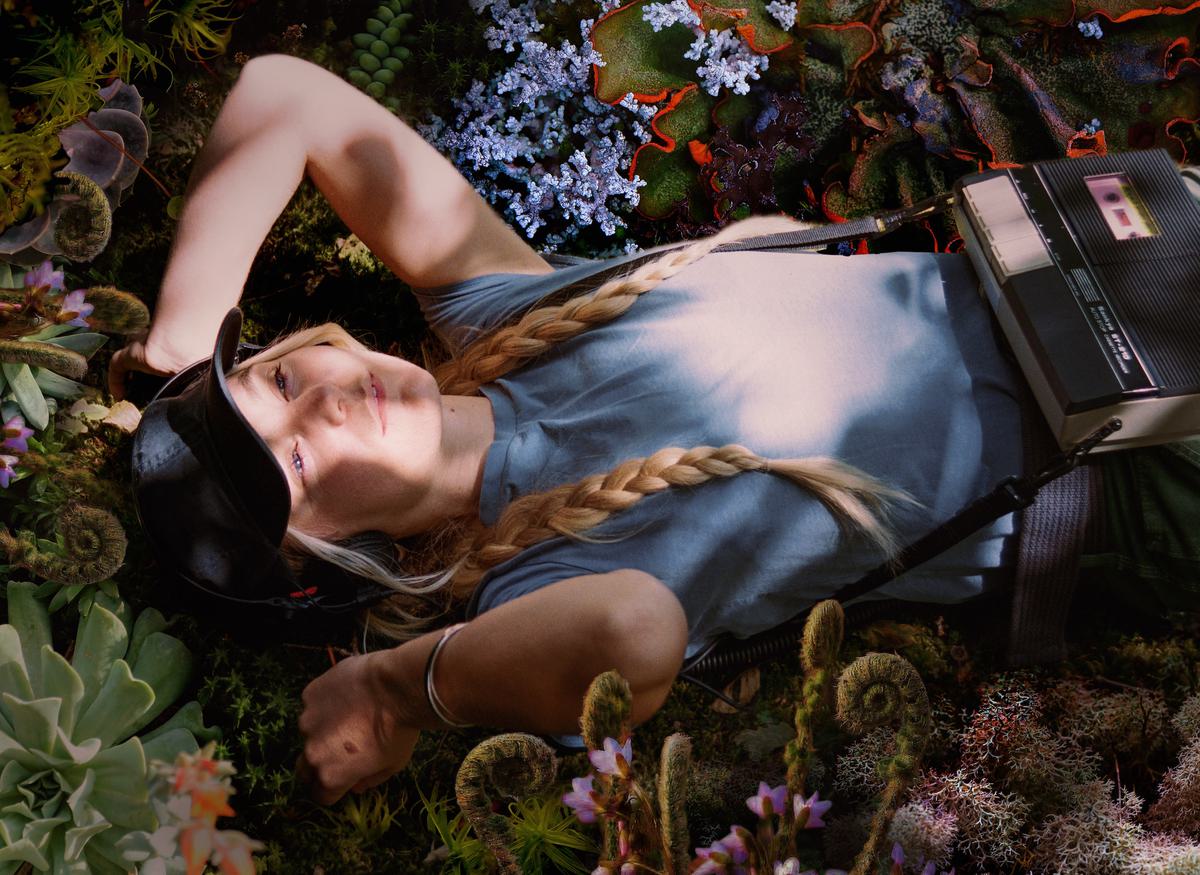 Laura Misch is speaking with trees
31 July 2023, 08:30
With her new single "Hide to Seek", Laura Misch offers a summoning to the embodied sensory world of her long-awaited debut album, Sample the Sky. She talks to Alan Pedder about creating her most intentional work yet.
"I think being in the forest kind of embodies this sense of desire," says Laura Misch, coyly. "It can be quite secluded, as if untouched, almost erotic in a way."
The saxophonist, producer and composer is talking about the inspiration behind her new single "Hide to Seek", the second to be taken from her upcoming debut album Sample the Sky, due out in October. Set in the woodlands of outer London, among what remains of the ancient oaks of the once mighty Great North Wood, it's a song that works on many levels – some obvious, others less so.

There's certainly a romance to it, with lyrics that speak of "a summer of surrender" and waking from "the wildest dream," but Misch isn't about to rubber stamp any one interpretation. "I think it's maybe like a summoning," she offers. "I was thinking a lot about the horn being this kind of summoning instrument throughout art history. It's definitely romantic, but there are a lot of other subconscious threads in there. It's all quite mycelial and messy, basically."

Although Misch and I have lived on the same street in southeast London, on and off, for the past 10 years, this is the first time we've actually spoken. She's between homes for the time being and takes our call outdoors, in Crystal Palace Park, sitting on the grassy hill overlooking the Victorian dinosaur sculptures. "I thought it would be quieter here than where I am staying," she says, brushing her long blonde hair out of her eyes. It's a warm afternoon in early summer. Children are still in school, and the only sound in the background is the gentle rustle of leaves.
Since the pandemic, Misch says that she's been actively trying to be less tied to her laptop and be more out in the world. Wanting to move away from the homespun production style of her earlier work, she began to broaden her sphere of influence, seeking out other musicians, sound artists and theorists who had developed their own ways of interacting with the environments around them. "I began thinking more and more about sound in itself and not just what we enclose it in to create musical sound," she explains, "and I've been going deeply down that line of inquiry over the past two years, feeling very much like a student."

Along the way, Misch became invested in the experimental work of pioneers like Annea Lockwood and the late Pauline Oliveros, who did so much to establish the concept of 'deep listening' from the 1970s onwards. Reimagining the relationship between performer and audience to include the origin of every incidental sound it's possible to experience, including our own thoughts, Oliveros believed that deep listening could "take us below the surface of our consciousness" and "[expand] the boundaries of perception."
Inspired, Misch says that she started thinking "in quite a philosophical way" about how to walk back the "big separation" between our screen-reliant lives and the world outside, constantly speaking to those who are willing to tune in. "I could go off on a huge tangent about people's practices that I admire," she says, grinning. "But if I'm talking about it in terms of the record, it's more about how those approaches are woven into the production aspect, if that makes any sense. Like, if I pick apart the layering and the colours of the album, there's such intention behind every sound that relates back to people's ideas."

Growing up in East Dulwich, embedded in what she describes as a creative, very multicultural community, Misch was exposed to all kinds of music. At her primary school, just across the street, each year they'd have a carnival to celebrate the diversity of cultures and ideas of the wider community. "It's interesting because people do tend to fixate on families, but I think it was definitely more about community," she says. "And I think when you're so porous to influence, everything can become so intermeshed and you stop thinking so much in terms of categories and more in terms of practice and how that influences what you're drawn towards."
Like her younger brother Tom, Misch first learnt to play the violin, both following in the footsteps of her dad. Rather than traditional instruction, her teacher used the Suzuki method, which encourages students to "see beyond notation and to hear sound in lots of different ways." There was a sense of freedom about it, Misch says, but there was still a discipline and rigidity to playing violin that, as she got older, wore a bit thin. At 11, she quit, taking up the saxophone instead. "That was because of Lisa Simpson," she says, laughing. "She was the only reference that I had as a female saxophonist."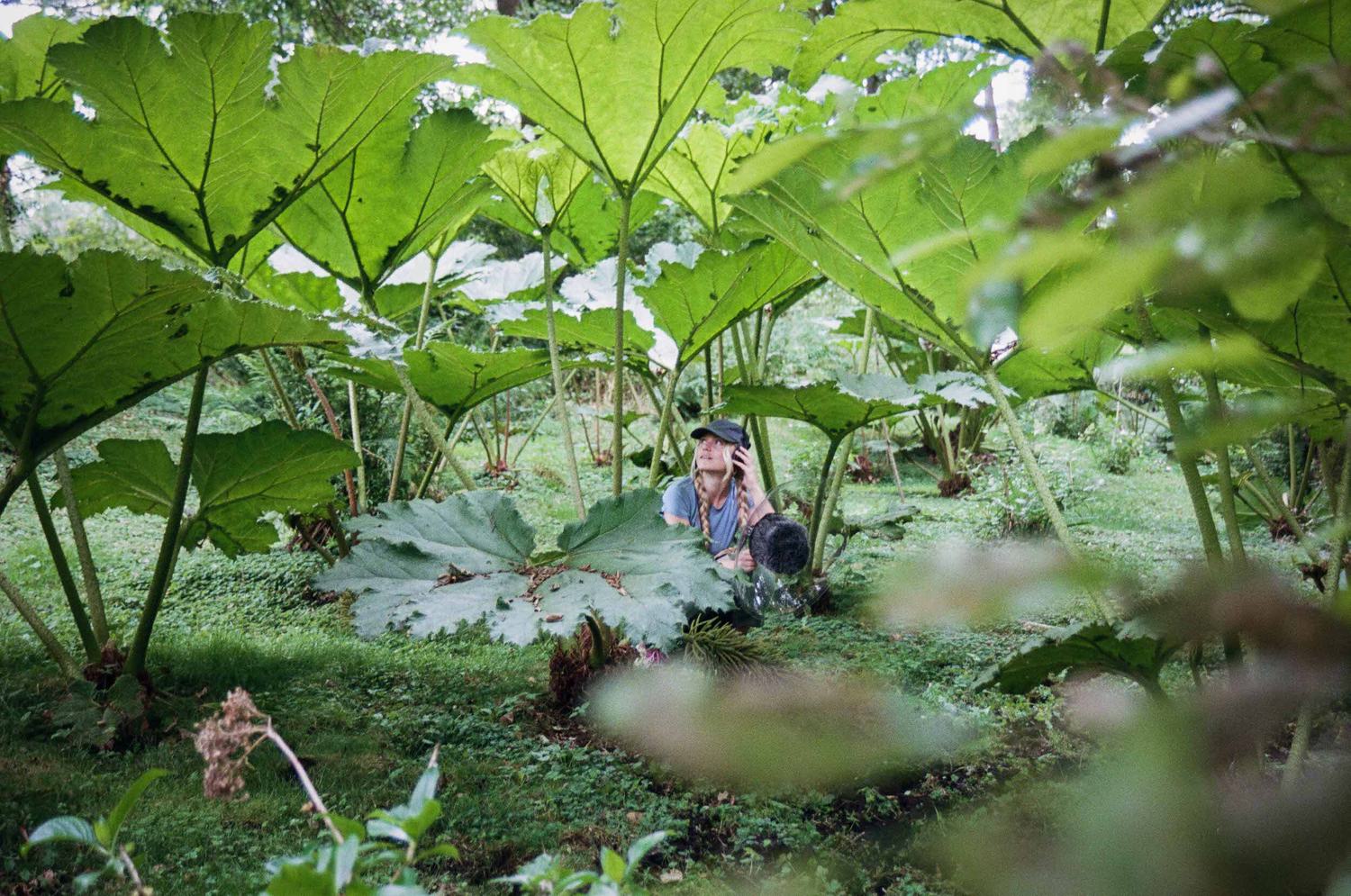 Another inspiration was her neighbour and teacher, who was a saxophonist in a group called the Kick Horns who would often do session work for pop acts like the Spice Girls and Beyoncé. As a teenager, Misch would listen to those songs at home or hear them played in shops and follow the progression of the horn section. "It was like the music was embedded in the city and not necessarily in books or in more traditionally structured, formal learning settings," she says. "For me, playing the saxophone just symbolised freedom. It's very much to do with breath and there can be a massive release that comes with that. It's a very, very meditative instrument in that way."
Despite her intuitive feel for music, Misch didn't set out to become a professional musician. At university in Newcastle, she did a degree in media, communication and culture, and later went on to study biomedical science, spending a year at Lund University in Sweden. Moving back to southeast London, she was "on a lot of zero-hour contracts, basically," working on the ticket desk at the Horniman Museum aquarium and as a weekend assistant at Peckham Platform, a vital creative and educational community organisation. "It was the type of place where you didn't know what would happen from day to day," she says, grinning. "A lot of people flowed through there. Some days people would just come in and kick off and others it would be quite calm."
Working in the Platform's exhibition space, Misch eventually took over the running of the learning programme and spent her days organising activities to do with the art on display. She credits that with getting her back in touch with the childlike spirit that she carried through to her debut EP, Playground, which she was working on concurrently at home. "Being there would really inspire me to go home and make sounds," she says. "Actually, the artwork for that record is a little painting I made based on an idea I'd had while in the gallery."
"I felt like I really needed to get back to some form of essence."
(L.M.)
Misch describes herself as "inherently not an extrovert," so having a safe space at home to incubate ideas and develop her own voice was immensely valuable, but it was never going to be enough to sustain her. After working intensively alone to create, produce and mix her second EP, 2019's Lonely City (inspired by the Olivia Laing book of the same name), Misch had had enough. "That record was, to me, much more industrial sounding and had a lot of automation, almost like a game design thing," she says, describing how she almost felt like she was living right inside her laptop during the process. "After that, I felt like I really needed to get back to some form of essence."
To find that essence, Misch instinctively went back to the core of what she loved about the saxophone. One inspiration was Norwegian saxophonist Bendik, whose work typically has no electronic looping component and a lot of space. Another was Italian composer Catarina Barbieri, whose typically minimalist compositions are often on modular synths that combine both analogue and digital components. "There's this more button orientated experimental scene that I got really, really into," she says. "For me, the minimalism comes from a devotion to thinking about the boundaries of an instrument. Figuring out just what you can do with this one instrument, this one pattern, this one arpeggio. I became really obsessed with the idea of going into the nuances of how something that gets looped around and around can evolve over time. It can become quite psychedelic, in a way."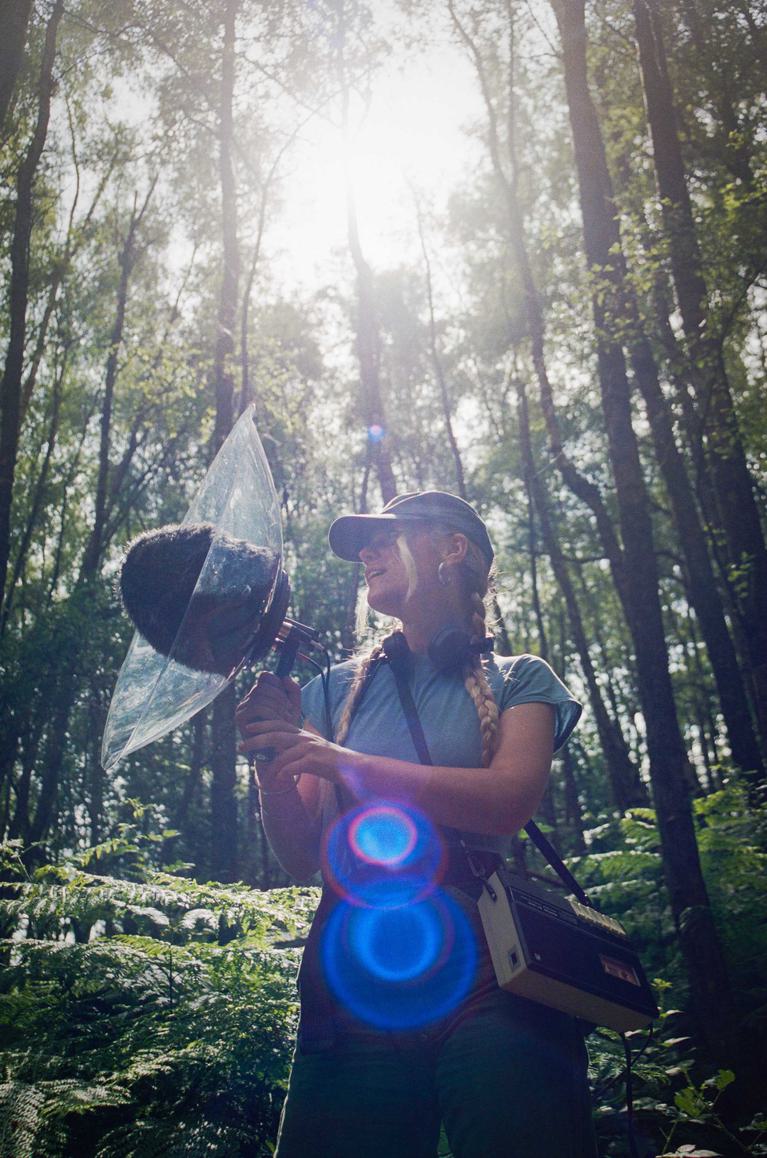 Misch became so invested in these ideas that she started out making what she describes as "cloud baths" – music without lyrics or conventional song structure, "essentially just saxophone through reverb pedal." She laughs, recalling how her early enthusiasm for this minimal, ambient, body-focused music more or less "went out the window" once she began to open up her creative process to include other people: "It was like, 'What am I bringing to this? What are you bringing to this? And where do we meet in the middle?"
A major catalyst was the visual artist Matthew Rosier, who had discovered Misch's music through her pandemic project with filmmaker Greg Barnes. The two of them had been creating a series of videos they called 'sonic explorations', in which they would travel out to various places in southeast England – a hilltop at sunset, a rippling river, an offshore wind turbine reached by boat – and improvise sax pieces responding to each environment.

At the time, Rosier was working on City of Trees, an immersive outdoor installation exploring Epping Forest and its symbiotic relationship to the city of London, and sought out Misch for the soundtrack. Commissioned together with the extraordinary drone choir NYX, whose ranks she has now joined, she headed out into the forest with her saxophone and wearable rig, creating an improvised original score from interacting with the ancient oaks and pollarded hornbeams and beech trees. A third collaborator was sound artist James Bulley, who joined them in the forest, capturing field recordings in vast, spatialised detail – a technique developed through his long-running Living Symphonies project with creative partner Daniel Jones.

"Meeting James was very influential to me, he's amazing," says Misch, describing how Bulley's use of geophones to record the interior of an oak tree ended up bringing her cloud music back to earth. Listen carefully to the opening seconds of "Hide to Seek" and you'll hear some of those recordings – an intensely intimate, goosebump-raising snippet of forest ASMR. "The song is kind of about how we are always hiding parts of ourselves that we think are undesirable, but secretly wanting someone to seek them out and love them anyway," says Misch. "So I always knew that I wanted it to start with those sounds, to begin the album from deep within the earth."
Conceived as Misch's take on what a saxophone dance track might sound like, "Hide to Seek" picks up the pace with a fantastically percussive hook created by putting her saxophone through a modular synth. It's one of several melodic hooks woven into the album that originated from Misch's outdoor explorations – the drone-led "Sax Rise" is another – while the expansively reverbed saxophone that rings out at the end of the track is "a piece of ambient cloud bath snuck into the record."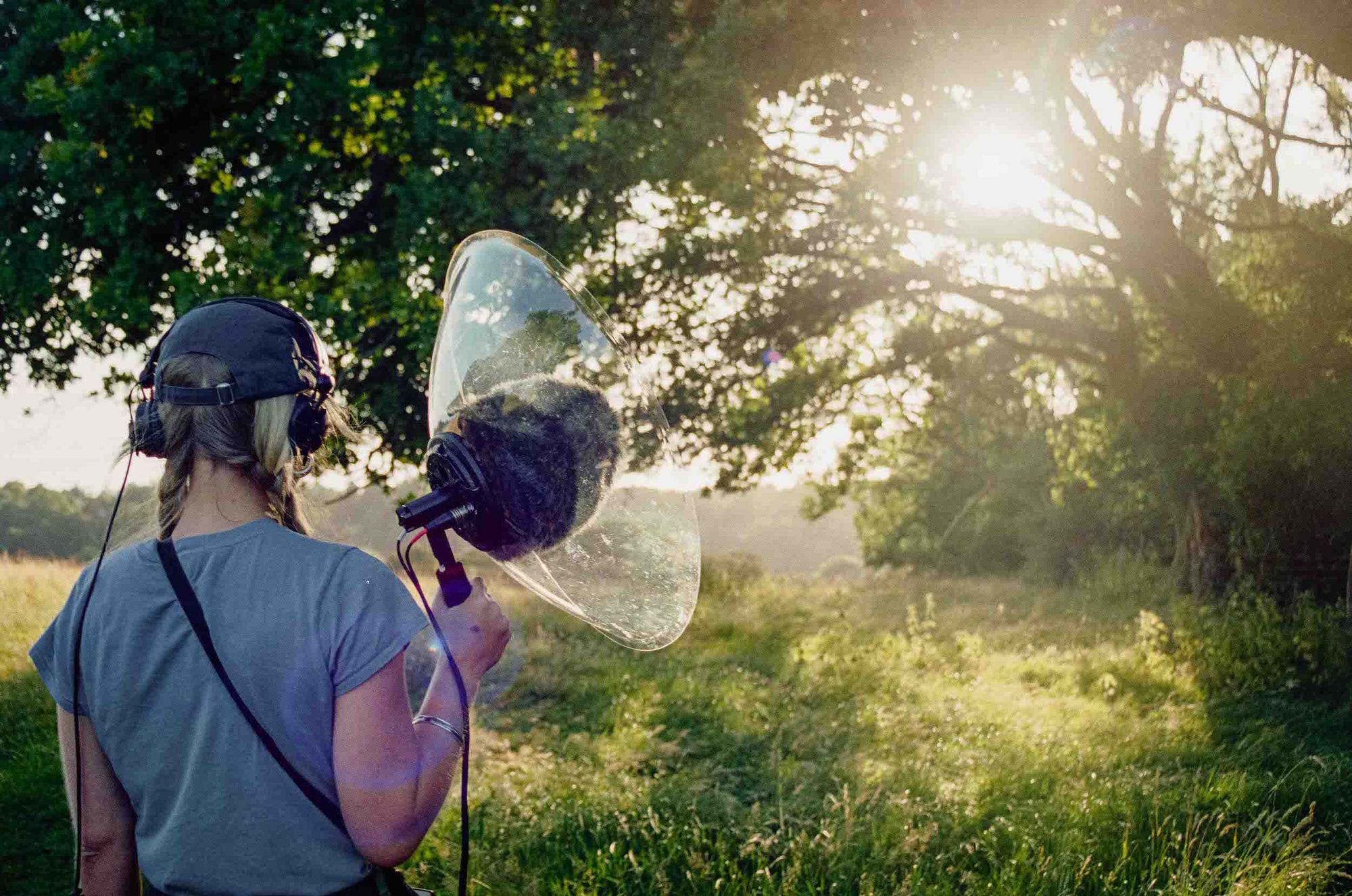 It all comes back to the idea of intention. Working with co-producer William Arcane, who emerged in 2013 with his own take on cloudy electronic grooves, Misch says that with every sound she made there was a process of pulling back the focus to ask 'What is this inspired by?' and 'How can I see this in a pattern out in the natural world?'. Where there's white noise in the music, for example, she relates it to the wind. Not just an idea of wind, but to the "real bodily experience of being in the wind, of hearing it and feeling it moving all over you." She likens it to a kind of meditation, pointing out that you don't have to go all that far to find it. "It's not something that's really heady," she says. "It's very embodied."
For music that has been so thoroughly envisioned, it's almost miraculous how immediate and unfussed over the songs sound on record. In centering energy rather than technique, Sample the Sky plays to Misch's strengths as an experimental composer, giving the album a flourishing, transportative feel that embraces everything from the smallest hidden ecosystem to the elemental healing of the sun. Where she might once have been led by a desire to prove herself, working with Arcane, who also comes from a self-taught electronic production background, Misch hit upon a "very organic" way of collaborating. "Making music got really exciting again," she says happily. "It was just such a pleasure, after solo producing for so long. I kind of got over that idea of having to prove anything to anyone. I mean, life is so fucking short. Just enjoy it."
From using gathered twigs as percussion on "Wild Swim", which sounds like a distant cousin of Björk's "The Anchor Song", to trying to emulate the sound of rain dropping into a metal pan on "Widening Circles", Misch describes their approach to recording as "sort of leaving our hats at the door and just dancing with it." It's a formula that works just as well for the deep listener, too. Come for the pagan rave and leftfield jazz, stay for the cloud baths and speaking with trees. "How can I care for you?" she sings over a dreamy harp glissando. "Show me all the ways you need to be soothed."