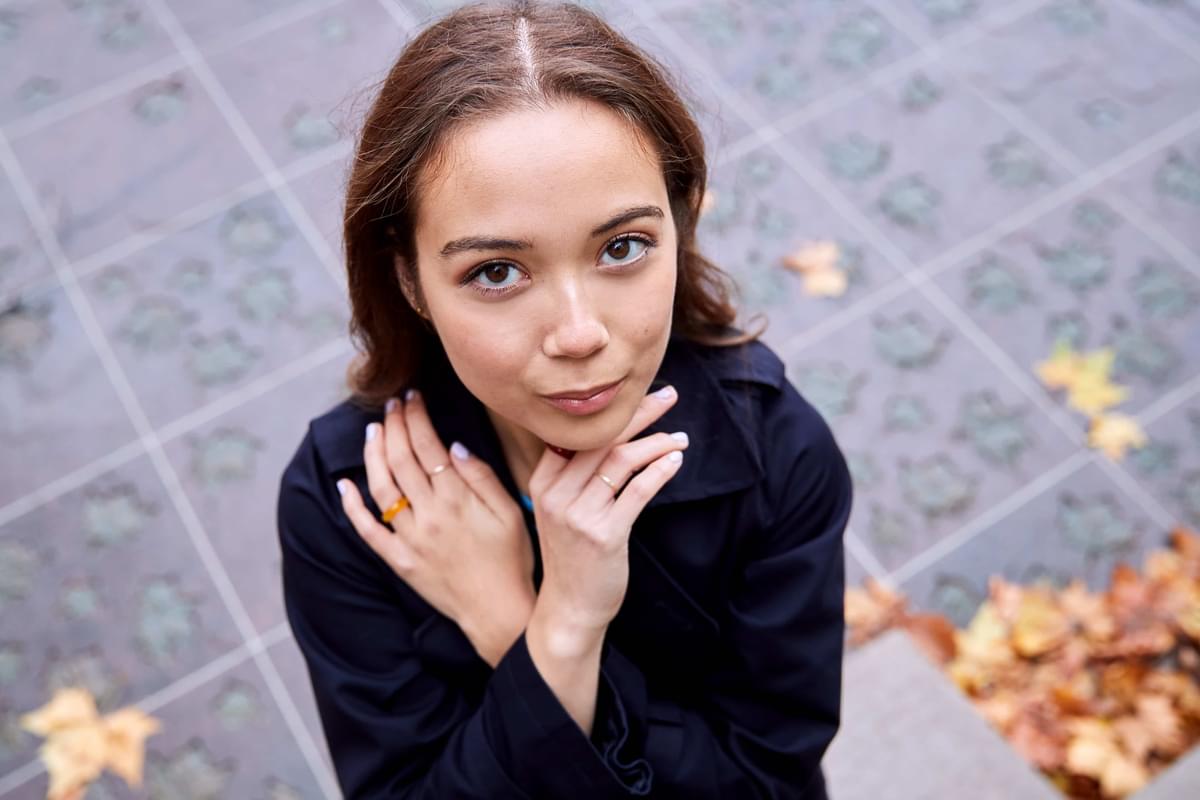 On the Rise

Laufey
03 December 2021, 10:00
Praised by Billie Eilish and Willow Smith, Icelandic-Chinese singer/songwriter Laufey makes slow-burning pop offerings infused with the warmth of jazz.
Since releasing her debut single "Street By Street" - as the world went into lockdown in the spring of 2020 - rising musician Laufey Lin has amassed a vast following on social media and already collaborated with some bucket-list musical heroes through official releases and videos online.
"I need seasons," she laughs as she tells me about her recent move to LA. We catch up over coffee in London while she's in town to perform a mesmerising set at the Southbank Centre as part of London's Jazz Festival, which she's anticipating to be a career high. "It definitely feels like a big moment, I got to go to my first fitting for a show, with Paul Smith, which was a really surreal movie moment. I felt like the whole time there was montage music playing and I felt like I was having a makeover in a film."
Between rehearsals, fittings and promo, 21-year old Laufey's been hanging out with her twin sister, who's been studying in Scotland, and her mother who joined them from Washington D.C. "I feel so comfortable here and when I'm walking around London," she tells me.
Laufey's journey to the Jazz Festival stage and beyond begins at home in Iceland with a gift: "One of my earliest memories is receiving a violin for the first time, from my grandfather, who was a violin professor," she recalls, "it was basically like a toy instrument but I remember my mom teaching me the simplest things, and practising with my sister."
Music is in her blood – Laufey's mother is a classical musician who performed with the Icelandic Symphony Orchestra. "Iceland is really cool because the music scene is so small, everything kind of mixes together," she explains. "The classical musicians are playing and the pop gigs and pop musicians are doing things with classical musicians, so I grew up going to classical symphony concerts, but then I'd also go to rock gigs where my mom was playing violin."
Seeing this free-form musicality inspired Laufey to not put limits on her own exploration of sound, when she first came to realise "it's a very cool thing to mix genres," and that's her vision for the future too. "That's how music is going to move forward, especially classical and jazz," she adds, how "these styles that are kind of at risk of being extinct" need to develop and evolve.
Picking up the piano at four years old, before falling in love with the cello at eight she was on the classical, pre-professional track to a conservatory education before she decided to take a step back and really think about which path to take. Raised on Ella Fitzgerald and Nat King Cole, thanks to her father's love of jazz, Laufey remembers listening to it growing up and loving how these artists combined elements of jazz with classical and pop too.
"I think growing up in Iceland, it was secluded and you kind of grow up as a dreamer with this idea for wanderlust… Dreaming of life in a different country or whatnot and I think that all went along with this magical music, so I started singing and teaching myself jazz piano and I found myself instead of going to classical conservatory, I ended up going to Berkeley, which is primarily a jazz school."
This was by no means an easy decision to make, Laufey describes the process like an ultimatum, "it really felt like I was choosing whether I was going to be a classical musician for the rest of my life, or if I was going to try my hand at pop music."
Offering the best of both worlds Berkeley gave her the opportunity to not only study from all factions of music which she adored, so naturally she started making her own, 'I found that I could bring all these worlds together on my own with my own songwriting," she says and in her second year she shared her first single with the world.
"Something had clicked for the first time and I'd found my producer, he just lived across from my dorm, he was in a barbershop quartet so I knew he liked harmonies and understood what I wanted to do," she explains. There was only one thing which almost stood in her way, the pandemic. Racing to get "Street By Street" recorded before there was a mass exodus off campus Laufey left it until the very final moment. "I was like if I don't record this now, I never will, so on literally the last day on campus while my mom and sister were packing up my dorm room, I was in Davin's room [producer Davin Kingston] recording this song and thank god we did it because it started this magical journey."
With school moving online, Laufey was able to power through classes at an extremely efficient pace so after some extra summer classes, she graduated early and to spend more time focusing on her snowballing music career. Her debut EP Typical Of Me followed a year later, in spring 2021, with seven delicately crafted songs. While Laufey's sound includes elements of classical, jazz, pop and R&B, there are moments where it's so compellingly vintage that on tracks like the sumptuous "Someone New" it's only when her lyrics mention Instagram that you're reminded this isn't a decades-old classic.
Even her nonchalant admittance about a bad hair day ("it's not your fault it looks like shit") on the refreshingly honest "Best Friend" barely breaks the cinematic allure especially when she begins scatting over the wistful production. This song made for a very special moment during her London Jazz Festival set as she brought out her twin sister Junia for a violin solo. "I swear I'm living in a movie at this point," she mused in a TikTok caption for the performance.
At the end of this exciting year at the top of Laufey's list of highlights is releasing a track with the London Philharmonic Orchestra. "Being in classical music growing up, I've always sought that validation and then to have them reach out to me after the music I've been releasing has not been directly classical music," she pauses to compose herself, "just being able to collaborate with an orchestra that I've like watched and followed growing up was just really really crazy."
Laufey's latest collaborative effort comes in the form of a festive cover with one of those heroes, dodie. Originally shared last year, on social media, their version of "Love To Keep Me Warm", written by the legendary songwriting powerhouse Irving Berlin, gets a full-blown studio recording and even features a rare jazz clarinet performance from dodie. Everyone from Frank Sinatra to Gary Barlow has covered this song, but there's definitely something special about this rendition.
"Christmas is my favourite season for music because it's the time of year when everybody starts listening to jazz music. So I feel like that's kind of my, my time to be like, Okay, listen to this music. Isn't this a good vibe? Why don't we keep it for the rest of the year?," she laughs.
"I've been a huge fan of Dodie's for so long and it's such an honour to have her on this song," Laufey explains, the pair followed each other and made the original version in-between lockdowns in September 2020 when Laufey was living in London. Just one of her wildly successful slew of posts on Instagram, Laufey even caught the attention of Billie Eilish with her stunning cover of "my future" from Happier Than Ever.
"Maybe I'm just old fashioned," Laufey croons on "Like the Movies" – a standout from her EP – which is a nostalgic ode to love on the big screen. And maybe she is, but people love Laufey for it – whether she's working her magic on cover versions or creating her very own instant classics, she's a refreshingly bright spark in a genre that is waiting for a star to take it back to the top.
With her plans for the new year Laufey could very well prove herself to be that star. Her debut album is coming and she has plans to tour in the States and across Europe. She's excited to be working on a longer Laufey project noting that some of the original tracks she's shared online will make an appearance, but there are set to be some changes too. "I think it's going to be bigger," she reveals, "bigger in a way that it's more orchestral and exists in a dreamier kind of world."
Even to the Laufey who put out "Street By Street" on a whim, she says her past self "would never ever, ever, ever believe it" that she'd be where she is now and preparing to release an album. "It was just something I put out to prove to myself that I could write and to get a song to the finish line. I just wish I could go back and tell my 18 year old self to relax because you'll figure it out."
Laufey's debut EP Typical of Me is out now
Get the Best Fit take on the week in music direct to your inbox every Friday