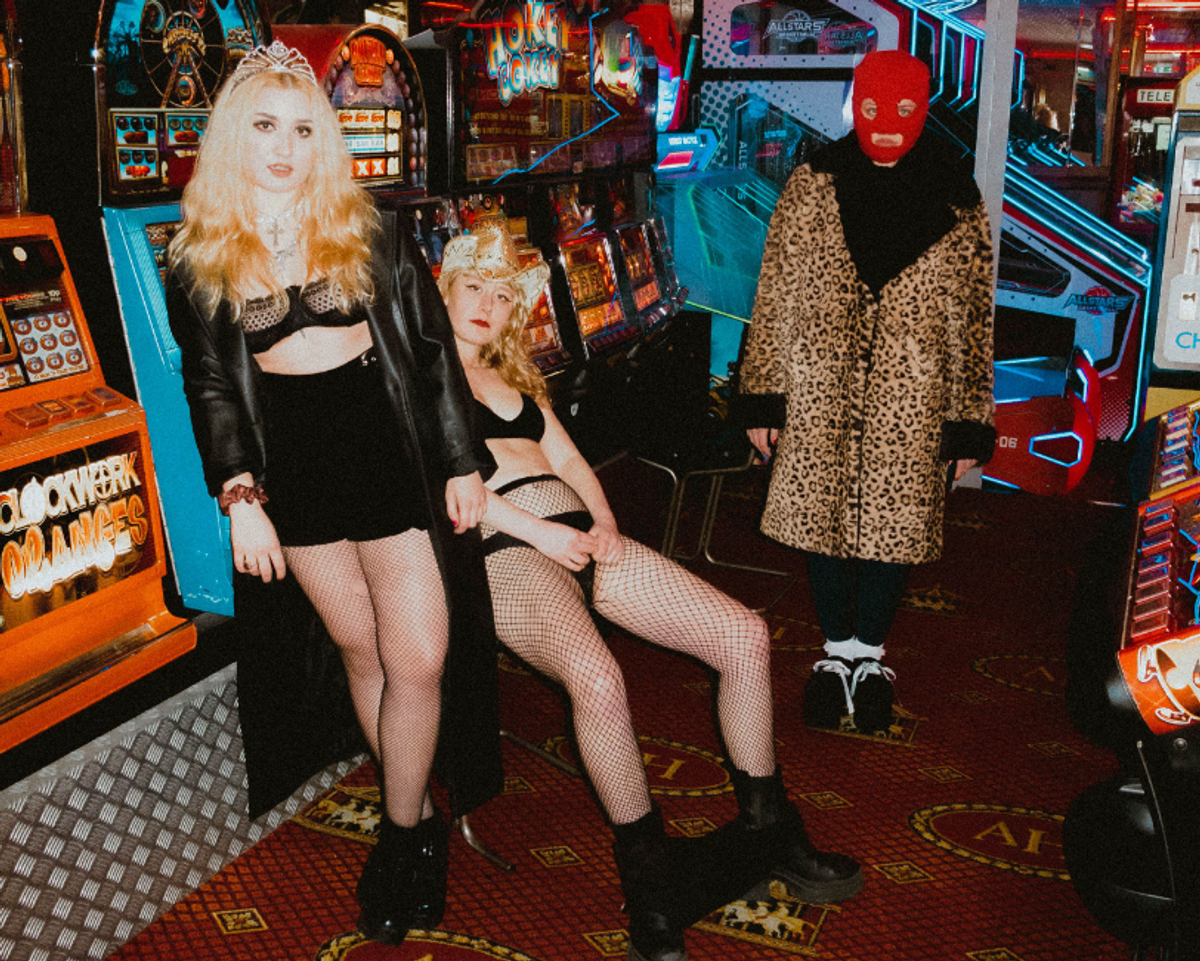 Lambrini Girls and the individualist power of punk
19 May 2023, 09:00
Original Photography by Bridie Florence
Ahead of releasing debut EP You're Welcome, Brighton-based punk trio Lambrini Girls tell Jasleen Dhindsa about confronting societal issues and the freedom found in going feral.
"I'm on my break at work and I'm on my way to the job centre," Lambrini Girls vocalist Phoebe Lunny admits through a glitchy video call on her mobile phone. Accompanying her on the call is bassist Lilly Macieira-Boşgelmez who is sitting in her kitchen, also doing the interview on her lunch break.
The set up for this call speaks to the grind Lambrini Girls have been ceaselessly pursuing since their inception in 2020, swiftly becoming a staple in the Brighton scene and beyond through persistent gigging, building a buzz for their unmatched intensive and feral live performances.
Macieira-Boşgelmez and I are complaining about the general state of the music industry when Lunny joins the call, and she's quick to respond with her thoughts: "it's inherently capitalist. You are a product at the end of the day, and it's so difficult to make sure that you have any autonomy. You're sold as a product, so it's doing what you can with that. It's trying to insight some sort of change whilst navigating a very capitalist environment. Therefore, you have to navigate it in an extremely capitalist way. Which is soul crushing…"
Lambrini Girls have gone through several line up changes before finding their current incarnation, with Lunny and Macieira-Boşgelmez meeting each other when they were performing in the punk band Wife Swap USA, playing keys and bass respectively. That band, unlike Lambrini Girls, mainly played the Brighton scene and never made it to London, and it was only when Macieira-Boşgelmez left Wife Swap USA that she started sessioning for Lambrini Girls. "We started to mesh really well," she explains, "and everything just started to come together. Phoebe and Catt [Jack, the band's previous drummer] have put in a shit tonne of groundwork. Once we all started writing together, we all became really close friends. It snowballed, in a good way."
Phoebe Lunny is a force to be reckoned with in every sense, and is a catalyst personified for her band's guttural feminist punk. Drawing inspiration from female alt rock icons in her performance style, she notes "Stevie Nicks, icon. Courtney Love, icon. Gwen Stefani when she was in No Doubt, icon. Before she got a bit problematic…"

Riot grrrl, with its abrasive sonics and unadulterated lyrical themes, was a natural attraction for Lunny when she was younger, citing The Runaways, Bikini Kill and Huggy Bear as early loves. However, she's defensive, and rightly so, in stating that Lambrini Girls are not a product of that genre, "I don't think our music really resembles them a lot," she says of the aforementioned bands. "I think the message with a lot of riot grrrl music is extremely dated. We're pulling from that, but I think the music itself is something quite different. We get thrown into that category because we're femme-presenting, and we're singing about societal issues, but the music itself doesn't sound anything like Bikini Kill."
"We've been called Wet Leg about five times, which is fucking bizarre in my opinion," Macieira-Boşgelmez responds when asked if her and Lunny ever fear being pigeonholed because of the way they look and the music they make.
"The whole riot grrrl thing is not something we would consciously label ourselves with, because I feel like we're in a different kind of movement now. Phoebe is very conscious of it because she listened to riot grrrl growing up, but we definitely do get pigeonholed as a riot grrrl band."
Lunny continues, "Riot grrrl back in the day, it wasn't inclusive. It was inherently quite transphobic, and the word riot grrrl does attract TERFs [transgender exclusionary radical feminists] because they feel like it's their space when it's not. So I think it's sort of a double-edged sword, because riot grrrl should be about inciting social change, but it is also populated by TERFs. If you are attracting those people to your music, be vocal about trans rights, make it known that we are inclusive and we are angry about these things. If there are transphobic people who are listening to our music under the guise of 'feminism', then they can get fucked."
Brighton's music scene is known for its grassroots, rough around the edges approach to music, bursting at the seams with venues to play and opportunities to seize, with many artists choosing the city as either a place to cut their teeth or root down. However, Lambrini Girls' extensive time in the scene there has unveiled a darker side.

"The more invested you get into a scene or a circle, for me personally, I've noticed it's really problematic," Lunny explains. "There's loads of dickheads about [and] something we're very vocal about is that there's a massive abuse culture. There's a lot of cases of S.A [sexual assault]. The reason it's so rife is because people don't talk about it, because they don't want to confront their friends because no one wants to lose any social standing. So that totally perpetuates it. It wasn't as apparent to me until I was going to gigs every week and playing shows all the fucking time, meeting loads of new people. Then you realise, because you hear more cases of it and you see people's reactions to it. The DIY punk circuit [and] the music industry have a very long way to go, so it became more apparent that we needed to be extremely vocal about these things, and just order and insight some change. If you don't say something, it just gets brushed under the rug. That was a big lesson to learn."
With topics ranging from male entitlement to trans rights and sexuality, Lunny draws a lot from her own poetry when writing lyrics for Lambrini Girls, turning her feelings into songs. "[Poetry is] my biggest passion, I don't really know where it comes from, I won't lie," she explains, "then Lily will come up with a mad riff. Performing wise, I don't really know what happens to me. I'm kind of raw-dogging. Just having a sick time!"
"You go goblin mode!" Macieira-Boşgelmez chimes, and Lunny agrees, "it's very important," she says of her performance style, "it's probably the thing that makes me most happy, that's when I feel like I'm being my most authentic, when I'm on stage. It's invaluable to me, to be able to do whatever the fuck I want and behave in whatever way I want and people just watch. If they've got problem with it, they can fuck off, which I think is special about our band. It's like we can express ourselves authentically [and] if people don't like it, then they can fucking do one."
After years of hard graft, Lambrini Girls have managed to condense their unsettling effervescence into an EP via Big Scary Monsters, titled You're Welcome. The EP is a mix of tracks the band had prior to the studio, as well as ones they pieced together there and then; a cohesive body of work inflicting grooving and bulbous basslines, thunderous drums and Lunny's unmistakable scowls, for an exceptionally charismatic effort that's as cathartic and harrowing as it is sparky and vivacious.
Speaking about her favourite track on the EP, Lunny says, "'Boys in the Band' had been a song for like a year and a half. We wrote that about how problematic the music scene is, about privilege, about abuse culture."
"[The song] is definitely special," adds Macieira-Boşgelmez. "As brazen and funny as we are, and as observant and kind of piss-takey Phoebe's lyrics can be, 'Boys in the Band' is a fucking gut punch of a song, it chokes you up. All of them are important and speak to very, very important issues, but in terms of the seriousness of the instrumental even, [the song] is just a heavy one."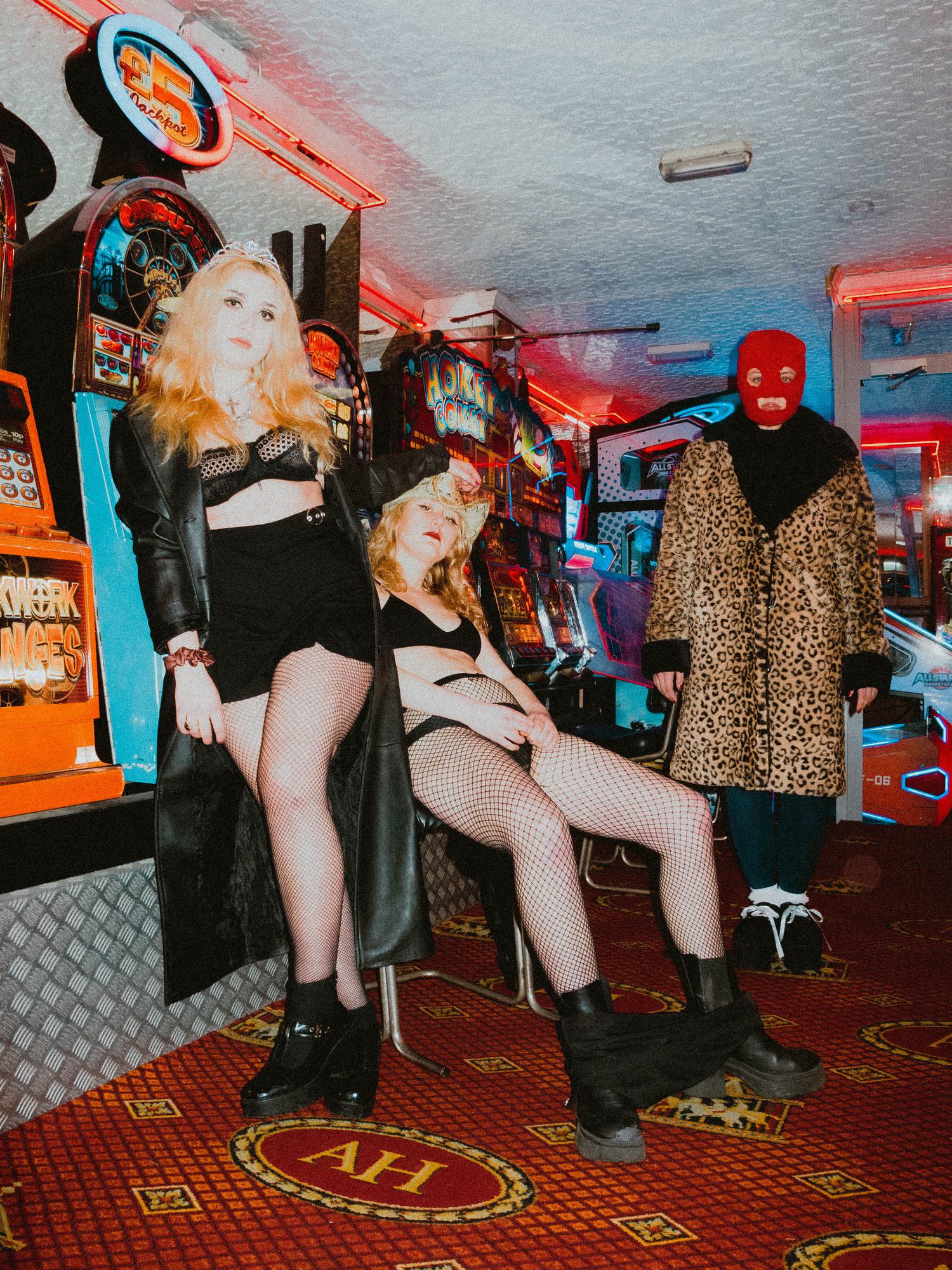 "It's been really empowering being in Lambrini Girls," Macieira-Boşgelmez reveals. "I think at first, obviously you do play into the more queer inclusive spaces, and you have the community putting you on and giving you the space, which is what the community is there for and what the community is amazing for. That in itself was sort of like 'oh fuck, these spaces do actually exist, this is amazing'. For me personally, that's helped me so much, in the insecurities that I had, or I felt like I didn't belong in certain spaces, just impostor syndrome in general, as I'm sure a lot of us feel. Even coming out of those spaces and being put in the wider audience, where it's not necessarily preaching to the choir, even that has been great because you get people that would probably never think about the stuff that we talk about. If they hadn't gone to that show, or even if they don't like it [and] they go away complaining about it, moaning about it, that's a job well done, because at least we got someone thinking about it and talking about it. That's helped me come out of my shell massively on stage, feeling like I have some kind of identity and power that I can use not in a destructive way, or not in a way that takes away from other people, but having a space to just exist."
Phoebe reiterates this, "one of the most important things is getting to those spaces which aren't designed for us. An example of that was [when] we played a festival in Ghent, and we do this thing where we're like 'who's a gay legend? Anyone here who's a gay legend?' [The audience] were terrible, no one really wanted to be there at all. Half the crowd left. Only one person put up their hand. Me and Lily were like 'oh fuck'. Then, we played this fucking sick show, going crazy. We're telling everyone 'go fuck yourselves'. I think those are the shows which are also the most important, because if you're the one the queer person in a room, and you look on stage and you see three queer people just being like 'fuck you all, we're fucking sick', that's sick. That's great. That's how you make these spaces for yourself. Sometimes it's harder [and] there's a pushback on it, but that's how you insight change, [getting] to audiences that don't really want to listen. It's not punk if it's not pissing people off."