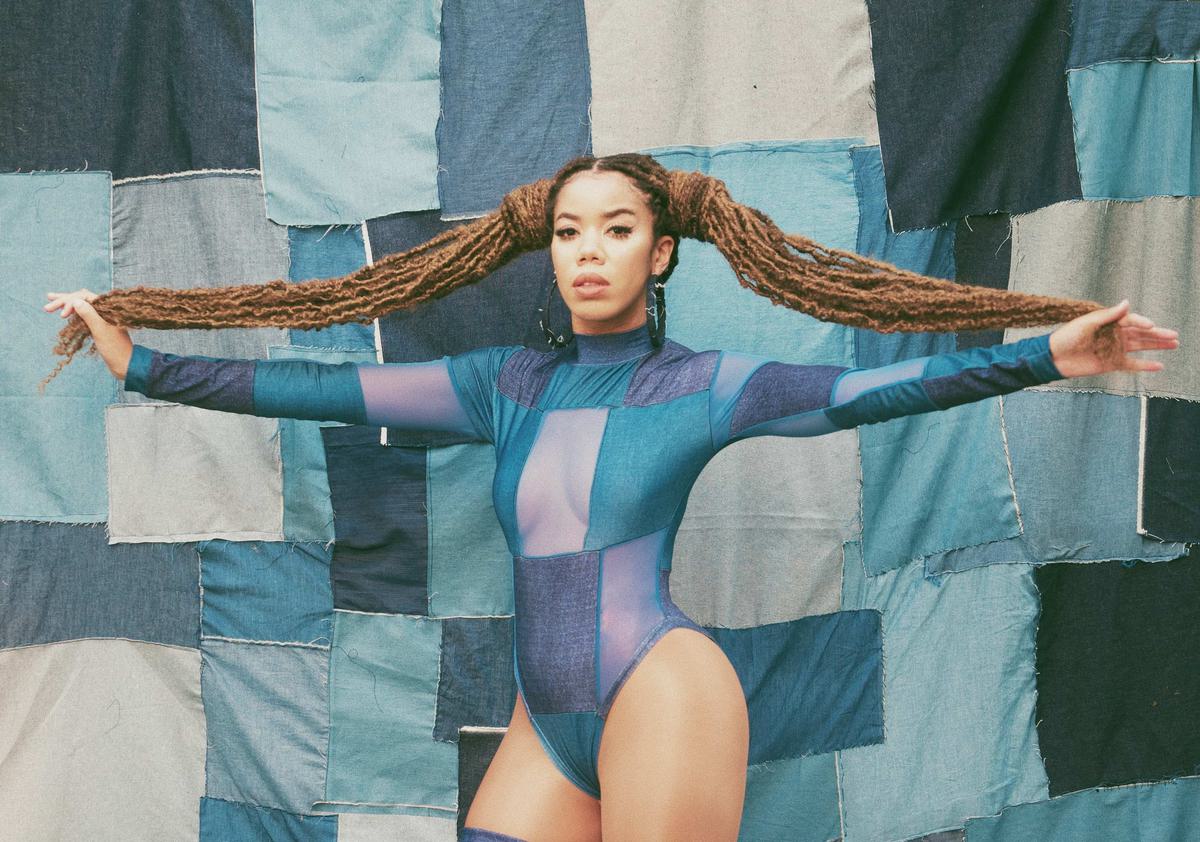 On the Rise

Kirby
02 December 2021, 08:30
Seasoned hitmaker KIRBY's exploration of womanhood, lost love and her Southern roots make her story to stardom worth following.
Before her debut single "Loved by You" came out in 2016, Kirby - real name Kirby Dockery - had already seen what the dizzying heights of a Top 5 song looked like. Having helped pen "FourFiveSeconds" for Kanye West, Paul McCartney and Rihanna, Kirby's songwriting prowess spread through the industry, leading to song credits for stars like Beyonce, Christina Aguilera and John Legend.
When we speak, Dockery's coincidentally on tour with John Legend on her way to Boston from Detroit. But not as an on-the-road writer or backing singer, but as Kirby, her solo persona that's been releasing music for the past five years. "I couldn't have asked for a better team or a better opportunity. It has literally changed my life." Making the decision to focus more on her own music a few years ago has turned out to become lucrative for Dockery, having just released her second E.P Sis. He wasn't the one to follow up her debut, Sis. in 2020. Based on her experience of love, lust and loss, these EPs follow a relationship that felt like it could last forever, only to realise this wasn't her happily ever after.
The stark difference in emotion between these two EPs is almost comical. Singing the words "I think I'm in love" on a song called "Leon" from her first EP paints the picture of a woman completely enamoured. In comparison, on "Leon, Pt. 2" she sings "I should probably go and hit your best friend / Just to make you feel the pain that I did." So what happened?
"Sis was indeed a love story," she tells me. "As much as I wanted to write about the heartbreak I had to first acknowledge the beauty of the beginning of that love. I think writing about the ending was a natural transition and most importantly the truth. I'm not selling a fantasy at all, I'm selling honesty. So yes, sis. He wasn't the one. And that's ok."
Laughing through her words, Dockery's real-life personality is just as large as her music. Warm, inviting and open, her honesty oozes out all the corners of her music. All propped up by a powerful and dynamic voice that never could have stayed quiet while her pen spoke for her. "Being from the South you can fairly say one out of three people you meet can sing sing," she explains. Humbly spoken in her strong Mississippi accent, there's even melody in the way she speaks. "The thing that makes me different is that I've always been in love with my pen and in love with writing" she tells me. "I'll be honest, I know so many people that are better singers than me. Back home something's in the water. I've just been blessed to really have the gift of songwriting and then studied the craft. It gave me this competitive edge. I can name five people right now I went to high school with that are incredible singers so I'm grateful to be a needle in the haystack when it comes to songwriting."
Her trajectory to become an artist to watch hasn't been entirely conventional. Having discovered music publishing in high school, she was immediately caught up in the idea of a long lasting career in music. The idea of performing music herself seemed "more like a pipedream", but the skills she gained in understanding what makes a great song have become the most used weapon in her arsenal. "Every tree was once a seed," she says. "Sometimes we downplay our potential because we think it could never evolve into our dream. But I truly believe if you can touch ten people with your music you can touch 100. If you can touch a 100 you can touch a 1000. I've built my life on that perspective.
"Once it caught up with me how much I really enjoy performing, that changed. That was the one thing I was missing as a songwriter, was singing songs in front of people and feeling that moment. I would never trade that ability to do both."
An expert in her craft, the weight of her songs don't sound like an artist at the beginning of their career. Having a firm grip on what stories, details and ambiguities force people to see a bit of themselves in the music, Dockery hasn't held back yet, allowing her small discography to be void of filler. So what would an artist like Dockery recommend to up and coming musicians interested in what produces hits?
"Don't be mad at anyone," she says. "I'm no expert, I'm still trying to learn how to become a better songwriter, but the one thing I have learned is this. I really try not to be mad at anyone before I write because I feel like that's the only thing that's given me writer's block. It's that sense of unforgiveness. It sounds really metaphorical and Hallmark card-ish. But if I go into the studio having just had an argument with my mom and I didn't apologise then there's something in me stopping me from being creative. Also pick up your pen. Write. Practice your hand as a musical muscle and always try to do something different."
Consistency is key in any creative industry, and like any skill, the only way to become a better songwriter is by writing songs. But what happens when you become better known for your songwriting than the songs you perform? Is that something Dockery uses to drive herself? "I'm not frustrated by being known for the songs I've written for other people at all," she explains. "If anything it's a privilege to have either one. To wake up every day and whether somebody wants my pen or my voice it's still a blessing. It's life-changing."
Now at the helm of her own ship, Dockery has been able to address the topics that are close to her and inject her personality into the words. Both sonically and lyrically, she's influenced by her small town roots and because of this, she's never been scared to start small whether it's a concept or a feeling. "Being a small town girl, I've never been afraid to start from the ground up. I'm never overlooking a small idea that maybe doesn't feel big in the moment because I always believe everything has the potential to mean a lot to people. You never know, it could be the idea that changes your life."
Dockery illustrates this point well in a story about her first musical memory: "I remember one time my sister was playing piano and singing this Kirk Franklin song in church. We had a very small church of maybe 50 or so people. But that was one of my first times listening to a choir and I just remember having this goosebump moment and seeing people around me crying. I think that was the first time I understood music could touch people on such a deep level. I really saw how something that was beyond me could do so much good. That's the emotional and spiritual power of music." That feeling of community that's synonymous with soul music never left her and is more of an influence than ever in her solo music.
"I definitely think that's why I lean towards soul music now. Even on the tour we do this moment where we do a stripped back performance of "Loved by You" and you just see the people sway to the music. I think that's a moment where I've learned about from being in a small church where it's just a tambourine and a foot stomp. In the end, it really doesn't take much to connect to people. At the root of everything is the soul."
All popular music is rooted in black culture. It's impossible to know what's popular and not be listening to black culture or black history. "It's important for us to know that and from a business standpoint own that." That sentiment rings loud throughout the music industry as black artists are sometimes overlooked despite having a colossal impact on the industry not just recently, but since music could be monetised and commodified. To keep innovating and breaking new ground, Dockery has put herself on a mission to carry on the stories that have inspired her throughout her life.
"I always ask myself what would Aretha do today? What would Otis Redding do today ? What sounds would they play with? I think we have a responsibility to not pay tribute but build off of the blueprint. I think when we bring the uniqueness of our experiences and sound we naturally create the future."
Having found herself back near the start of her journey, it's normal that she'd feel like this could be a step backwards for her professionally. Moving back to her hometown and near the music that made her is inspiring but in its familiarity it's almost too comfortable. "I moved back home after songwriting for the biggest artists in the world" is how she explains it. "To me that was the bottom, and the hardest thing I've ever had to do. I had to start over and see if anyone would care. I faced what I feared. Thankfully I'm starting to finally see that starting over was the best decision I could have made."
Picking up momentum and feeling more comfortable behind the wheel than in the passenger seat, what goals has she set her eyes on next? I need to get out more music. It's been a slow grind but I've still got songs I want to put out this year. I just don't want people to feel like they haven't heard from me." Clearly, she sees her fans individually. Like a close friend she owes a catch up call. That ability to tap into what makes us feel listened to is what sets her aside from other artists. And with more songs and an album in the works, it won't be long until the songs she wrote she wrote for herself will be as well known as the ones she wrote for other people.
Sis. He Wasn't the One is out now