Before viral fame, before LA, before TikTok, Jaden Hossler was another American teen growing up in a city he didn't care for with fears of languishing there forever. His first taste of the spotlight came from social media and he's since managed to transform his life as a creator of entertaining video content into being an out-and-out full-time artist.
"Everything I'm doing is exciting," Hossler explains from home in LA, sitting in the backyard, basking in the winter sun while we chat over Zoom, he's in the final stages of wrapping work on his very first album. Releasing his debut single in February, not long after moving cross-country and the pandemic hit, like so many artists who began their break through in 2020, a world of shutdown venues, rapid test sessions and remote admin is all he's known. "Music is the perfect medicine for a lot of people right now, it's coincidental for me that's the case, but that's why I chose music, because it's healing."
"You can say things saved your life, but you never really know," he muses, "but I went through a lot of shit over the past six months and the only constant I had was music, so it was really helpful." Having signed the tracklist off last night, looking back at the writing and recording process Hossler notes the therapeutic experience he's had putting this record together. "I learned so much from my music and so much from Travis, more than just making the music," noting that Barker has taught him the importance of saying no. "It really showed me I can trust him."
But how did Hossler become the famed Blink-182 drummer's protégé and how did a kid from Tennessee turn his online clout into a successful, but most importantly credible, music career?
Growing up in the church and surrounded by music, both his parents were pastors, so singing was something he'd done from an early age. "It was the perfect storm for me, my parents love everyone first, regardless of who you are, what you are or even how you've been living," he explains. "There's just so much judgement in a lot of other places, especially when you're growing up, and it was really hard for me to understand that."
"[My parents] let me live and learn from my mistakes, while still loving me and guiding me, so that's what ultimately led me to be the human I am right now, which hopefully people would say is a pretty good one," he adds.
Hossler's faith is something which still guides him in spreading love and compassion in his everyday life; "it's a faith which should be a big light for a lot of people, that's what I want, because I don't condemn anyone for not believing what I believe," he says. "I love you so much and I just want you to know you're human, and you have a soul too, that's the Christianity that I believe in."
As well as being a pastor, Hossler's dad studied music at college and now dreams of playing piano on one of his son's songs. He also introduced a young Jaden to what he describes as "classic rock", artists like The Beatles, but Hossler didn't really feel a connection to any of this. Then, at 10-years-old a certain film changed everything. "I saw Never Say Never, the movie by Justin Bieber, and there was something about that movie or maybe it's Justin's Bieber's charm [that made me think] I wanna do that," he explains. "I didn't even know what being famous was at that time, but I always told myself... I was going to be in front of all those people."
Still surprised that he's got to a point where he has a huge audience, albeit online rather than a sold-out show at Madison Square Garden, this wasn't just a vision he'd kept to himself. As if his childhood self had begun to manifest his wildest dreams, "I told so many people I'm going to be famous and I'm going to make music, it made me want to sing."
Going into middle school he followed the crowd and started to listen to trap and as he went into high school his music taste evolved once again. "I went through a lot of different phases," he remembers, "which for a while gave me a lot of insecurities." As you've heard across the string of singles which tease Tell Me About Tomorrow jxdn is all about rock, his music is fuelled by riffs, guitar licks and impassioned vocals, despite never really getting into the genre when he was younger.
"The whole reason why I'm doing rock music is because I wasn't that familiar with it," he explains "I just had a love for it outside of knowing everything about." His lack of knowledge about structure, tradition and the history of the scene gives jxdn's own sound a fresh perspective. "I'm making punk music, but I don't know the art of it, and well after a year with Travis you start to pick it up…"
YouTube was Hossler's first gateway into making his own music, or at least a way for him to showcase his singing outside of the home and this started with a Bieber parody co-starring his family. Joining the choir and taking part in plays at his school also gave him a way to perform, but as Hossler puts it "it was never really a passion I thought would turn into anything." Hossler explains "I genuinely didn't think I would get out of my city, there's not a lot of opportunity and I saw that going into high school in my senior year."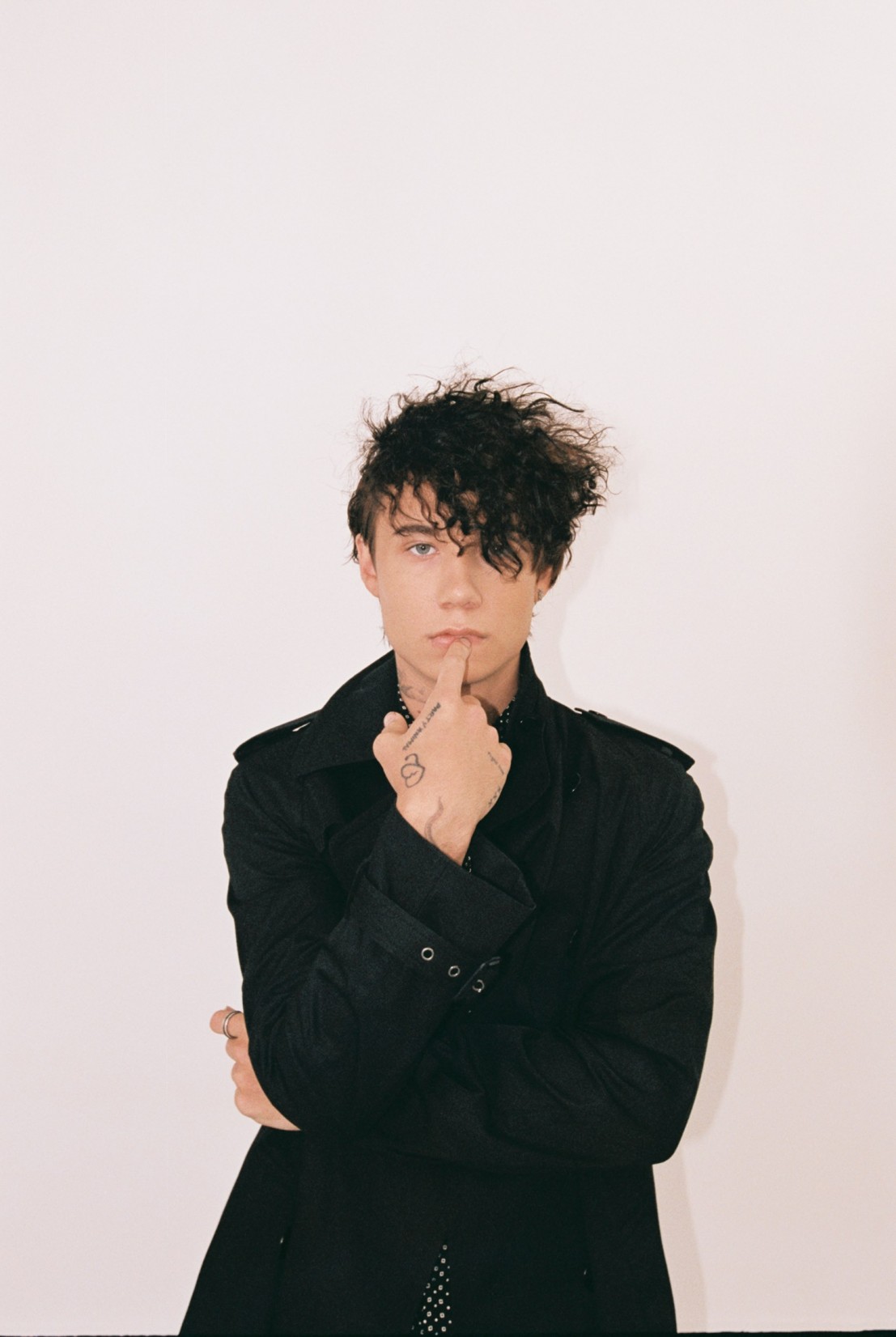 During this time Hossler was struggling with depression and tried to take his own life, but nevertheless he knew that he must have a greater purpose. "I felt like I was born for something different," he tells me, "it was a god thing and a gut thing [to] trust myself to make the right decisions," one of those right decisions being taking a chance and actively pursuing music. "Even now if the numbers start going into the ground and everyone's like "fuck jxdn", I still wanna make music my whole life." Channeling his hurt and pain into tracks like "Pray", not only has making these songs and this record been therapeutic for himself, he says "so many people have told me my music has helped them and I don't think I can give that up."
Tracing the path of Hossler's rise is difficult. "If it was a movie it would be so easy for people to see," alas it hasn't been made into a motion picture quite yet, but one thing is for sure is that he owes a lot to TikTok in terms of building a platform to leap from. Creating his account in January 2019, while still a senior in high school, he remembers racking up a couple of thousands followers in a week. Enjoying the instant gratification from the platform, he kept posting, responding and reacting to viral challenges and dances and the numbers kept growing. Attending Playlist Live, a creator convention in Orlando, "I ended up weaseling my way onto this social media tour," he laughs. "I talk about this nonchalantly, but all of that stuff is completely the reason," he reveals.
"You never know when the turning point is or when it happens usually, but I knew after the Juice WRLD show… It was the most bizarre feeling in the world, so supernatural," he explains. Having convinced his tour buddies to stick around despite having already waited three hours for his performance to start, it was worth the wait. "I heard thousands of people saying one line together 'Empty, I feel so goddamn empty' and I just hear one voice, I don't hear thousands of different people and that's because they all feel the same thing. They're feeling this music, they're not just singing."
It was as monumental as any first live music experience could be, "I thought if Juice WRLD can unify that many people with his music, then I can too," he continues. "I know what I've been through and I know that people have been through what I have been through [and] I feel great right now and I feel unified by this music."
Plunging headfirst into life in LA, he didn't even tell his parents the move was permanent. "I found Erika Munroe and she helped with literally everything," he gushes "and she got me into the studio with two producers named Russell and Sanjoy (who produced his first official release) and that's how the beginning of the music started."
"Comatose" was jxdn's first single and ultimately lead Hossler to become the first signee to Travis Barker's DTA Records label, a joint venture with Elektra Music Group. "It felt like a seal had been broken, something somewhere just changed," Hossler says remembering dropping that first track and it certainly was, everything changed.
Taking inspiration from Juice WRLD he started to freestyle. "I was really, really ass for the first six months, but that's what people don't realise… practice makes perfect and I was actually getting better." A lot of the initial ideas for his songs begin as flickers of greatness when he's freestyling. Now he's comfortable sitting down in a session and writing in a more traditional sense too, "it's getting so good, because I can let go of my pride" he reveals, admitting that he used to cling to the freestyle label to protect his ego.
The process of collaboration is something Hossler finds really rewarding and in terms of sessions he's working with some of the biggest hitmakers on the planet. "Better Off Dead", the latest jxdn single, was co-written by Lauv, blackbear, mentor Travis Barker, "IDGAF"-songwriter Joe Kirkland and Andrew Goldstein. The latter has most recently worked on Ashnikko's mixtape DEMIDEVIL, and had just spent another week in the studio with Hossler making "fucking bangers."
Getting the experts on board early is thanks to his connection with Barker, who Hossler explains brings in people he knows will understand the vision. "I was really sceptical of it at first because I'd never been in that space," he notes explaining his apprehension about being thrown into a room with someone he didn't know, but he's quick to point out "there's gold waiting on the other side."
"I feel like people are catching the vibe and connecting with the authenticity in rock music," Hossler says, noting that he's part of a growing number of artists who are using the nostalgia of past eras to create their sound. His other collaborators include Machine Gun Kelly, iann dior and Yungblud who are all fusing classic rock energy and a punk spirit in their own ways.
Hossler says "getting to work with Kells is probably one of the coolest things, I'd say he's the poster child for what being an artist is right now and it's a crazy trip because everything I'm saying, I know Kells would say because we've talked about it. We're all on this way of understanding what's real and what's not real."
"I'm Gonna Be Okay" is one of the new tracks, which will be on the record and features Machine Gun Kelly, initially coming together in a session with lil aaron and Barker, jxdn explains how Barker surprised him with Kelly's verse. "We were listening to [this new version] and I hear Kells start and I literally get up like 'what the fuck'... people don't understand how crazy that feeling is, to have [him] hop on one of your songs. It's a dream come true."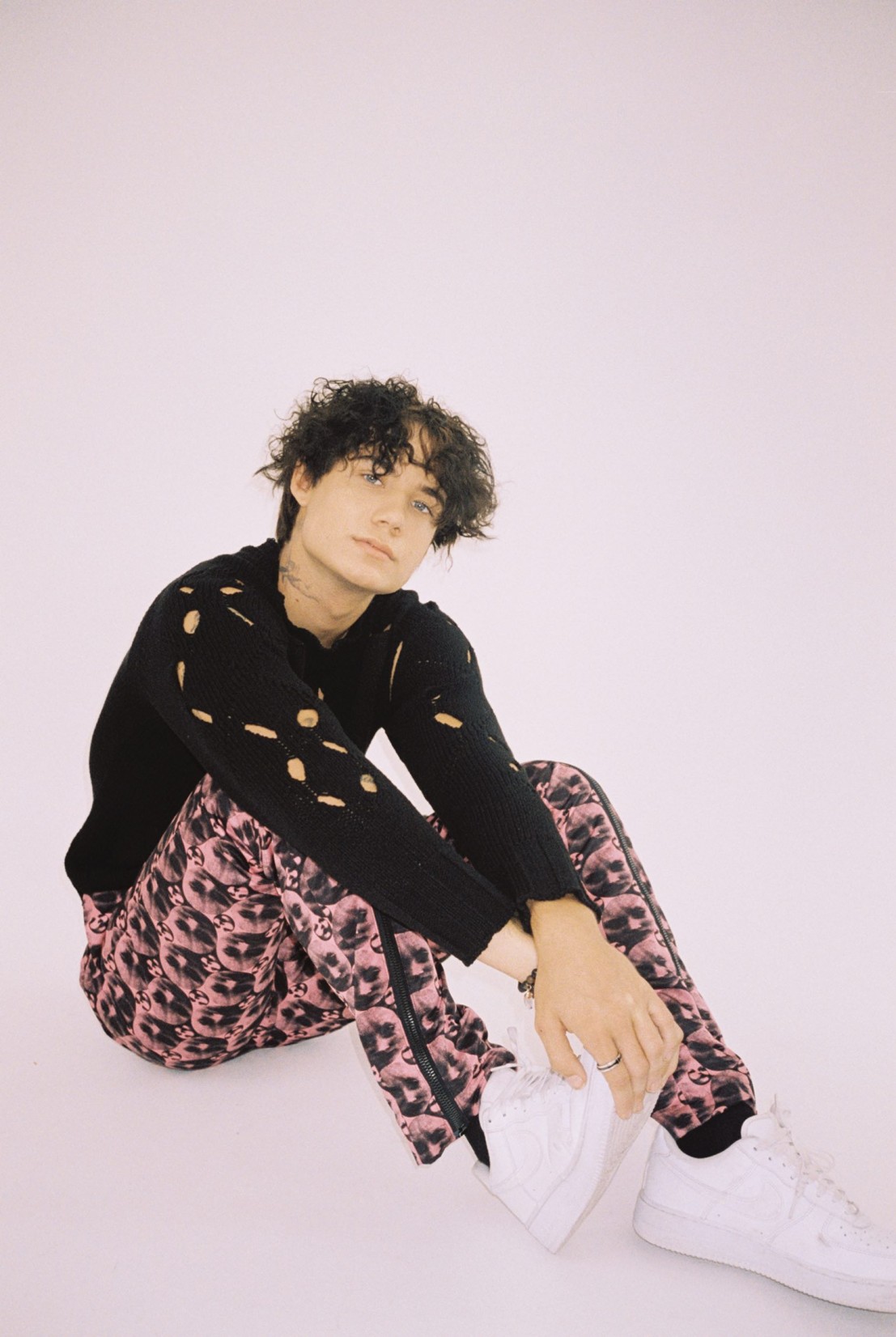 Honesty is a huge part of why Hossler and the music he's creating is connecting so deeply with his fans and followers, and that's a theme that comes through more than ever across this first body of work. "I want people to understand that I connect most with the rock style of music," Hossler reminds me, "but I'm really about to come out here and drop nine different albums with nine different genres, I'm here to make music for everyone."
"The cool thing about this album is that we didn't settle, that was super important for me and Travis," he explains, "we were super precise [and] we had a plethora of songs to choose from and we picked the ones which suit well and suit best." Ready for its release, a date is still to be confirmed, but it really could be any week now, Hossler is confident in himself and his team that they have created the very best debut album they could have. "This isn't flippant, it's not coming out lightly, we put in the work."
Right now, Hossler is thankful for the joy he's experiencing, but is quick to add "[this doesn't] discredit what I've been through and what other people go through… I have to be cautious to not let other things fuck with that." Talking me through his journey and struggles with his mental health he wants to remind anyone who might be in the throes of depression "it wasn't like one day I woke up and everything was great, it was a year and a half of shit."
"From almost losing best friends multiple times, losing the love of my life over and over again because I'm just an idiot, and then almost losing my own life, getting arrested…," Hossler is not exaggerating when he says "literally the craziest shit that I could have ever imagined in my life happened and it all happened right after another."
Having his private and personal life on show with fans and followers commentating on suspected beef and analysing perceived subliminal messages, Hossler knows social media is anything but healthy. "A lot of people think they know the whole story because it's right in front of them on their screen, but you don't and you never will and that's okay and I have to get used to that." It's another reason why his success away from that world is spurring him on to dive deeper and continue to push himself.
"Thank god for music, am I right?"
Tell Me About Tomorrow is coming later this 2021