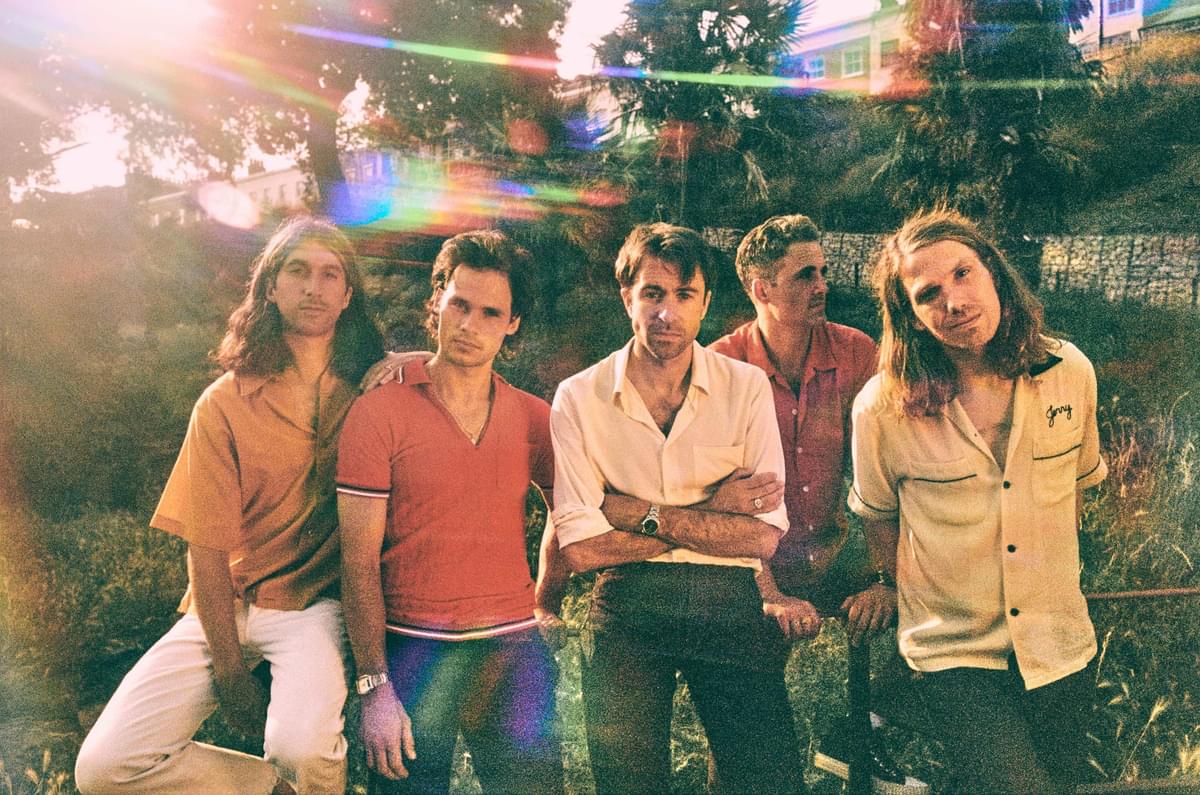 The evolution of Justin Young and The Vaccines
27 August 2021, 08:00
When I call The Vaccines frontman Justin Young from Moscow, he just happens to walk past the Russian embassy in London. Our marveling over this coincidence is short-lived, as the signal keeps breaking up. Embassies cause that sometimes.
Hoping not to get entirely disconnected, we dive into The Vaccines' success story and their new album Back In Love City that just might reclaim the band's place atop Google searches. No state secrets were disclosed during this interview.
Since the onset of the pandemic, people have had a field day making memes and viral tweets about The Vaccines and the vaccines. The band understood they would be the butt of the joke for the foreseeable future and accepted that fate. What came as a surprise was the increasing number of conspiracy theorists commenting under their videos and posts, convinced about The Vaccines being state propaganda for inoculation. "That's pretty fucking insane," Young sighs, "they actually believe we have been lying low for ten years, disguised as an English indie rock band, ready to pounce at any given moment on behalf of the government. It's been very bizarre."
It is amusing how one of Britain's biggest bands has been rendered virtually ungoogleable. But with their fifth album, The Vaccines may stand a chance to compete with pharma companies in search engine optimisation. The opening title-track blasts the LP's doors wide open with explosive and upbeat riffs. They have never released anything like this before, and it is wild to hear a guitar rock anthem that sounds like synth-pop without the synths as such. Young is, of course, on top of the game with his tongue-in-cheek lyrics. "I drink to drown my sorrows / But they always learn to swim / Thank you very much / Yes, I am a little thin / When I exorcise my demons / I just take them to the gym" will undoubtedly be immortalised in Instagram captions. He is unsure where the inspiration came from for that song and describes it as a happy accident. "Sometimes I listen to it, and I hear a bit of Blondie or Chris Isaak, even a bit of Metronomy," he says, "but we didn't actively go for any of that stuff when we were writing it."
Even some cult classics like "Wonderwall" came alive after a random phrase fell out of someone's mouth. "Back In Love City" started that way. "I didn't know what it meant," Young recalls coming up with the single's name, "but I started singing over this groove, and it just felt spooky and cool." If anything, driving fueled the imagination for the title track, as well as for most of the album. It sounds like the desert and conjures up imagery of a vast American expanse because it was recorded in one, just outside El Paso, Texas. The music absorbed the atmosphere like a sponge. "When I listen to this album we've made in the desert, I picture these songs and the protagonist existing in that kind of landscape," Young explains. "I'm so in awe of these great songs that you can play as you drive through a highway or a deserted city. I guess, we were trying to make the perfect driving song, but in terms of the artists that inspired it, it was a lot but also none at the same time."
Listening to this album for the first time, it is a lot to take in. It might even seem chaotic because The Vaccines tried so many different things. Its 2018 predecessor Combat Sports had no shortage of the band's signature euphoric feats, but Back In Love City not only sounds fun, it also sounds like it was fun to make. "With this record, from day one, the songwriting, recording, arrangement, and conceptualising, it all felt so good, easy, and carefree," the lead singer smiles, "it felt like when you first start a band, and that's how it should feel."
It is also their first proper concept album, set in a futuristic metropolis, not unlike those depicted in Blade Runner. The idea acted as a compass, it anchored and grounded the band, and it helped them figure out what they wanted to say, and how they wanted to play. "All kinds of questions popped up around this concept," Young says, "what would a band play in the casino? What would the music sound as a soundtrack or in an advertisement? It all started to come together when we figured out what kind of world we wanted this album to live in."
The world it lives in is one where emotions have run dry and became a commodity. If one wants to go and restock on them, Love City is the destination. When reflecting on this concept, I couldn't help wondering if the modern entertainment industry is becoming to look a lot like Love City, where trauma, joy, and our innermost feelings are exploited and put on a display. Sometimes for profit, other times just for the sake of sparking any emotion to replace indifference. "That's it really, isn't it?" Young replies when I ask him if he noticed a similar pattern. "Where do you draw the line between emotions and commodities, or feelings and commodities? I think we are increasingly going in that direction, not only with entertainment, but also with technology and social media," he explains. "I don't want to sound cynical but I believe that's absolutely where we are at. Our vocabulary, when it comes to how we feel, is actually quite reductive and simplistic. The idea that love is a word that can encompass all the feelings it gives you is a little silly, right? Any feeling, be it love or hate, or hope, or excitement, or anxiety, or depression... These are completely different things to different people. They are endless, but what would the world look like if they were finite?"
You can trace these ideas back to The Vaccines' older works, like "Minimal Affection" from 2015 album English Graffiti, or even "Lonely World" and "Ghost Town" from 2012's Come of Age. Back In Love City is not a lockdown album, but it doesn't take a pandemic to become alarmed by the growing disconnection in today's society. When a huge climate change march went past Young's window, it also made him wonder what would happen if we ran out of the things we feel, as well as the things we have. "You could definitely view the entertainment industry as Love City," he concludes, "but also the rest of the world."
If social media doesn't cut it anymore to make you question the nature of human connection, try swapping lives with a complete stranger. Preparing to fly to LA to finish working on Back In Love City in early 2020, Young registered on what could be best described as a dating site for houses. He took some nice pictures of his London home, wrote it an attractive bio, and found it a match on the other side of the Atlantic. The two owners left the keys under the mat and went to live in each other's houses for two months without ever meeting in person. "It made me think a lot about connection," Young says, "living in this person's home, driving his car and using his gym membership, and we have never even seen each other. I would do it again, it is such an interesting and enjoyable experience. Except the part where I crashed his car, but he was very understanding. I never took my house off the website, so I still get emails from people interested in a swap, but now is not the time."
Like many recent albums, Back In Love City doesn't concern itself too much with the boundaries of genre. You could call it a guitar rock record, but it leaves enough space for pop, country, and Americana too. Modern artists seem to focus more on creating their own aesthetics rather than cling to a particular music style. Young views this trend as a reflection of how we listen to music these days, often choosing mood-specific playlists over concrete albums. "Now that people are a lot more inside and online, things are a lot less tribal," he explains. "People no longer feel the need to define themselves by a certain type of music, and that applies to the artists as well. There is a lot more freedom to step outside your self-imposed framework. You can try anything. What something like rock has working against it is that many of its biggest and some of its best artists operate quite safely within the framework of rock. And I think that's less and less important. In fact, it's becoming more important not to do that. Otherwise rock might die, just like people have been telling us it will for many years." Of course, it is impossible to predict trends, and no one can quite offer a solid vision for the music industry's trajectory because it exists in constant evolution. "There might come a time where the most popular music again is predominantly rock, or hip-hop, or pop," Young suggests, "but those will continue melting into each other. Now, most of Western radio-friendly music is part hip-hop, part emo rock. The lines become so blurred. I'm like - is this pop punk or is this rap? I don't even know anymore, but I think that's a good thing."
"All you want to do as an artist is identify what is at your core or what you do better than any other artist."
Earlier this year, The Vaccines celebrated the tenth anniversary of their debut album What Did You Expect... One decade, five albums, and some staffing changes later, they never strayed too far from the record that launched them into stardom. Shuffle all of their songs, and you will hear a band that experiments and evolves, but it is always the same band whose choruses explode like fireworks and fill arenas. Not every band follows this path. Take two other massive British names: Bring Me The Horizon, who reinvent themselves with every album cycle to the point of becoming unrecognisable, and Catfish and The Bottlemen, who barely bother changing their album artworks, let alone the sound in the slightest. The Vaccines, for their part, reside comfortably in the centre of that Venn diagram, tweaking just enough to stay relevant and exciting. But what a difficult task must it be to find that balance. "It keeps me up at night," Young gasps, "I find it really hard. All you want to do as an artist is identify what is at your core or what you do better than any other artist. You try so hard to tap into what makes you who you are and refine it, try new things and stay not only interesting but also interested."
There is no shortage of songs we might never get to hear because they were discarded for not being The Vaccines enough. (Some even featured dogs, but not "Alone Star", if you have also been wondering. That peculiar sound is just one of the members yelping.) It helps to have other projects to direct creativity into, which is part of the reason why Young started Halloweens, which showcases a softer side of his songwriting. "The longer you are in a band, the more you enter into some sort of unofficial contract with your fanbase," he says. "They expect certain things from you. That's why they love you, that's why they have connected with what you do in the first place. To a certain extent, you are held hostage by that. It's a constant wrestling match between evolving and proving people's faith in you as an interesting and progressing artist, while retaining and maintaining what is at your core. After you've been a band for ten years, it often becomes a brand, as depressing as that sounds. And I hate that, and I'm forever trying to figure out what it is that makes us great, and how much of that is the same thing that makes people love us."
They must have figured it out right, because every Vaccines album so far has entered the UK top five, while the band sold out tours in every corner of the planet and scored support slots for industry giants like Muse or The Rolling Stones. Hundreds of wannabes tried to follow in their footsteps. "One of the reasons people fall in love with a band is because they believe in their pursuit of creativity and art, in what they are saying. All you wanna do is try new things and essentially get better," Young smiles. "But in thirty years, I want them to be able to say in three or four words what we sounded like."
One of The Vaccines founding members Pete Robertson quit in 2016 to focus on other things, but even that didn't curb the band's spirit. On the contrary, the new French drummer Yoann Intonti and keyboardist Timothy Lanham breathed new energy into their sound. The Vaccines already knew Intonti, who at the time was playing in Spector and swore to never leave, but they auditioned a few others. Robertson's were big shoes to fill, after all. "Yoann was the best, he is amazing," Young laughs. "He and Timothy fitted in so easily and naturally. They quickly became a big part of the band."
He still remembers the band's first gig over a decade ago, where nobody showed up. It was already after Zane Lowe had named their song "If You Wanna" hottest record in the world, so The Vaccines weren't an entirely unknown entity. Yet, the only people in that venue in Leicester were the sound tech and another band from the bill. "It was exciting and scary," Young reflects, looking back on the day, "we weren't sure if that was the start of something or just a flash in the pan. There were a lot of anxious emotions."
It only took a few months to prove The Vaccines would never play in an empty room again. On their next tour, they gathered 300 fans in London, and just as many were turned away at The Flowerpot doors, as it was over capacity. The rest is history. "It was such a whirlwind," Young recalls his band's meteoric rise. "We all had impostor syndrome. We were constantly like, 'are we good enough for this? Is the bad stuff people say about us true?' Combine that with not having a good sleep for two years, and it puts you in a very fragile mental state. It was amazing of course, but it was a headfuck." Looking back now, what would he say to his 24-year-old self? "Everything is gonna be fine," he smiles. "Just enjoy this. It was everything we had ever dreamed of."
Back in Love City is released on 10 September via AWAL Recordings
Get the Best Fit take on the week in music direct to your inbox every Friday