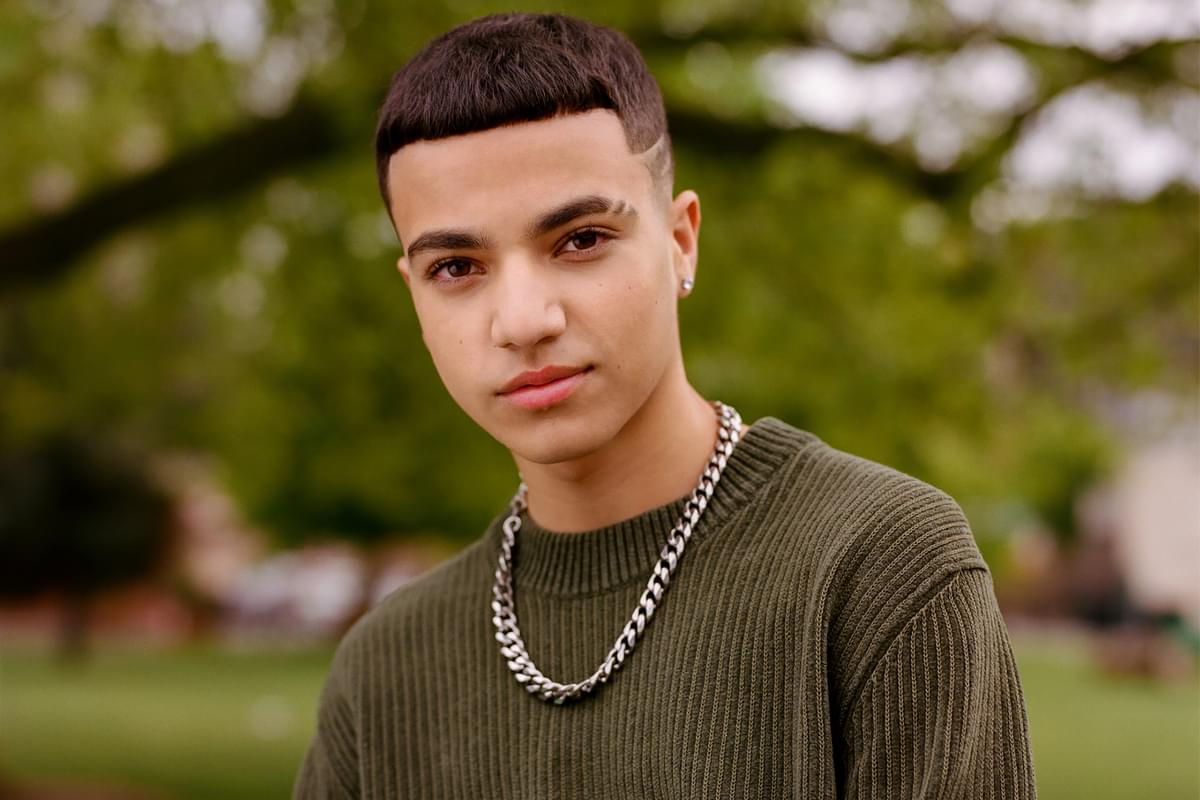 On the Rise: Junior Andre
21 June 2022, 09:49
Bringing his friends, fans – and one Coventry chip shop – along for the ride, 17-year-old Junior Andre is continuing his dad's sunshine-pop legacy.
Everything Junior Andre says about music is wreathed in unshakeable positivity and endless "good vibes" – an unspoiled teenage optimism that anyone born before the millennium can only envy. He tries to explain his feelings for music the way one relates the first flush of love: a shy smile plays on his face as his words run away with him, before he stops himself and apologises: "Sorry, I can talk about it for hours…"
17-year-old Andre may be familiar in more ways than one, beyond his dark, Greek Cypriot features and generous smile. Listen to his debut single "Slide", which plucked Harry Styles off the top spot of the UK iTunes Pop Chart in a matter of hours after its release, and the parallels you can draw between Andre and his father, Peter, are uncanny.
It's fast approaching thirty years since Peter Andre serenaded a "Mysterious Girl", splashing around shirtless in the Mediterranean blue, but Junior's own artistic accent marks him as more of a heir than a son. Junior, who secured a record deal at 16 (coincidentally, the same age his father did), proves that his instinct for sun-kissed summer anthems and an arresting onstage charisma is in his blood. Since childhood, he'd always joined his father on stage; a shy little boy who would bloom with confidence. This moment felt inevitable.
When he laid down his first track in the studio and they played it back, he remembers: "Me and my dad sort of looked at each other and he said, 'It's your time now, son.'"
17 is a year of firsts, but not many of Andre's peers can claim to have their first single, first number one, first fan meet-and-greet, first interview at his age. The young artist is understandably nervous, particularly having had an upbringing that was dissected in the tabloids, but when given the opportunity to tell the story of "Slide", he's surprised how quickly the minutes melt.
The track, for Andre, chases the high of summer euphoria. Complete with a dance primed for TikTok, it's a playlist essential for a good time. "It portrays the energy I want to give to people," he explains. "It's all good vibes. It's about loving someone despite their imperfections. It doesn't matter how you feel about yourself – someone will love you for you, no matter what."
The world could take a cynical position with Andre's career as an artist; you could believe that "Slide" was a precision-engineered hit, with his name and influence being the final drop in the formula. But what you see took almost two years to bring to fruition: "I've made well over 100 songs", he tells me. To alight on this particular sound of daiquiri-syrup pop, shaken and stirred with a Latin flavour, it took what felt like a thousand false starts. "I've done rapping, I've done ballads, I've even done extreme pop songs to see how my voice sounds with it," he says. "If I didn't experience that, I feel like I wouldn't have reached "Slide"."
Like all great love stories, Andre found music when he wasn't looking for it. His passion for performance took him on a path towards acting, but his world tipped on its axis after tagging along with his father to West London recording studio, Rebel Records. "As soon as I even saw the room, smelt the room… I don't know, I felt a mad nostalgic moment, like I'd sort of been there before – like I was meant to be there. I fell in love with it instantly. And I realised, from then on, that I wanted to do music."
It was that first day at Rebel Records that Andre laid down his first vocal take. "I go back to that day, and I remember I was so proud of myself, and my dad was so proud of me," he beams. "I couldn't stop smiling. It was the happiest I'd ever been. I feel like I found myself in life – this is what I want to do. Because normally, you know, at 16, you don't really know what you want to do for yourself. It takes quite a lot of time before you realise what you want to do, and I think for me to find something I'm so passionate about at such a young age really helped me."
Andre was barely out the door when he was asking his father when he could go back. "The vibe was amazing. In a studio room, everyone around you is there for the same reason, for the same passion. I think that's why studio sessions are so fun. I would literally sleep in a studio," he tells me. "Obviously, I'm not an adult yet," he says sheepishly, "so I have a curfew, as you do. But my dad knows how it gets, you know, when you want to record more but you have to be home at a certain time. He let me record the last bit – he secretly understands."
It was there that he met collaborator Marcello Spooks, a fellow Greek Cypriot and GRM Daily artist, who proved to become an essential player in his development. "It was weird how it happened, it was almost like it was God's plan," he says. Rebel Records were keen to unite Andre with artists he admired, and after telling them how much he loved Spooks' ode to fast-food, "Uber Eats", with its smart wordplay and infectious flows, it just so happened that he was there in the studio the very same day.
"We connected even more once we knew we were both Cypriot, as well. Cyprus is a family in itself," he says. The track is imbued with a Mediterranean flair; it's something Andre recognises but can't explain, being a quality that came almost reflexively rather than by design. "I want people to see that side of me," he explains. "I'm very passionate about my ethnic side. I want to represent Cyprus as well as England. To make them proud would feel magical to me."
As an incubator for talent, Rebel Records connected Andre with an entire network of like-minded creatives and mentors who helped him to chip away at the marble. Andre remembers meeting rapper and producer SKT, in awe of his beat-making virtuosity. "I think we must have gone through… months of recording – like, two or three times a week, just me and SKT," he says. "He's my brother. We're all family. Everyone's been so supportive and loving. They made sure I'm in the right lane, doing my thing, not surrounded by negativity. Just positive vibes. I was trying different writers, different producers, but I had such a strong bond with SKT and Marcello. They've seen me go from start to finish from my development stage to the release. We've come a long way, and it's just the start."
Through his experiences in the studio, Andre has also made an alliance with Arrdee, the 19-year-old Brighton rapper who similarly makes topping the charts look like light work. "I remember seeing him when he first came out as an artist to where he is now and what he's doing, and I looked up to that, because I feel like as young people, we're starting to make a name for ourselves. We're coming up. I think our generation watching us young people prosper and do well motivates them, too – and that's the beauty of it."
Andre's recent launch party was attended by the likes of Big Narstie. And in May, he helped a Coventry chip chop increase its sales by 30 per cent just for performing "Slide" outside it and making the place an unlikely viral hot spot. But Andre still has to do his homework. It's his day-to-day school life that keeps him grounded – and he's bringing his friends along for the ride. "I've always remained the same person. Me doing music hasn't changed me at all," he insists. "[My friends] see me doing big things, and it makes them want to do big things, too. I think friendship groups need to motivate each other to do well and push forward."
The visuals for "Slide" are largely devoid of the tropes of a pop music video: sure, there's a party and a trip to the boutique, but more than anything, it's Andre having a great time with his mates. "I made sure I got them in my music video," he tells me. "I want my friends and family involved as much as possible. I'm very much a group person, I don't like doing things alone – and I want them to be included. The least I could do is get them in my video. We loved it," he smiles, "by the end of it, we were all shattered, but we wanted to go again straight away."
This generosity and humility, which many artists pretend to but Andre seems to possess sincerely, extends towards his legion of fans, even at this early stage in his career. He celebrated the release of "Slide" by arranging an impromptu meet-and-greet with fans in Battersea Park, where he gave out merch to those who act as the driving force for his success. He takes the time to FaceTime his supporters, and even selected a few to attend the launch party. It's not a tokenistic act, but an effort he sustains. "Their support means everything to me. I love to make them feel special and included," he tells me.
I ask if Andre feels the burden of proving himself, particularly under the scrutiny that is inherent to his background. "I don't need to prove myself," he insists. "Everything will show through the music. It will show people that I'm passionate, that I'm serious about this. I'm not doing this as a joke, I'm doing this because it's what I want to do with my life. Regardless of what people say, it doesn't bother me, because I'm going to do what I want to do, and I'm not going to stop. I'm just in my lane, doing my thing, moving forward."
Junior Andre's single "Slide" is out now.





Get the Best Fit take on the week in music direct to your inbox every Friday