There are a few reasons why you might have come across Johnny Lynch, a charming Scot whose solo musical project goes by the name of The Pictish Trail. As well as working on his own sounds, Lynch is also the co-founder of Fence Records alongside Kenny 'King Creosote' Anderson. So when he's not releasing records from the likes of James Yorkston, Lone Pigeon, Rozi Plain, FOUND and Kid Canaveral, he can be found arranging the acclaimed Home Game and Away Game events. He's also a member of Silver Columns and according to his Wikipedia page and The List, he was named the 12th "hottest Scot" in a list of Scotland's most creative people. Any of these subjects would be provide plentiful content for a whole series of articles about the guy, but today, we're catching up with Johnny Lynch to find out about his own musical creations.
"Festivals are amazing things," he comments, taking in the intricately decorated surroundings of End of the Road festival, where our interview is taking place. "You get to see people in such a different light to what you normally do in day to day life. Everyone's in a totally different zone. There's a real survivor spirit but there's a feeling that everyone's in it together, and people are smiling and friendly. And drunk, mostly! But you don't see that in normal day to day life, so it's nice to experience it."
As we settle ourselves into two chairs around a vacant face painting table in the kid's entertainment area, Lynch reflects on his performance in the festival's Big Top tent the previous evening.
"It was great," he states enthusiastically, "I'd had a big night the night before and the hangover seemed to last most of the day. I was trying to not eat too much, but that was a bad idea because right before the show I got really jittery. But then a couple of songs in, I was totally fine."
Indeed, having witnessed the show, "jittery" would not be an adjective that came to mind to describe the affable songwriter. An injection of vigour and energy into an otherwise fairly placid line up came when The Pictish Trail took to the stage, currently in the form of a full band. Hearty banter, bone rattling riffs and a drummer playing as though his life depended on it, and The Pictish Trail proved themselves a highlight of the festival within their first five minutes on stage. No sign of a hangover, only the joy of being able to share new music with avid listeners.
"A lot of people came up to us and said 'you were really tight, you've got a really tight band!' and I thought it was one of the sloppiest shows we'd ever played! In a fun way, not in a shambolic way, but it was quite loose. It was exciting getting to play with a band, because for years I'd just done it solo or with a few collective members whereas now I've got a fixed set of players. It means I don't have to play as much, I can stop playing and everything's still going!"
"It's weird, because I live on the island of Eigg so I can't always rehearse when I want to. Touring is usually quite an intense thing now so we'll usually have a rehearsal the day before the gigs start, six hours, going over the songs over and over again, then we'll play the shows and we won't see each other for another month or so. On Eigg, there's a heavy metal band called The Massacre Cave and so I've got an Eigg band together as well, which is the same songs…just a bit louder… With this set of songs, I've kind of got two bands so juggling that's a bit weird. But I always liked what Beck did, when he had this rotating cast of players that he played with."
The last major rumblings we heard from The Pictish Trail came back in 2008 when Lynch released the project's first album, Secret Soundz. Never one to do things ordinarily, Lynch followed this with a second record entitled In Rooms, a collection of 50 tracks, each one 30 seconds long before announcing the release of an EP earlier in the summer, with an album soon to follow.
"I can't stay fixed on one thing," says Lynch of the set up for his latest releases. "Having done it so long solo, relying on myself and a drum machine and a keyboard, I like having the danger or the challenge of having to entertain a crowd with a different line up."
A lot more than just the line up changed around the creation of his latest record Secret Soundz Vol. 2, however. The former Fife resident relocated to the Isle of Eigg, an idyllic, sparsely populated island in the Inner Hebrides and also the location of the Away Game events. As well as this enormous lifestyle change, tragic events, exciting opportunities, moments of reflection, realisation and inspiration all occurred, and all were confronted in the creation of the new record.
"My Mum passed away last year and it was pretty… big," says Lynch. "The whole record's about that. It's weird, about six months after she died, it properly hit and I got quite depressed. My girlfriend's a shepherd on Eigg, and i'd been living in Fife for the past 12 years or so but I found myself spending more and more time over there, living in a static caravan overlooking the sea. No distractions, really tranquil. It's like being in a different country. I was in this place with the love of my life, dealing with this massive grief."
"I was finding it really difficult to focus and record, i'd be in tears all the time. But I'd been a fan of this guy Sweet Baboo – he plays bass for Slow Club and he's recorded 3 or 4 of Euros Child's solo records recently. I've known for a few years, he's played at some Fence festivals and stuff so he came up and spent ten days on Eigg to help me record. I had all the songs written already, so it was just a case of putting down the tracks and recording. And we did the whole thing in ten days. I did one or two songs myself that I added onto the record, but we got eight songs done in ten days. We played all of the instruments on it, I didn't have a drum kit so we used drum machines and distorted them… It was all about capturing the sound there and then rather than fixing things in the mix, basically mixing as we were going along."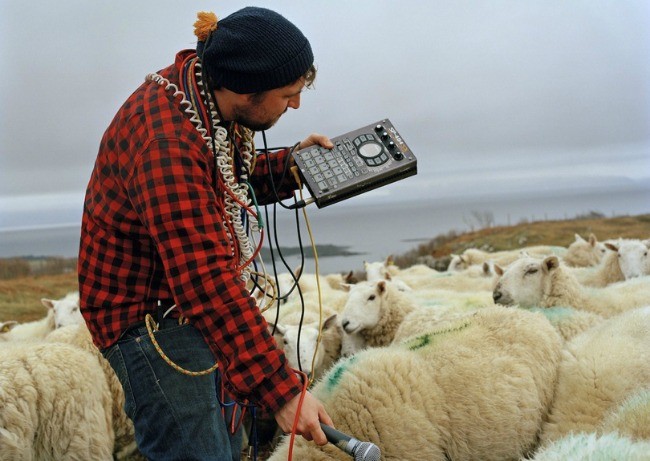 "With this record I feel like I need to put it out in the right way, then I can move onto the next thing," he continues, referring to a recent change to the proposed release date of the album. "Also, I think for the next one I want to do it with a band. I've not worked out how i'll do it yet but I think the record's definitely got a lo-fi feel to it, and that's because me and Steve played all the bits on it, playing all the instruments, very DIY. But now I think maybe it's time to do a rocky record and see how that works."
"I saw Grandaddy the other night in Glasgow and I thought 'I want to be in that band, I want to do that!' so that was definitely a big inspiration for the next step. I think there's an element of that on the new record as well, the guitars are quite fuzzy, and even though we're using a drum machine, there's quite a big sound to it. I think it works with a band, and it feels different to how it was recorded but it feels right as well, because I was trying to be a band… just with shitty equipment!"
Aside from The Pictish Trail, Lynch is also a member of Silver Columns, a project he started up with Adem Ilhan."That year was the weirdest year of my life," he comments of 2010 when the pair released their debut album, Yes, And Dance. "My Mum was battling illness throughout that entire year, so I was dealing with that but then I was off playing Ibiza at a Playboy bunnies party, supporting Soulwax – doing shit like that. Supporting Underworld at Brixton Academy! So it was weird doing that, and then doing shitty Pictish Trail gigs in the back of a pub!" he adds, laughing. "It was brilliant, and Adem is a total sweetheart – one of my favourite people. So generous with his time and his energy."
Hinting that a new Silver Columns EP may soon be underway, the conversation shifts to future Fence releases and how the rest of the year is looking for the cult Scottish label. "Eagleowl's record's coming out later this year, that's really really great," he responds. "Kid Canaveral've just finished an album that's really beautiful indie pop, it's the next step up for them. It's a more mature record and the songwriting on it – Dave McGregor's become a really great pop writer now, and they've found a sound that's really theirs."
A busy year for Mr Lynch then, as the final pieces of his own record are put in place in time for an early 2013 release, as well as overseeing the release of a host of new records on his label. "I don't want to keep doing the same thing, I want to mess things up a bit," Lynch reflects, restlessly, excited by the possibility of future projects and a handful of forthcoming shows which will allow him and his band to spread their wings. And one thing's for sure, whichever role he's playing, be that musician, performer, label head or festival organiser, his heart and soul will be firmly in it. Jack of all trades – master of them all.
The Summer Is Empty Of Idiots EP is available now, Secret Soundz Vol. 2 is due for release in the new year, and The Pictish Trail will be performing at the following live dates:
28 Sep – London Palladium, tickets for the event are available here.
05 Oct – Paisley, Paisley Arts Centre with Randolph's Leap (solo) and KiDD.
02/03 Nov – Aberfeldy Festival with Rozi Plain, King Creosote, Gummi Bako.