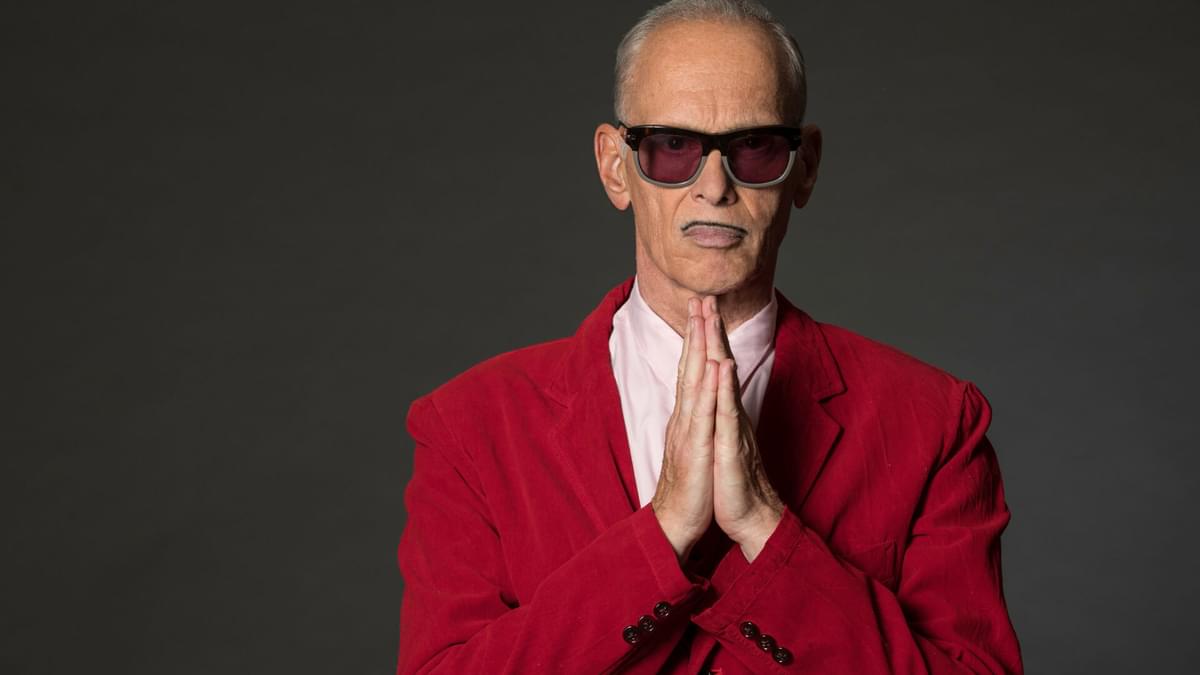 John Waters is calling bullshit on good music taste
10 May 2022, 12:00
As legendary director John Waters gets ready for this year's Primavera Pro – where he's set to appear in conversation with LGBT activist and artist Samantha Hudson - he talks to Anna Bogutskaya about music, film, books and the spurious notion of good taste.
He's been called the The Pope of Trash, The Prince of Puke, The Ayatollah of Assholes, The Duke of Dirt and The Anal Ambassador. A multi-hyphenate of trash, John Waters is revered for his transgressive cult films from the 1970s, like Multiple Maniacs and Pink Flamingos, low-budget fare that he made with his friends and collaborates from Baltimore, where he still lives to this day.
His early work, mostly featuring drag queen Divine and his coterie of pals known as the Dreamlanders, generated controversy for its gleeful revelling in grossness, crudeness and trash glamour. This joyful and celebratory take on bad taste would become Waters' signature, and all of his work – across films, spoken word albums, books and art – explores and explodes the notion of what makes good taste, anyway.
After his Trilogy of Trash – Pink Flamingos (1972), Female Trouble (1974) and Desperate Living (1977) – was completed, his films gained in budget and star power, but never lost its underground bite: Hairspray (1988), a teen musical that went on to be remade and adapted into a successful stage show (and currently playing the West End); Cry-Baby (1990), a greaser alt-take on Grease; Kathleen Turner as a housewife moonlighting as a serial killer in Serial Mom (1994); a kidnapping comedy starring actual Oscar-nominees Maggie Gylleenhaal and Michael Shannon as demented cinephiles; and his last film to date, A Dirty Shame (2011), a sex comedy inspired by the myriad of fetishes and sexual slang that Waters discovered online.
Despite a pause in his film output, Waters has always been busy. He's been a guest star on TV shows from Ryan Murphy's Feud to The Marvelous Mrs. Maisel and a judge on RuPaul's Drag Race. He's appeared in horror movie Seed of Chucky (2004) and another form of horror movie, Alvin and the Chipmunks: The Road Chip (2015). He's published ten books, had exhibitions of his artwork, a fashion line and been nominated for a Grammy Award twice for his spoken word albums. This year, at the age of 76, Waters has a stacked summer ahead of him. He's heading to Primavera Pro this summer to rip apart the clichés of good music taste in conversation with Spanish singer, artist, Internet celebrity and LGBT activist Samantha Hudson. That same week, Waters is doing a one-night-only show at the Barbican and promoting his first-ever novel, Liarmouth, billed as a 'a perfectly perverted feel-bad romance'. "I'm always busy!", he tells me, "I like to hit all different people in all different ways. I'm crossing over into uncharted territory."
Over fifty years in the spotlight with such a staggering output, there are still things that Waters hasn't done: "I've never done a whole panel on stage about music and about art." A well-known collector of books, albums, music and true crime memorabilia ("Let's say I have a lot of files I love and I have five people that work for me"), there's still a genuine joy about meeting people who are just as devoted to art, music and movies as he is. "I'm excited to meet all these music buffs and people that know way more than me about it. This is a whole different group of fanatics and I'm not usually around."
BEST FIT: Where did your love of music begin?
JOHN WATERS: Well, the very first record I ever bought was a song called "Cry Baby" by the Barney Sisters and I ended up making a movie called Cry-Baby and we re-recorded the record. But I also remember hearing Elvis for the first time. That's when I knew I was gay. I thought something was going on, I just didn't know what. I loved rock and roll so much that I used to have a Top 10 board over my bed. I would call all the record stores and pretend I was a music executive. They knew it was a child calling but they humoured me. I would ask each record store what the biggest seller was and I'd write it all down. I'd then put clear cardboard over it and then pull it off and say 'number 10!' and dance around the room and then 'number nine!', and so on. I was insane about the top 10 and rock 'n rollI think. I think for everybody the first music they love that their parents hate is when the soundtrack of their life begins.
And what about the latest? Is there anyone recently that you've kind of felt that excitement about?
I like all the Baltimore gang: Beach House and Future Islands and Dan Deacon. All the Baltimore gang have been hit records and I'm also a big fan of Orville Peck.
What makes a good pop star, do you think?
You have to continue and adapt to the times to last. You can never, you can never try to be what you were when you first came out. I mean, you can't blink either, somebody's waiting to steal your career at all times. I think the people that change music are always hated at first for their music, except for the youngest kids that embrace it. It's the same way with art. It's the same way with movies.
Your talk at Primavera PRO has been built around the cliché of good taste. What do you think having good taste in music means?
Well, you can't have bad taste in music if you like it, basically. There is bad music I used to make fun of and always outraged people. I used to say, 'why is gay music so bad?' It's gotten better. I hated disco in the beginning. I was a punk rock boy, we made fun of it. But now I like some disco. You know, I always liked The Rolling Stones way more than The Beatles and I liked Otis Redding way more than any of them. Even my musical tastes were not musically correct. I didn't listen to music for a while until the Sex Pistols came along. And then I changed and I came back to contemporary music and I still host a punk rock festival every year in Oakland. It's pretty great.
I consider myself a fan of yours and didn't know you hosted a punk rock festival!
It used to be called Burger Boogaloo. Now it's called Mosswood Meltdown. It goes on for a week, and we have Iggy Pop, Devo, The Damned... We're having two this year one on July 4th weekend and the other one on Halloween, look it up. It's an amazing festival. It's the biggest punk rock one in America, I'm sure.
It's really interesting how intense music fans get around the idea of taste: this is good, this is bad. Why do you think this extremity around this idea of taste happens especially around music?
Well, because music is so personal to you. You're listening to it by yourself and you want to be the one that discovers somebody first and then when they get too popular, sometimes people get offended because they want to be the only ones that like them. They want to be the arbiter of taste. What's amazing to me today is that when you look at the Billboard Top 200 songs, no one could identify all the artists. When I was growing up there was one song everybody in the world knew. Now it's completely fractured. Maybe that's good. Maybe the person who brings them all together will have the biggest hit ever.
Your
interview with Little Richard
, who you were such a fan of for so long, is infamous. Is there anyone you'd like to meet or interview at this point?
I've met so many people that I want to meet the only person I haven't met that I want to is Eminem and I know that he has no desire to meet me. That's why I want to meet him.
That column takes a lot of work! I have to see so many movies all year so I don't want to open myself up to another job. With music I don't know how it'd be possible. I vote for the Grammys. But I just tried to vote in the categories where I know the music. I looked through all the things that are possible to nominate and I thought no one in the world could identify every one of these, no one even the people that work at the Grammys.
Going back to films, how do you use music to sculpt the story?
The music was in the scripts always, from the beginning, as cues, because I used them as a narrator, I used them to help tell the story. So the words in the song go to the next scene and I use it for editing. But I also love different kinds of music and I had people I work with where I would give them the subject matter and they would give me a tape with, for example, 100 songs about bears on it. I was trying to do a scene with gay bears not Smokey the Bear but it would still work. It's just people that have this incredible knowledge of music. I love to put obscure songs. I like to put in songs you've never heard before. I love novelty records, especially novelty country records or just songs that tend to be so terrible that they're great in a movie soundtrack. In Desperate Living, I had a whole classical score. In A Dirty Shame I had a lot of dirty novelty records, Pink Flamingos had lots of garage music, but also had "(How Much Is) That Doggie in the Window?" and classical music. So I'm mixing genres.
You've written some of the songs that are featured in your films, scripts, spoken word, non-fiction books… How do you approach writing for all these different mediums?
There was one called "Straight Boys" and all they say over and over 'Straight boys, straight boys'. That wasn't too hard. When I write the music, I always just think up the idea of what the song should be so I'm usually working with someone else because I can't read music and I can't write music. So in a weird way, I'm kind of producing the record.
With my spoken word, I want it to sound like I'm just talking to you and making it up on the stage for 70 minutes, but it's completely written and rehearsed and memorised because I don't use any notes. And I constantly change it because of current events and taste and especially in the last couple of years because of COVID humour is completely different. It's also when you get to really stay in touch with your fans and see who they are and what ages they are and how they live and what they think is funny. They're my test audience for my books and movies.
And now, Loudmouth, your first novel.
My first novel, yes, it's my tenth book. But it's the first novel even though in a way all my movies are novels. And in Carsick, the book I wrote where I hitchhiked across the country by myself when I was 66 years old, the first two parts of that were fiction because I imagined the worst rides I could get and then I did it for real. I just wanted to challenge myself to do something I hadn't done and it's pretty crazy. It's probably the craziest thing I've written since Pink Flamingos.
What was the challenge for you, at this stage in your career?
I always tell stories. That's why I have spoken word shows, movies, books, everything. It doesn't matter in which way I tell them, they're equally as important to me. But this was a new way that gave me complete freedom because I didn't have to worry about budgets. I didn't have to worry about special effects, who would play the part and how much money they would cost and all that. I just had to go in there and tell the very best crazy story I could.
Have you noticed new audiences discovering your previous work through these new ventures?
Completely! I have people that act like fans and they weren't even born when I made some of the movies. I'm quite proud of it and without any irony. They let me get away with this for 50 years. I went to Poland recently and there were all these people who knew all my films. I'm amazed. How do you know who I am? When I came to Spain last time, I'm just amazed that Pedro Almodóvar had this big party for me with all these party kids and they knew my work. It's great. With the world the way it is, you can open up the culture so much more and be able to see things.
One of your most famous words of advice — and I have this on my wall in my house — is that "if you go home with someone and they don't have any books, don't fuck them".
I can give you two-runner ups for that. Sometimes if they're cute enough, it's okay. And the other one is if you go home with somebody and they have books in the bathroom really don't fuck them – run. Because that's hideous, when they have jokes for the toilet, or a basket of magazines. Haven't you ever heard the expression 'shit and get off the pot'? Don't be straining and reading, that's disgusting, especially in someone else's house!
But what if they have really good books in the bathroom though?
No, well then something's really the matter with them.
What would be the worst possible album/artist a person could have in their house that would make you run?
I don't want to pick out anybody that I can't stand because if I picked them out if I hated them that must mean they must be doing something right. At least they do something to me, they get a reaction out of me. It's the ones that I don't care about either way, that are just kind of mediocre, they're the ones that I probably disliked the most.
Let's do the reverse then, in a positive way, what sort of album artists that a person can have in their house would just instantly make you trust them?
Fellini soundtracks. Maybe Aretha Franklin and Ray Charles live together, which I actually was in the audience for at the Fillmore. "Jet Boy, Jet Girl". I have an album called A Date with John Waters. If you look at the playlist on the back, that would be the records that I would play if you came over for a date. My favourite song is one called "The Joker" by Billy Myles. That would be my theme song.
Get the Best Fit take on the week in music direct to your inbox every Friday