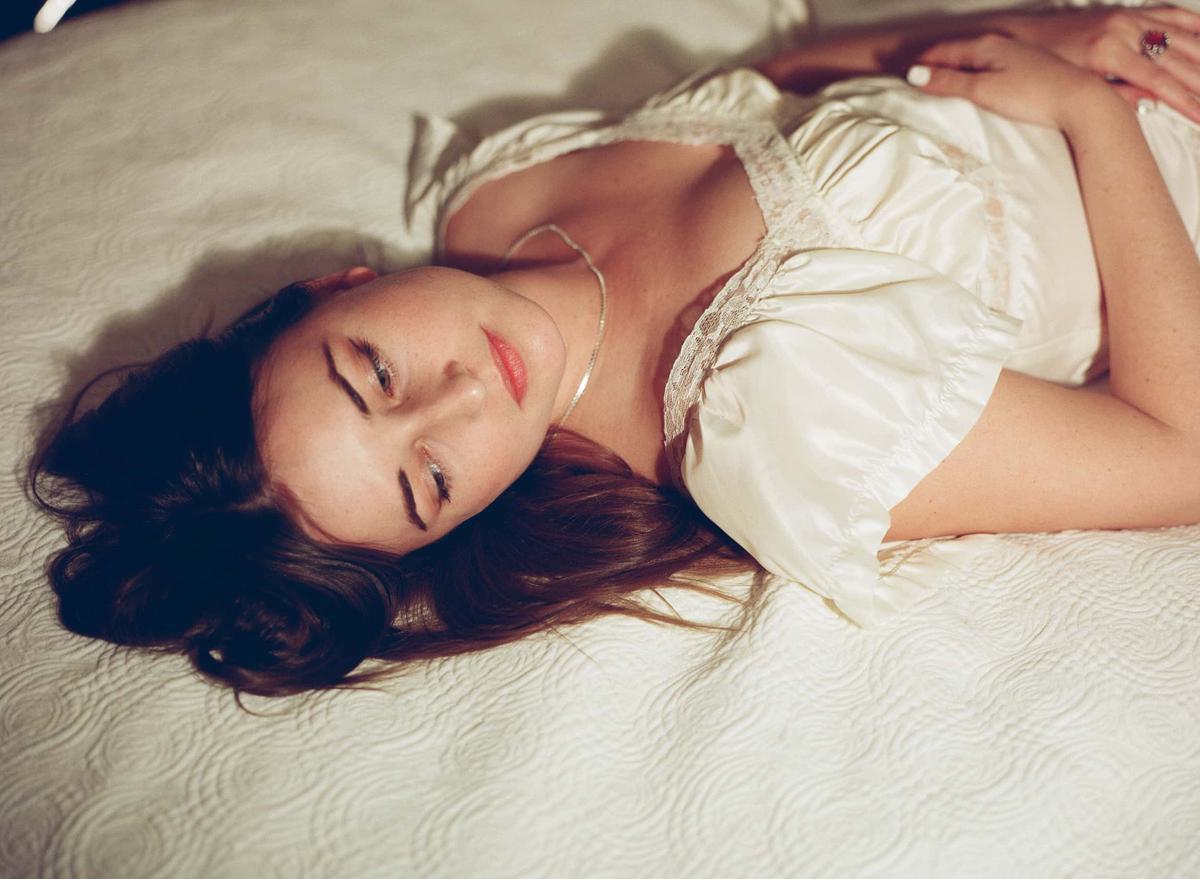 Jess Williamson is tackling unease, anxiety and confusion head on
11 May 2020, 15:15
During the writing process for her fourth album, Sorceress, Jess Williamson felt a heavenly presence. The Texas-born singer-songwriter had just attended a memorial service for a close friend and was perched on a porch with a tight knit group of mates, passing around a guitar and sharing a few beers in a quiet moment of reflection. Then they heard it. An otherworldly sound in the air
"It sounded like a flute in the wind," Williamson recalls. "We all fell silent. We couldn't figure out where it was coming from. As soon as we tried to record it, it would stop. Then it would come back. I know we all felt that was our friend's spirit and it was holy, really special."
The experience inspired Sorceress' lead single, "Wind On Tin", a breezy jam which includes the lyrics; "Were the angels singing just for us? Or is that what the wind out here does on tin?" Williamson was convinced by her encounter: "I've spent a lot of time out there [in Texas] and I've never heard that."
Williamson has a knack for crafting mystical folk. On her last album, 2018's Cosmic Wink, she honed her earthy and expansive sound, conjuring campfire tales underneath an endless desert sky. On Sorceress, she's embellished her country noir with dreamy pop elements and made her most confident musical statement yet. It's inspired, she says, by people looking for meaning and seeking hope: "When I was making this record, we were in New York [at the Mexican Summer offices] and we were up on the roof at sunset," she remembers. "The building has this amazing view of the Manhattan skyline and I had a moment when I was like, 'I don't know what's going to happen with this record, my career or the future, but I'm so lucky to be here making the album of my dreams, exactly how I want to do it."
She wrote the album in response to the Trump era, climate change and general feelings of unease, anxiety and confusion about the future: "Now here we are in a global pandemic and it rings true more than ever. In a weird way this is the perfect time for this music to come out."
We speak just as Williamson is returning from a short walk around her block after taking photographs on the empty streets. "I noticed that someone put a rose under the windshield wiper of almost every car that was parked on the street," she says, sighing happily. "It's beautiful. Someone's going to move their car and find a little flower."
Music and photography have been Williamson's passions from a young age but of the two, photography always seemed the "safer" option. "It was something I could go to college for and get a job doing." After attending uni, she moved to New York to study photography at grad school, but the pull to create music proved too strong to ignore. She dropped out after two semesters, eventually heading back to Austin to kickstart her career. "I wasn't that happy in New York, I felt like a fish out of water," she admits. "I missed Texas so much, I had such a community there. I was able to record my first EP in my friend's garage and play my first show at my friend's venue. I didn't have that in New York."
Since then, Williamson has written three albums, 2014's Native State, 2016's Heart Song and Cosmic Wink two year later - which got her signed to Mexican Summer, the home of Ariel Pink, Drugdealer and Weyes Blood.
In 2016, she upped sticks again, this time to Los Angeles. It was there, in her "little hobbit house", where she wrote "Sorceress", a record that brings together Texas and the West Coast: "I wanted to lean more into my country roots and experiment with some programmed drums and new sounds you can only make electronically - I wanted to bring those two worlds together."
The album was recorded between New York and Dripping Springs, a photogenic city in Texas Hill Country, half an hour from Austin. "The record was supposed to be done when I left New York," says Williamson. "I got the rough mixes back and I thought, 'This is not done, this is not the record.' So I booked four days in the studio with Dan Duszynski, who I made Cosmic Blink with, and in four crazy days, we turned the record around."
The pandemic is forcing us all to slow down and as we spend more indoors, we have the opportunity to sit with our record collections. "Sorceress" is an album that benefits from a keener ear, and Williamson has a lot to say: "In Los Angeles right now a lot of people are talking about doing a rent strike. A lot of people are publicly calling into question the ethics of landlords making a living of their tenants.
"There's a song on the album ["Harm None"] that is my anti-capitalist anthem, which just repeats 'wild love, no money.' Here we are in a moment where people are really calling capitalism into question. We're seeing that it doesn't work and we're seeing a total breakdown of it right now in a way that we've never seen before. It's showing people that another way is possible."
Sorceress is out on 15 May via Mexican Summer