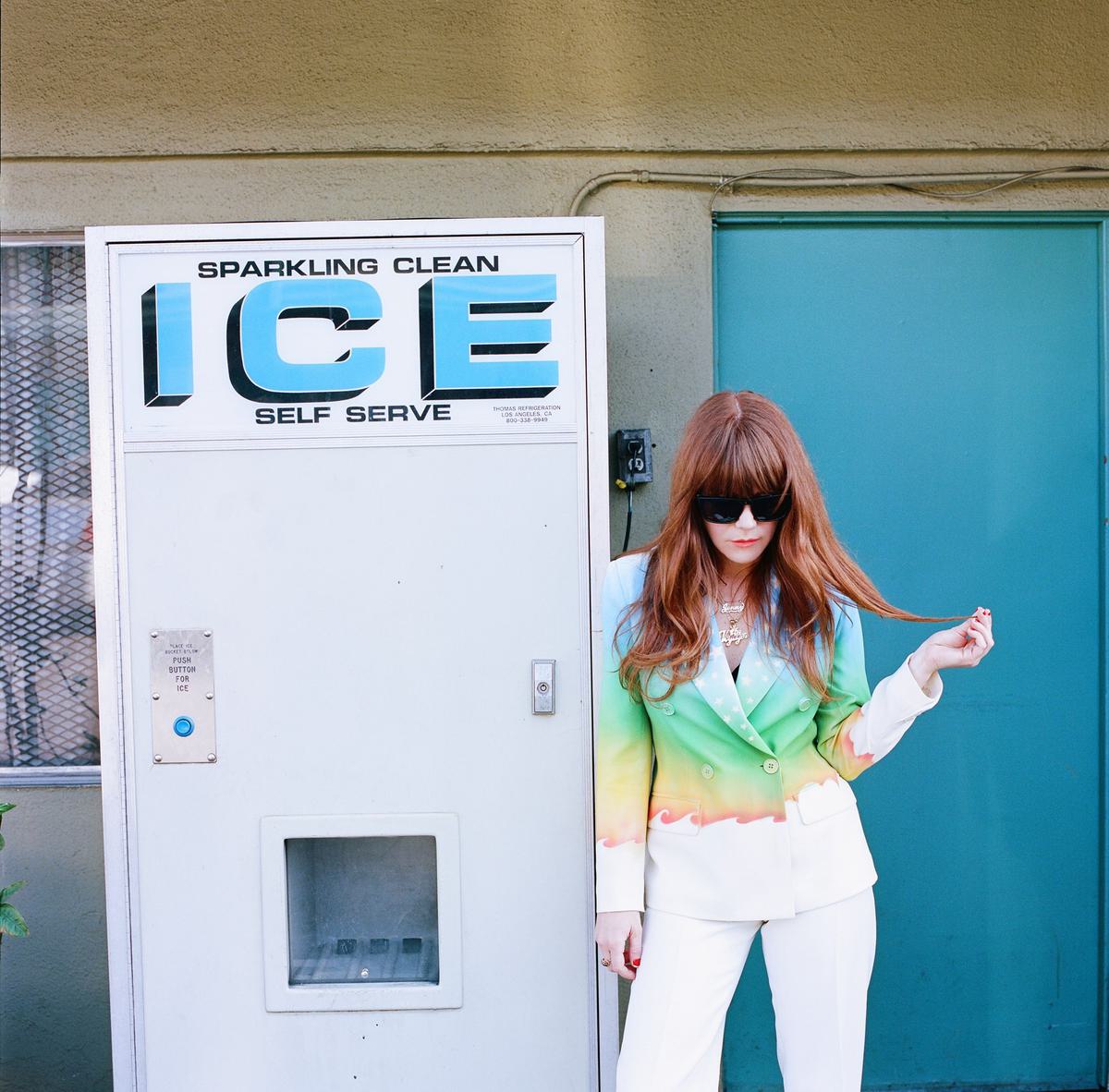 Jenny Lewis: "I'd exhausted all of my ideas"
09 July 2014, 09:00
"I didn't think it would affect me, but it did. It really did."
Jenny Lewis, as one of the finest songwriters of her generation, has long since carved out a lyrical style that's capable of veering from the genuinely funny to the thumpingly poignant in the blink of an eye; the only real common denominator, running through her work with Rilo Kiley and under her own name, is razor-sharp wit.
Back when she was a frontwoman, rather than a solo artist, her lyrics were the lynchpin of her band's output; the manner in which she tackled everyday anxieties was the facet of Rilo Kiley's that their fans placed the most emotional stock in. "A Better Son/Daughter" - an ode to stoicism in the face of depression - represents one of her finest moments, and the gender neutrality of the title is telling, too; whilst her writing is often discussed in terms of its importance to female listeners - this Pitchfork feature on Lana Del Rey is a recent example - it isn't always that specific.
In fact, Lewis' ability to articulate her anxiety has always been my favourite aspect of her music, too, which is why it's so disarming to find myself discussing it with her. Whether she was channeling angst about relationships through her own, tongue-in-cheek fiction ("Does He Love You?", "A Man/Me/Then Jim", "Rise Up with Fists!!"), making frequent nods to hypochondria ("The Good That Won't Come Out", "Happy", "You Are What You Love") or just generally evoking feelings of frustration and suffocation ("Paint's Peeling", the real-world apprehension of "Pictures of Success"), she's written more songs that I've related to than most. It's strange - almost surreal - to be hearing about the demise of Rilo Kiley, and the destabilising effect it had on Lewis, first-hand.
"I think just having total freedom for the first time scared me," she tells me over the phone from Los Angeles. "In the past, when I'd been writing for solo records, I was still in a rock band. There was no real pressure, because it was just a side project; it was like having a mistress, I suppose, a musical mistress. I didn't have to worry about it ever being anything more than that. As soon as the safety net of being able to go back to the band was gone, it freaked me out a little bit. I'd gotten very comfortable inside that bubble."
Rilo Kiley weren't officially consigned to history until the summer of 2011, when guitarist Blake Sennett did his best to chalk up their split to rock and roll acrimony with talk of "deception, disloyalty and greed"; in actual fact, things had fizzled out quite a bit earlier, not too long after their glossy, Fleetwood Mac-channeling major label debut, Under the Blacklight, had looked poised to provide them with a real crossover launchpad - instead, it's now taken on forgotten gem status. Lewis, who finished up touring for her second solo album, Acid Tongue, around that point, found herself facing writer's block at precisely the wrong time.
"As soon as I got off the road, straight after the Acid Tongue cycle had ended, I went right back into the studio with Johnathan (Rice) and and made I'm Having Fun Now (released under the Jenny & Johnny moniker). That's kind of like half a solo album, because I wrote half of those songs, but even at that point, I was really struggling to finish things. It was really a case of saying, 'fuck it, I've got five songs, that's enough to go back on the road for a year'. I don't think I was necessarily trying to run away from anything; the writing wasn't going great, but in my mind, I was thinking, 'alright, 2011, I'll have a solo record by then.' I never really assumed otherwise, but it didn't end up going down like that."
Instead, it's taken until now for her to come up with something new; "Completely Not Me", from the most recent Girls soundtrack, marked her first new material in nearly four years, and her first as a solo artist in almost six. She followed it up quickly with "Just One of the Guys", the first cut from The Voyager, last month; sonically, it's a return to more familiar territory after the country-tinged Acid Tongue, and lyrically, she's on classic form, wrestling with the idea of letting her biological clock count down to zero.
"That was the first new song I wrote, right towards the end of the last solo tour," she says, when I tell her I could remember it - just - from a Jenny & Johnny show some years back. "So I've had that one for a while, and 'Aloha and the Three Johns', too, the song about the ill-fated trip to paradise. Since then, I suppose I'd just been eking out a couple a year; it was very, very gradual, and there's a pretty big chronological span to the record as a result. I carried on like that until the very last song, 'The Voyager', which was basically an exercise that Ryan Adams set me; he listened to all the material, and then sent me off with a homework assignment to just write a ballad."
Part of the difficulty Lewis experienced - which, in turn, accounts for The Voyager's long gestation period - was down to the need to figure out a new way of working on her own songs, once the band were no more. "I would always write for Rilo Kiley, mainly, and then occasionally just keep stuff for myself. You know, here and there, Blake would say, "what about that song 'Just One of the Guys', or 'Jack Killed Mom'?", but I never really had any difficulty in knowing when to hold onto one for my own records. 'Jack Killed Mom' is a good example, actually; I'd written that for the band that I was playing my solo shows with, focusing on the vocal groupings and harmonies, so it wouldn't have fit with Rilo Kiley, anyway. That was probably the starting point for me writing for myself; I started to focus much more on melodies and harmonies than anything else."
In January of last year, Lewis dropped some pretty heavy hints about the then-unconfirmed reunion of The Postal Service whilst promoting Very Good Girls, for which she penned her first film score. That rapturously-received tour - their first in ten years - took up much of the first half of her 2013; the difference this time, though, was that instead of making a respectable ascent from struggling to book shows to filling club venues, they were selling out two nights at Brooklyn's cavernous Barclays Center and appearing at the business end of the Coachella bill - not bad for an 'imaginary band', as Ben Gibbard was so fond of calling them. For Lewis, meanwhile, the benefits were obvious.
"It got me back on the road, which, as a musician, is where I'm supposed to be. I hadn't toured like that for a really long time, and suddenly I was in front of the most people I'd ever played to. Even then, I still kind of felt as if I was being eased back in, to some extent; I was there in a supporting position, to back up Ben. It was kind of like rock and roll college, learning how to do that again by watching him every night. Plus, you know, those aren't my songs, and as much as I love playing them, inevitably you end up starting to think about your own songwriting, too. When I saw how much that record meant to all those people, it was hard not to feel that itch to get back to it myself."
The result, in The Voyager, is an incredibly diverse piece of work, ranging from all-out pop - "Head Underwater", "She's Not Me" - to a guitar-driven sound not too far shy of her old band; "Slippery Slopes" and "Love U Forever" spring to mind. "That wasn't intentional, but it's probably bound to happen when you work with three different producers," says Lewis. "I did work with one mixer to try to bring some sort of focus to the different sides of it, but honestly, it's a representation of long period in my life. It's a lot different to everything else I've done, in the respect that every other album I've made has been written and recorded within a year or two, pretty much."
You have to wonder, though, whether Lewis had any apprehension about those older songs; having existed outside of the studio for so long, there was always the possibility that they might not turn out how she'd hoped when it came to finally getting them down. "There was a little bit of that," she admits. "When I wrote the three oldest tracks on the record, I demoed them on GarageBand, and there was a lot stuff within them that I really liked. I'd never really done that before; in the past, I'd always record just a vocal and a guitar and then send it off to my band, or take it into the studio, but because I was playing everything on these songs - bass, keyboards and everything else - I was just trying to be creative, and come up with ideas, and as much as I was into the demos, I couldn't really finish them the way I wanted to. I worked with Beck on the record, and he chose to produce 'Just One of the Guys'; I was honestly sick of that song, at that point, but I really feel like I ended up finding the right arrangement for it through him."
There's something about The Voyager's opening one-two that feels like a throwback; "Head Underwater" has more than just a touch of Tango in the Night to it, whilst "She's Not Me" comes over like a nod to the pop sheen of Under the Blacklight. I'd always wondered if Lewis had wished she'd had more of an opportunity to pursue that particular sound, given that Rilo Kiley's experimentation with it was quickly curtailed.
"I wasn't really consciously referencing anything; 'She's Not Me' was the first track I recorded with Ryan Adams, and at that point, I didn't have too clear an idea of where the record was going to go. I'd actually written that song after reading the Keith Richards autobiography, Life; he talks a lot in that book about the five-string open tuning, about how many hits he wrote like that. I'd spent a couple of years just kind of messing around with it before I took it to Ryan, but the foundation of it was that real Stones disco sound. You know, like 'Miss You'; you know how that song is basically a straightforward disco song, but in that fucked-up, Stones way? They'd take something familiar and give it that edge, make it sound dangerous. That's what I took in to Ryan, and then he put his own spin on it, too."
The Postal Service played their last-ever show at Chicago's Metro in early August of last year, the same weekend they played Lollapalooza; two days later, Lewis was in the studio with Adams. "I knew that he had a great studio (Pax-Am) in Los Angeles, right on the Strip, and I wanted to go somewhere with no pressure, just for a day. Ryan came to mind partly because I was a fan of his, but also just because it seemed like I needed to try something new, and as it turned out, that something was in my town and easy to do; I just reached out to him directly, He told me to come down, and we'd do just one song, which was 'She's Not Me'. At the end of the day, he asked me if I could bring the whole record to him, which made me feel pretty good."
"We'd hung out a couple of times in the past, and I knew him as being this really funny guy, but as far as him producing stuff went, I didn't really have any expectations going in. I was just willing; I showed up with my guitar, and then he put one of his guitars in my hand, said "play this", I taught it to the band and, before we knew it, we had a song cut, within an hour or two. I think it helped that I was kind of stepping into the unknown a little bit; that was really what I was looking for."
Bringing in high-profile figures on the other side of the production desk marked a change in direction for Lewis; whilst she's no stranger to collaboration - her first solo album, Rabbit Fur Coat, was recorded with The Watson Twins, whilst Acid Tongue featured Elvis Costello, M. Ward and Zooey Deschanel in different capacities - the concession of control that comes with handing over production duties, particularly to people she wan't overly familiar with, proved an obstacle to begin with.
"I definitely found that it's one thing to bring in friends to collaborate on your records, and it's something else entirely to go into the studio and have them producing your songs. It really came down to me having exhausted all of my ideas; I needed to take what help was available to me. It was quite a leap to hand that over. You feel a little bit powerless, to begin with. In a lot of ways, you go back to that place I was in with Rilo Kiley, early on; when we started, we did everything ourselves, and we were very protective of it. As we went along, and started to open that world up to other people - Mike Mogis, Jason Lader, Mike Elizondo - it was sometimes difficult for your ego to let go, to let someone else take care of your baby. What made it easier was the fact that I was working with such great songwriters in Ryan and Beck; I mean, they get it. They were really listening to the songs, and the lyrics in particular - they've been there themselves, I guess."
Lewis still does plenty of storytelling on The Voyager; "Aloha and the Three Johns" is probably the best case in point, but "The New You" has her tapping back into her familiar style of narrative, too. Ultimately, though, the fact that the album took so long to finish means that establishing any kind of clear concept proved difficult. "It's kind of hard to get away from the fact this is a collection of songs, really," Lewis admits. "I tried to order them in such a way that they made sense thematically, rather than chronologically. That's why 'The Voyager' is right there at the end of it; it's a song about the cosmos, which I thought would tie everything together quite neatly."
Perhaps a less obvious parallel with Rilo Kiley's fledgling days that Lewis drew during our conversation came whilst discussing The Voyager's artwork, which features her - from the neck down - wearing a gloriously eccentric trouser suit, having apparently ditched the Adidas tracksuits that were a staple of last year's Postal Service tour. The suit has already made a few live appearances ahead of the record's release, an intentional move on Lewis' part.
"It sounds funny, but to have a set costume for an album cycle makes it a hell of a lot easier out there on the road," she relates. "I don't know; it focuses things. When I started out playing these songs, a couple of months ago, I felt like I'd gone back fifteen years. Back then, I was into jeans and t-shirts, because it just felt comfortable for me; it seemed to fit with the fact that I was traveling around in a van with a bunch of dudes. That was my stage get-up; a couple of t-shirts, a pair of jeans. This time, with the suit, I'm kind of transforming myself a little bit; I'm going out there feeling like a mini Elton John, and it's a nice bit of escapism."
Touring for The Voyager will be keeping Lewis occupied for the foreseeable future - she promised some UK dates, having already put together a six-piece band. You have to assume that comfort is key; given that the process of putting together this record was so often a painful one, there's no guarantee that performing it night in, night out will be a cathartic experience. "On a good night, you get into a bit of a trance, where you're totally immersed in different parts of different songs. They start affecting you differently; little things about the lyrics that I might not have picked up on before might just strike me one night. I'll be in Ohio or somewhere, and I'll think, "man, that must be what I meant!" For better or worse, that's how it goes; I guess it's just a part of my job, right?"
The Voyager is available via Warner Bros. on July 29th. Jenny Lewis plays End of the Road and Bestival this summer.