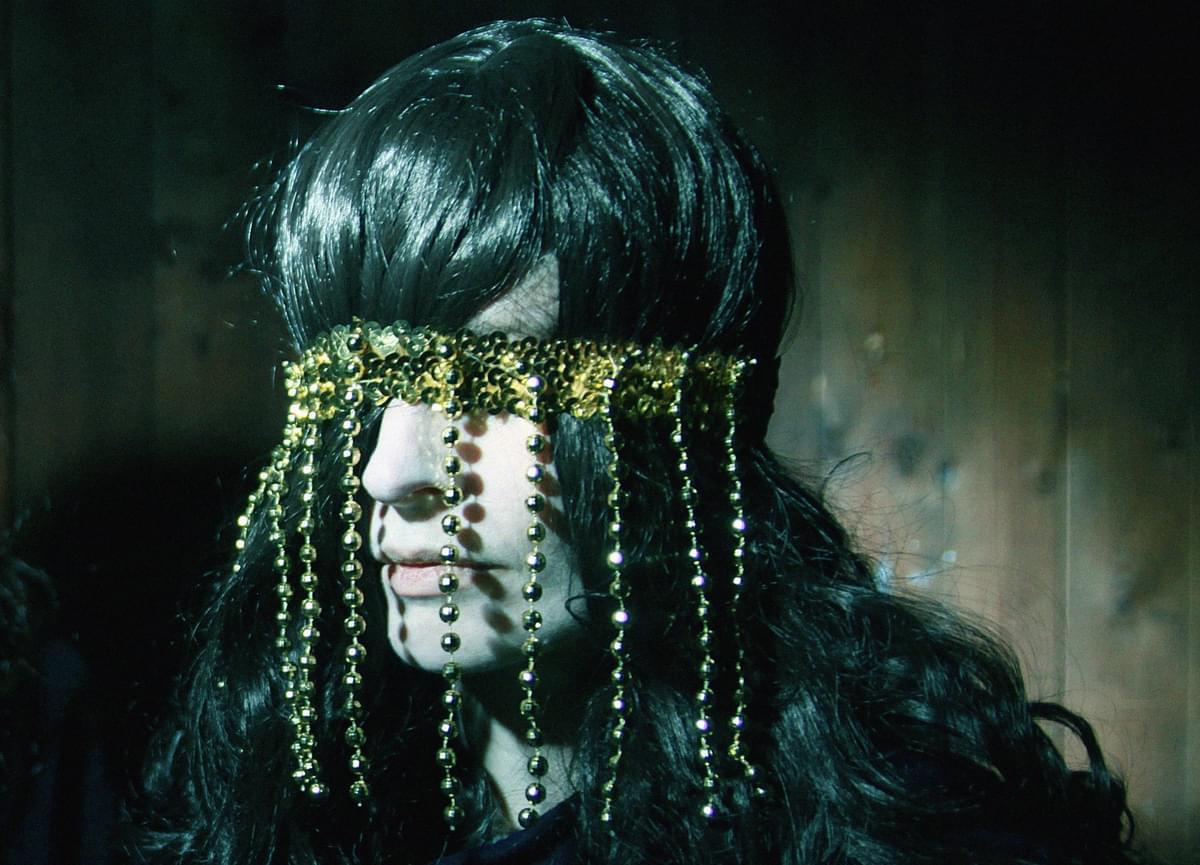 A language in which we can truly talk about music
14 December 2016, 08:00
Jenny Hval's Blood Bitch is Best Fit's album of the year for 2016. We catch up with Hval to talk about the record's meaning in the context of the year's outstanding tragedies and failures.
It's barely three months since Jenny Hval released Blood Bitch but in that short space of time the record, for me at least, has taken on even more meaning in a world which seems to be perpetually fucking itself over.
Three months and we've seen Leonard Cohen pass, the UK and EU's relationship becoming less clear and increasingly strained in equal proportions, and hell freezing over with the US electing Donald Trump as President. Even in the last few days we've seen an arts and music community torn apart by scores of deaths in a fire in Oakland, California.
In light of all this, Blood Bitch feels more and more like a dream. A prescient one where an idea of the importance of art and communication seems bigger, writ large, in retrospect. And a refuge, of sorts. At the time of release I wrote that the album was "Provocative, thoughtful and enrapturing, it's a record in some ways about trying to find a language in which we can truly talk about music." That remains one of the themes of the record, but by expanding it to art and the creation of safe spaces – just think of the number of musicians who spoke out to reassure people their concerts would remain a haven for people who object to Trump's views on marriage, abortion, immigration, gender, sexuality, the list goes on - where we can discuss the meaning of art and search for a common language, it overtakes the themes of vampires, horror movies, the body, and menstrual blood.
This is one of the many reasons Blood Bitch is a worthy album of the year for 2016. Thematically, it's impenetrable and welcoming in equal measure. It's about failure and ritual, it's about the capitalist society that surrounds us. It's also about the films of Jesus Franco. It's a celebration of menstruation, menstrual blood and the effect it has on us all, but also a reminder that it's a natural thing – almost banal in some senses – and shouldn't be dismissed as dirty or something to be gratefully expelled from the body. It's also incredibly funny in places, and somehow doesn't lose any of its power in spite of it.
Musically, I'm once again reminded of a dream. Blood Bitch is a mix of drones, white noise, club beats and '80s synth pop. Where previous album Apocalypse, girl leaned heavily on spoken word and ominous noises, Blood Bitch invites you into the dream world. You might even say it's catchy.
From the pulsating Goth synths of "Female Vampire", through to the haunted choir and heavenly piano of "Conceptual Romance" (which has Hval's greatest vocal turn to date, proving her to be one of the most underrated singers around) there's much that's accessible about Blood Bitch. Yes, there's also the panic attack breathing of "In the Red", the meandering keyboards and scribbling sounds of "Untamed Region" (which also features the more and more prevalent words of filmmaker Adam Curtis discussing uncertain times) and the horror-movie-score-gone-awry of "The Plague" to make sure the listener never truly gets to settle into the album.
But we always – especially now – return to the idea of communication and language. On an album which features a series of interrupted conversations, Hval told me earlier this year that "There's this never-ending problem of 'can language get close to music?' and so that's on my mind a lot, definitely". In a world where divisions are rife and becoming more common, Hval's search on Blood Bitch (the record's final line is "Does anyone have a language for it? Can we find it?") makes the album the year's most important release. No other record directly addresses art's place in the world like Blood Bitch, and it might be the only album to provide a solution. Rebuilding the world might be beyond us, but music and art still has the power to bring us together.
I caught up with Hval to talk about Blood Bitch.
***
Hi Jenny, it seems you're sharing a front page – Norway's Dagbladet - with the US President-elect today.
Yes! It's still on the newsstand as we speak. I think it's the second biggest newspaper in Norway. It's kind of a tabloid newspaper so I have mixed emotions about that. I don't have mixed emotions about the front page [with Trump] – I have very clear feelings on that!
Was it a surprise?
I woke up this morning still with a tour brain and I didn't know where I was and I was like [Hval mock-gasps] because I didn't know where I was. I think that must have been the front page of Donald Trump appearing in my dream…scaring me. Norway is a small country and all of a sudden you can appear in a big newspaper, and it's that sort of very violent, tabloid language and it is kind of silly
You were chosen as album of the year, right?
It was Norwegian [album of the year]….they do this every year, Norwegian album and international album. I didn't see the paper itself so I don't know if they combine them. It is nice to appear on lists because it means what I do means something to people…but a number on a list? I can't sit around and think on it too much. That's other people's stuff.
You're not a fan of lists?
I kind of hate lists; I mean writing them myself, I couldn't do that. I think it's good for people to become aware of music that's not widely promoted or as heavily surrounding you as other more well-known music. It can be a sort of lovely way to get the more unusual types of music out to people at a time when people really need to listen to stuff…especially now. Not just because the time of the year but maybe lists mean something right now - people want to take comfort in art. Lists aren't necessarily a bad thing but it would break my heart to have to rate things. I don't envy the people who have to vote.
We've chosen Blood Bitch as our album of the year. Is that something – lists, rating albums – that means much to you. Putting a sort of value on what you do?
Well it's not always about the record. It's about the meeting of people and creating space. I was touring in America, on the west coast, and I arrived on the day of the election. I had my first show three days later….it was a really brutal time and it changed the music so much, and it changed what a concert setting is. It felt really important [at that time] to use music as protest or as a safe space – or as a different language to the 'post-truth' I guess. Not that art has essential truths but it can be a language where you don't need to connect to the same manipulations. Part of my live show is kind of about that, in a way. In that sense it was incredible to be playing to people; those are the safe spaces of art communities. They're so necessary, and now with the fire in Oakland people are talking about the safety of artists and venues…thankfully I see people writing about this other kind of safety and other kind of space; the community which art creates and the need to express yourself and be in a place where you can. It's about democracy and about free self-expression of marginalised ideas or languages or people. These things are all connected. There's a lot of power in art these days, but unfortunately the tail end of this year has been a lot about grieving together also.
When we spoke earlier in the year you said that you weren't sure about what Blood Bitch meant or was about…have you come to any conclusions now it's been out for a while and you've toured it?
Definitely. I think it has surprised me about being much more of a different album than when we spoke of it before I did so many live shows. What changed it wasn't so much my own experience with it, but everything else. When I was in America and singing these songs to people who had just been through that horrible election and were in the middle of all the protests, I realised that a lot of the songs, the themes and different verses changed a bit for me. The menstrual blood and fictional vampire element sort of flowed into a more contemporary political context where it was more about creating space and creating a language which, on the one hand, can be a place to criticise and ask questions about what's happening and how art is being used for political purposes in the world – and for horrible purposes. At the same time it's also asking questions about whether there is another language and other ways to communicate. It became much more about communication than I thought, and a lot more about responding to politics and manipulation.
So Blood Bitch, for you, has been changed by the world it has been released into? And changed by your reaction to world events?
I changed the album by bringing in new elements, and it became really valuable for me at a time when I was thinking 'what's the use of being an artist in this world of needing press agents more than needing to make music?' At a time when everything is resembling capitalist culture and there's so many things to be critical of in the touring and music industry, and in the life of being an artist. It's been a really rich and sad and valuable few months for me.
Get the Best Fit take on the week in music direct to your inbox every Friday