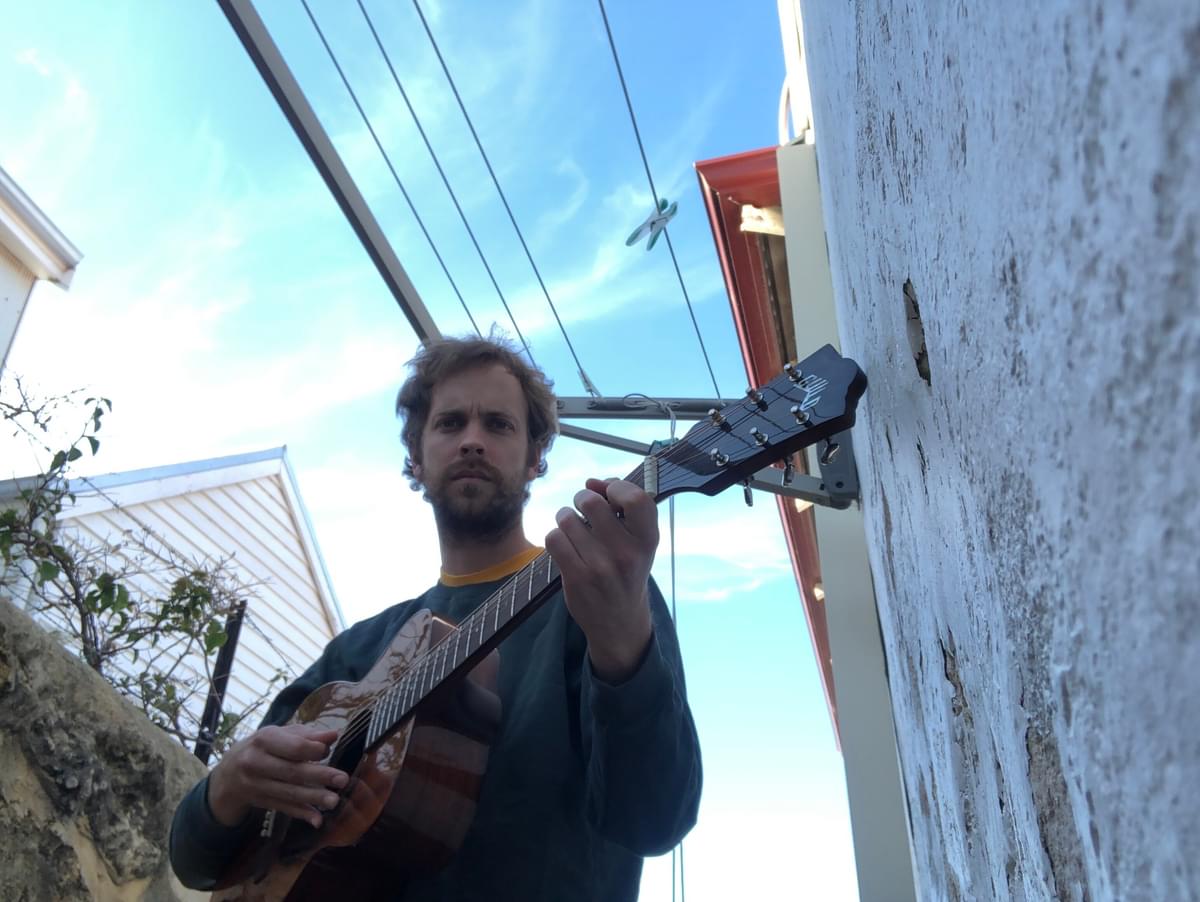 Tame Impala's Jay Watson Talks Perth, Young Thug, and His Fifth Solo Album as GUM
17 June 2020, 08:20
After over a decade with Tame Impala, and eight albums with Pond, Jay Watson's solo career is just him and a van.
In the landscape of modern music, Jay Watson occupies a unique place. As a touring member of Tame Impala (one of few bands to thrive in an era where bands so rarely do), a core member of cult icons Pond, and as the solo act GUM, he has a perspective which spans the hierarchies that define the industry: scrappy underdog and chart titan all at the same time.
He's also recently passed his driving test, and is calling me from the car, parked in his driveway in the approaching dark of an Australian evening. "I just drove home from my friends' studio and my girlfriend and new baby are in there so it's a lot more peaceful in the car, to be honest" he grins, propping his phone behind the steering wheel. It turns out the 'friend' in question is Tame Impala's frontman Kevin Parker. The day before, he was with his bandmates from Pond, in a new studio they've built in their hometown of Fremantle, Perth; a bohemian town which Watson describes as "kind of like if Margate was stuck to London".
The casualness with which he flits between the two acts is typical of Watson's career; even during the promotional cycle for his fifth solo album as GUM, Out In the World. Rather than stripping back the bombast and tripped-out psychedelia, GUM's solo music is brighter but just as colossal in sound, full of heavy synth bass and swirling sitar. "This one started out like Nick Drake or something, just me and an acoustic, but I'm still not at the point where I'm confident enough to do that. And I have so many toys to play with! So it'll just be me singing and them I'm just like 'or, I could put it through that spring reverb I found…'"
Watson is aware of the reputation he's accrued for wearing a lack of self-confidence on his sleeve in interviews, which has now built enough that people like me ask him questions about it. "It more surprises me that it's commented on, I just assumed that anyone who makes art thinks what they've done previously is shit", he laughs. "It's like you're never meant to say when you're having a shit gig and you have a cold or something and I was always really bad at that, I was always like 'sorry, sorry, this isn't as good'. It took me years of touring to realise that that was rule number one".
"I got a couple of early reviews for Pond which were so scathing, I got 'turgid' once. My favourite one ever was about an early Pond song called "Moth Wings" which I wrote when I was nineteen and thought it was funny, trying to be Funkadelic or something, and there was a French review which called it a "Lenny Kravitz cauchemar", and I googled it turned out that means "Lenny Kravitz nightmare". At the time I was pretty offended, but now I think that's pretty cool. I like Lenny Kravitz".
Watson does seem to have a newfound confidence in the quality of the production of Out In The World - written partly on the road and produced entirely himself in Fremantle. "I'm still not convinced that what I do is objectively good, but the fact that there are some people out there who genuinely like it makes me want to stop beating it up".
"I'm still not convinced that what I do is objectively good, but the fact that there are some people out there who genuinely like it makes me want to stop beating it up".
Indeed he lights up when he talks about the new songs. "I did try to make them sound as big and pure and cool as possible. There's the song "Many Tears to Cry" which I kept trying to fuck with because it was really ballad-y and earnest, and I eventually thought: for once just leave it rich and big sounding so you can hear the words, which is how it appears on the album. That's probably a confidence thing - writing lyrics which are more embarrassing. But it's starting to work now I think".
While they may seem quite distinct to the listening audience, when Watson writes new music there's no initial differentiation between what may end up on a GUM or a Pond record: "I think for me I just like coming up with little ideas or riffs or film clips or something with no real agenda. I've been doing things long enough that I know whether Nick [Allbrook, of Pond] will be able to write to it, and where he won't have anything for it. The one thing on this album was the riff in the "Alphabet Soup" song" - at this point he bursts into an exact recreation of the synth line - "and in my head was going to be like Daft Punk/Led Zeppelin or something for Pond, but I ended up recording it quite light and airy for GUM. Now it sounds like a 70s film score or something".
Pond itself is now eight albums into a career which began in 2008, and the secret to their longevity may be due to what sounds like a surprising degree of amicably among its members. "There's almost a pattern with Pond albums now, where Nick and I write a bunch of the songs and Joe will have a couple of Joe-songs and then one Nick and one me. The records all sound quite different but we have a similar way of making them". It wasn't always that simple though. "There's three albums before the one which everyone knows, you know, which are absolutely… it's like mad men music. We're thinking that we might do a compilation of 2008-11, 'the early years' or something. We try to reissue them but so much of it is terrible…".
Ironically then, there is the sense that involvement with Tame Impala, a colossal band which plays on some of the world's largest stages, is a relief. "That's what's really nice about it, you get to hear it like somebody else does, like a fan". Watson played small parts on the first Tame Impala EP and first two albums, but it's now entirely written and played by Parker in the studio. "You have your favourite songs and it's like 'can we play this one?' I just have a different responsibility in that band to be a good session musician and be professional. If I don't do it well enough someone else could do it, you know, so I take a lot of pride in that".
" I just have a different responsibility in that band to be a good session musician and be professional. If I don't do it well enough someone else could do it, you know, so I take a lot of pride in that".
Watson maintains the same attitude when it comes to prioritising touring between his three acts. "To be honest, there is kind of a basic hierarchy and it's decided by how big each band is. We all have the same manager, but it's not about the music or ego or anything. Tame Impala is just a big operation with many livelihoods involved, so of course that takes priority. It's kind of like a business, it employs so many people. Then with Pond there's like a dozen people involved, and then with my thing… it's just me in a van. So it makes sense that's the order of priority booking tours and stuff, but it works out really well that way! In Pond we don't want to be touring nine months a year anyway. Also the Tame tours are also a lot more… shall we say 'luxurious' than the Pond tours. You never get used to the transition! On a spiritual level I don't think of any of it differently, but on a logistical level it takes a while to get used to being with Pond playing a bar in Ireland which is half full and sleeping with my mate in a double bed in an Ibis, and then I go on tour with Tame and I'm like, what the hell is going on? I have my own room and a queen bed, and there's catering everywhere".
Watson was supposed to be touring with Tame Impala promoting new album The Slow Rush in Canada as we speak, yet aside for the cancellation of the tour, living in Fremantle means that the pandemic's impact has been relatively low. "I saw a good meme for Perth actually which was Perth before and after coronavirus, and it was just the same street" he laughs. "Last time I saw on the news there were three new cases in the state, so it's kind of gone back to normal. People are hugging me and shaking my hands and stuff, which isn't great because I'm a bit of a hypochondriac anyway. I don't think our response was as swift as it could have been but part of it is just that it's so spread out, you know? There's only 26 million people on the entire continent".
The unexpected end to touring has given Watson time to indulge in some long-overdue passion projects. When I ask him what he's been listening to of late, one of his answers is his own debut album. "Some of the stuff I don't even want to say because I'm just listening to the way it's mixed or mastered. I want to reissue, remaster and do new artwork for the first two GUM records, the sort of thing I've always wanted to do, and never had the time. So I've been listening to "Californication" because apparently that's terribly mastered" he laughs. "I've been enjoying riding around listening to an AM radio station here called 10.80, who play a lot of ELO and heaps of music from the 50s, 60s and 70s… I love it because it dispels the myth that old music is good music because so much of it is so shit.
"I have a playlist called 'Gum Grooves' and I throw on what sounds cool. The last ten songs I added there are by the Yardbirds, Zapp, The Zombies, William Onyeabor, Wings, Wyes Blood and Young Thug. I'm not very good with keeping up with current hip-hop but I love Young Thug and have for a while, all the guys in Pond are actually obsessed with him and we play him a lot".
If the notion of an Aussie rock band sitting in the studio grooving out to the weirdo-trap of Young Thug seems odd, it shouldn't. I don't suggest as much to Watson, but there may even be a little of their influence in the Atalanta rapper's colourful intonations. The psych-rock sound pioneered by Watson alongside Pond and Kevin Parker has had a colossal impact, influencing several dozen thriving indie acts such as Nick Hakim or King Gizzard and yes, has reach as far as popular rappers such as A$AP Rocky and Travis Scott, who've brought the psychedelia to rap.
This influence has earned Perth a reputation reminiscent of Seattle or Detroit in the 90s; a musical hotbed with a singular style. From the inside though, Watson doesn't see it quite that way: "There's a music scene and there always has been but not many people were playing in this 2000s psych-rock scene. When people talk about that it's like… six people you know?" he laughs. "It's not really a heap of bands, it was more like a couple of share-houses. There were loads of other great bands we considered part of the scene but they were noise bands or garage rock or electronic guys we were all mates with. If you work out the number of people who play in those three or four bands, I think it's like six people". With Watson alone being in three of them, it's fair to say that the numbers add up.
Out In the World is out now via Spinning Top Records.
Get the Best Fit take on the week in music direct to your inbox every Friday