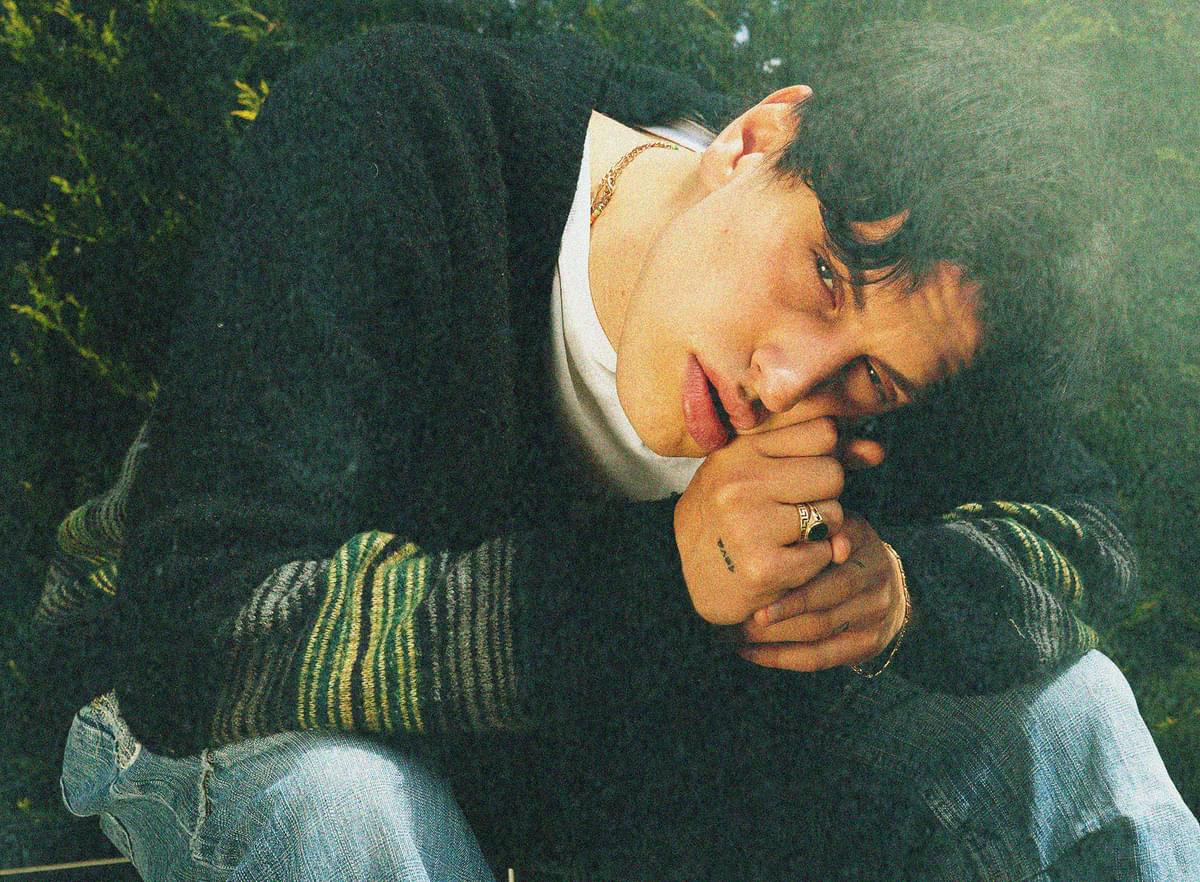 On the Rise

JAXN
01 August 2022, 11:00
Graffiti. Sleeves of oversized hoodies skimming your knuckles. MTV. Chewed-up laces on scuffed-up Vans. Handheld camcorders. Beanies, butterfly barrettes and bucket hats. This is the backdrop to Manchester singer-songwriter JAXN's universe, and his rosy Britpop reinventions are the soundtrack. Now, with the release of his latest single "One Kiss", he's asking us to dip into our nostalgia for the past, lean into the fisheye lens and find the romance in our todays and tomorrows.
Since his emergence in 2019 with debut single "Talkin' Bout", with its stripped back wah-wah grooves and whispered falsetto primed to take you by the hand on a blue-sky daydream, JAXN has never written anything close to a sad song. While he is something of a musical chameleon, blending into the colours of angular skate-punk one moment to the breezy melodies of 90s radio hits the next, his songs are almost radically optimistic. "I feel like I can write something that's emotionally moving to me, yet it's always happy, always in some way nostalgic," he tells me. "Even if it's slightly like a breakup song, it will always come out sounding a bit more summery and carefree."
For JAXN, it's always about basking in love's first flush, with a hedonistic streak where he doesn't care if you break his heart down the line – he'll worry about picking up the pieces later, but right now? Fuck it. "I guess that's not a bad superpower: positivity," he says.
But his euphoric creations are only possible because of careful calculations. Since "Talkin' Bout", JAXN has been releasing a steady trickle of singles which form the architecture of the world he is building for himself. With his work as a videographer, which he pursues alongside music, as well as cutting his teeth as an artist producing and playing in other bands, JAXN is something of a creative swiss-army knife. Everything you see, from the photography and graphic design, to the illustrations and creative direction, has been precision-engineered to meet the almost impossible expectations JAXN sets for himself.
"I'm a perfectionist to the highest degree," he admits. "I have lofty goals. My music, my aesthetic, my videos, my merch – I want to be great in all those areas that make up an artist, rather than just one in particular. The vision is really big, you know." While it may seem that he drops singles on a whim, what you don't see is the many months of ensuring every element is on point. "When I write a song, and I think it's good and the world needs to hear it, that means I have to up my game with everything else," he explains. "I have to have the best ideas to promote it, I need to have the sickest artwork, I want to work with this photographer, and I want this and this and this…"
As his generation is acutely aware, perception is everything. "You can write a song and you can play it out, but without any sort of vision or direction, is can just fall under the radar," says JAXN. He enjoys leaning into minor detail. "It might take me two nights to record the bass because it's not right, or I'll go back to it the next night and just scrap it altogether."
But his latest single, "One Kiss", marked a turning point for JAXN. "I got to a point where I was writing and producing songs, and I was focusing way too much on making them sound a certain way," he tells me. "I was just being super self-critical, and I think the main step-up I've had is I've stopped worrying about all that. I've had this epiphany where I stopped trying to emulate certain sounds. I stopped trying to focus so hard on what I wanted my music to sound like and instead just wrote what came naturally. ["One Kiss"] feels less contemplated, less forced, I guess."
To tap back into the pulse of his own instincts and turn off the noise of other people's opinions, JAXN returned to what made him fall in love with music in the first place. As with many kids, it all started in his mum's car. He recalls her choosing a Red Hot Chilli Peppers record from her shelf of CDs before they set off somewhere. Recognising his passion for music from the passenger seat, that Christmas, she gifted him his first instrument: a bass guitar. He would spend days and nights sat in his room with his headphones on, mastering sequences. From there, as he welcomed guitar into his repertoire of instruments, he would venture further into the terrain of the British indie landscape and absorb the influence of The Cure, The Verve and Jamie T into his own sound. "From there, it just worked," he smiles, "well, fingers crossed, anyway!"
But particularly on a visual level, his style is rooted in old-school sensibilities. He loves the videography of Hype Williams and his 1999 film directing debut, Belly, and of course nods to the works of Quentin Tarantino. The music videos of his childhood have left an indelible impression, particularly those with a warped, psychedelic flair: Nelly Furtado's trippy "I'm Like a Bird", and the left-field visuals for Alien Ant Farm's "Movies". The common denominator between many of these far-flung influences is that they all have perfected the art of irreverence, and that's something JAXN is always chasing in every aspect of his output.
Even the lyrics themselves are indebted to a certain nostalgia for bygone eras of his own life. "I never really write about what's happening now," he says, "because I don't feel I've had time to process it. Everything comes from a summer, two summers, five summers ago."
One of the most striking elements of JAXN's music is his Manchester accent, which he lays on thick with pride. "When I was growing up, it wasn't cool to act like someone you're not," he tells me. "Being from Manchester is something to be proud of. There's such a rich culture and heritage – and anyway, I don't think my friends wouldn't let me get away with changing my accent. It was so ingrained in what we listened to, like with the Arctic Monkeys. I always thought it made you a little more interesting, especially when there's so much oversaturation now, with music."
The video for "One Kiss" was filmed in his home city, with familiar scenes from its estates to a record shop with Oasis t-shirts masted in the windows serving as a backdrop to his sound. At this early stage in his career, everything JAXN does is a product of resourcefulness on a shoestring budget, relying on the community of fellow creatives he has around him to bring his vision to life. Having met his band through the Manchester music scene, his guitarist also doubles up as a videographer, who assumed responsibility behind the camera. "I've kind of automatically surrounded myself with all these creative people," he says. "Not knowingly, but I guess it's just what stimulates me in my relationships. Everyone around me also has side hustles, like graphics, photography, modelling or videography, so we put our heads together, and it just ends up coming out great, because we're all in the same world."
Yet, despite his affinity with his home city, JAXN moved, for a time, to West London. "I went down to London kicking and screaming," he confesses, "but it was a necessary evil. I reached a point where I'd exhausted Manchester of its resources, and it just wasn't working. I love Manchester so much and I don't ever want to badmouth the north of England, but it's hard to do something a little bit different. That being said, there are loads of great artists coming out of there who are doing something unique, but when I first started out, while people liked my stuff, it was hard to relate to a lot of the bands in Manchester who had a sound that wasn't like mine." After moving to London, of course, the opportunities he was seeking became readily available, and soon, he found management and an entire network of valuable connections despite the hike in rent for a small West London room. "I mean, if you spend five years in Manchester, you'll know everyone by the end of it. But London's never-ending: a constant source of chances and people."
JAXN is about to step into a new era: the singles he's releasing later this year are set to form an EP. From there, he's setting his sights on finally releasing a record. "I want to be acknowledged for a big body of work and have fans who will dive into every track and really appreciate the music," he says. "But right now, I think I just need to kind of slap people across the face with the music that is already there and easy to digest."
Success, he feels, is found not in materialistic achievements or surface-level accolades, but personal fulfilment. "I don't really care how other people define it. For me, it's all about reaching a point where music is what I'm doing for life. That's my goal," JAXN insists, "That's what I'm going for."
Get the Best Fit take on the week in music direct to your inbox every Friday