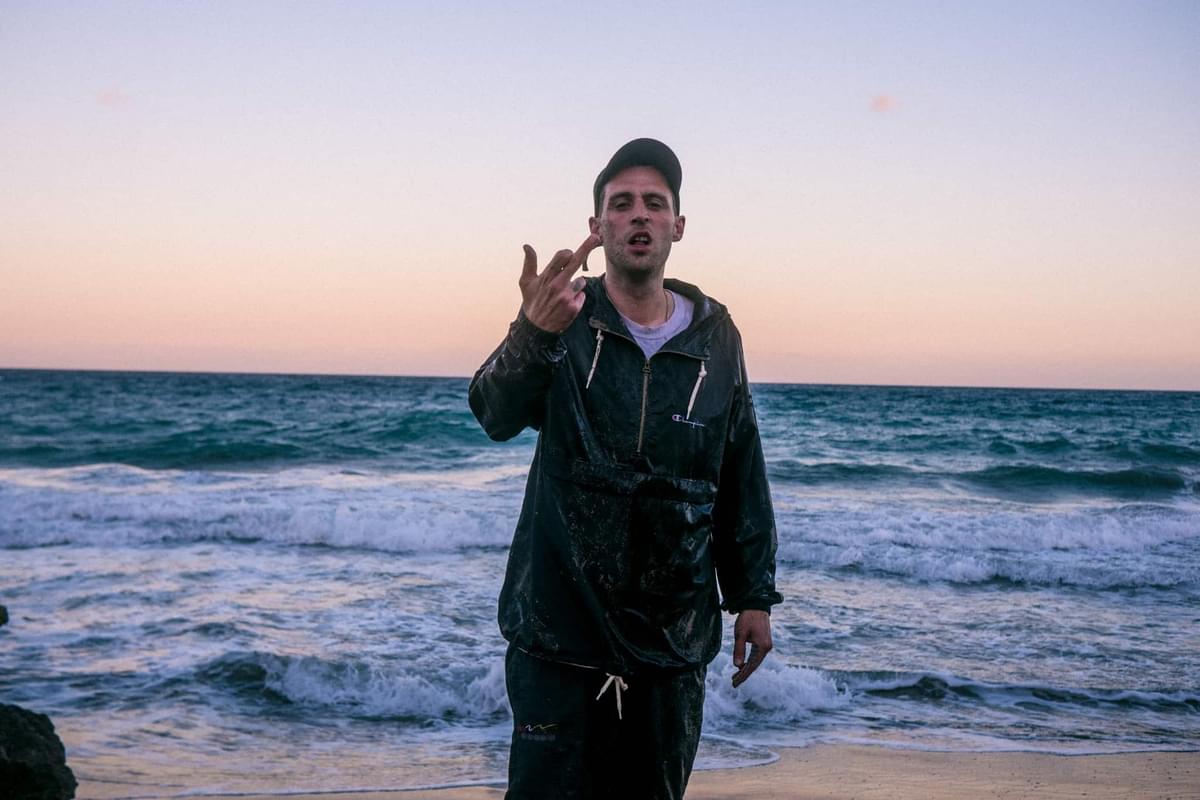 On the Rise

Jam Baxter
01 March 2019, 09:00
A glittering anomaly in the UK's rap scene, MC Jam Baxter's commentary on London's squalid underbelly is equal parts uncanny and unnerving.
Thousands of miles away from the rush and racket of his home in North London, MC Jam Baxter has just finished building a chicken coop under the azure skies of southern Spain. His new LP Touching Scenes - a surreal rap chronicle of city-accelerated excess - has barely landed, but he's shunned the traditional PR run-around for rural isolation.
"Turns out I just really like the Spanish countryside. I thought I needed the craziness of the big city to feed off, but apparently not. I actually quite like the quiet. And I'm learning a lot of stuff... I can now competently operate a chainsaw."
This kind of scene change is not new for Baxter. Now on his third LP released via UK hip hop behemoth High Focus, he's distilled his vivid and disturbing commentary of London's murkier corners by escaping to foreign cities. Touching Scene's collection of bars – some spat to crooked cuts of grime and trap, other scattered over simmering, synth-flecked soundscapes – were penned from outposts in Bangkok, São Paulo and Sangkhlaburi, Thailand.
"There's something I find really inspiring and strangely calming about being somewhere I feel out of place... life carries on around me like I'm not there. My brain goes "what am I doing here?", and I go "you're here to write tunes", and it goes "oh, ok". When London isn't immediately in front of me, suddenly it's so much easier to pick the parts of home I really wanted to talk about ... no interruptions, no long-outs and no confusion."
"Plus the city I'm in starts to slip its own unique atmosphere into whatever I'm working on... it just gives it a new colour."
Colour is a word. The distinct dystopia Baxter has perfected is painted in sickly greens and the chemical hues of unregulated narcotics. His recurring cast of characters are conduits for life's mundane dramas, performing surreal acts of contortion for a horrified audience: the man with the "Love. Sex. Death" face tattoo mops a floor with his huge absorbent eyes; an unhinged lover crawls through the letter box; the one-night-stand sprouts razor-blade claws in the light of the morning after.
There's also a healthy does of gross-out grimness: on record, Baxter is in an almost perpetual state of drug-induced dessication, puking off the back of speeding motorcycles, pouring warm blood in his scotch, and snorting the auras of his enemies. I ask him where this unsettling voice comes from.
"Well... when I was younger I was just into cool ways of saying shit. All that multi-syllable technical side of rapping... just being a bit of a geek. It took a while for my writing style to really develop because I didn't have a concrete worldview yet. Yeah... a lot of reckless hedonism and fucked-up situations sorted that out", he grins.
The unanchored trips to far-flung places reap rich creative rewards, too. Baxter chuckles at the wealth of near-death experiences and bizarro anecdotes he's collected, simply from being in a weird place at a weird time. "That Burma tune..." he recalls of one spoken word piece on the the LP. "That's a true story. Me and my friend Yumi were in a tiny village in the northwest of Thailand and walked into this bar, owned by this huge, old ex-gangster from the UK. He said he'd amassed a £2 million fortune smuggling tobacco into Britain – and then rinsed the whole lot on this generic Thailand recklessness ... penthouse suites, drugs, girls."
"After spitting all this bravado, the guy he ended up following us out of his bar and offering to taxi us to the Burmese border for like – after petrol – £30 quid. And the whole way he was talking to his Thai girlfriend through Google Translate and screwing at me for getting drunk in the backseat. I just thought, 'What a fall from grace'."
When the stories don't write themselves, Baxter slips surrealist silks over the everyday. "On the most part I just bend and warp what's in front of me. The world we live in is pretty much a living, breathing dystopia. In order to enjoy living in it as much as I do, you have to see the beauty and the humour in it. A lot of writers I admire take reality, put it in a blender with their own twisted perspective and then just pour it out."
One of Baxter's recent collaborators – poet and MC Kate Tempest – has this exact knack, albeit with a more Ken Loach-style of gritty realism. Their track together, "Unsubscribe", is a duet on the desire to step out of your own life, in the wake of a city marred by poverty and social disconnect.
"I think we have a mutual respect for each other and she's always backed me pretty hard, she's played me on radio and generally been real safe." He says. "After the last record came out I told her I was experimenting more with spoken word and sent her a couple of examples. And then I just woke up one morning and there was this voicenote on WhatsApp, saying 'wrote this and thought of you'. We got it recorded properly and my producer Chemo made the music... it came together pretty nicely."
Tempest is not the only major artist to grace the album: Brit Award winner Rag N Bone Man makes a notable appearance, shunning his usual chart-friendly soul to spit a hefty 16 bars on single "Mask". Rag N Bone Man and Baxter share a common heritage, both growing up in and around the UK's underground hip-hop scene –though Baxter's current sound, underscored by the weighty electronics of producer Chemo, is more closely aligned with the roster of US alt rap labels Def Jux and Fake Four Inc. I ask how he feels about growing so far away from his roots.
"I try not to pay too much mind to 'the scene' and 'trying to push the scene forward'... It gives me a bit of a full-body cringe." He laughs. "That said, the MCs I grew up with [including labelmates Dirty Dike, Edward Scissortongue and Mr Key] are some of my closest friends. We've all spiralled off in different directions but I still love making music with them – we understand each other as people." Are there any artists outside of his circle that he'd like to link up with? "I really wanna work with Breeze Brewin [of the Juggaknots]." he says, his aforementioned rap geek streak making an appearance. "Clear Blue Skies is an incredible album. The way he structures his bars is so unorthodox. It's never linear, one-two one-two ... it's all over the place but it sounds amazing."
Wrapping up, I ask Baxter what destination he might seek out for his next shot of inspiration. "I wanna get my Spanish to a decent level and go South America for a while...maybe stop in on people in Brazil after. But it would be cool to write a whole project or two out here first: I'm gonna resist the urge to run off anytime soon."
How might the Spanish vistas impact his trademark, less-than-sunny perspective on the world? The jury's out. "I often don't think about what I'm writing 'til I'm halfway through writing it", he admits. "But I don't think I'll start rapping explicitly about planting beetroot beds and the trials of irrigation … not yet anyway."
Touching Scenes is out now via High Focus records
Get the Best Fit take on the week in music direct to your inbox every Friday