"A large part of you is like, 'Yeah, it [getting attention] took fucking long enough'. Everyone around you is like, 'Argghhh yeah, you should be so happy and gassed'. It's like, 'Bro, our ambition and our plan for this shit is way past where we're at now'. They're surprised, so they expect you to be surprised, d'you know what I'm saying? But obviously, I'm not surprised. I've been planning it for time. I'm just trying to keep my cool."
But things are easier said than done. The only British boxer to win all 10 amateur titles, the late Errol Christie – J Rick's uncle – lost his cool trying to stand up to an intense wave of racism engulfing British boxing back in 1985. After receiving death threats from National Front supporters, and being called an 'ugly black bastard' by his opponent Mark Kaylor, Christie faltered in the ring during his biggest ever fight – by exhausting himself in a ragged attack. Kaylor let him run himself out.
Christie would later tell boxing journalist Steve Bunce that "everything that I faced in the past came to meet that day. The spot he had was the people I was fighting against all my life."
Fast forward 34 years and Christie's youthful face adorns the cover of a mixtape produced by his nephew and biggest fan, J Rick. His untimely death due to lung cancer in 2017 inspired No Retreat No Surrender's creation: the record's title was Christie's mantra.
"I was working on a production record for time. It had a whole different track list and a whole different set of tunes. Then my uncle got bare ill, he got cancer, then after he passed away, I found a new inspiration. I just started writing the majority of the mixtape ... I wrote off the back of that," J Rick tells me. Just back off a month in LA - meeting industry people, doing studio sessions and such - he seems surprisingly sedate. Perhaps it's due to jet lag. A tall, almost slender man, he regales his publicist about just missing Young Thug at a strip club, all the while his distinctive dreadlocks constantly move with him.
No Retreat No Surrender, released in September last year, is a brave debut mixtape. It's thoughtful and melodic, almost dancey in places – something that the producer behind a number of the past couple of years' buzziest grime tunes was never expected to do. The production quality is superb, allowing its creator to show everyone who is paying attention that he does more than just make beats for his rapper mates. The eight track record glides seamlessly through ambient notes, gospel-esque peaks and four-to-the-floor atmospheric house. There's shades of Mount Kimbie, and features from two young guns trying to make their mark at the moment, Rimon and Obongjayar.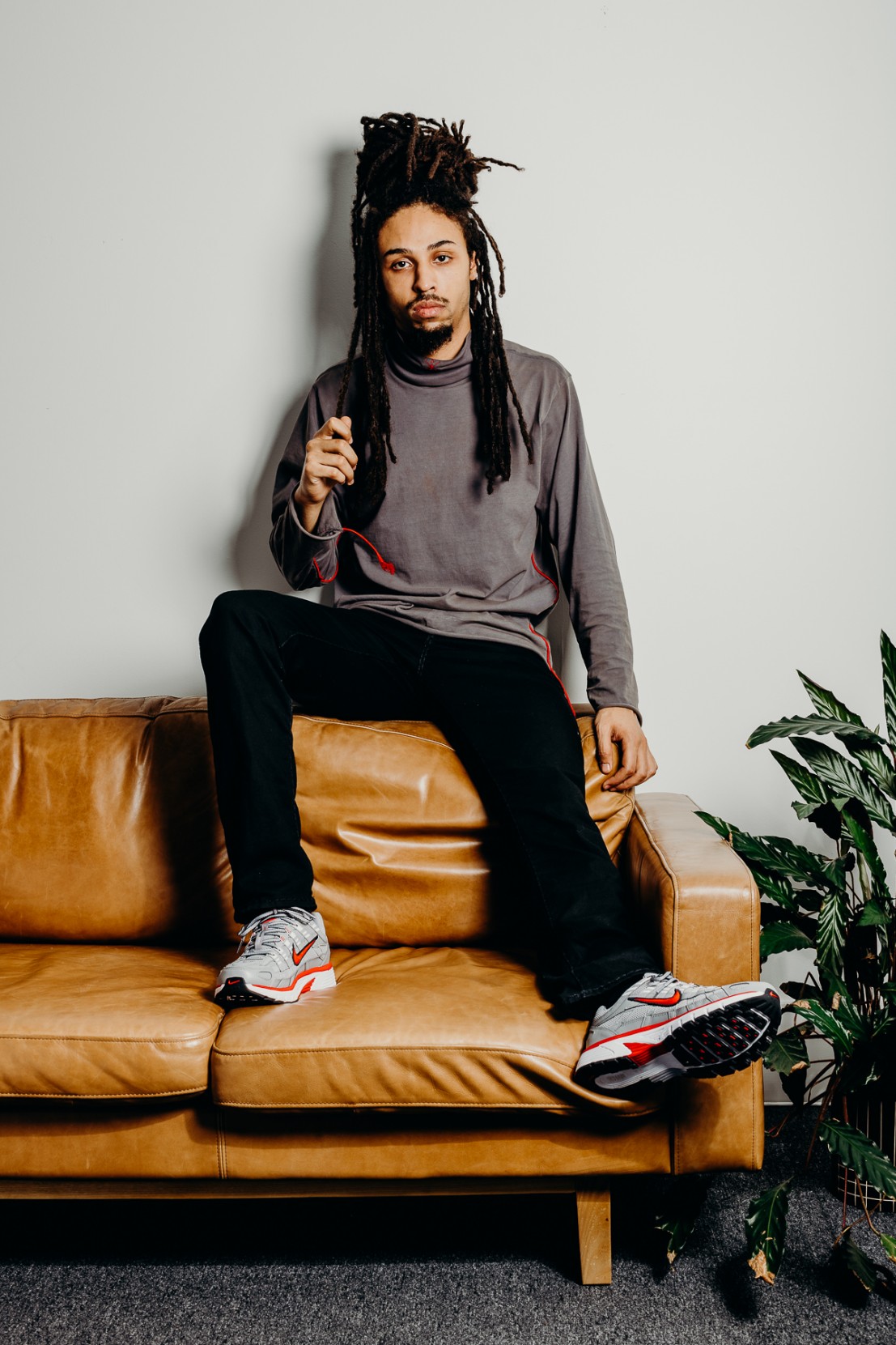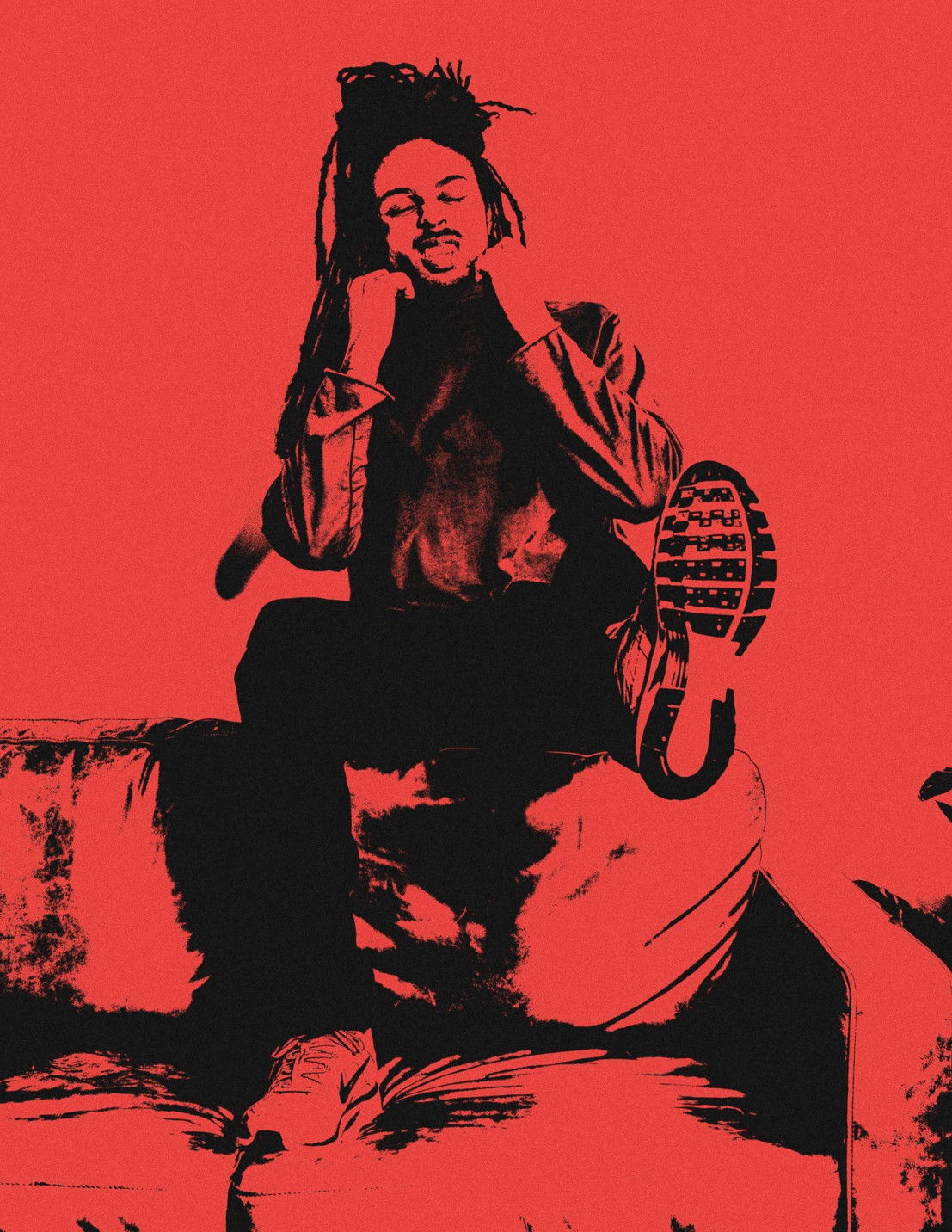 After making a name for himself producing the very different grime-inspired pop songs ("Party Here","Hands" and "Lightning"; Octavian and his fellow Essie Gang members' break-out hits) J Rick has everything going for him at the moment – but you couldn't tell by his demeanour. Even though the past six or so years have seen him go from a homeless Brit School student to an artist on everyone's One to Watch list, he doesn't seem phased. It's almost as if nothing has changed.
"It's just the beginning," he tells me.
"I want to get more stuff done. Obviously everything is going well, but I'm not the kinda guy to just be sucking my own dick all the time bro," he says. "A lot of people are like, 'Yeah I'm super excited, like everything is going so well for me.' That's not really me. I'm just tryin' to get bigger and better."
Jordan Cian Christie was born on April 16, 1996 and grew up between Coventry and Tottenham. He spent some time studying at Greig City Academy, in Haringey, and while there, says he found that he was slightly brighter than his peers. His intelligence seemed to aggravate the teachers, leading to plenty of spare time lingering around the school.
"I was a bit smarter than other kids so teachers, they used to really hate me man," he says. "'Cause teachers associate misbehaviour with lack of intelligence but usually it's the opposite. I would get to my lesson and I could be kicked out of class before I even sat down."
While he would often be sent to the school's version of detention – dubbed 'Shadow' – or smoke weed with his mates from other classes who had also been banished from the classroom, every now and again a certain teacher would let J Rick explore a fascination that had started to grow.
"The guy who used to run music – his name was Mr. Misha – he used to just let me sit in the studio and shit," he remembers fondly. "Sometimes the studio wouldn't be working, and sometimes it would but either way I'd just sit in there and try and work it out. Because it was in lesson time, if it didn't work, I couldn't ask the teacher to pattern me, I had to try work it out myself," he continues.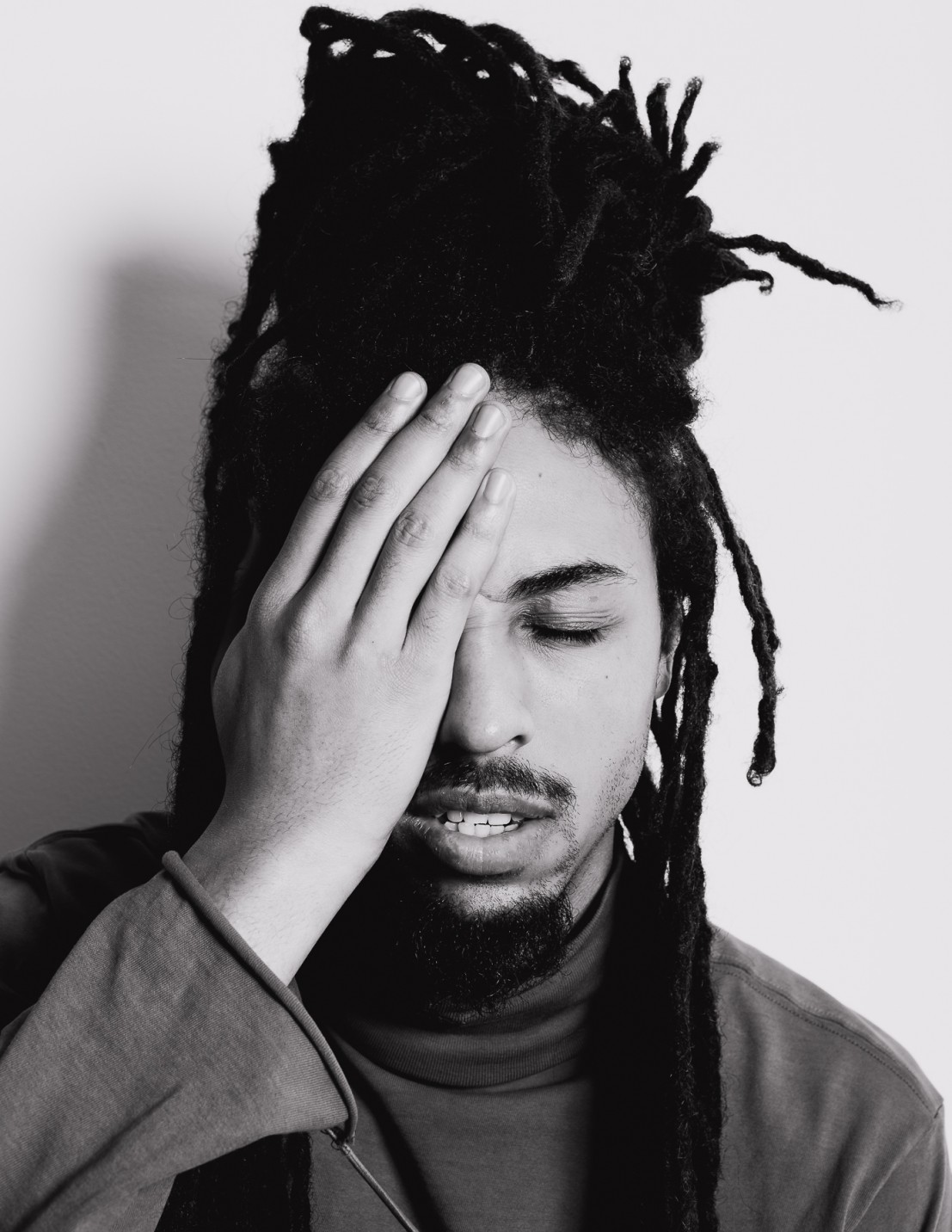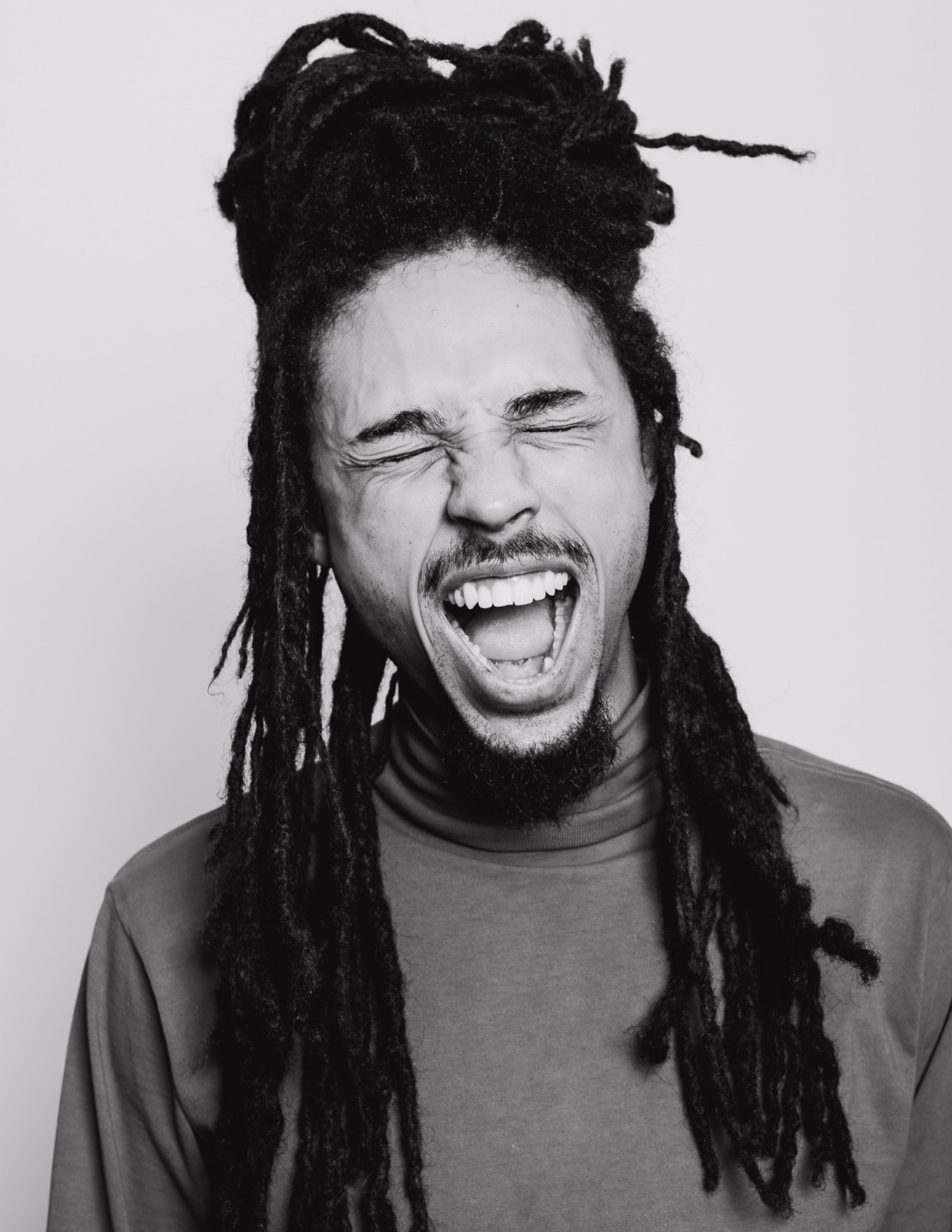 The complicated nature of producing a song and having to 'work everything out' is what continues to pull him towards his craft. "I just like producing – it's more fun, it's more complicated, there's more to it," he says. "I always liked rapping and rap music but I would never see myself as a rapper. It's too fake. If you can produce, you can deffo rap, or like write a song. Not anyone who can write a song or rap can produce but producers can write a song, d'you know what I'm saying? It's like that. Like, you can learn to drive automatic or manual."
A big inspiration to the teenager was Kanye West: someone who produces and raps and continues to inspire J Rick to this day. "I was recording, producing. I was just making music. But I was always inspired by Kanye West and Dr Dre," he says. Kanye's career had a big effect on everything J Rick believed he could accomplish.
"Like from proper young, I always despised artists that didn't write their own music. I feel like they don't deserve anything. And a lot of times, those are the ones who profit the most from the situation and shit like that. I sorta fell in love with Kanye West's process of starting off as a producer and then building out his artistry." The decision to commit to this needed planning, something he had already begun to do. J Rick was beginning to form.
Although producing, rap music and hip-hop were J Rick 's passions at the time, it was his drum-playing that took him to the coveted Brit School in Croydon – after he wasn't allowed to return to his secondary school's sixth form. Like his uncle before him, J Rick suffered prejudice at the hands of his peers, within an establishment that had always been a stepping-stone into the industry.
"There were big racial undertones with a lot of stuff [at Brit School]. Kinda dead man, like teachers would be really strict on you, you wouldn't be able to get away with things that other students would just do all the time. Any sort of similar behaviour, or anything much less, coming from a black boy was totally unacceptable," he recalls.
J Rick spent some of his two years at Brit School homeless. He would normally have friends he could stay with, but would have to "just keep walking until it was morning" when he didn't. It was during this harsh experience he formed a friendship and creative partnership that would provide him with his first big break.
Oliver Godji, known to the public as Octavian, was born in France but moved to London with his mother when he was three. After a brief period back in France when he was a teenager, Octavian came back to the UK and became a student at the Brit School. He and J RIck were, at points, homeless together. They met in the school's smoking area and quickly started making music – and although they had already started to craft the pop trap-cum-grime sound they are now known for, they weren't afforded the same opportunities as other students at the school.
"The teachers, they knew we was homeless and stuff but they just weren't used to dealing with people with situations like that. They were only used to dealing with people, you know, whose families are already involved in the industry. People, whose parents they're tyrna suck up to."
"Opportunities weren't given out equally. Opportunities were given out to people who already had opportunities given to them throughout their whole life," he says. "It was a weird one – I could tell you loads of stories of like how teachers like totally deliberately overreacted to stuff that I've done just because whatever preconceptions they have about young, black boys. And even little things, like the way you talk, and the way you act, do you know what I'm saying?"
It wouldn't be for another three years after leaving Brit School that J Rick would be afforded the opportunities he was due. By this point, Essie Gang was fully formed – the audio and visual art collective J Rick is so proud to be a member of, made up of school friends, friends of friends and everything in-between. They all held a common goal, something to aspire to, from early on, he tells me. They had a plan.
"We've been planning this stuff for like years, bro and we've been doing all the things that we thought was going to be the right things to get us to where we wanted to get to." Now I begin to understand – this is how you deal with the buzz and don't skitz out as people start to pay attention to your career.
Only one track J Rick had made before his uncle's death can be heard on No Retreat, No Surrender; "Me & You" – and it was this track that pricked up the ears of labels who became interested in Octavian and Essie Gang, a reworking of Cassie's 2005 R&B classic, "Me and You". J Rick's version makes it more upbeat, more pulsing, as if Travis Scott made remixes for grotty, two-step clubs in the late Noughties. But as much as label reps enjoyed J Rick's offerings, he didn't like the offers presented to him.
"When we was going round to bare label meetings, and Octo was talking to labels and shit and I was just playing them my music, people were like, "Yeah, this one's bare hard". And a few labels wanted to sign the "Me & You" track as a single but I was like, "I'm not just trying to sign like a single and then wait six months and then sign another one and stuff like that." This wouldn't give him the opportunity to develop his artistry, something he'd wanted for so long.
After snubbing the idea of a label releasing just one of his songs, J Rick found a home for the whole project at Warner Records. It was ready to go – and then Errol died, things changed and he went back to the drawing board.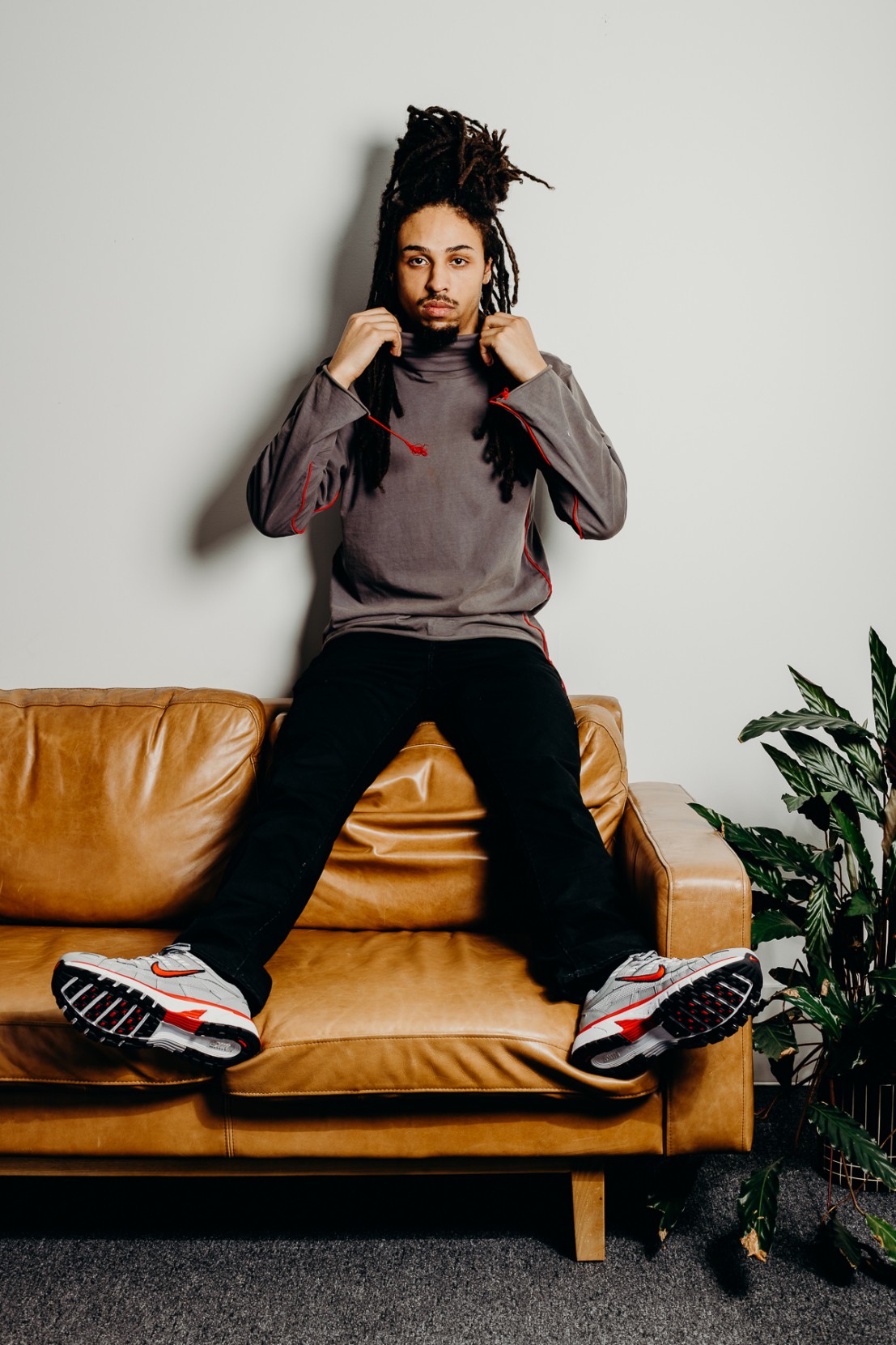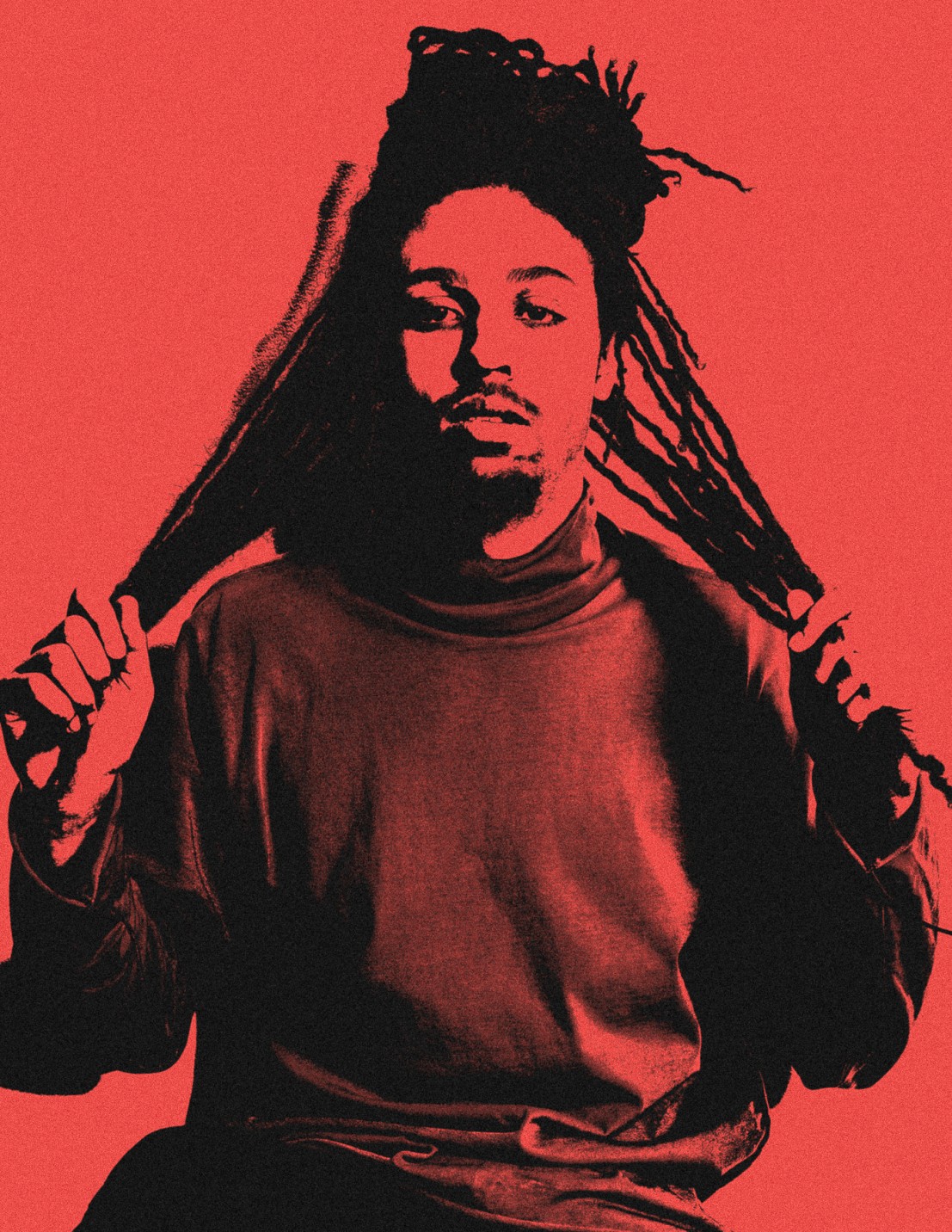 About two years later, the first single was released from No Retreat, No Surrender, "Short". It starts off with a few bars of some slick jazz drums before melting into a simple organ-synth melody.
Then we get some more synth and trills and things are moving forward. The whole record has that feel. That J Rick has made this wonderful, well-produced, relaxing, yet, at times, fast-paced, well-produced mixtape so effortlessly. And all in memory of his late-great uncle.
So apart from his dearest, what else inspires J Rick? He's absolutely appalled at my suggestion of TV. "Nah, nah, fuck TV," he scorns. "I don't watch TV, bro. Life experiences, shit I've been through, shit I've seen, shit I do … that inspires me. Like friends, relationships, getting fucked up, drugs, alcohol. I don't even watch TV, bro. Like I've never watched TV and thought, 'ahhhhh, let me make a tune.' I just sit down, start a tune and I just keep playing until I hear something inspired."
He achieves his rich, retro tones on No Retreat, No Surrender, with a Mellotron and a Roland Juno-106. Although the melodies on the record can often be mistaken for samples, they definitely are not. J Rick insists that is "cheating" and sternly states the only samples used were the acapellas in "Me & You" and "Gone".
The latter is a stand-out track on the record. It's somewhere between a gospel-inspired Kanye West cut and a Pantha Du Prince remix of a SKTRKT song. It really explores its groove and develops as it progresses – so much so you often wonder how J Rick could be content making beats for rappers. Turns out he isn't.
"A lot of people are on Ableton and FL, making loads of beats in their bedroom and they just, like, put them on Youtube and just keep sending them out until they eventually get something. It's cool if that's what you want to do, but that's not fun for me like. I like to produce records, I don't like to make beats and throw them out and see if anything gets traction".
Two of the three collaborations on No Retreat, No Surrender – "Close" and "Surprise" – show J Ricks comfort in working with young artists on the edge of stardom. "Close" is a fresh R&B-cum-UK garage take with Rimon, Amsterdam's newest soulful export, whose pitch perfect vocals glide over the raspy drums and deep basslines to keep the track rolling. "Surprise" finds Nigerian-born but UK-based Obongjayar lend his distinctive vocal chords. His own music is part afrobeat, part electronic and part spoken word and "Surprise" isn't too far from that poor description, but it's somehow different, more filled in its production.
The third collab is with Octavian but is again quite different to the music they worked on together previously. Octavian really lets himself go on "Want" and drops a lot of the bravado he often shows in his own music. It was made when they both met frequent Post Malone collaborator, Rex Kudo, at Metropolis Music Studio. These sessions also developed "Lit", a single off Octavian's latest album Endorphins, which Rex takes the production credit for.
Both the non-Essie Gang features came around "naturally" – J Rick was introduced to Rimon and Obongjayar's people separately and they went from there. It was vital they were in the studio together though, even though this takes time. "To be honest, I work on tunes until they're done like. I don't rush tunes and shit and also the type of music I make is hard to rush them," he tells me. "When I make a song with a person it's like we'll sit down in a studio and make a song from scratch. I'm not like making 105 beats and then just sending packs or going to studios and playing bare beats, d'you know what I'm saying? We're actually writing songs together."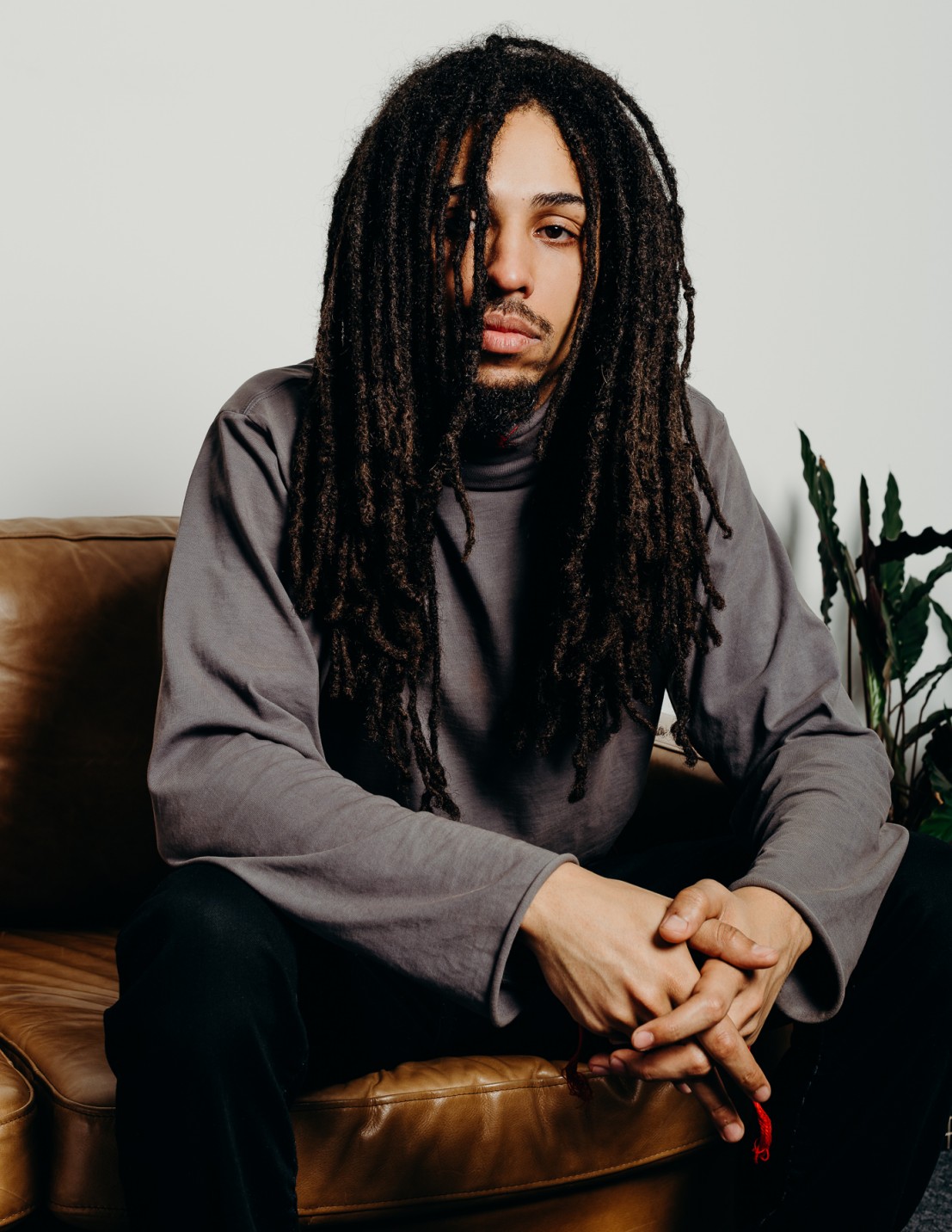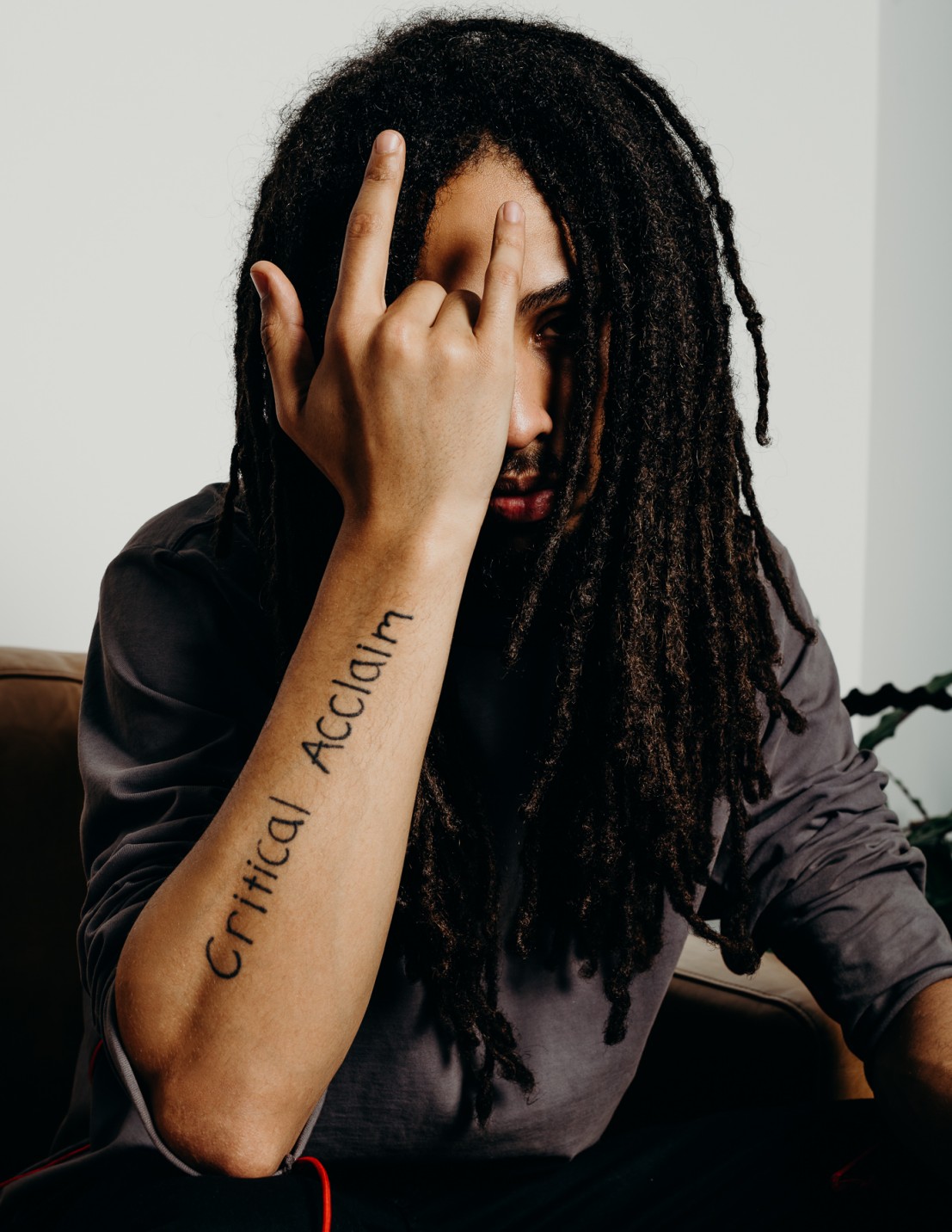 After coming back from LA, Essie Gang have released their own song – "Pattern Channel" – in which J Rick raps the hook, Octavian's also there, and frequent Essie collaborator Michael Pantom, who appeared on Octavian's popular, head-bopping grime tune "Bet" with Skepta. J Rick has also released his own bass-boosted remix of Miami hard-trapper Denzel Curry's "Speedboat", which includes a few bars and a feature from tropical-drill's only but spectacular incumbent, SL.
Still, J Rick wants more people to hear his music. "[I want to] do more shit in America, do shit over here, like wherever man. I'm not fussed, I just wanna make good music and get that music to like people, so people can know like there's actual credible sources of music." Apparently there's not enough at the moment. "Like, you don't have to pretend that you rate the shit that's just like fucking being blasted by the playlists and iTunes. There's music out there that you can fuck with and people actually mean what they're making. It's not just my man's signed to that label – all of the iTunes playlist guys just sucking his dick or whatever. Or people on Instagram begging people to stream their song again, so they can get a number one. It's like, 'bro, that's embarrassing. What are you doing bruv?'"
This is something J Rick feels very strongly about: too many people haven't worked for it, he believes. "The audience fuck with the music but it's like, they're just making music for them, they're supplying the demand," he says. "It's more of a business: they're making music for people who want that type of music, it's not like building a career or building an audience. They're just selling to an audience that's already at the shop looking for it." Too much of this has led the Essie Gang to look for opportunities stateside, hence J Rick's recent visit. "A lot of UK artists, like I said, they're just milking it over here. One track works for them, or one thing works for them, and they just milk that on repeat and try have a good run, but it's different, innit," I'm told.
"Between someone who becomes famous and someone who's actually a musician with a plan for a career… it's just different. With me like, Octo, the whole Essie gang, we've always had our eyes set on the US. The English ting is boring man. It's a bit embarrassing sometimes."
It seems as if his wish could be granted, with 2020 is set to be a big year for the 23-year-old. He has a track with 88Glam coming out and one with a feature from ILoveMakonnen. He will continue to DJ for Octavian, but has plans on playing more solo shows. And his visits to LA are due to become an annual event so he can create more of a network stateside.
All in all, J Rick is an artist who refuses to linger on the tiny hill of stardom he has currently climbed – he wants to continue to rise and take on the mountain that is American hip-hop in the 21st century. With his uncle as his inspiration, he plans on forging his own path and growing as he ascends. Making the right decisions is vital and, as ever, so is keeping your cool.
No Retreat, No Surrender is out now.